A Glimpse into the Life of Pioneering Architect, Amaza Lee Meredith
Amaza Lee Meredith, an artist and architect born in Lynchburg, Virginia in 1895, helped shaped Black Modernism, propelled by her identity as a queer Black woman but, like many pioneers, her story is lesser known. To honor Meredith's legacy, the Beverly Willis Architecture Foundation explores Meredith's life and work in a recent episode of New Angle: Voice, a documentary podcast series conceived of by Cynthia Phifer Kracauer, executive director, Alexandra Lange, editor, and Brandi Howell, producer.
After learning about Amaza Lee Meredith's story through "Pioneering Women of American Architecture," a resource created by historians at the foundation, Kracauer began to delve deeper into her life. "It's a story at the intersections of sexuality, modernity, art, architecture, and the faith community that nurtured a pair of lovers, who found their home in each other and shared it openly with their church, their colleagues, and their students," she shares, noting that the podcast production team traveled through Virginia to interview Baptist preachers and historians familiar with Meredith and her work. "The homes and communities that Meredith helped establish provided a sense of joy and pleasure to those at a time when this wasn't always possible. And her story, as it continues to unfold with time, is a point of inspiration for those who have been lucky enough to discover it."
Queer History x Architecture: The Life of Amaza Lee Meredith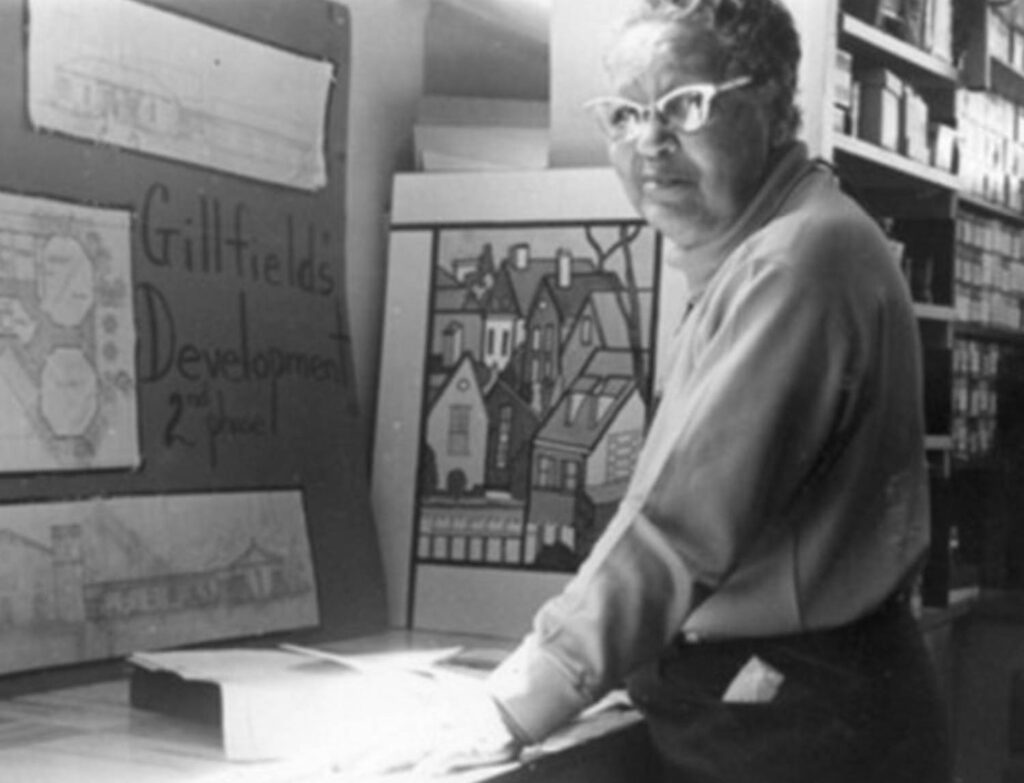 Though Meredith did not have formal training as an architect, she homed her skills first by studying art, with encouragement from her Virginia State University professor-turned-partner Edna Meade Colson (Meredith initially planned become a teacher). She later designed structures that represented a complete break from architectural traditions, such as the International Style house where she and Colson lived near Virginia State, completed in 1939 and referred to as Azurest South. Azurest South is now listed on the National Register of Historic Places and National Historic Landmark status is pending for the property.
With fewer than 100 registered Black architects in practice at the time of the 1910 U.S. Census, Meredith forged her own path, designing spaces for friends and family in Virginia, Texas, and Sag Harbor, New York. In the latter, a wealthy beach town, she played an integral role in creating an enclave of vacation homes for middle-class Black families, known as Azurest North. Among these are Terry Cottage, a summer home Meredith built for her sister Maude Terry, and Edendot, which she designed for friends.
From first meeting Colson at Virginia State, to influential years in New York City spent perusing cutting-edge art and design, to gatherings hosted by the duo at Azurest South, Meredith's life is reflected in her work. Throughout her life, Meredith viewed architecture as a means to move away from the past and into the future, and her rich legacy is a testament to that ethos.
---
Learn more about Amaza Lee Meredith by tuning in to New Angle: Voice podcast, developed by the Beverly Willis Architecture Foundation.
---