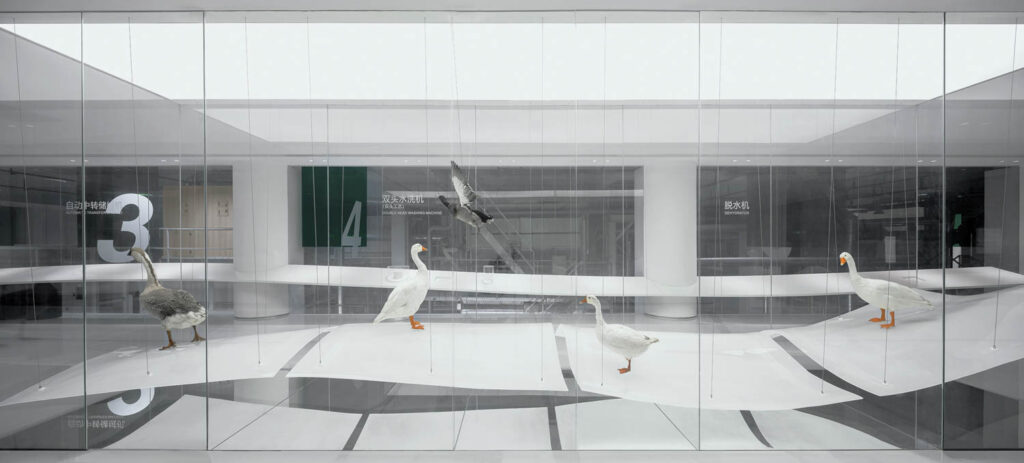 A Bedding Manufacturer's Office Nods to Down Feathers
According to designer Red Hu, "Factories are becoming as important a representation of brand values as office or retail spaces." Her opinion may be due in part to a recent project she and Greater Dog Architects cofounder Jin Xin recently completed in Shaoxing, China: the 200,000-square-foot headquarters of BSH, which manufactures down pillows, duvets, and comforters, and encompasses offices, a café, R&D and production areas, plus retail and a section of factory that's open to the public.
Hu and Xin looked to the qualities of down feathers to inform the building's design language. Appearing to flutter across the facade is a run of aluminum fins powder-coated a pearly white. The color palette extends to the interior, where it's accompanied by ultra-bright LEDs, resulting in an environment that's both laboratorylike and ethereal.
The public-facing spaces work with the industrial flow of the factory to provide visitors with opportunities to see, smell, and touch. One such zone overlooks the factory floor, which is aglow from an LED-lit glass ceiling box that mimics a skylight. Below, on what looks like billowing bedsheets but are actually thin luminescent acrylic panels suspended from wire ropes attached to the overhead box, a gaggle of taxidermic geese looks as if ready to take flight. "Experiential space," Xin notes, "has become the mainstream of the commercial field."
A Pearly White Palette Suits the BSH Headquarters