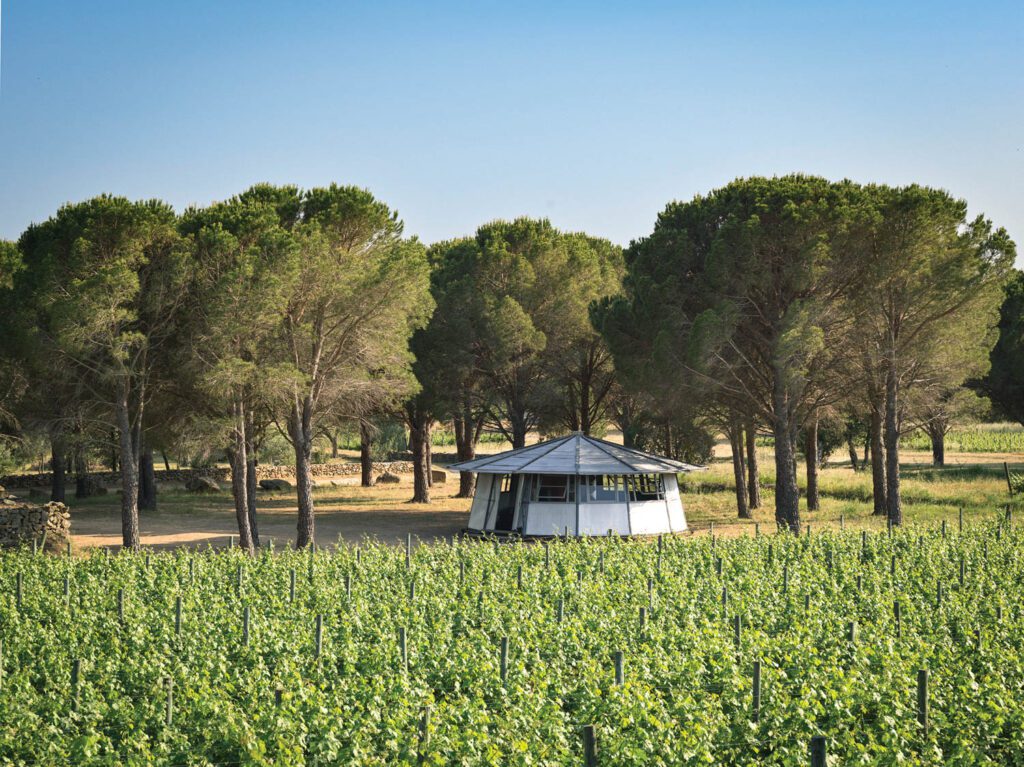 Clément Cividino Breathes New Life into 20th-Century Prefabricated Structures
Clément Cividino, who runs a gallery in a former convent at Perpignan in the south of France, adopts a progressive approach to his profession. "I like to show things that are different," he acknowledges. He is, for instance, largely responsible for uncovering the furniture of two French architects, Georges Candilis and Hervé Baley (aka "the French Frank Lloyd Wright").
Cividino's great passion is prefabricated housing. The first such structure he acquired—a Maison Bulle Six Coques (Six-Shell Bubble House), designed by Jean-Benjamin Maneval in the 1960's—was found on the French equivalent of Craigslist and bought for a song. "It cost me more to transport it," he recalls. Things have changed markedly since. In recent years, he has exhibited other small prefabs, including two from the '70's shown in collaboration with Louis Vuitton at the Salone del Mobile in Milan: the Hexacube by Georges Candilis and Anja Blomstedt, and, this year, the podlike Chalet Nova, a "bungalow" developed by a company called Rochel.
This summer, Cividino is presenting another prefab, the Marabout House, as his sixth intervention at Terra Remota, a wine estate in Girona, Spain. The 13-sided tentlike aluminum structure was conceived in 1958 by the French engineer Raymond Camus and produced in the workshops of none other than Jean Prouvé.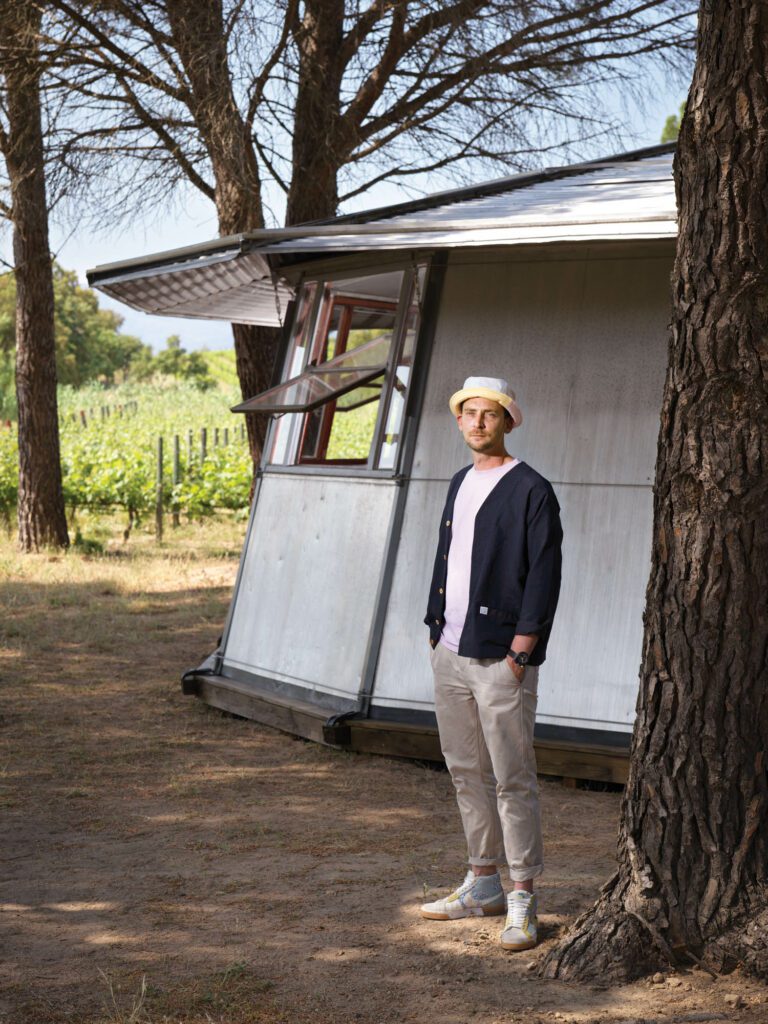 Most were used as temporary housing by the French army and oil companies in Algeria, but Cividino's version was one of two commissioned by the national energy company EDF-GDF and installed in the Paris suburbs. It's the only one remaining in Europe and the sole example with a double-roof structure. "Camus was a pioneer in the field of prefabricated architecture," Cividino observes. "Its freestanding structure is incredibly ingenious." We ask him more about it.
Interior Design: How did you discover the Marabout House?
Clément Cividino: I initially found out about it through books on Jean Prouvé. I came across comments its former owner had left on blogs devoted to aluminum architecture and reached out to him about six years ago. It was in the Aveyron region of France, used as a vacation home with two bedrooms, a dining room, kitchen, and bathroom.
ID: What do you know about the designer of the house, Raymond Camus?
CC: Camus was a real pioneer, one of the first people in France to focus on industrial housing. One article calls him "The Pope of Prefabrication." He developed a system of precast concrete panels in which insulation, pipes, and door and window frames were integrated for swift assembly. He helped to build thousands of lodgings in France and worked in both Russia and the U.S. too.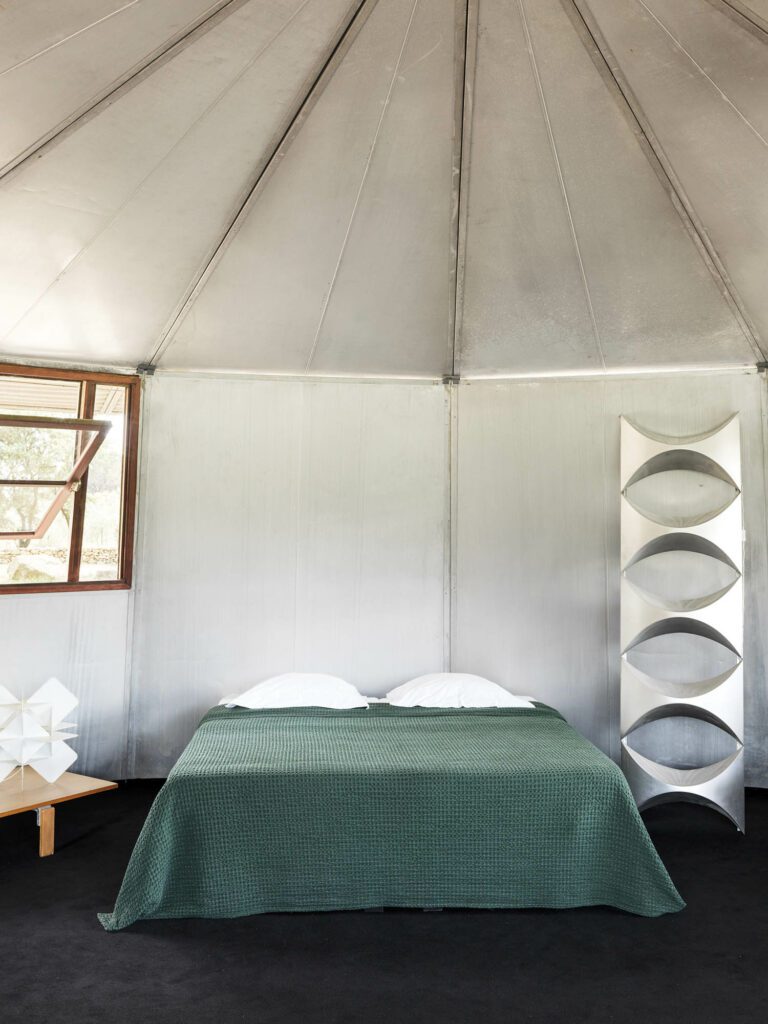 ID: What was the role of Prouvé in the house?
CC: There's a photo of a prototype at his workshop, with lots of Prouvé's own houses in the background. What advice or modifications he proposed to the initial design is anybody's guess, but Prouvé himself was greatly inspired by it. He often promoted it in classes he gave at the Conservatoire national des arts et métiers in Paris and quite obviously referenced the structure in the gas stations he designed in 1969 for Total, which also had 13 sides.
ID: What can you say about its design?
CC: It's more functional than purely aesthetic, designed in the postwar period when there was an urgent need for housing. It had to be light, quick to assemble, and easily transportable. What's interesting is its ingenuity. You don't need any special tools to erect it, and it's self-supporting. There are no columns and nothing but the walls to hold up the roof.
ID: How did you approach its restoration?
CC: It was in relatively good shape. The big question was what to do with the aluminum. Over time, the panels had turned gray-black. We tried about 30 different restoration techniques, including polishing and sanding. At the same time, we didn't want it to be shiny like an Airstream trailer. That's not how it would have originally looked.
ID: What's the Holy Grail in terms of pref­abricated housing?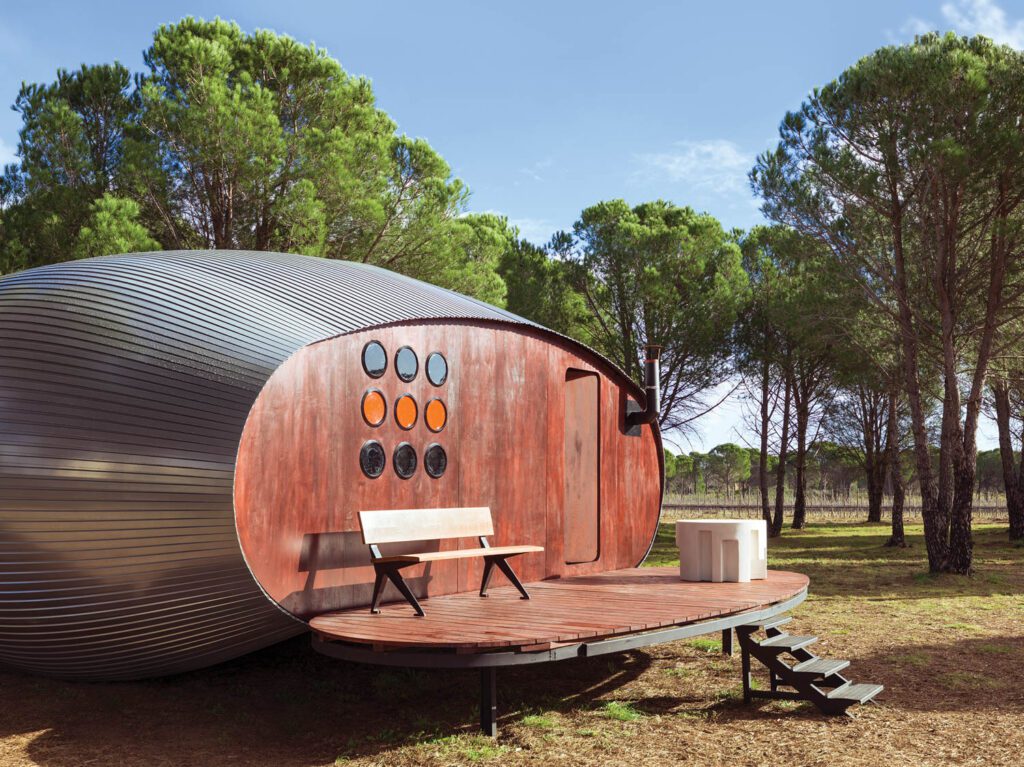 CC: Everyone would love to find Prouvé's 1958 House of the Desert. As a kind of plaything, it would be fun to have a Futuro House, which was created by Matti Suuronen in 1968. More than anything, I'd love to either have a huge building in which to display lots of different ones together or for a collector to create an open-air museum. That would be really something.