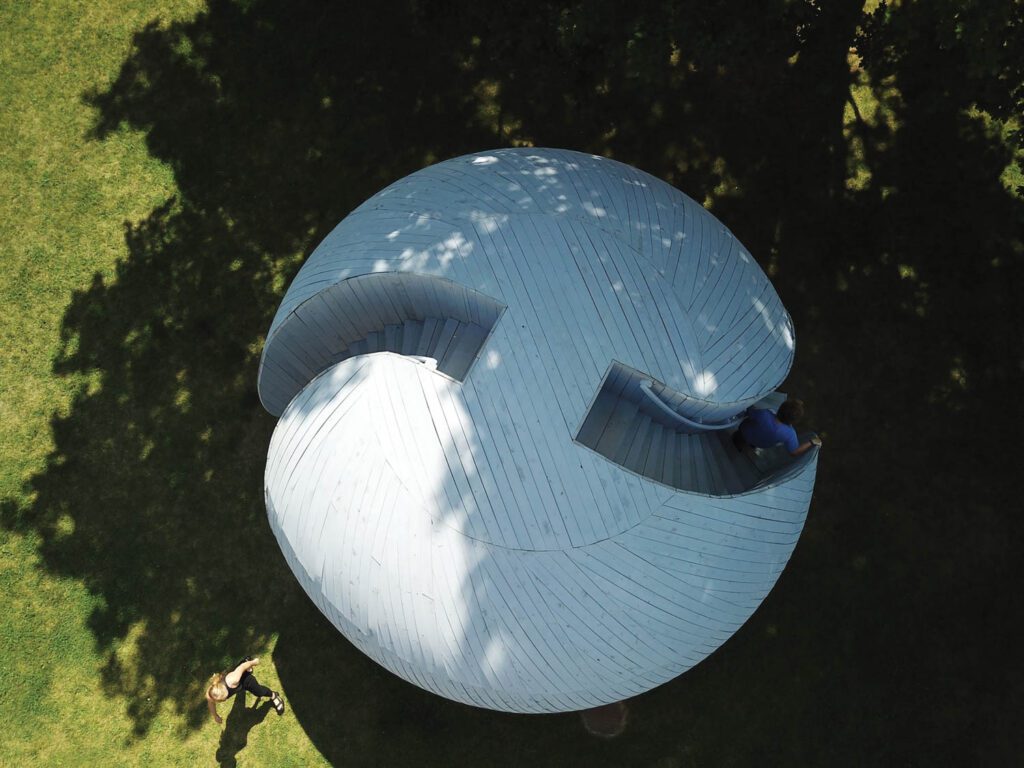 Randi Renate Creates a Permanent Installation in Elizabethtown, New York
Hiking the High Peaks region in New York's Adirondack Mountains during the pandemic lockdown, Randi Renate was struck by the enveloping cerulean sky. It inspired the artist to create blue is the atmospheric refraction I see you through, a permanent installation now on the grounds of the Adirondack History Museum in Elizabethtown. Among the other influences on the 14-foot-tall, spherical structure are Renate's studies in biology and oceanography, her myriad readings on distance, subjectivity, and connection, and Bluets, Maggie Nelson's book-length ode to the color.
Renate began the sculpture by crafting a ceramic model, and then visiting the museum to pitch it to director Aurora McCaffrey, who not only agreed to host the independent project but also helped the artist successfully apply for a community grant from the New York State Council on the Arts. Those funds were supplemented by private donations, plus an estimated 1,500 hours' worth of work contributed by several of Renate's artist friends.
The wood rowboats found on the region's lakes informed the work's plank-on-frame construction, which is built from locally sourced Adirondack white cedar. Thin strips of the same timber were stack-laminated to make handrails for a pair of curving staircases cut deep into either half of the sphere, which is finished in celestial-blue casein paint. Visitors climb the steps in unison to meet at the top of the piece. "They're encompassed by the walls, slowly disappearing within the sculpture on the sixth or seventh step," Renate explains. And when they reach the summit, Hurricane Mountain, the closest peak, appears on the horizon.