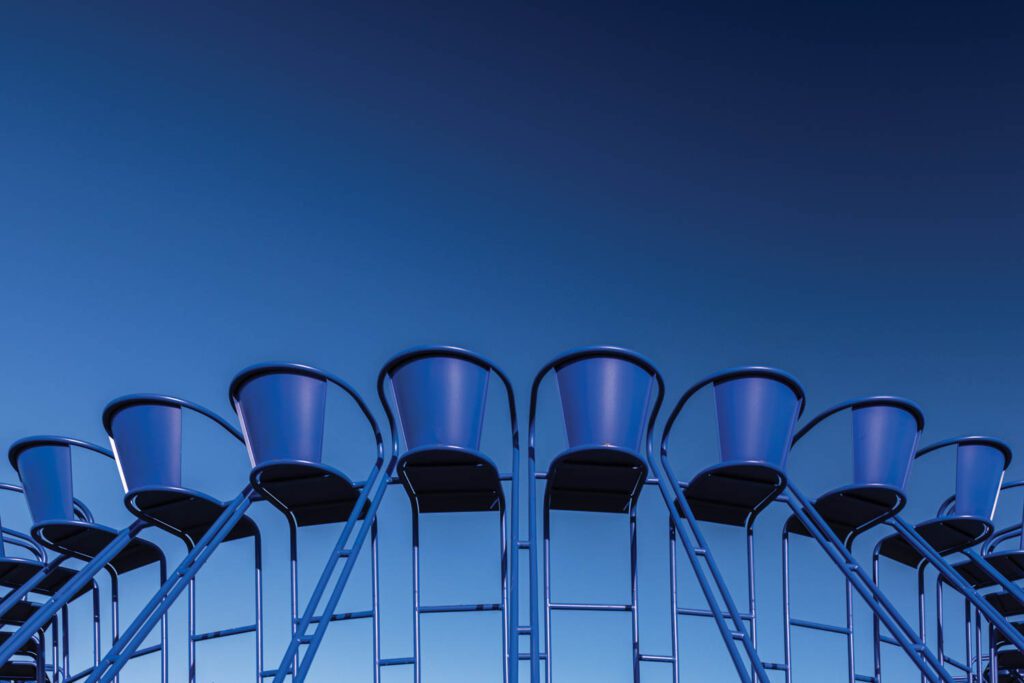 Diogo Aguiar Studio Creates an Ode to Adico's Iconic Steel Chair to Celebrate the Brand's Centennial
Inspired by the easy energy of seaside esplanades, the Portuguese chair has been an iconic fixture in Iberian daily life since furniture manufacturer Adico began producing the steel stacking seat in the 1920's. (The joke is everyone in Portugal has sat in one.) To celebrate the centennial of the company, which has played a major role in the development of its hometown, Avanca, the enclosing city of Estarreja commissioned Diogo Aguiar Studio to create a commemorative monument in a municipal park.
The Porto-based architectural firm conceived Círculo Azul, a permanent installation comprising 40 of the ubiquitous chairs rendered in stainless steel, powder-coated International Klein Blue, and arranged in a 33-foot-diameter circle. Because the site regularly floods in winter, however, the chair legs are dramatically elongated, raising the structure 6 feet into the air and out of harm's way. "Partially submerged, it creates reflections in the water," principal Diogo Aguiar reports. At other times, parkgoers can access the lofty perches via ladders welded to the front legs, while the back legs extend outward like guy ropes supporting a circus tent. "It's a monument designed to be activated by people," Aguiar explains, and an intimate circle that offers an inviting place to not only come together, converse, and watch performances but also reflect quietly above the park landscape from a familiar seat with an inspiring new point of view.