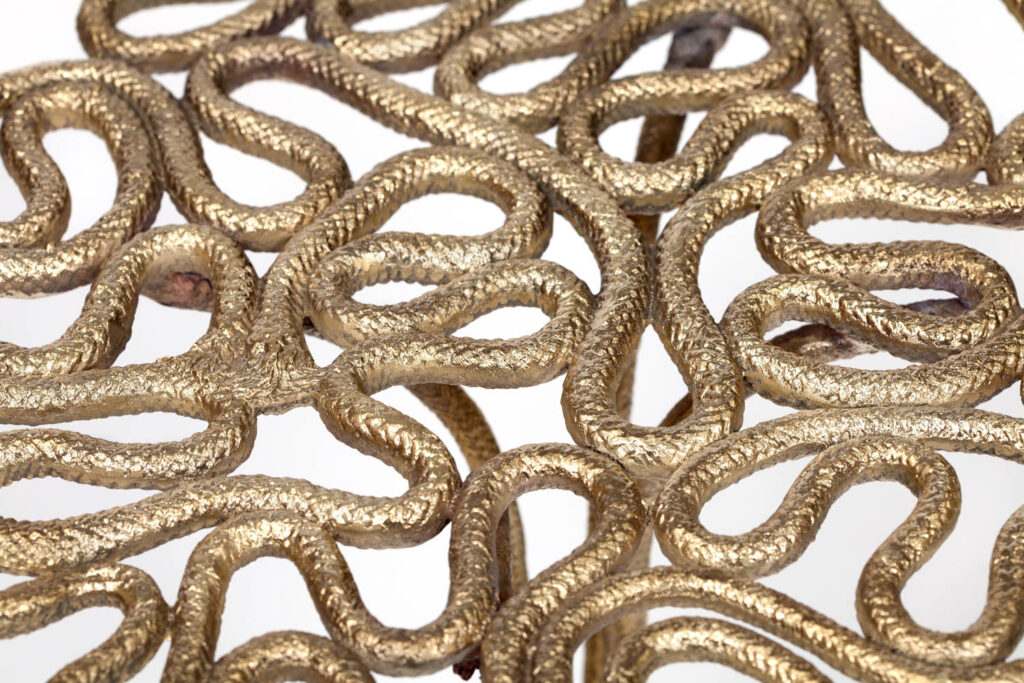 This Exhibition Spotlights Estudio Campana's Quirky Designs
No doubt, brothers Humberto and Fernando Campana have given the design world and laymen alike some of the most sui generis pieces in the contemporary canon. Who can resist a smile upon sight of the Paraiba chair, its upholstery composed of hand-made dolls sold to tourists or the similar Banquete seating made of stuffed animals, some of them Disney characters? Or, at the other end of the spectrum, make us wonder about the gravity-defying nature of iron transformed into seating? Or wonder about the comfort/discomfort of the early Yanomami chair, made of torched metal? Likewise, the ingenuity of elevating simple bubble wrap into the Plastico Bolha chair, stacked and bolted to a steel frame.
The list goes on, including the São Paulo-based Estudio Campana's delving into related design endeavors, melding craftsmanship and materiality, with forays in fashion (Lacoste, Louis Vuitton, and Fendi), glass works (Venini and Baccarat), accessories (Alessi), jewelry (H. Stern), and set design among them. It is this last that brings us to the latest exposition called Cine São Jose at Los Angeles-based Friedman Benda gallery. Representing the studio's 3 ½ decades of work, some two dozen pieces tied to the interior landscape are on view in an installation designed by Jennifer Olshin. This is the studio's first exhibition since Fernando's untimely passing in November, 2022, and it will include two new items launched in the U.S. The Jalapao chair and Galactica sofa are the last pieces the brothers created together and therefore Humberto's favorites.
Turns out the cinema was the main influence on the brothers, growing up in the countryside Brazilian town of Brotas. "The movies were our window to the world," says Humberto. "Our town had no museums, no theaters, essentially no cultural life." But it did have one movie theater. Cinema São Jose was run by an Italian immigrant who, thanks to familial friendships, allowed the young boys to attend weekly showings gratis. "The magic of cinema was revealed to us, and a favorite past-time was to go home and try to recreate the set designs of all sorts of movies. Cinema was the first to spark our imaginations and desire to become storytellers." Ergo, stars were born.
"The movies showed us a new language of telling stories through objects, costumes, set designs, and lighting design, which we modestly tried to emulate with whatever resources we had at the time," Humberto expounds on the influence. "Telling our stories through objects in Los Angeles, the mecca for cinema, is very touching." Naturally, we asked his film favorites. No surprise that Stanley Kubrick's "2001: A Space Odyssey," Pedro Almodóvar's filmography, Federico Fellini's "Amarcord," and Ridley Scott's "Alien" count among them. Cine São Jose runs until April 15.