Behind 'Fibration,' New York Textile Month's Main Exhibition
The brainchild of trend forecaster Lidewij Edelkoort and her business partner Philip Fimmano, New York Textile Month surveys a vast array of talents and collective initiatives looking to revive and innovate age-old fiber and fabric craft traditions. Encompassing a robust calendar of talks, walks, workshops, studio tours, and exhibitions throughout September, the festival—now in its eighth edition—paints a comprehensive picture of how this tired-and-true medium is being approached by today's practitioners. With events accessible to the general public and, in some cases, available through digital streaming, New York Textile Month communicates how the medium continues to play an integral, if not overlooked, role in everyday life.
"The cultural undercurrent of New York Textile Month has become increasingly important as we see a deeper interest in anthropology and artisanal craft emerging everywhere," says Edelkoort. "Throughout interiors, we will continue to embrace textiles, from accessories to drapes, upholstery, and wall hangings. At a time when AI emerges as a threat to the handmade, loom textiles and industrial weaves become metaphors for the human imagination translated into a fluid piece of cloth."
A central component of this year's New York Textile Month is the "Fibration" group exhibition. Held at Chelsea's L'SPACE Gallery through October 13, the show brings together format-defying works by American fiber artists Liz Collins, Joy Curtis, Melissa Dadourian, Regina Durante Jestrow, Courtney Puckett, Lelia Bacchi Curotto Levy, Michelle Segre, and Denise Treizman. Curated by fellow interdisciplinary textile talent Ragna Froda, the showcase reveals a wide range of unconventional sculptures and tapestries that place particular emphasis on how the medium increasingly intersects with fine art. Expect vibrant colors, visceral textures, and playful juxtapositions of unlikely materials.
10 Highlights from "Fibration" during New York Textile Month 
Broken Promise by Melissa Dadourian
By integrating found fabric scraps into cohesive yet texturally varied collages, Brooklyn- and Hudson Valley-based Melissa Dadourian's abstract Wall Works seem to transcend definitions of 3-D sculpture and 2-D tapestry. The 2021 Broken Promises piece utilizes different geometric patterned fabrics that when placed together, create an almost trompe l'oeil effect.
Corner Grids by Melissa Dadourian
Dadourian's more recent Corner Grids work, 2023, demonstrates how her career-defining preoccupation of combining disparate materials can be expressed in entirely different applications. In this instance, elements of open knit rather than tightly woven textiles are brought together in a cohesive interplay of color, texture, negative and positive space, and captivating jarring proportional composition.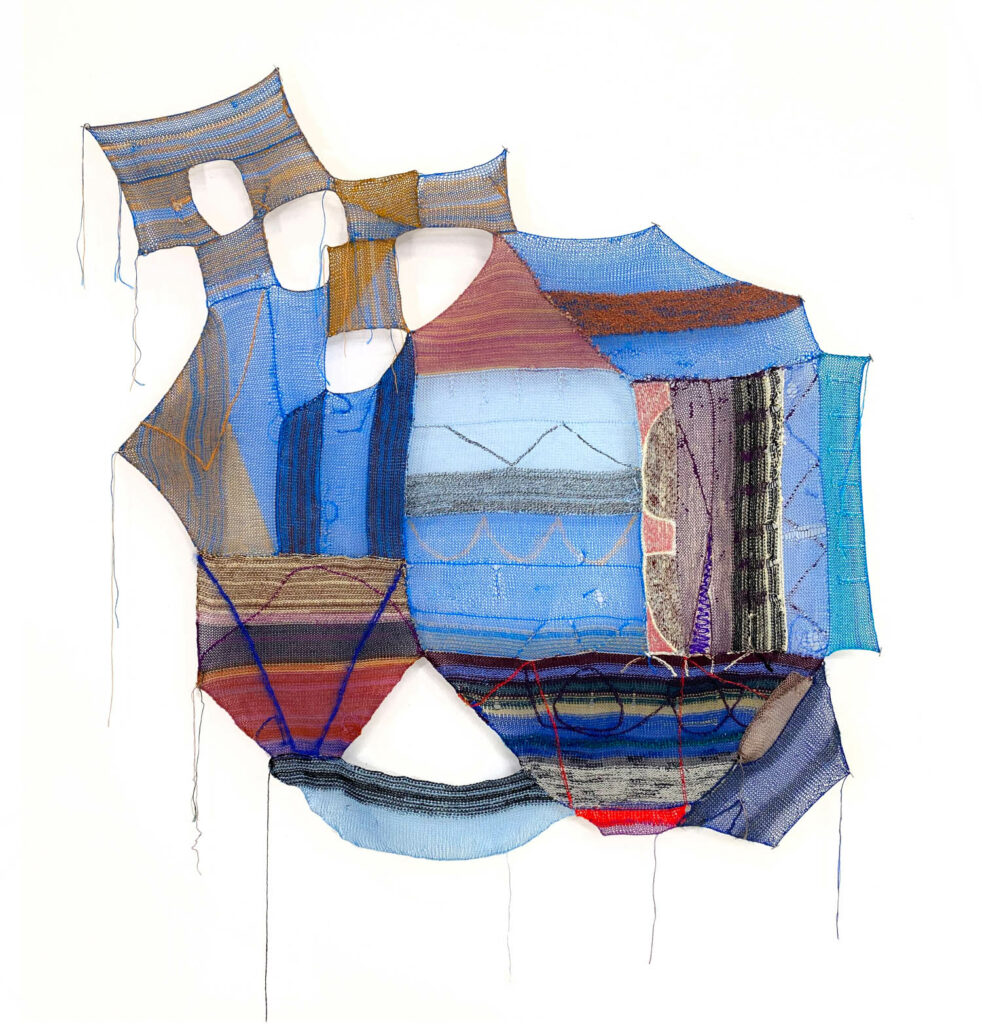 Lamplighter by Courtney Puckett
Hudson Valley-based artist and educator Courtney Puckett often implements various wrapping, knitting, and weaving techniques to replicate the contours of everyday design objects that have been discarded. Found furnishings and household items are repurposed as armatures for her cumulative, human-sized works. Pieces like the wonderfully exaggerated Lamplighter, 2023, take on personified characteristics.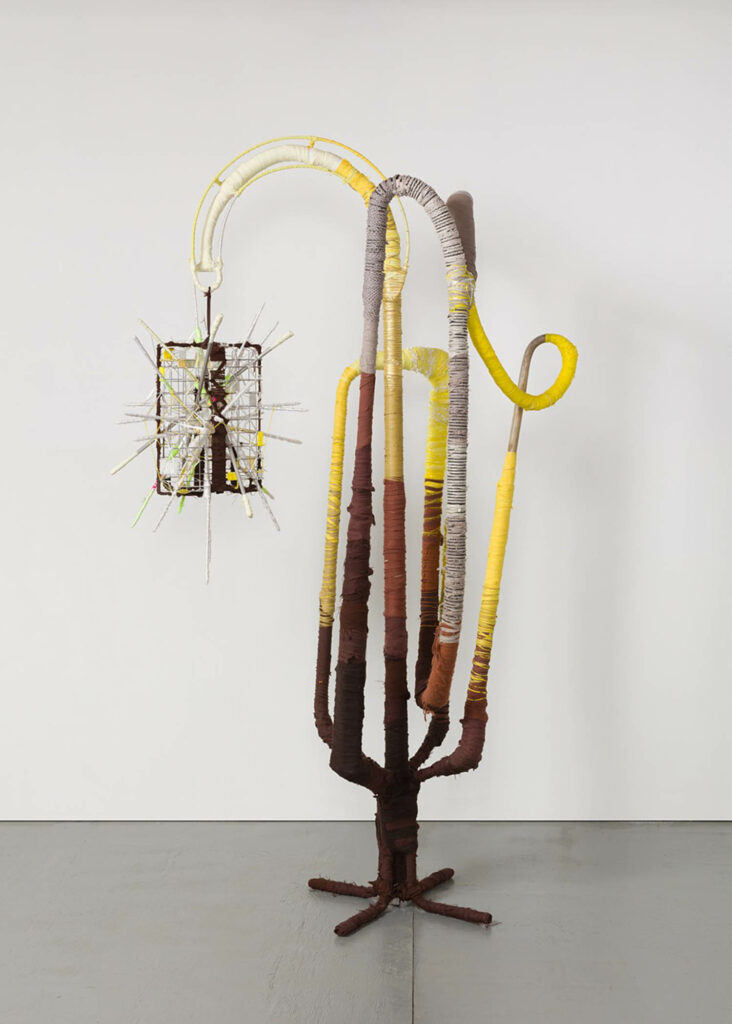 New Day by Courtney Puckett
Puckett's earlier New Day work, 2020, has a more conceptual and universal connotation. The totemic sculpture emerges from a nondescript metal frame structure and is imbued with a wrapped mesh-like material structure that progressively moves between the different colors of the rainbow. The piece is both a demonstration of the artist's mastery of her own bespoke techniques and aptitude in constructed composition.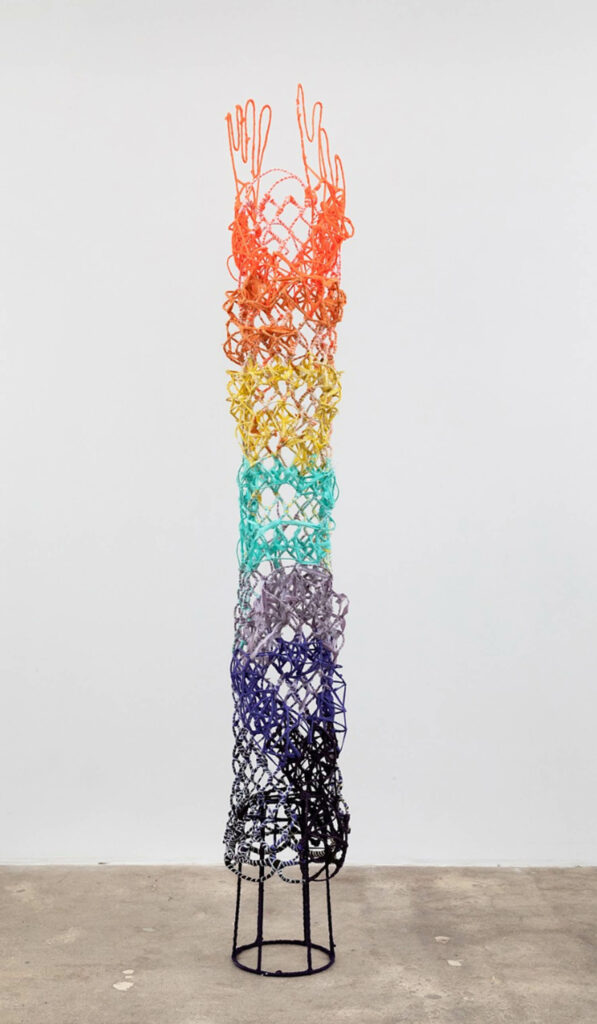 Rise and Shine by Denise Treizman
As the title of this work might suggest, Chilean Israeli artist Denise Treizman shapes her practice around playfulness and critique in equal measure. She often coalesces found materials in abstracted multi-dimensional pieces that indirectly poke fun at rampant consumer culture. Bright colors and even unlikely materials like neon tubes are brought together to riff on commonplace imagery. Cast in blue and yellow hues, Rise and shine riffs on the over use of this expression.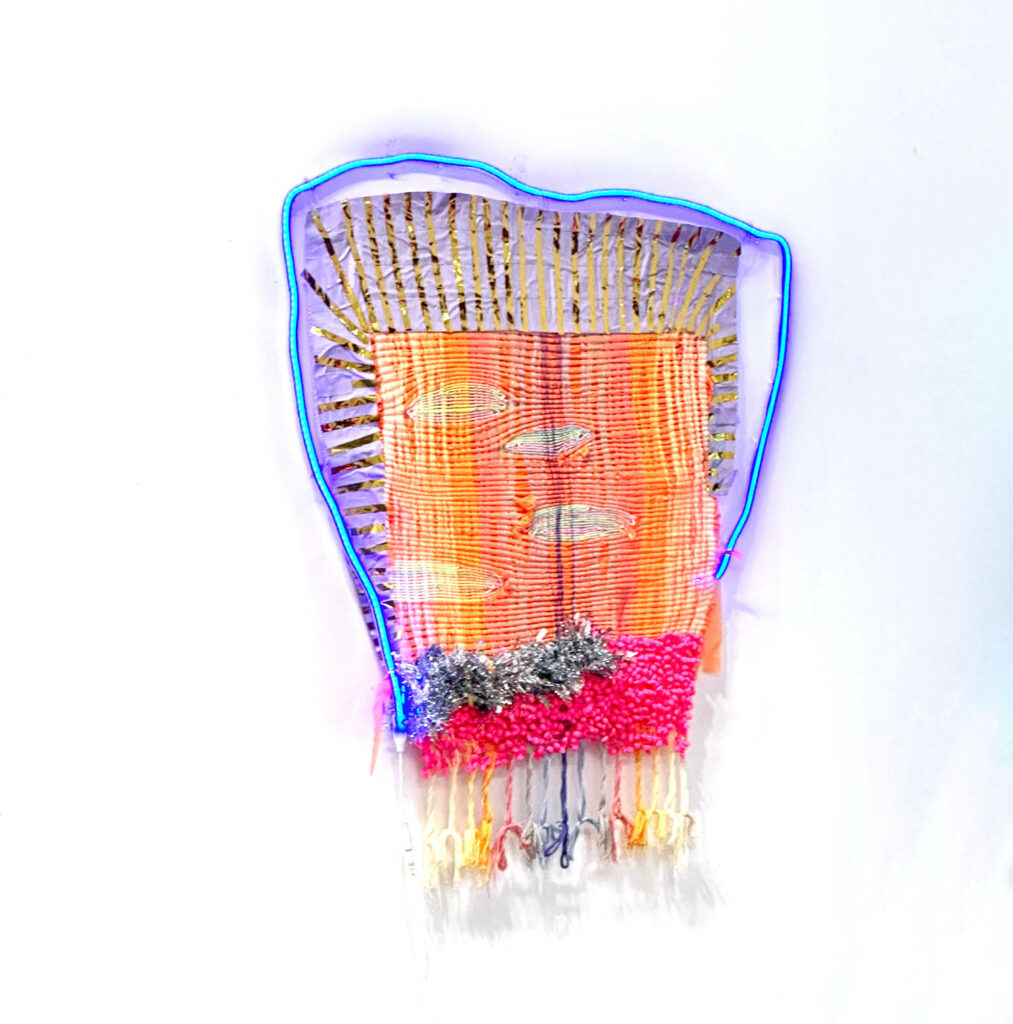 Jazz by Liz Collins
Over the past decade, Liz Collins has emerged as a prominent figure in the fiber art and textile design worlds. From fashion to site-specific installations, the Brooklyn-based heavyweight has worked across innumerable mediums and applications. Collin's Jazz tapestry, 2020, stems from her ongoing exploration of geometric patterns and herringbone motif lines. This piece, like many others, breaks the third wall so to speak, with 3-D acrylic and rayon fabric yarn threads emerging from the 2-D composition.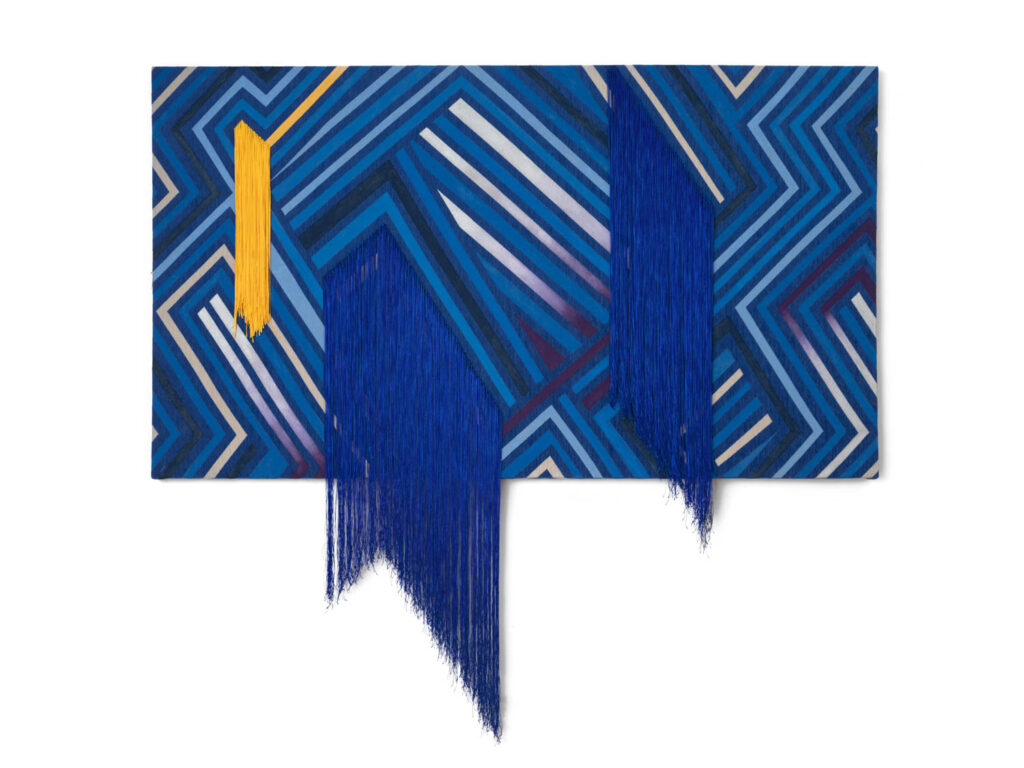 Olga Depicts this Kind of Life by Lelia Bacchi Curotto Levy
Pushing the definition of fiber arts even further to incorporate the age-old tradition of woven basketry, Lelia Bacchi Curotto Levy creates otherworldly sculptures. The Olga Depicts this Kind of Life piece, 2023, transforms materials like Cochineal and marigold-dyed rattan reeds into a multi-appendaged creature. The Brazilian talent is known to allow the materials she is working with to emerge as characters.
Meteor Voidsorption by Michelle Segre
Not unlike her exhibiting contemporaries, Michelle Segre blends otherwise seemingly disparate materials. Works like Meteor Voidsorption, 2022, combine metal, yarn, plaster, papier-mâché, plasticine, and paint. The almost talismanic work sees materials forming a controlled spider web over a curvilinear armature which plays host to an abstractly-painted textile. The drip effect one might associate with paint is expressed as a loose-end yarn threat that forms as a contour fringe.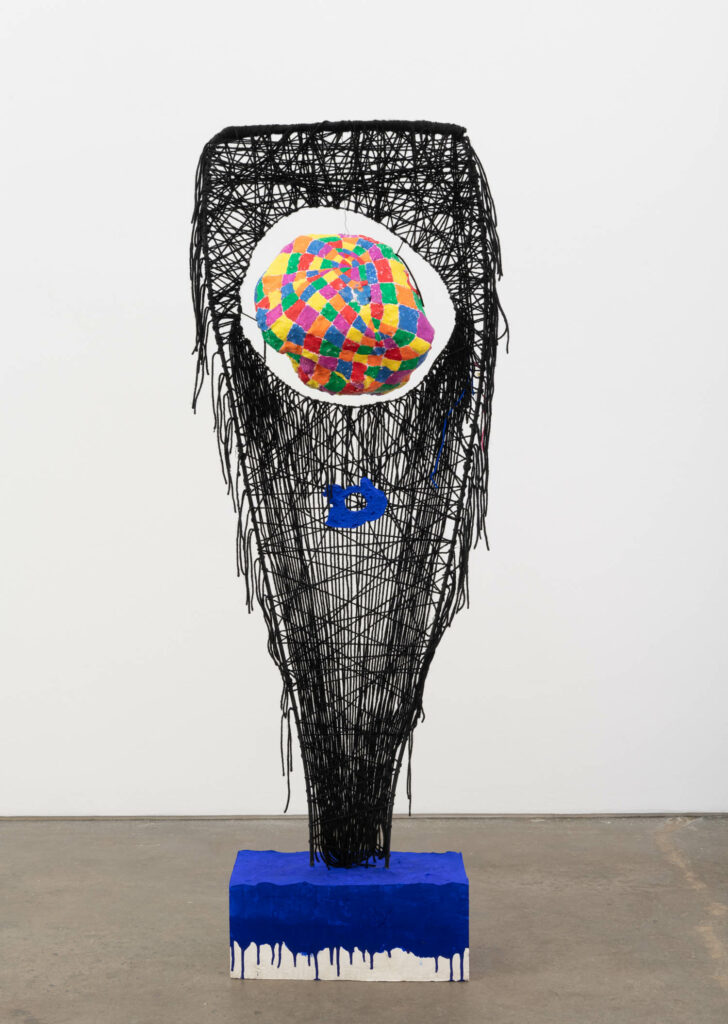 Vulnerability & Resilience 2 by Regina Durante Jestrow
Miami-based artist Regina Durante Jestrow first forayed into quiltmaking as a way to stave off homesickness. Her practice—one that has morphed into something that is more experimental than conventional—now harnesses this age-old technique to evoke her reflections on American history and the recontextualizing of its vast array of craft traditions. Comprising ink, watercolor, acrylic paint, burnt muslin, second-hand shirting material, and thread, Vulnerability & Resilience 2 takes on a viscerally tense geometric composition. The almost haptic work includes what appears to be sharp cutaways loosely connected in what one might describe as a zipper formation.
Vulnerability & Resilience 12 by Regina Durante Jestrow
Stemming from a similar exploration, the Vulnerability & Resilience 12 work reveals Durante Jestrow's dexterity when it comes to both technical skills and visual composition. More organic in nature, the graphical piece evokes the oscillation of emotional responses we all experience at times in a contrasting black and white configuration.