Hall of Famer Naomi Leff Dies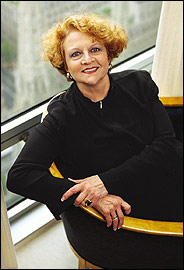 Naomi Leff, an interior designer who created elegant spaces for celebrities and retailers like Ralph Lauren, Ferragamo, Gucci, Giorgio Armani and Helena Rubinstein, died on Sunday at Mount Sinai Hospital in Manhattan. She was 66.

The cause was complications of liver disease, her friend Barbara Ashley said.

She was not widely known by the public because she tended to work for wealthy, private customers. Among her residential clients were Steven Spielberg, Jeffrey Katzenberg, David Geffen, Barry Diller, Tom Cruise and Nicole Kidman, and Mike Nichols and Diane Sawyer, her firm said.

Ms. Leff first attracted wide attention in 1986, when she transformed the Rhinelander Mansion at Madison Avenue and 72nd Street, built in 1898, into the flagship store for Polo Ralph Lauren.

As a profile of Ms. Leff for The New York Times in 1989 reported, she pieced together the building from the few original plans that remained, uncovering the site of the original staircase, and "designed a grand mahogany stair that looks as though it has always been there." Similarly, she had ornamental plasterwork recast from surviving fragments so that it, too, appeared original. Writing in 1992, Paul Goldberger, The Times's architectural critic, called this "the most successful conversion of a New York house into a luxury emporium since Cartier took over the former Morton Plant residence on Fifth Avenue." He said it achieved "just the right balance between beautiful objects for sale and beautiful objects placed to enhance the experience of being in a stage set."

By that time, Ms. Leff had designed interiors for Neiman-Marcus and Bergdorf Goodman and had worked from 1975 to 1980 as the senior designer for Bloomingdale's. She then designed interiors for yachts and private planes and the famously expensive Park Hyatt Beaver Creek Resort in Telluride, Colo.

Preferring what she called "a modernist, minimalist aesthetic" with occasional flourishes of Art Nouveau or Art Deco, she was able to capture almost any era or mood.

"Architects tend to scorn interior decorators," said Paige Rense, the editor in chief of Architectural Digest, which published many articles about Ms. Leff's work and picked her as one of 30 or so Deans of Design in a recent issue. "No architect scorned Naomi Leff, and she worked with some of the best."

Ms. Leff was born on Aug. 4, 1939, in the Parkchester section of the Bronx, to Frank Leff, who worked for the American Jewish Committee, and Johanna Leff, a teacher in the New York City school system. She attended the High School of Music and Art in Manhattan, then received a Bachelor of Science degree from SUNY Cortland and a master's in sociology at the University of Wisconsin in Madison. Her parents survive her.

After teaching elementary school in the New York City public school system for a few years, Ms. Leff enrolled at Pratt Institute, earning a master's in environment design with a minor in architecture. In 1980 she opened her own design office, Naomi Leff & Associates, concentrating at first on retail and residential design.

She took an all-encompassing approach. At Shearson Lehman Hutton's Saddle Ridge Conference Center in Beaver Creek, Colo., for example, she put together an extensive, museum-quality collection of American West antique furnishings and artifacts that is now considered one of the best of its kind. Ms. Leff also designed the company's planes, a Gulfstream III and a Gulfstream IV.