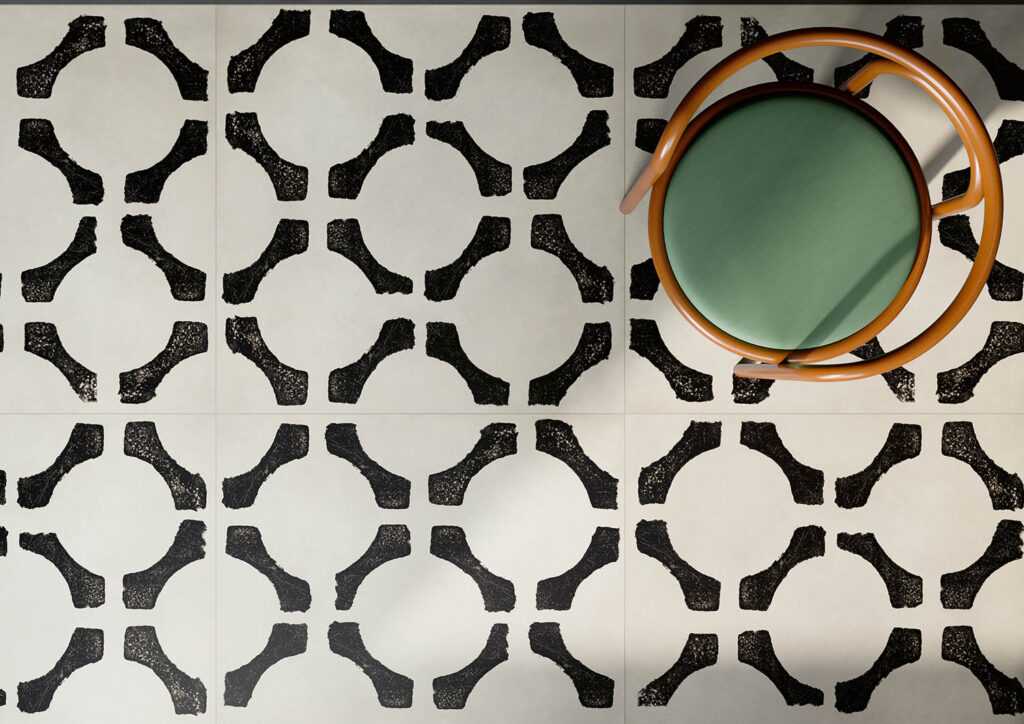 Highlights from Cersaie 2022
Though little more than a month ago, Cersaie, the world's largest exposition of ceramic tile manufacturers promoted by Confindustria Ceramica boasted big news on all fronts. A consortium of designers, architects, and manufacturers first experienced five sun-filled days in Bologna taking in the city's delights—and tiles. Next came official facts and figures. Cersaie counted a 50% increase in visitors from last year, the number totaling 91,296. But perhaps the best news of all were the tiles themselves, which showed the industry's vitality.
Here, Interior Design cites highlights from the event. Who knows when these introductions may find their way to walls, floors, and outdoor settings in the most artistic manner?
Ceramic Tiles in Bloom at Cersaie 2022
Color bloomed, especially in glazed brick formats, with blues and greens predominating. For example, Interior Design Hall of Famer Paola Navone of Studio Otto seemed to have had a psychic meeting with David Hockney. The studio's addition to ABK's Poetry House includes a range of new shades, like popular blush. Ferruccio Laviani made a statement with Pigmenti, a 12-color system available in various slab shapes for walls, indoors and out, for Lea. Meanwhile, Drip Lines brought color to linen-like and bronze textures seen in room settings at Sant'Agostino. For hand-painted tiles aglow with glazing and depth, Cerasarda's Yacht Club collection, emanating from Sardinia was a standout. "The Hermès of ceramics," noted the rep, who also pointed out a brand-new texture, Sughero, Italian for cork.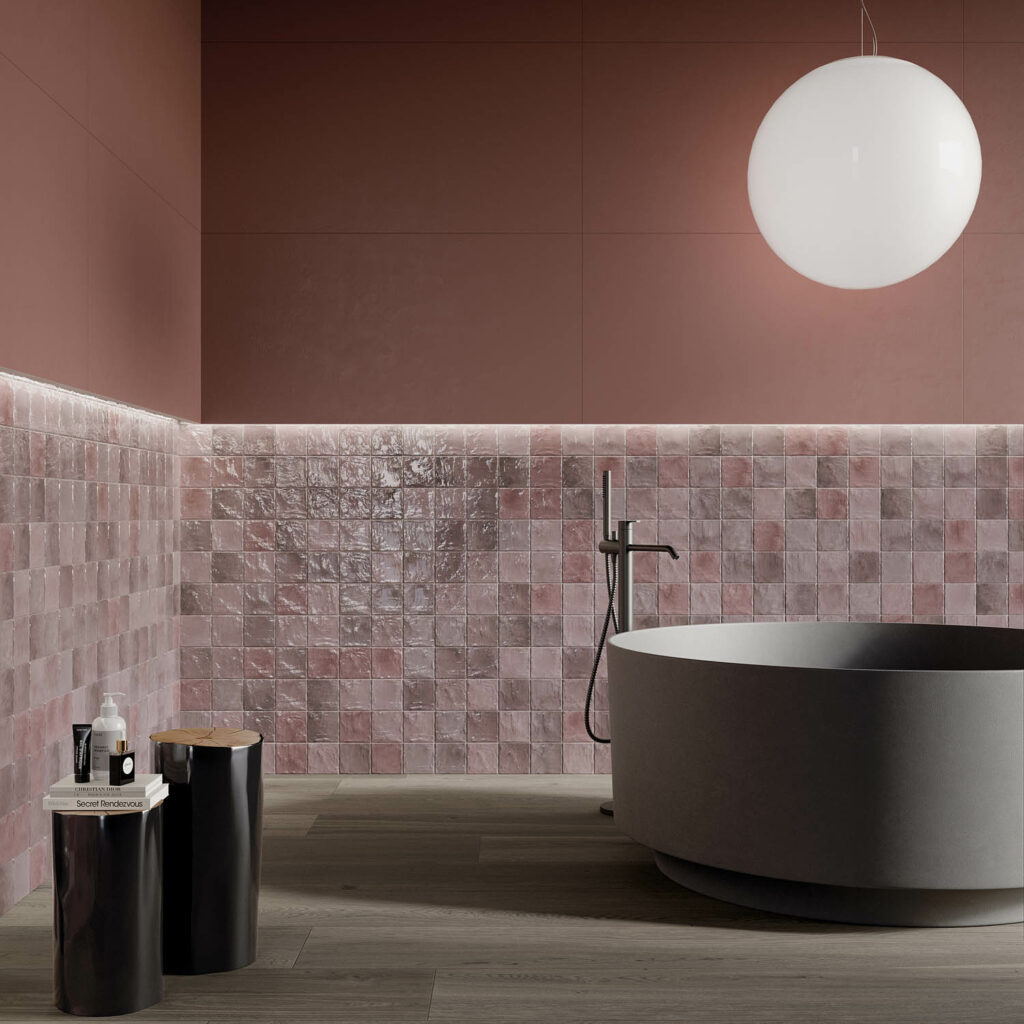 Tiles Inspired by the Natural World
Of course, biophilic patterns reigned supreme. While fetching blossoms were on hand per years past, palm fronds appeared new to this year's stage. Greenery was executed in a range of techniques ranging from monochromatic as in Ceramica Fondovalle's Dream to hand-painted watercolor looks at Caesar's Deco Solutions to bold strokes, exemplary at Ceramica del Conca's Studio and Jungle groups.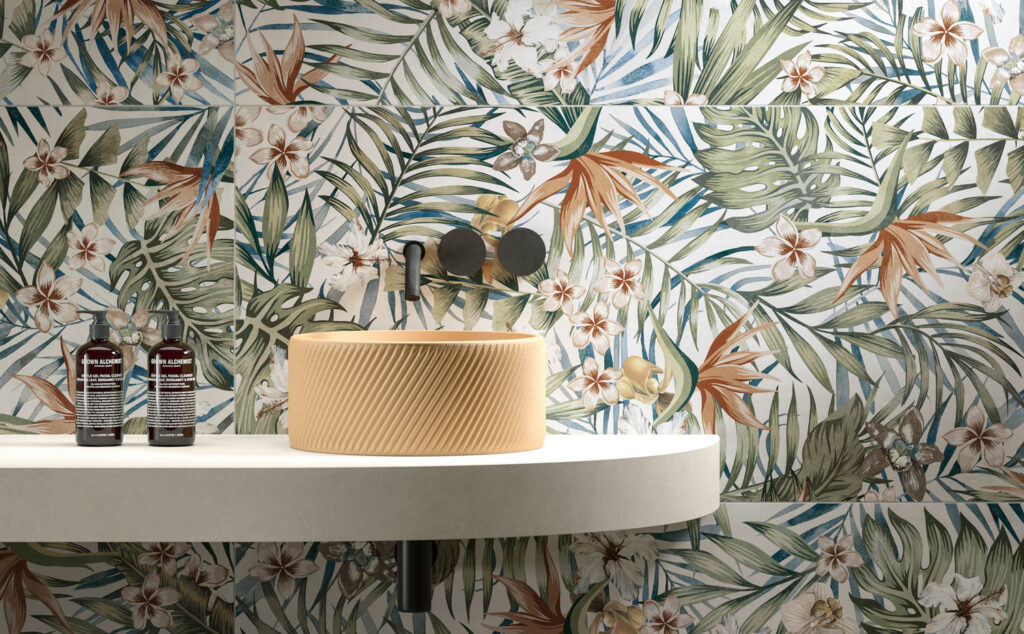 Versace Takes a Maximalist Approach
At Cersaie 2022, some of the stones may have been grounded in reality, but most appeared to be larger than life. Call it nature on steroids. Leave it to Versace to make the point. One collection, Maximus, says it all, whether the inspiration was classic statuario white marble, hints of lapus lazuli, tiger's eye, touches of pink and green, and, of course, black and gold. Some of Versace's inimitable textile prints were transferred to large ceramic slabs in its Manifesto group, while believe it or not, some of the more discreet logo images were found, too, in Icons as tiles for wall coverings. Check out the classic Medusa medallion, or better yet, the Versace name embedded in a subtle 3-D trompe l'oeil.
For real 3-D, Michele Pasini, Barbara Ghidoni, and Marco Donati, co-founders of the esteemed, Milan-based design firm Storage Associati hit it out of the park for Bardelli with Volume. Go cool and neutral, bold black and white, or vibrant fashion colors. Any choice makes a must-see statement.
Other big-name, international architecture firms weighed in as well. HBA, the hospitality giant, collaborated with Atlas Concorde to create the Marvel Travertine Collection, tweaking the "stone" with such shapes as Origami and Tesselation, and even adding a girl's best friend to Diamond panels. Meanwhile Kohn Pedersen Fox and Casalgrande Padana subtly captured the unique energy of New York, London, Shanghai, and Hong Kong with its City Collection.
Channel '70s Chic With These Palettes and Patterns 
Surprisingly Cersaie 2022 took a step back—to the '70's. References to the decade came through with googly patterns such as Piemme's Honey Flower and Trend in navy and sage, Naxos Ceramica's Chromatica Mosaico Glee, and the erstwhile popular ochre shade as presented by La Fabbrica in an installation of its Small collection. 
Back to travel. After Covid's censor on journeys near and far, Italy's ceramic tile industry burst forth with healthy travel lust. Cerdomus drew inspiration from places near and far. Think, Crete and Croatia, as well as Iskra—a province in Bulgaria and the namesake for black-and-white marble and striking teal amazonite looks in the new collection.
Marrakech must be on everyone's wish list. Part of Gruppo Romani, Cir Manifatture Ceramiche transported us there vicariously with Tadelakt, named for the Moroccan plaster drawn from North African colors. Think dusty rose as in ancient streets and facades, green as in mint tea, and beige from cumin, as well as decorative panels and vibrant vignettes to make the effect. 
Finally, one of the best aspects of this immense show, especially for this long-time Cersaie aficionado, is just letting our eyes wander, appreciating the variety and range of graphics. We saw calming clouds, ie Nuages, from Papier. Faded frescoes that could have come from any ancient palazzo were plentiful. Francesco di Maio took us to the fabled Amalfi coast drawing inspiration from its Cathedral of Sant'Andrea with the hand-painted majolica tiles of its Duomo Collection, a contemporary counterpart to the church's medieval roots. Meanwhile the company's Cevi division presented Melody, a jazzy, rhythmical group derived from piano keys, staves, and metronomes. The end results? Harmonious patterns adjoining floors and walls. Again, each tile was hand painted. As for colors, were we partial to Napoli and sky blues? You betcha.
Finally, we come to Davide Tonelli's ultra-contemporary black and white graphic extravaganza, Riggiole for Ceramica Fioranese. To which we add a favorite Italian phrase, venite con noi nel 2023, and the overall description of Cersaie 2022: ottimismo.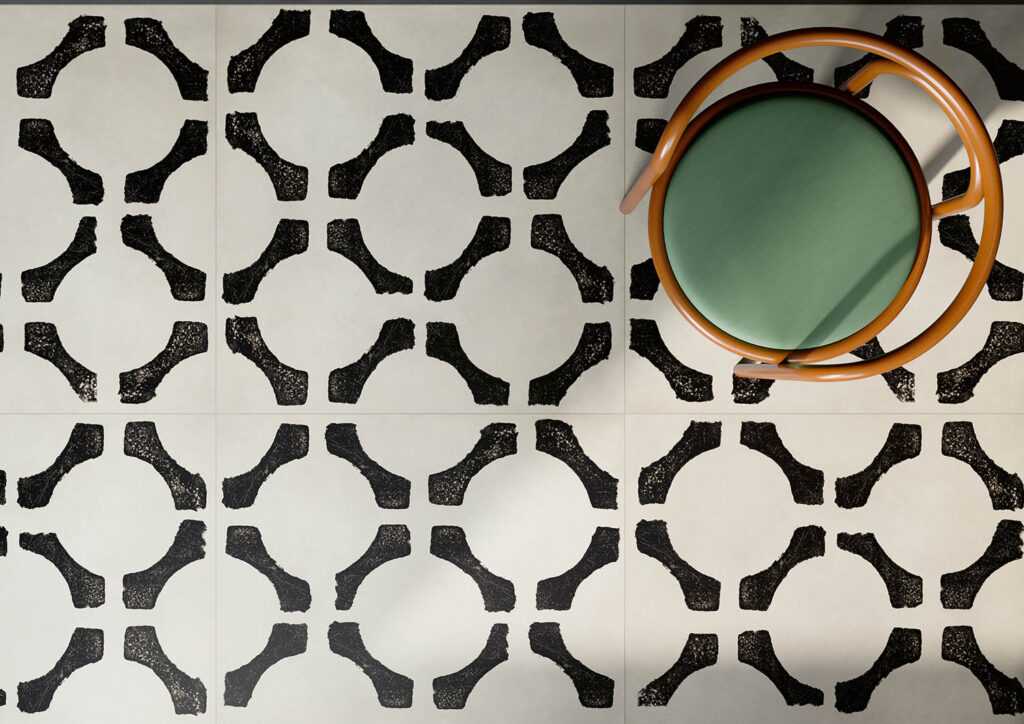 read more
DesignWire

Cersaie 2021: A Harbinger of Hope

A long-awaited double dose of good news comes from Italy. Number one: Cersaie, the international exhibition for the ceramic tile arena and bathroom furnishings sector, will go live again in Bologna in 2021. Dates ar…