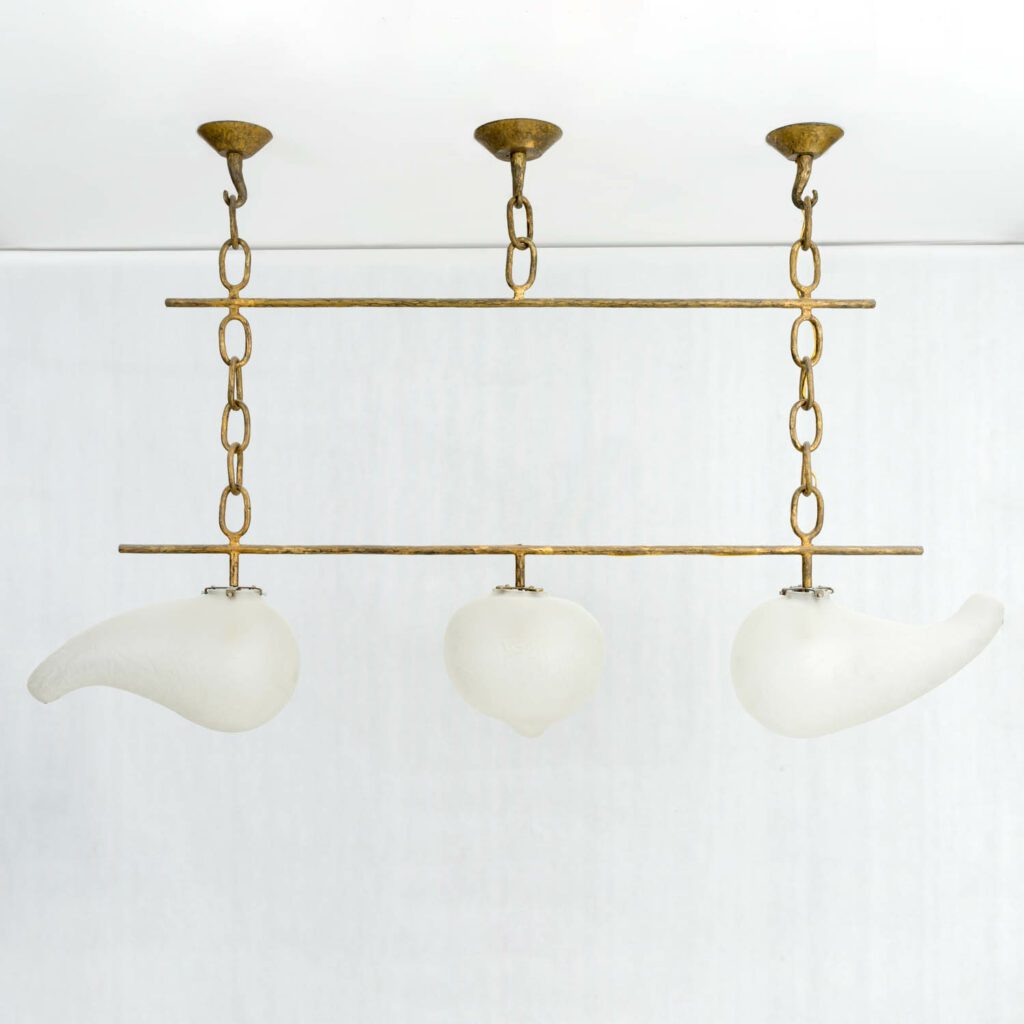 Highlights from Salon Art + Design
The interest to collect design has skyrocketed since the beginning of 2020 due to the pandemic's invitation to notice our surroundings more deeply, and Salon Art + Design is among the foremost affairs to experience this moment. After last year's cautious domestic gallery-only edition, the fair returns to the Park Avenue Armory, business as usual, with 52 national and global exhibitors. In its 11th edition, Salon Art + Design boasts a presentation rich in material and geography, with glass and ceramic claiming the spotlight and exhibitors from cities like Cairo, Beirut, and New Delhi making their fair debut. "Walking down the aisles, the visitors must pay attention to every booth because they will not see two adjacent exhibitors both showing 1950s French furniture or mid-century Italian lamps," says the fair's executive director, Jill Bokor.   
Besides the travel ban lift eliminating the logistical gates, the fair signals the trends of a post-pandemic sensibility—perhaps a freer outlook to taste and a broader lens towards the mainstays of collectible design. "There is definitely a maximalist movement happening," says Bokor. "We all, at first, felt insular during the pandemic but now there is a real celebration of pieces of size and materials with historic market expanding to the contemporary space, such as glass and pottery."
From jewelers in the outer rooms to nooks outside the main Drill Hall such as the staircases or the Colonel's Room, the venue offers the dramatic backdrop essential for the intergenerational selection of objects to shine. "I curate the moves carefully, not only for what dealers will bring but about who is positioned next to each other," explains Bokor. While last year's smaller line-up demanded its own challenges for juxtaposition, this year the fair poses the necessity of an orchestration that absorbs the fairgoers "to pay attention to every display along the way." 
Downtown New York's own Cristina Grajales gallery brings an energetic selection of furniture from an expansive geography, handpicked by the gallery's namesake Colombian founder who has a particular positioning in the design space as a curator, advisor, dealer, and thinker.
Paris-based designer Christophe Côme's idea of a container broadly spans from a 63 inches by 29 inches iron and agateware cabinet to a 3 inches by 10 inches iron and glass jewel box. Abiquiu, New Mexico-based Turkish designer Betil Dagdelen presents an inviting chair from her Orly series, made with blackened steel, cotton, hemp, and Churro wool, all nodding to Dagdelen's experiences with weavers in Peru and Turkey.
While online exhibitions have been common among most dealers and fairs, Intersection Magazine was Salon's response to the cancelation of a physical fair during 2020. "A fair and a magazine are similar in a way that when you turn the page or move onto the next booth, you want to see something different," says Bokor. "After Brazilian furniture, you want to see Japanese ceramics, and then contemporary Egyptian furniture."
The last exemplar is fulfilled by the Cairo-based Le LAB. The fair's newcomer, founded by the Egyptian lawyer, arts patron and design collector Rasheed Kamel, the gallery offers a slice of the Middle East where craftsmanship and material expertise across the civilizations are filtered through a contemporary lens.
French, Egyptian and Lebanese designer Omar Chakil's Nubia bookshelf is made out of raw hand-carved onyx heart of Egyptian alabaster, reaching to twenty-two inches at height. Chakil's rounded visual language also lives in coffee table Hathor, carved from the same material with a similarly soft finish.
From North Africa, travel to London at Adrian Sassoon's booth where glass and earthenware occupies the display with timeless yet contemporary visual cues. Dutch designer Bouke De Vries assumes his past as a restorer to craft an introspective lens towards materials, value, and process.
In Double Gourd Memory Vessel, broken pieces from the 17th and 18th century Chinese porcelain vases are gently assembled inside a new class vase. The porcelain's blue ornaments exist in fragments, contained in the glass's pristine form. De Vries also questions a vulnerable object's irreversibility after breaking in Deconstructed Neolithic Machang Jar which shows a 2,500-2,000 BC Chinese earthenware jar positioned over a bronze surface.
New York's Heller Gallery and Glass Past exclusively focus on glass, while many galleries present contemporary glass pieces, including Chelsea's Friedman Benda, in their selections. "There will be really interesting glass on the floor, including Thaddeus Wolfe's sculptures," says Bokor. Playful and engaging, the Brooklyn-based designer's practice merges glassblowing with casting, adorned with standout hues and biomorphic forms inspired by nature's own way. The British multi hyphenate Faye Toogood's hard-carved oak desk, Mound, is a sculptural piece of furniture, containing two large shelves inside one of its legs, topped with a finishing that resembles moon's surface.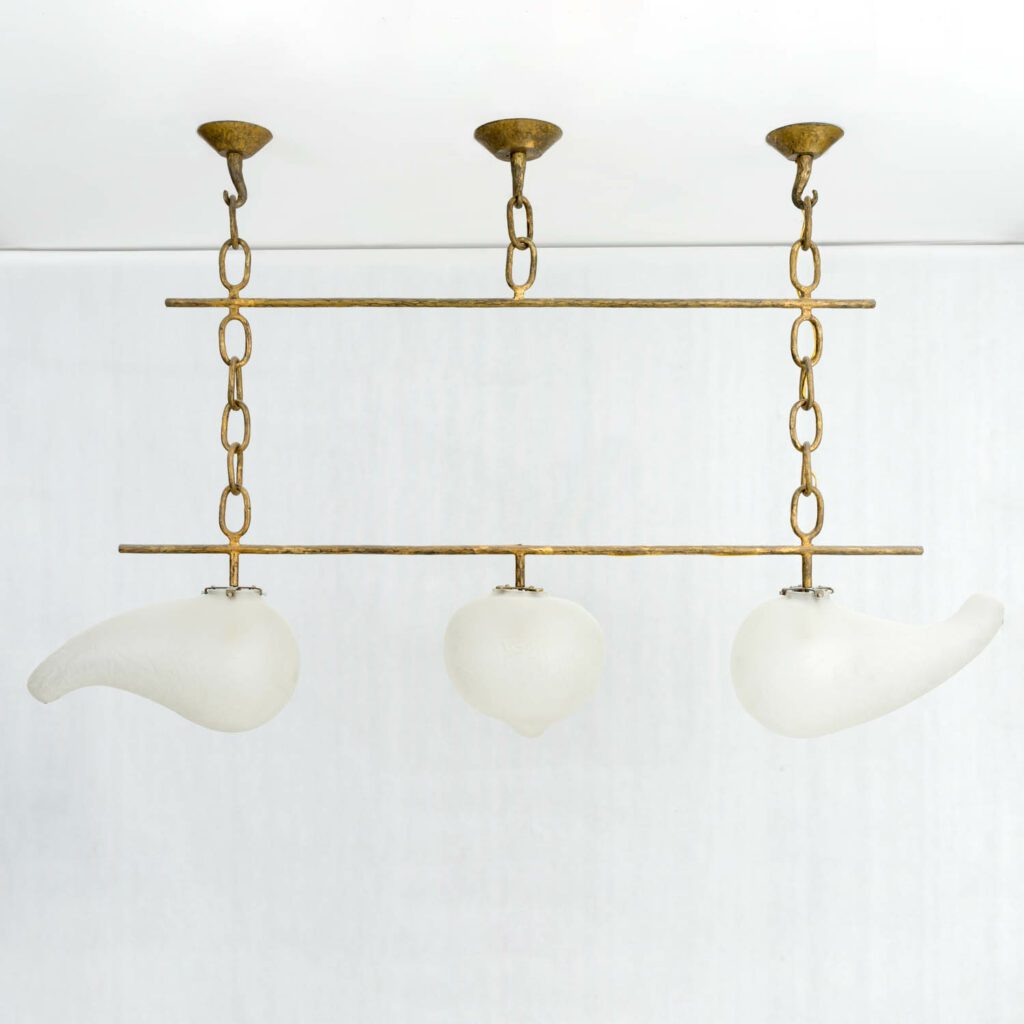 Gabriel & Guillaume returns for a second year after the dealers Nancy Gabriel and Guillaume Excoffier moved their business from Beirut to Manhattan's Midtown. As broad as the gallery's geographical transition is its offerings in period, tradition, and culture. From Brazilian Modernists to emerging Lebanese designers, the program taps into every curious eye's taste, and at the fair, visitors can expect a similar range. Beirut-based lamp design studio Mariagroup, opened by siblings Georges and Michèle Maria, presents Cornette floor lamp which blends Washi paper with hand-shaped and hammered aged brass. Another two-designer studio Garouste & Bonetti, which was launched by costume designer Elizabeth Garouste and photographer Matt Bonetti in Paris, brings the light from the floor to the ceiling with Schlesinger, a chandelier made from Murano glass and gilded wrought iron. Mid-century design firm Bruno Gatta from outside of Milan is memorialized with a 1950s rare floor lamp with three circular shades. 
Another gallery that has grown out of its hometown, Stockholm's Modernity also operates in London to promote 20th century Nordic design. Swedish designer Mats Theselius's aluminum and birch bark chair is a striking example of how two seemingly contrasting materials blend to offer comfort and sculptural radiance. The aluminum's industrial sleekness and bark's organic familiarity offer a tongue-in-cheek medley of material synthesis.
Swedish artist Alf Wallander's acid-etched glass vase was first exhibited at the Baltic exhibition in Malmö at the beginning of the 20th century. In the context of the gallery's presentation, the radiant object offers a slice of the former century's Scandinavian tradition with Wallander's rendition of the blue sky across the vase, adorned with the seagull motifs etched and engraved by Axel Enoch Boman in the late Art Nouveau fashion. 
New Delhi-based lighting firm Klove was established by Prateek Jain and Gautam Seth in 2005 and now produces lighting solutions at dramatic scales with a team of over a hundred. Handblown glass pieces are culled from local Indian tradition, as well as a response to contemporary touches of architecture and industrial design.
The studio brings the new collection Totems Over Time to the fair's main Drill Hall, signaling the title's play on temporality with a medley of traditions, including tribal icons, Art Deco, biomorphic touches on metal, and exploration of geometric symmetric. Besides the light fixtures' sculptural forms, their illumination in dramatic compositions compliments the designers' statement on transcendence and immersion.
Salon Art + Design is open between November 10 and 14, 2022 at the Park Avenue Armory.