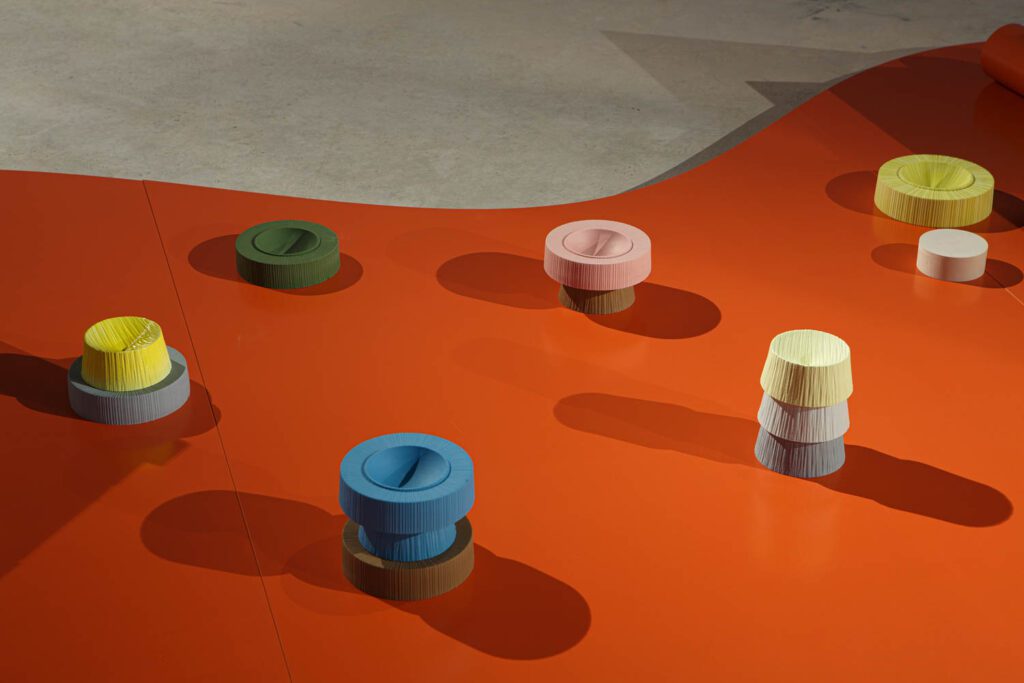 11 Highlights from Dutch Design Week 2022
Dutch Design Week returned in full and splendid physical form this year for its 20th anniversary, featuring the work of over 2,600 designers in 100+ venues across town, including a sprawling former telephone exchange office and car park. This year's theme, "Get Set," referenced the pressing need to combat mounting environmental, economic, and social challenges. The message is one of can-do optimism, however. As the fair's new creative director, Miriam van der Lubbe, says: "We have to act now… The only mistake we can make is just not to get started. So get set!"
On Display at Dutch Design Week
One of this year's Dutch Design Week ambassadors was solar designer Marjan van Aubel (the other was Italian design duo FormaFantasma). Van Aubel showed her Sunne solar lights in an atmospheric installation that moved through the different cycles of the day. She also co-designed the Solar Pavilion, a large outdoor pavilion located on the Ketelhuisplein, alongside V8Architects. Energy and heat were generated on site using colorful glass solar panels stretched between four steel masts. Every part of the pavilion was made from standard parts that could be reused and returned.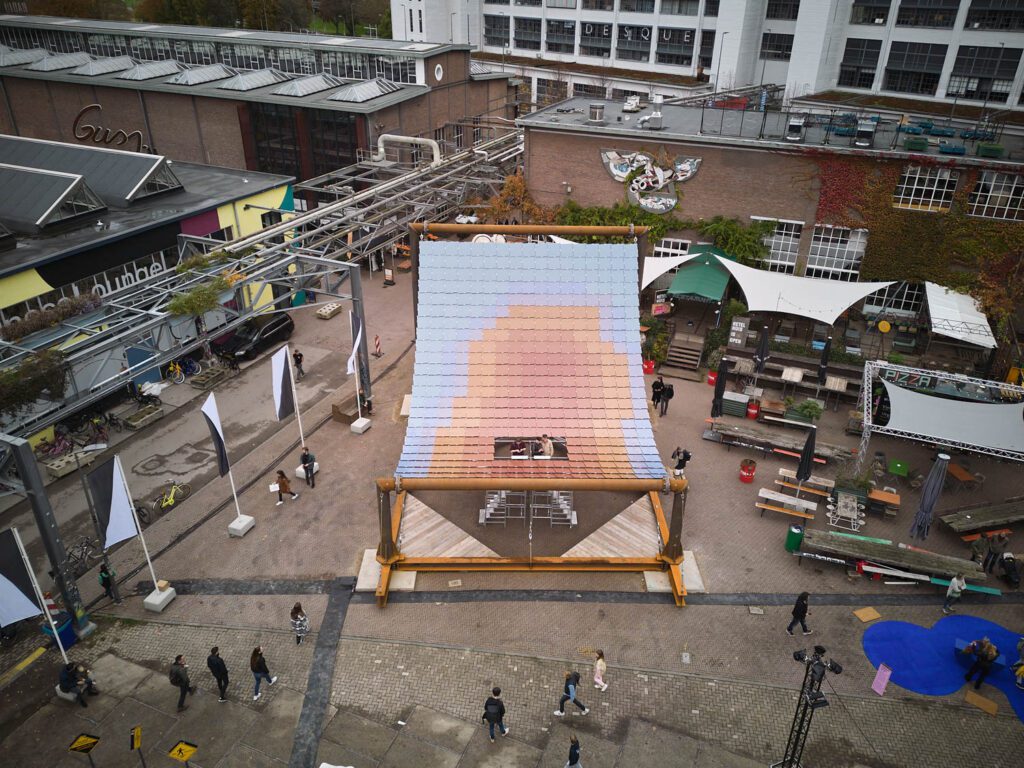 2. Studio Groovido and Rodruza
Thanks to a recent technological breakthrough in the heavy clay industry, it is now possible to bring digital images onto brick surfaces using colored pigments and glazes. Studio Groovido and pioneering brick manufacturer Rodruza brought the humble brick firmly into the 21st century with a series of furniture and decorative items made out of the traditional construction material that featured imaginative patterns and designs.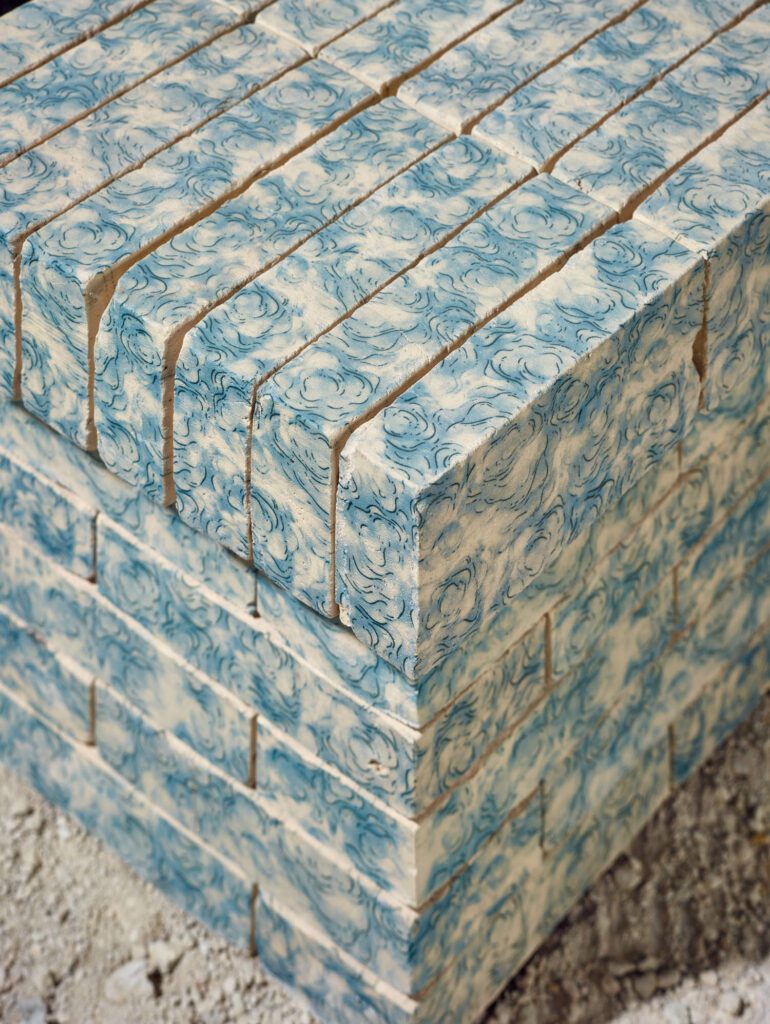 An exhibition at Eindhoven's Van Abbemuseum enigmatically titled 'The Collection is…' brought together artworks from the museum's permanent collection of modern and contemporary art with pieces from pioneering trend forecaster Li Edelkoort's design collection to explore the interplay and boundaries between visual art and autonomous design. Design objets by the likes of Maarten Baas, Julia Lohmann, Jurgen Bey, Nacho Carbonell, Atelier NL, BOKJA, Hella Jongerius and Studio Job were paired with artworks to address themes that are not only urgent today but also timeless, such as migration, racism, loneliness and melancholy. In an exciting move the museum is set to acquire some 50 pieces from Edelkoort's collection and add them to the permanent collection for the first time, which will put the two artistic spheres on a more "equal footing" according to Edelkoort and mean that design isn't viewed as a separate collection. She hopes this will become "an example for other museums in other countries."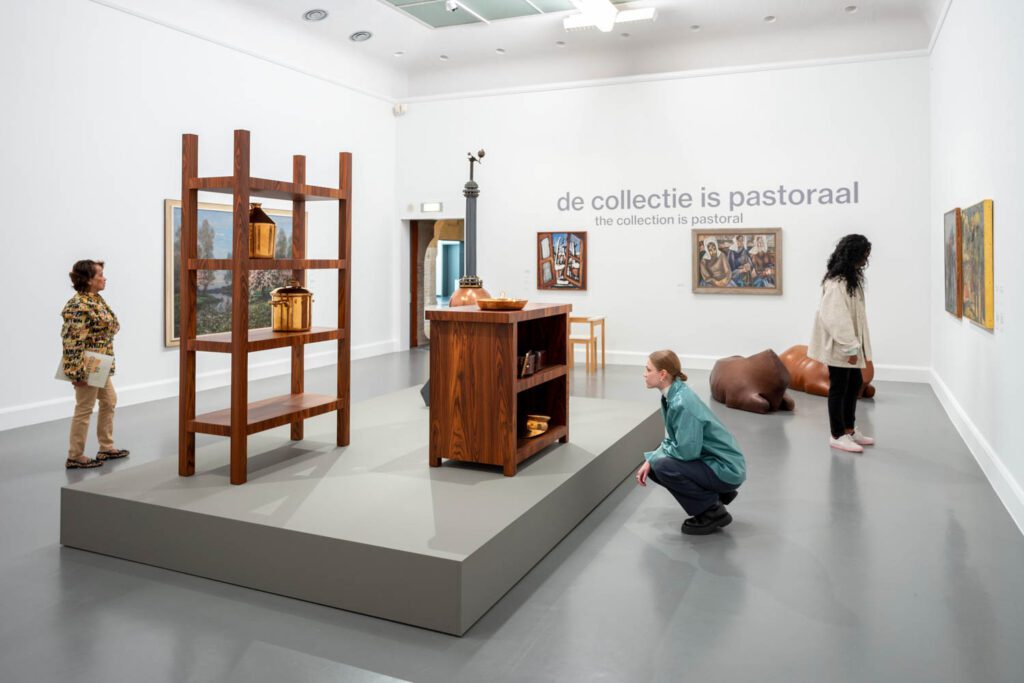 Until November 6
Eindhoven-based Willem van Hooff sees himself as a modern craftsman and uses traditional machinery, methods, and existing products to breathe new life into old materials and techniques. At this year's DDW he showed 'I'm not so sure about this,' a series of soulful slightly wobbly looking vessels on which he expressed his doubts, insecurities and demons by carving in words and sentences like 'fragile' or 'I didn't do enough.' By writing these words on the works and showing them to the world he says he has "started to accept these feelings and learn how to control them".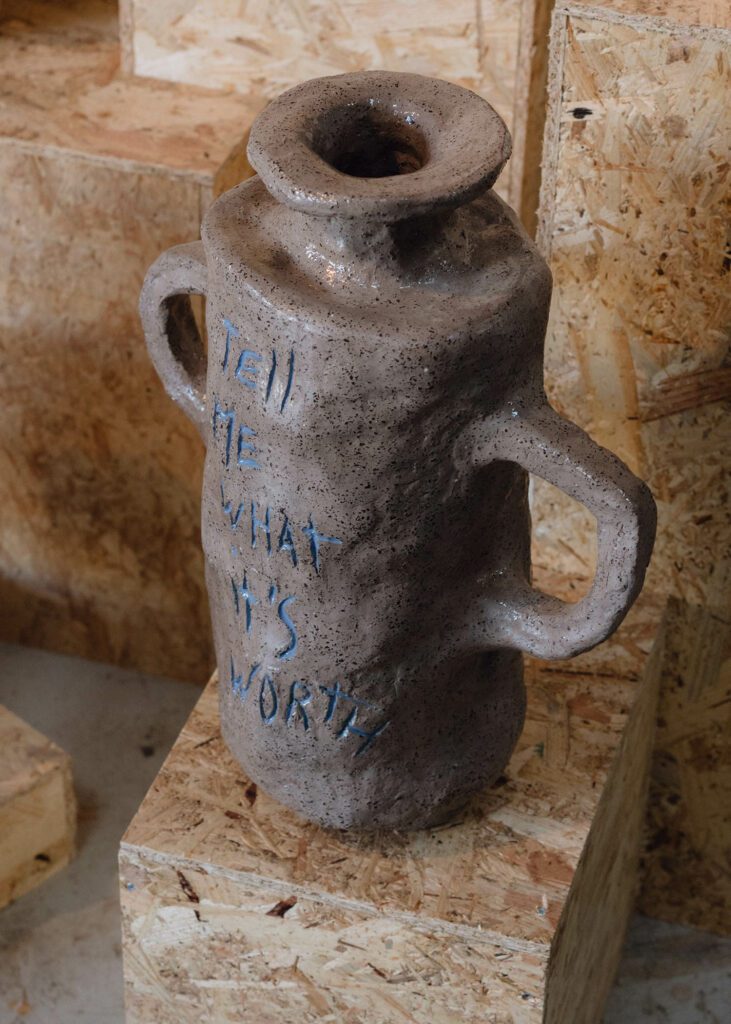 Dutch designer Christien Meindertsma was invited two years ago by the municipality of Rotterdam to look into the possibilities offered by the 5,000 kgs of wool produced by a flock of 2,000 sheep owned by the city (and used to keep its grassy verges well mown!) From what was viewed as very average quality wool she managed to make a fetching range of blankets, jumpers, hats, suits, furniture upholstery, car interiors, felt sound insulation for walls and more. The project highlighted the need for a domestic milling and spinning industry in the Netherlands, especially given the growing interest in the manufacturing and making possibilities offered by local sheep (a theme throughout this year's DDW).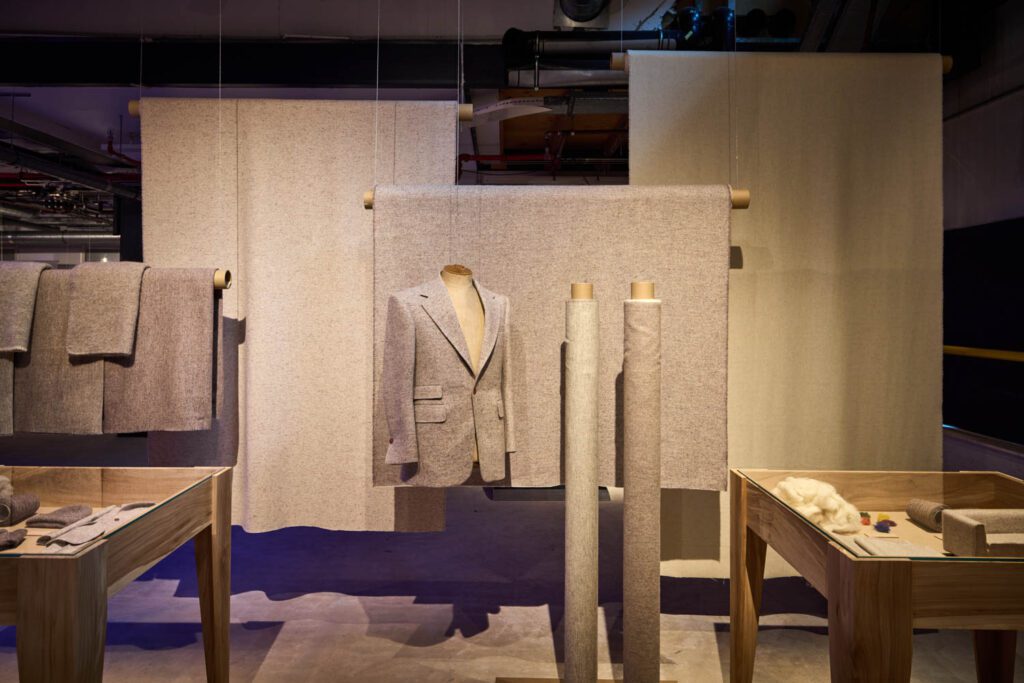 Nina van Bart makes one totem every year as a way to carry out research into different materials, colors, and treatments. This year Van Bart decided to make a 'Tactile Totem' out of ceramics and explore, in collaboration with 3-D designer Roel Deden and product designer and ceramicist Marieke van Heesbeen, ways of producing the totems more efficiently using digital techniques and 3-D-printed master moulds. For the trio, the colorful totems produced offer a case study on how physical and digital knowledge and techniques can come together in new working processes.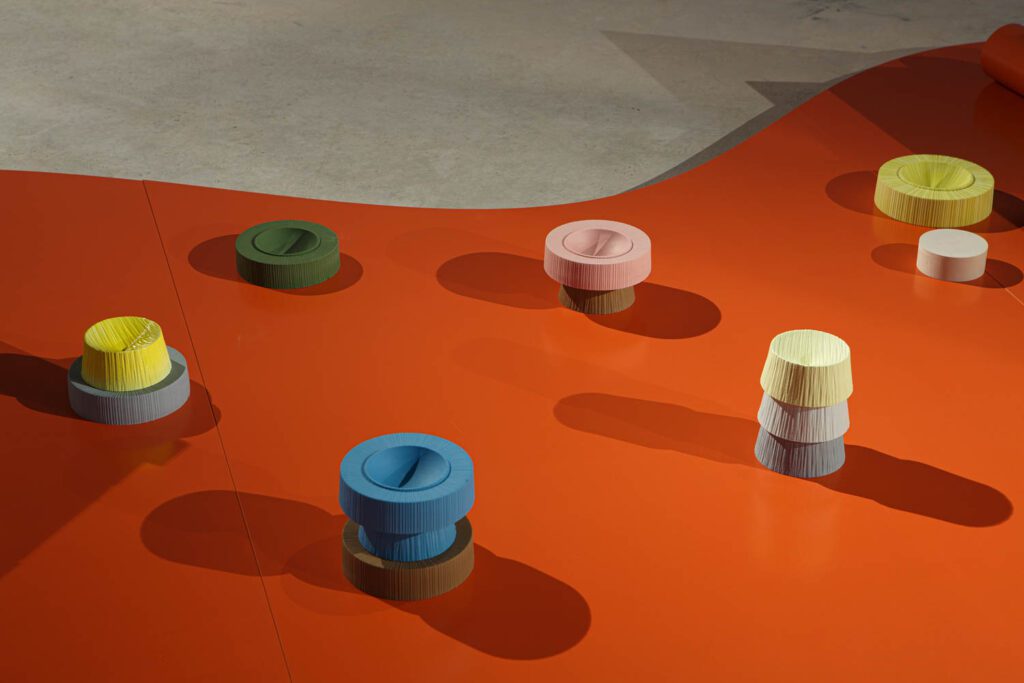 The Carrara basin is being mined at a breakneck speed to produce marble blocks that meet the strict aesthetic standards of the design industry. Anna Perugini's Design Academy Eindhoven graduation project 'Allegory of a Marble Floor' exposes the dual nature of the marble industry, the beauty of the material and dramatic but fragile landscape it comes from on the one hand and the extractive and environmentally damaging nature of its production on the other.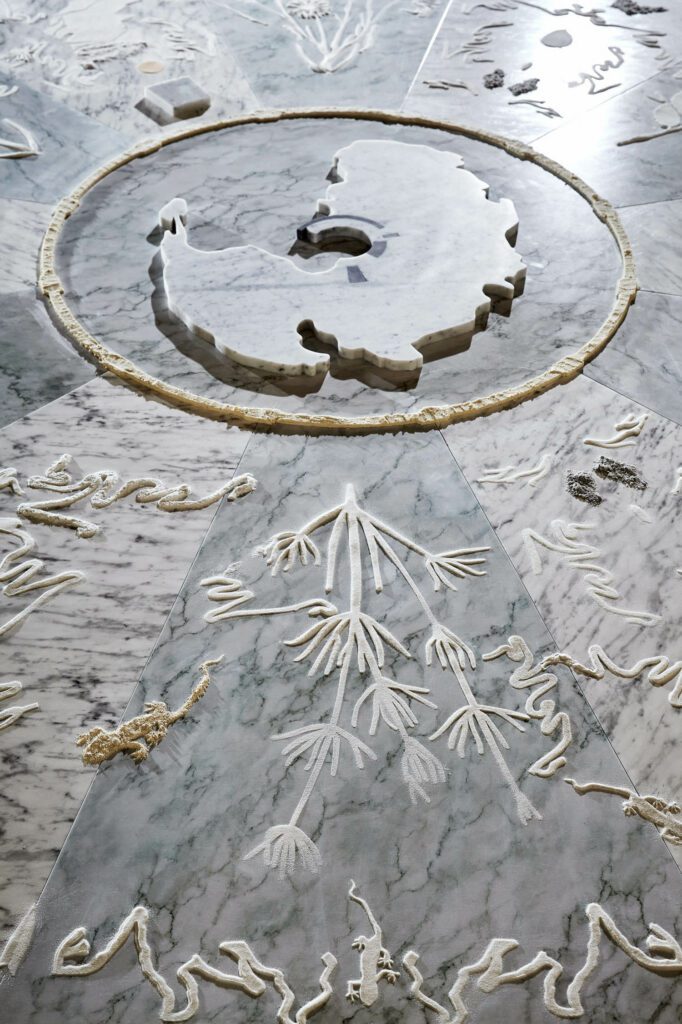 Studio Rens' Re-glow tile collection is all about giving old, unsold tile collections a new lease of life with inventive glazing and finishes. For DDW, the studio launched a series of new colors ranging from muted pastels to strong yellows and blacks as well as a new magnetic backing system for the tiles that allows them to be displayed as wall pieces or turned into side tables as pictured.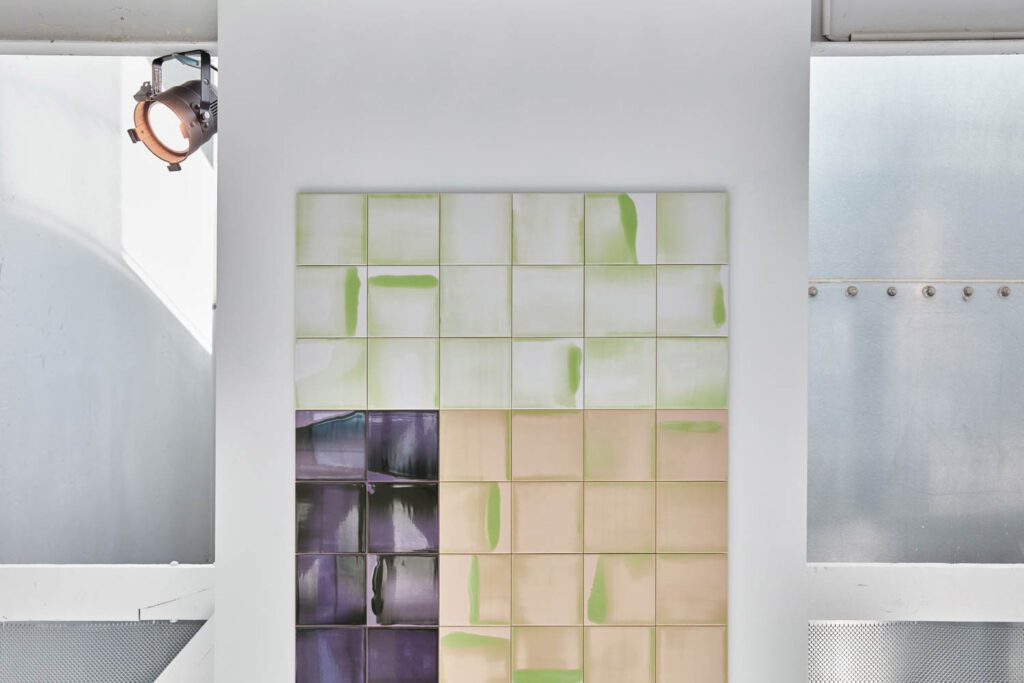 Winner of the Product category in this year's Dutch Design Awards is the 'Rex Chair'. First designed by Ineke Hans in 2011 and given a new—and circular—lease of life in a new range of colors last year by Dutch furniture brand Circuform. REX is a completely recyclable chair that can be returned for a guaranteed deposit of €20. Returned chairs are checked, cleaned, repaired and sold again, while broken chairs are shredded into raw material for new production.
One exhibition at DDW stood out for focusing on an issue that mostly goes unnoticed. 'In de volle grond,' or 'the world beneath our feet,' examined the jam-packed underground world of water pipes, sewers, optic fibers, electricity cables, waste containers and parking garages and asked how we can design the space beneath our feet in a smarter and more efficient way. Organized by the municipality of Eindhoven and designed by fffunction studios and Envisions, this exhibition showed a side of the city we never usually see in full color and life-size three-dimensionality.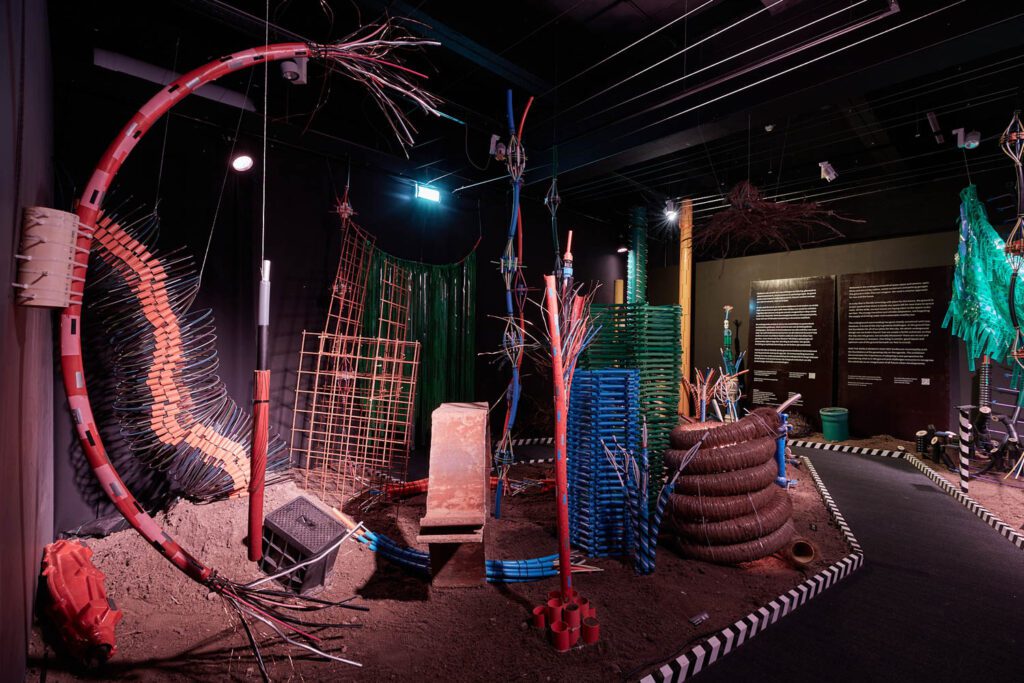 Amsterdam-based graphic designers Thonik were tasked with updating DDW's brand identity and logo for its 20th anniversary. With graphic design icon Wim Crouwels' 1963 poster for an exhibition on Dutch painter Edgar Fernhout held at Eindhoven's Van Abbemuseum firmly in mind, Thonik worked with London's The Foundry Types to design an entire alphabet inspired by the 13 chunky letters on the poster. The 'W' in the DDW logo now resembles a tulip, the Netherlands' national flower and symbol. The new graphic identity was used on various posters and wayfinding signage, as well as bags and programs, in a range of vivid colors. Thonik also created animations based on the new identity.