Highlights from the 60th Edition of The Philadelphia Show
These days, there is a massive pyramid-like white tent positioned outside the east wing of the Philadelphia Museum of Art. The eye-catching canopy was made in Germany to host the 60th edition of The Philadelphia Show, the city's symbolic art, design, and antique fair. After virtual shows in 2020 and 2021, the fair is not only dressed with an impressive home right outside the iconic "Rocky steps" but also packed with the select examples of objects that span classical European furniture to contemporary art. "There is an incredible momentum and pent-up excitement for our fair's return because art and antiques are ultimately to be experienced in person," says the fair's co-chair Lynn Gadsden.
A total of 42 exhibitors from Pennsylvania, Maine, Connecticut, New York, Delaware, and few from Midwest prove Gadsden's point with inviting booths, in addition to the traditional loan exhibition, titled Zero to Thirty this year and dedicated to the fair's 60th anniversary. Fittingly, the show's 13 objects exemplify the scope of American Decorative Arts with a selection by Philadelphia Museum of Art's curator of American Decorative Arts, Alexandra Kirtley, and collector Joan Johnson. Positioned at the center of the tent, the exhibit includes a selection of miniature furniture made by Denis Ralph H. Keeler for his daughter between 1922 and 1943, a 19th century Shaker dropleaf tailor's table, and a copper deer sculpture attributed to the Massachusetts's own metal casting firm A.L. Jewell & Company and believed to be from 1860s.
After being hosted at various venues throughout the city and supporting the hospital at UPenn for decades, this year's edition benefits the Philadelphia Museum of Art and includes virtual panels on the state of design with the curators of the institution. "One of our main goals is to educate the collectors, as well as the general public, about design and why objects matter," adds Huntley Platt, the fair's show manager. Platt also underlines that all of this year's galleries feature returning exhibitors.
Read Interior Design's highlights from The Philadelphia Show which runs through May 1.
Moderne Gallery
Philadelphia's own Mid-Century gallery Moderne, which boats 16,000 square feet of space in the city's Port Richmond, offers a slice of its programming with a range of the finest examples from American design in the mid-20th century. The wood-heavy display includes stunning works by George Nakashima, such as a long chair made out of cherry tree wood and woven sea-grass from 1952. A wide single board walnut wall drawer manifests the late Japanese American designer's commitment to fine lines and smooth finishes while emphasizing a sleek aesthetic.
Jeff R. Bridgman American Antiques
Flag is a less commonly explored direction in antique-collecting, but for those who are interested, Pennsylvania dealer Jeff R. Bridgman is the booth to visit. From war era flags, such as those from the Civil War and the Revolutionary War, the canvas banners on view have painterly qualities beyond their patriotic content and reflect their eras' art and design trends as decorative accents today.
Diana H. Bittel Antiques
A serving tray is another rare find at an antique fair, and the example decorated with a biblical scene at Diana H. Bittel Antiques's booth shows that a platter can be a scene-stealer, too. Illustrated with a lush palette in autumn colors, the juxtaposition includes Adam surrounded by numerous animals while pointing at the serpentine snake in a gesture that recalls of miniature art. The early to mid-19th century tin tray, which is one of five that depicts various scenes, among many alternative objects that the gallery offers, including marine-themed paintings to shell valentines and Napoleon-era prisoners-of-war items.
Glen Leroux Antiques
Connecticut-based dealer Glen Leroux brings a sophisticated selection of its Mid-Century Modern roster, including Karl Springer's wooden striped table from 1960s. The late German designer's black and ruby-colored square furniture is both playful and elegant, a striking example of sculpture's merger with functional design with its Op-Art-inspired pattern and geometric form. A pair of cream lacquered cane custom finish Ward Bennet chairs are classic examples of the bentwood technique from 1960s.
Kelly Kinzle
The fair is also known for its emphasis on American folk art, and the New Oxford-based dealer Kelly Kinzle is the ideal stop for art and furniture that pays homage to the tradition which is today often times considered within the realm of outsider art. The fans of American folk art will notice the walnut, maple, and cherry table with an inlaid waving American flag and carved gun motifs on its legs. The table from 1860s is singed with a notice that reads "made and designed by F. Wedin, Roxbury."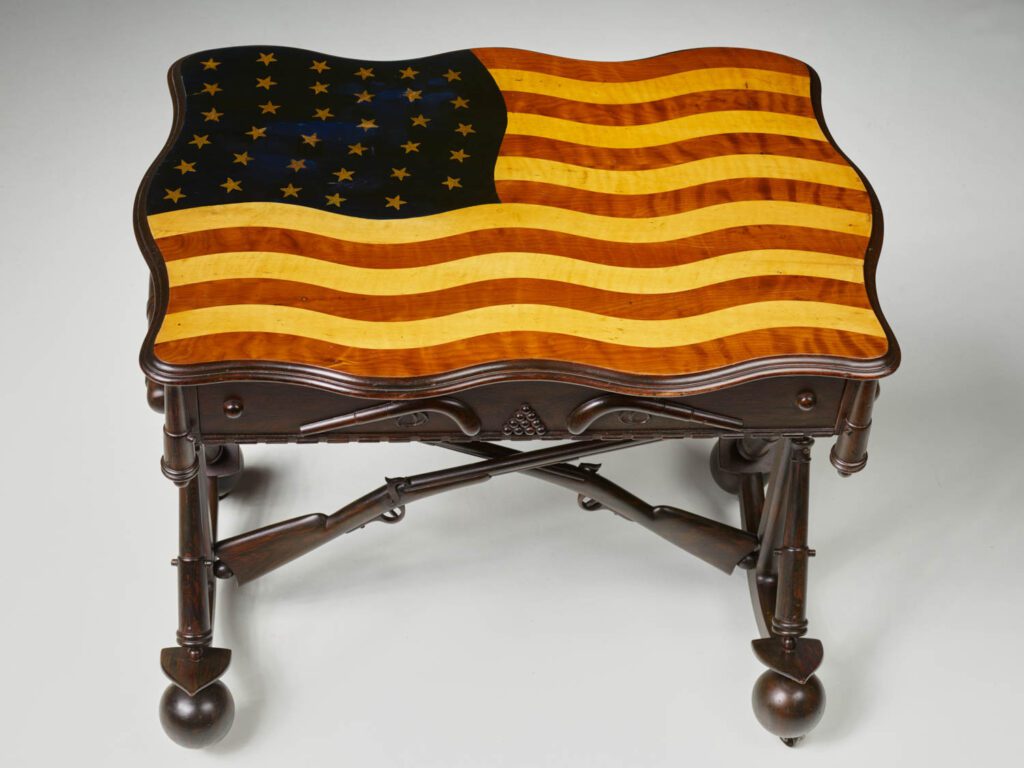 Lillian Nassau LLC
New York's established gallery Lillian Nassau is recognized for its speciality in Tiffany glass, whether an intimate example of the glassmaker's favrile pottery or windows. The gallery has brought Philadelphia a rosewater sprinkler from late 19th century, a "lotus" temple lamp from the early 20th century as well as a flower-shaped vase. An interesting to the glass orchestration is Wendell Castle's soft-edged walnut music stand that echoes a music key in its form.
Bernard & S. Levy Dean Antiques
Another New Yorker, Bernard & S. Levy Dean Antiques brings a selection fitted for Philadelphia's role in American history, such as a federal worktable from the early 19th century to a French mantle clock that shows George Washington with an eagle from around 1820. The booth's most striking offer, however, is a sideboard by Boston's Federal period furniture maker father and son John and Thomas Seymour, also from the early 19th century.