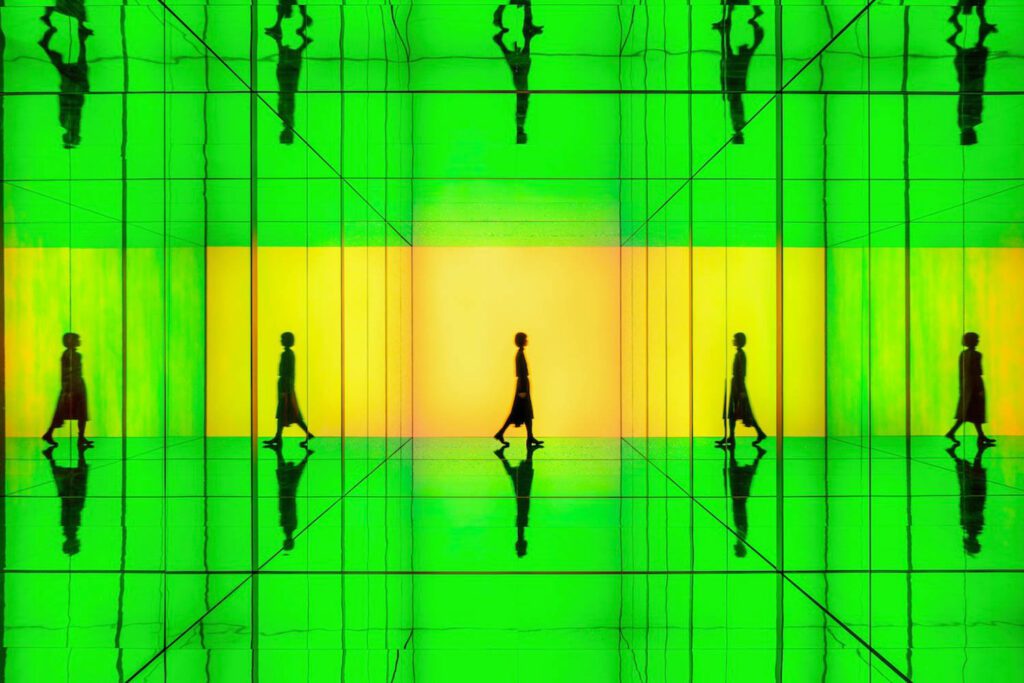 12 Highlights from the London Design Festival 2022
Reaction is a heady part of design—and provocation is in the air at this year's London Design Festival (LDF), where, perhaps more than usual, installations, exhibits and new products prompt thought, intrigue and discussion. The 20th edition of the festival is underway, concluding September 25 and includes product showcase Design London, which made its debut last year, and 12 "Design Districts." In particular, the Brompton Design District—under the theme 'Make Yourself at Home' – shined.
From an exhibit breaking down the barriers of the traditional flowerpot to a chair upholstered in woven camouflage nets designed and used in Ukraine, to a cheeky look at the challenges of cohabitating, here are 12 of our favorite highlights from LDF 2022.
There's too much predictability around what holds a plant. "Martino Gamper: No Ordinary Home" breaks down run-of-the-mill flowerpot barriers, presenting shoots of green life in all sorts of surprising vessels. Even better? They're born from existing items in the Martino Gamper archives and conceived by a long roster of talented designers.
A journey into virtual reality minus the goggles, "Into Sight" by Sony Design takes visitors into a steadily changing digital world. Packed full of color, light and sound, the multimedia display blurs the line between the here and now and the digital universe.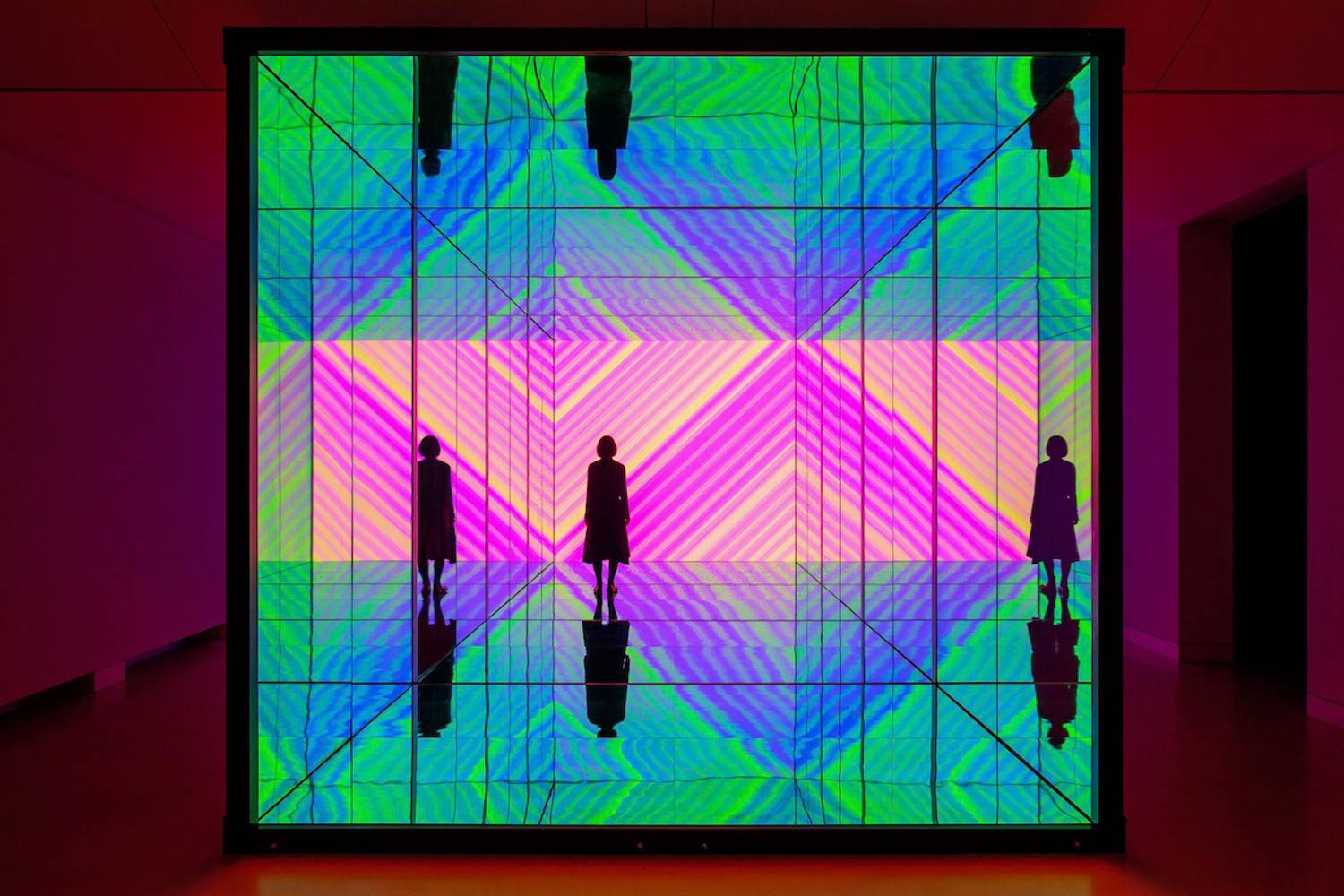 3. Gropius Low Chair Military Edition by NOOM in collaboration with Nataliya Bakulina and Antonina Latayko
Woven camouflage nets developed by volunteers for the Ukrainian Military upholster the Gropius chair, which has a net base incorporating 4,000 knots of green, black, gray, beige and brown cloth.
4. "Inky Dhow Universe" by Bethan Gray for Sketch London
Three installations transform Sketch London—one of London's most Instagrammable restaurants and a hotspot for the well-heeled design crowd—through October 16. Celebrating her signature blue and white pattern, "Inky Dhow Universe" by Bethan Gray sends cobalt blue and white stripes across walls, floors, furniture and accessories. The 45 custom "flickering candles" in "Through the Looking Glass," an elaborate chandelier by Moritz Waldemeyer, exemplify how far the LED has come. In homage to the restaurant's name, Tannaz Oroumchi presents "Change of Form," a collection of over 50 large-scale architectural drawings.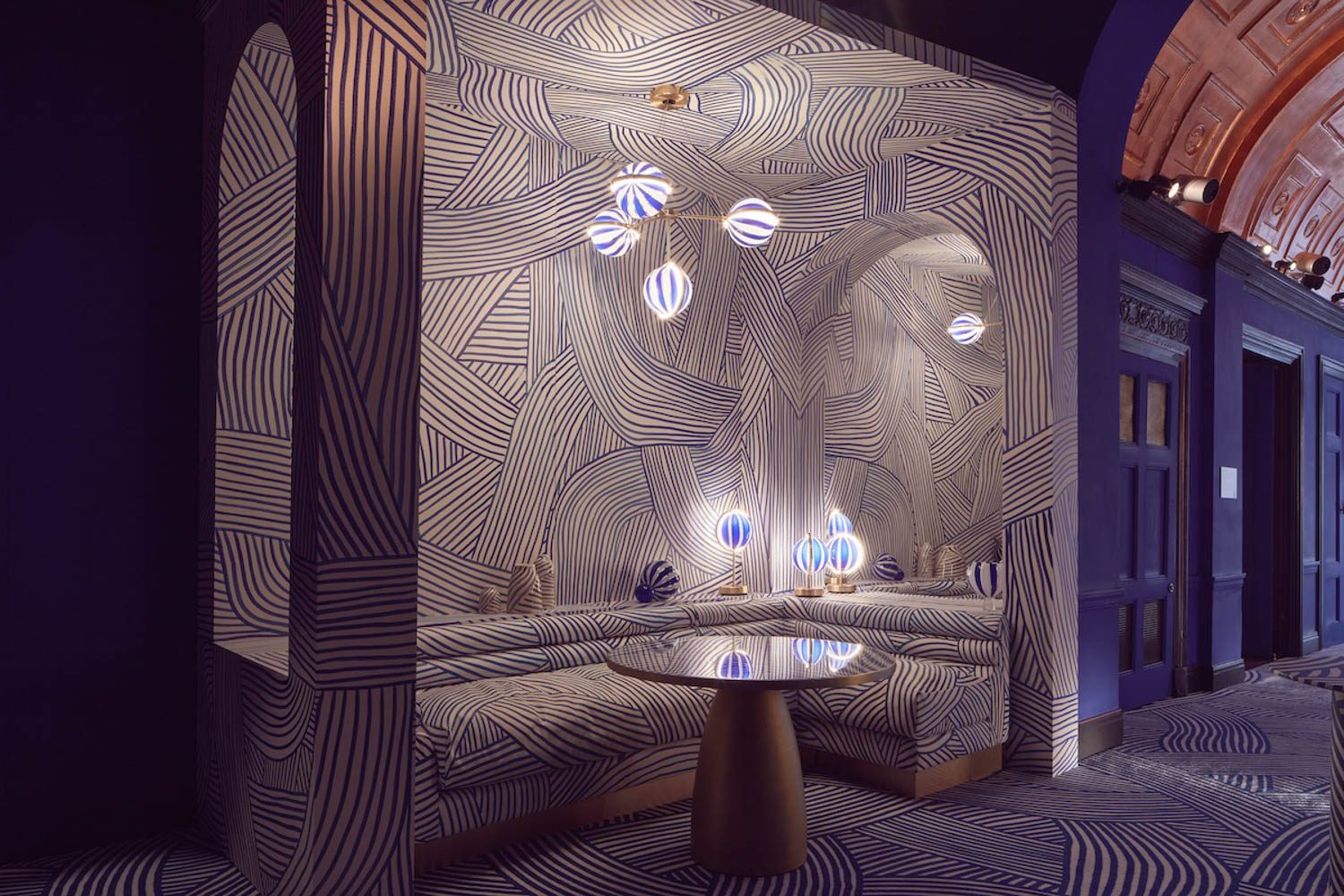 5. Contemporary Vanity by Joseph Ellwood for Six Dots Design
As sustainable materials go, aluminum receives high marks (at the end of its lifecycle, it can be recycled again and again). The laser-cut aluminum table, screen, mirror, chair and hanging rail in the Contemporary Vanity collection are an elegant and sophisticated exploration of the light, sustainable material.
Solid marble is not usually the perch available for a lunchtime meal-deal retreat. In luxurious contrast with Central London's 34-story Brutalist tower Centre Point, outdoor installation "Swivel" by Sabine Marcelis at St. Giles Square beckons with the beauty of the natural stone, provided by Solid Nature.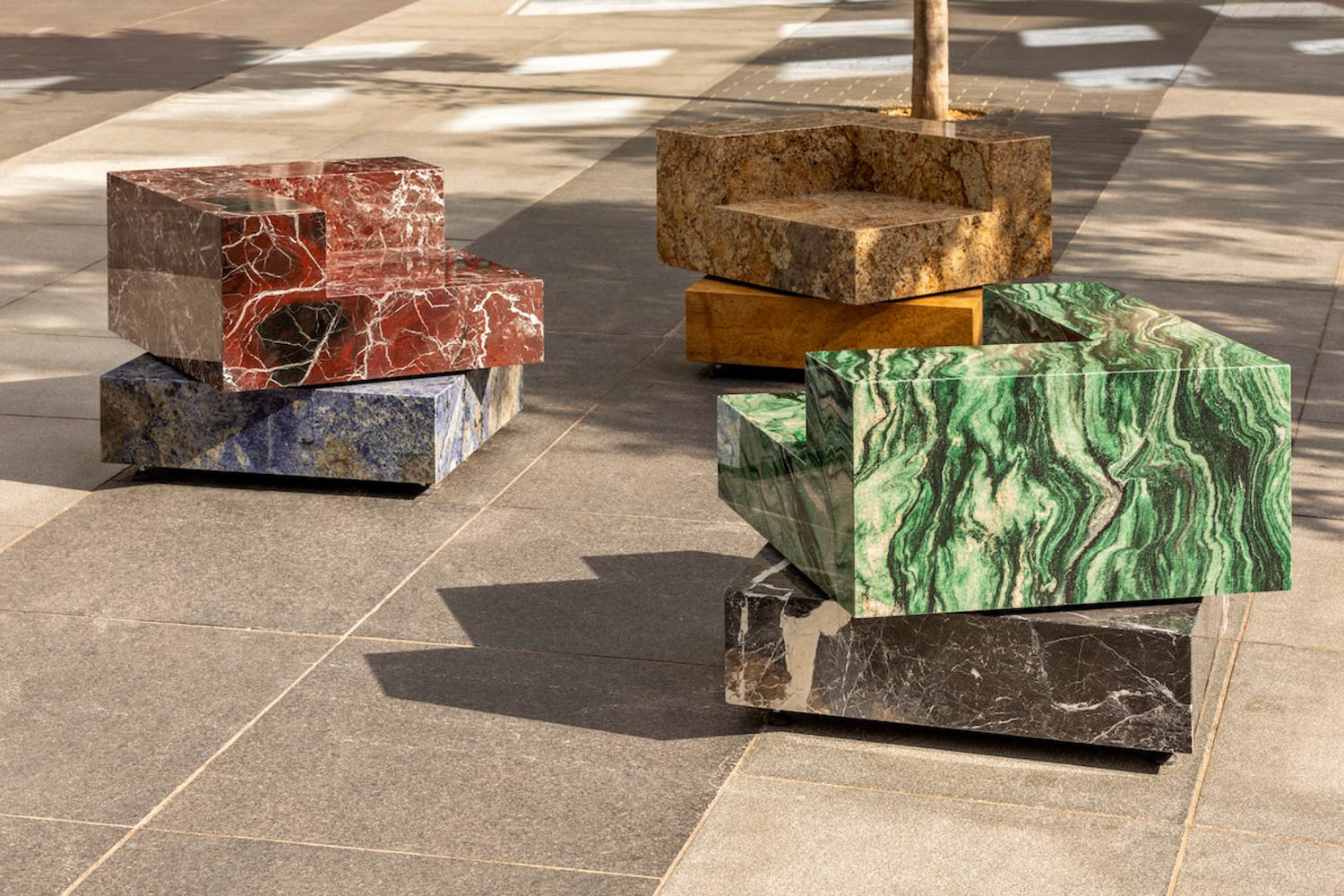 7. "Two Kettles, No Sofa," by James Shaw and Lou Stoppard for Seeds Gallery
Strong opinions and different tastes collide when cohabitating is all you want to do. In "Two Kettles, No Sofa," at Seeds Gallery, partners James Shaw (a designer) and Lou Stoppard (a writer), explore the challenge of compromise and negotiation, with a mix of Shaw's design objects and historical design classics. The apt pairing also includes a short story, written by Stoppard.
8. Gypsum Light Sculpture 7 by Voukenas Petrides for Gallery FUMI
Part of a series of gypsum and LED light sculptures, Gypsum Light 7 has two glowing mouths recalling misshapen Pac-Mans.
9. Raiz by Studioilse for Ames
It takes weeks for Colombian artisans to hand-make each conical ceramic shade for the black clay, Iraca palm leaf fiber, and galvanized and powder coated tubular steel Raiz lighting collection by Studioilse. Handwoven palm fiber detailing likewise hails from the country's rich craft history. With pendant, table and floor lamp, the collection marks the manufacturer's first foray into lighting.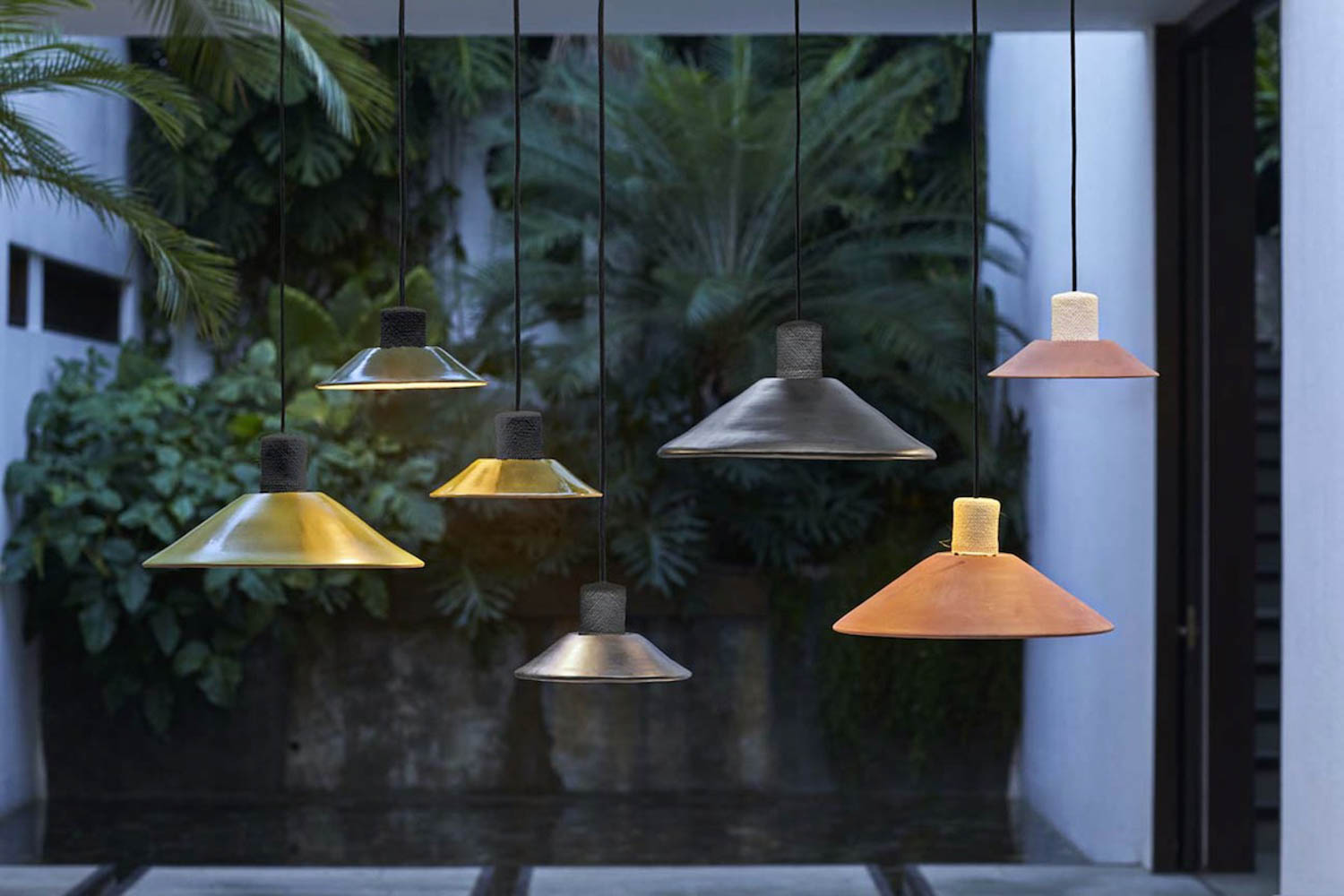 10. Disco Gourds by Bethan Laura Wood for 1882 Ltd.
With far-flung influences ranging from historic gourd painting to 1960s party foods and medieval stained-glass windows in her hometown of Stoke-on-Trent, England, Bethan Laura Wood envisioned a ceramic collection. Disco Gourds consists of a platter and a bowl—each in two sizes—employing the slip lining effect of raised, hand-painted patterns and adornments recalling gourd stems.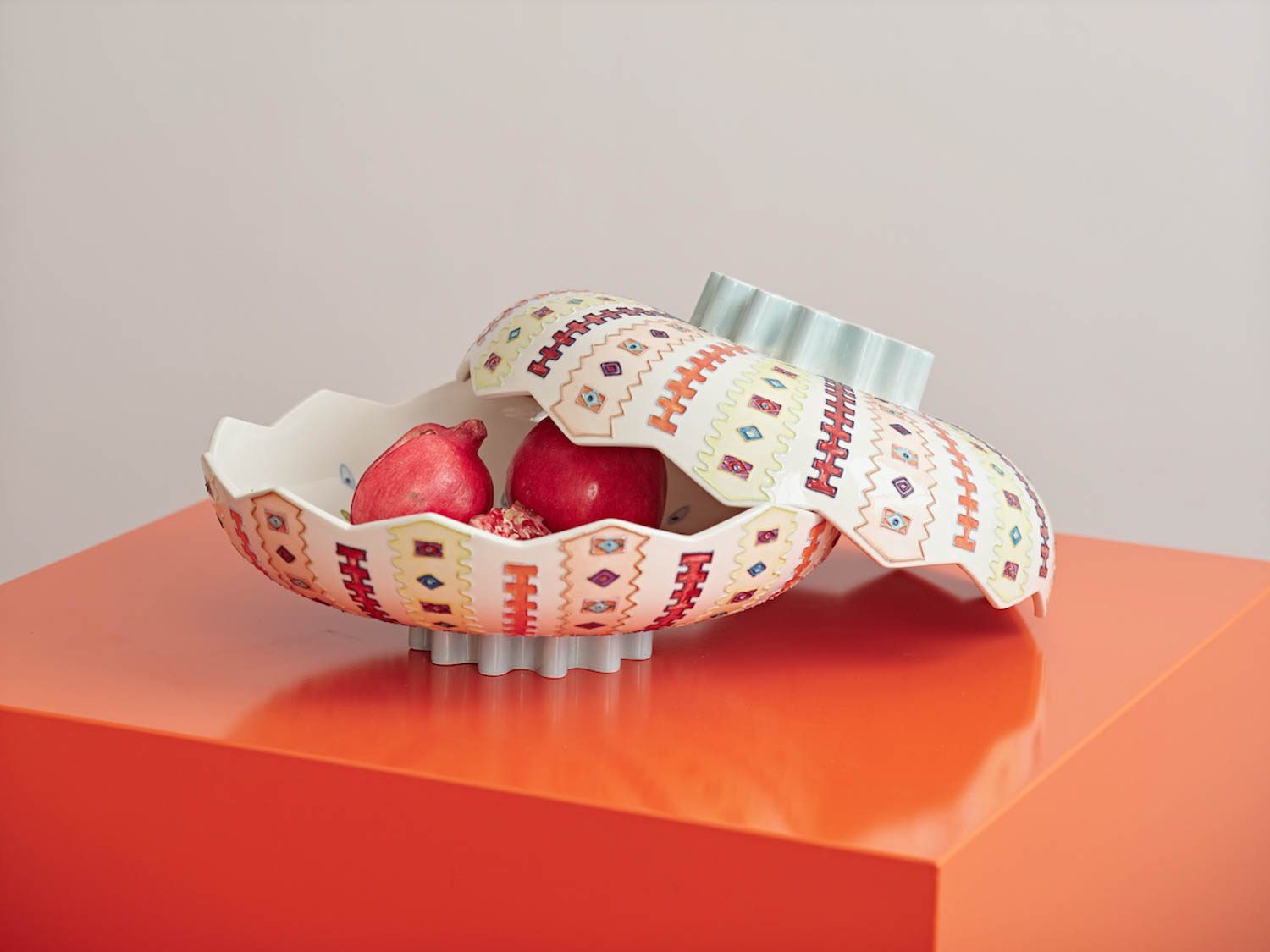 A bespoke shoe shop on Savile Row, one of London's most exclusive fashion streets, serves as backdrop for Elif Erguvan's debut collection of tables, seating and lighting handcrafted in her native Istanbul. Composed of four conical striped legs of Alexander Black and Green Diabaz stone, the Gondo table recalls the "colorful, striped mooring poles the gondoliers of Venice use to secure their boats on the Grand Canal," the designer notes. The table top is layered and rounded burgundy glass. On view at Arthur Sleep.
Taking cues from the gold-painted wood throne excavated from the tomb of the Egyptian king Tutankhamun, the Tutankhamun chair, upholstered in the fabric Indi Or Cinq Cent Quatre-Vingt is one of 10 pieces resulting from the union of a furniture designer (Salvagni) and a textile designer (Sellers). It's featured in the exhibit "The Wonder Room," on view at the Achille Salvagni Atelier.