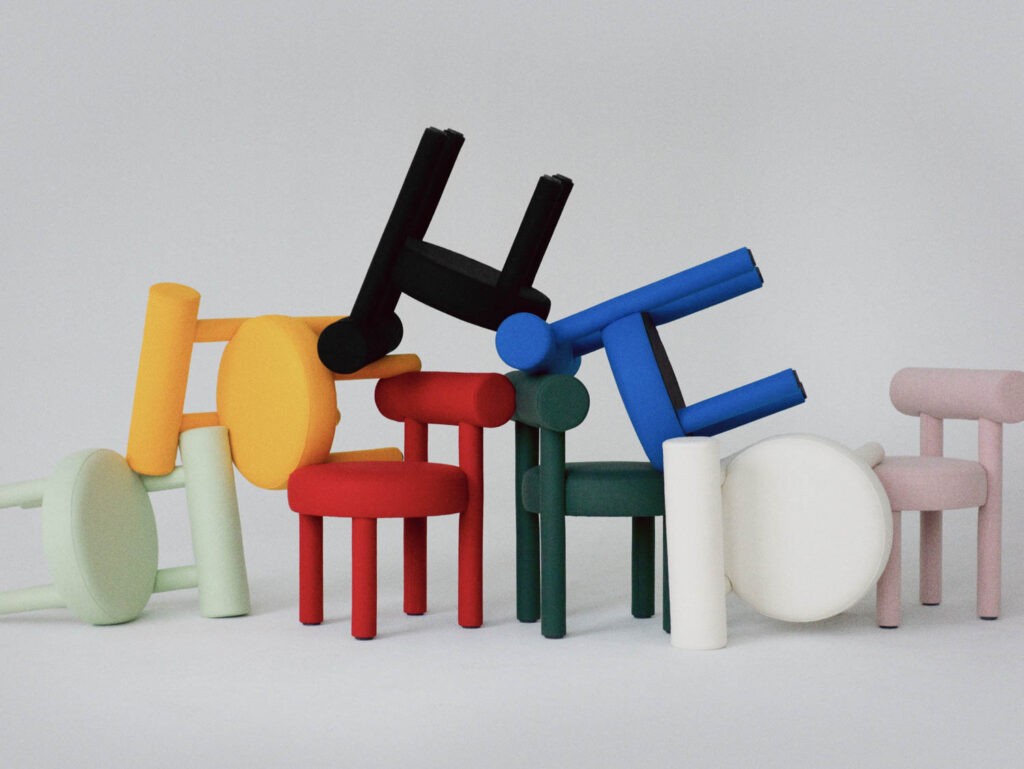 11 Finds at 'i am u are' Ukrainian Creators Fair
A design fair representing the work of modern Ukrainian makers entitled "i am u are" will take place from March 24-26 at the Skylight at Essex Crossing venue on Manhattan's Lower East Side. A smattering of designers from the fields of fashion, technology, art, and industrial design will display and sell their wares at the exhibition and on the platform's website post-event.
The fair is organized by Anna Pagava, the founder and CEO of communications agency Gogola, and Kristina Skripla, a hospitality expert. "Even in these times we are able to concentrate on creating ideas, art, fashion—anything you can think of. And this is one of the traits of being a Ukrainian," says Skripka.
With work from over 100 Ukrainian creators, "i am u are" offers the chance to purchase one-of-a-kind and limited-edition items from fashion and accessories brands as well as product manufacturers like Buro 150 and NOOM, to name a few.
"Ukraine is not only a country with deep historical roots but also progressive and modern, with incredible brands in tech, fashion, and lifestyle. My dream was to create an event which would correspond to this image of our country as well as its outstanding creative industry," says Anna Pagava.
A cultural display of artistic works curated by Ukrainian artist Ivan Grabko, New York City's The Ukrainian Museum, and curator Lilia Kudelia will be on view. Also expect a display of traditional ceramics from makers including GUNIA Project, Nadiia, and Zoremia as well as other accessories, product design, and fine craft. The exhibition's overall goal is to empower the creative economy of Ukraine while sharing the country's diverse heritage.
Ukrainian Art and Design On Display at "i am u are"
BL1 Lounge Chair by buro150
The BL1 lounge chair by design duo Lisa and Vadym Borysenko of buro150 comes in oak and beech with Danish cord and adheres to the dictum 'form follows function.'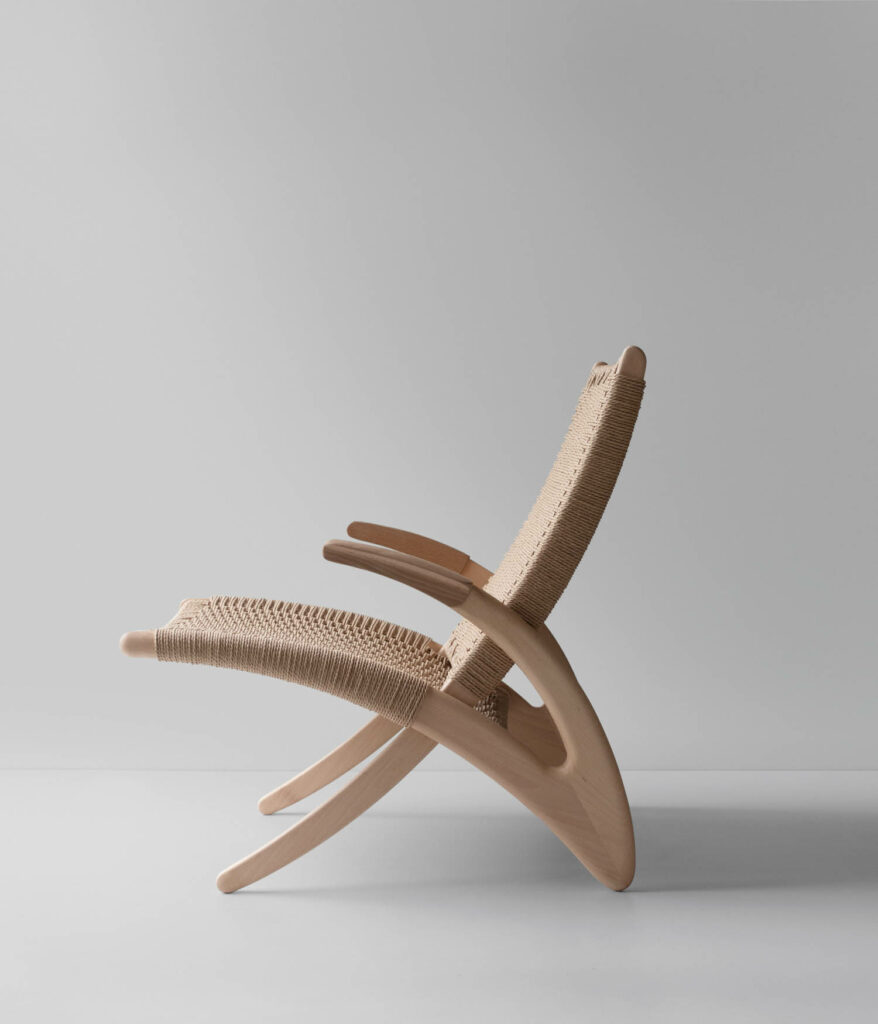 Handwoven rug by Basny Rugs in sheared wool.
Liquid table by FÜRN
FÜRN offers their Liquid table crafted of stainless steel.
Suprematic Garden by Oksana Levchenya for OLK Manufactory
Designer Oksana Levchenya's kaleidoscopic limited-edition Suprematic Garden kilim in beige is manually-loomed in wool by Kyiv-based OLK Manufactory.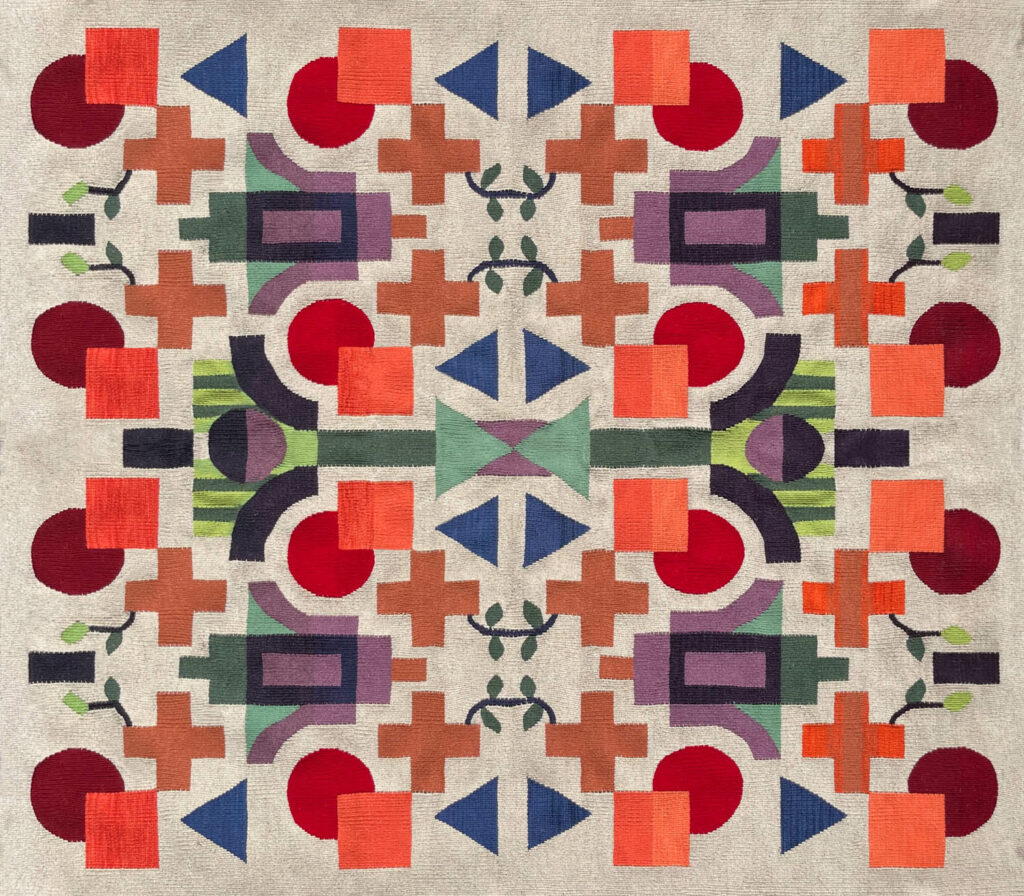 U-sculpture by Olga Fradina for Tvoi Studio
The limited-edition U-sculpture offered in stained, burned, and varnished woods including oak, linden, maple, walnut, and poplar is handmade by artist Olga Fradina for Tvoi Studio and nods the sculptures of Romanian artist Brâncuși.
Wool from sheep grazed on Carpathian meadows becomes fluffy woven rug Lizhnyk from the workshops of Gushka Wool, a brand founded in 2017.
Double candlestick by Zoreslava Pendeliuk for Zoremia
Zoreslava Pendeliuk's Double candlestick for Zoremia in chamotte clay in white looks like two standing figures amicably linking arms. The artist previously studied architecture then graphic design before alighting on sculpture as her chosen expression and describes her style as having a "non-primitive simplistic" bent.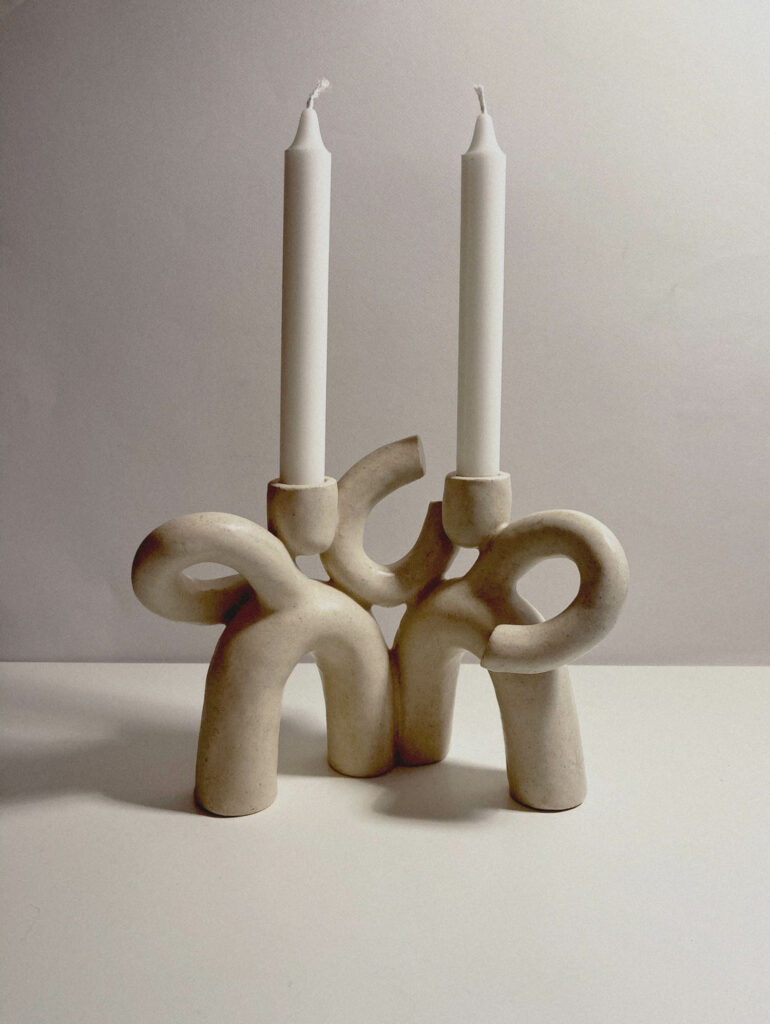 Gropius CS1 chair by Kateryna Sokolova for NOOM
Neotenic chairs designed by Kateryna Sokolova dubbed Gropius CS1 after the Bauhaus-era maker come in a rainbow of hues from NOOM.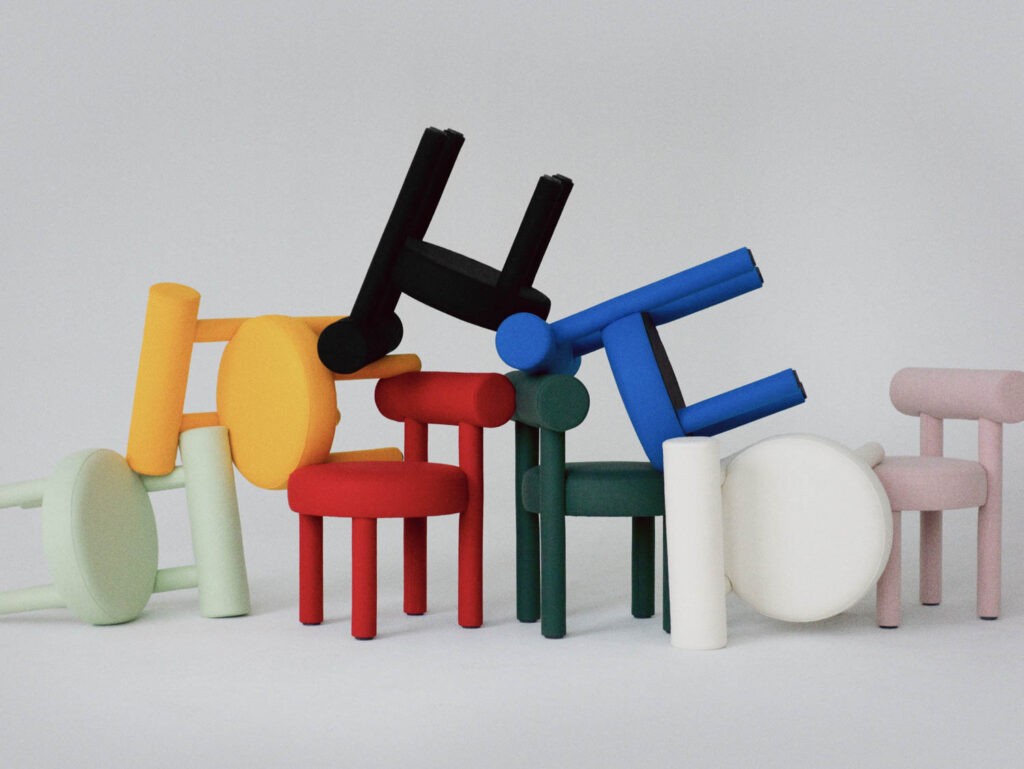 Jug by Sasha Popruga and Stijn van Ardenne for Anumoplastic
Anumoplastic's designer Sasha Popruga collaborates with Stijn van Ardenne to render a traditional Ukrainian jug form in 3D-printed bio-based materials such as a mixture of starch, miscanthus grass, and honeybee wax.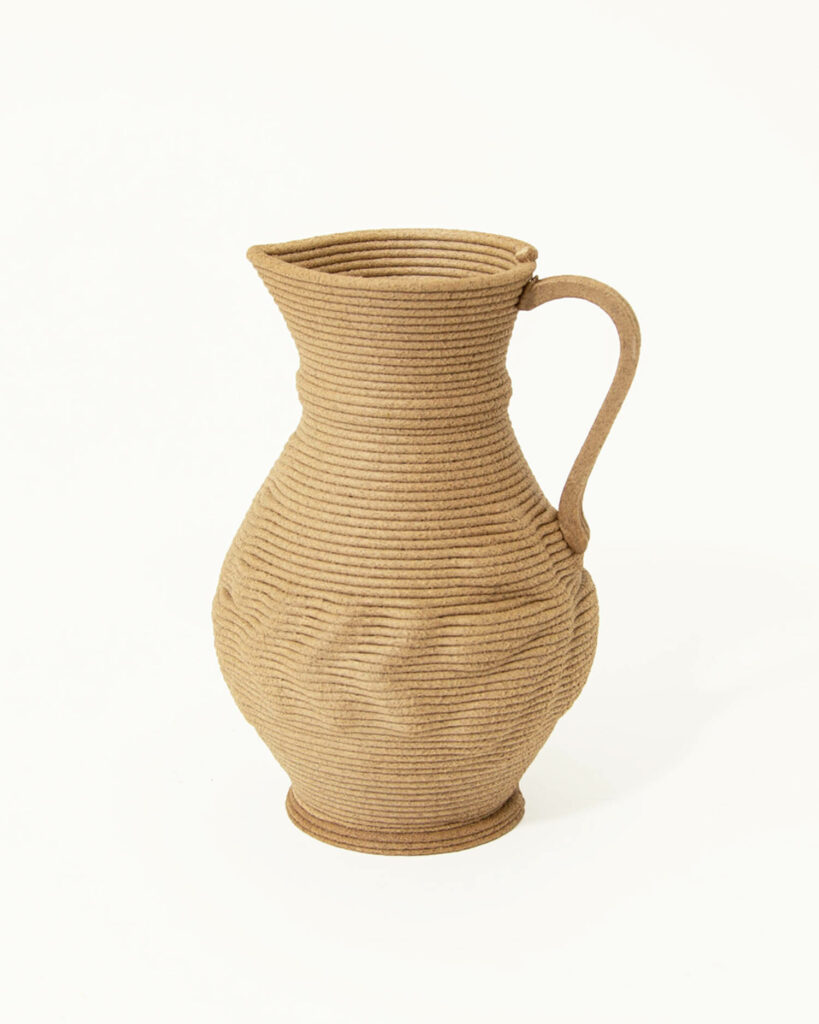 Artist Nadiia Shapoval's Kumanets vessel offers a reflection on motherhood and femininity with Trypillian Madonnas, or female ceramic figures from the Cucuteni-Trypillian civilization found in Central Ukraine, as her jumping off point. The traditional form is modeled and partially-glazed in chamotte (aka grog) clay produced fittingly under her given name Nadiia.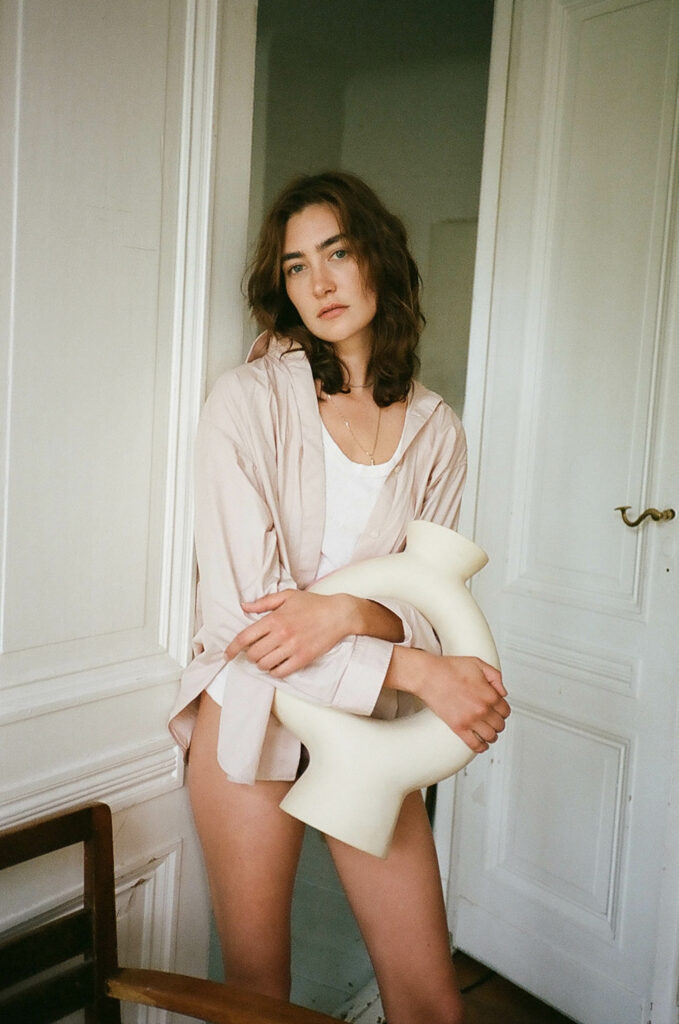 Polina Moroz employed both her architecture background and love of Art Noveau forms to create her Maremata lamp design in oxidized bronze which takes the stylized shape of wheat, the unofficial symbol of Ukraine.