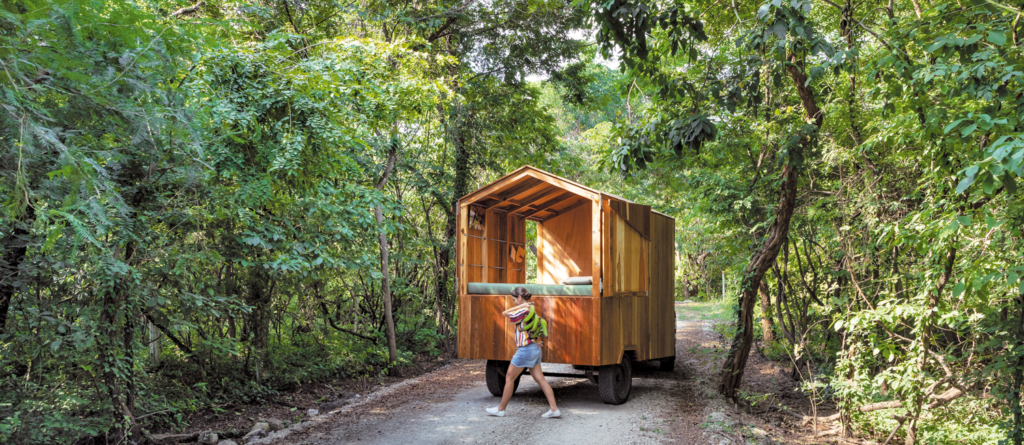 JAG Studio Conceives a Chic Cabin-on-Wheels
The genre of transportable habitation comes in myriad shapes and sizes, from yurts to camper vans to tour buses. This cabin-on-wheels is a bit of all those things. The gabled structure, whose teak frame mounts to a 6 ½-by-10-foot trailer, accommodates all the basic functions of living: sleeping, cooking, eating, working, lounging, and, thanks to portable water tanks and a sawdust compost toilet, bathrooming. There's even abundant storage in the mini-kitchen's plywood cabinets and tucked below the platform bed, plus steel rods and hooks for hanging items.
This roving environment, which cost $7,500 to build, is the brainchild—and mobile home/office—of Juan Alberto Andrade and Cuqui Rodríguez, the husband-wife cofounders of architectural photography and audiovisual communications outfit JAG Studio. They conceived the cabin as a roving crash pad to use while traveling, occasionally with pets in tow, around their native Ecuador documenting contemporary architecture for top firms—and as a radical experiment in minimalist living.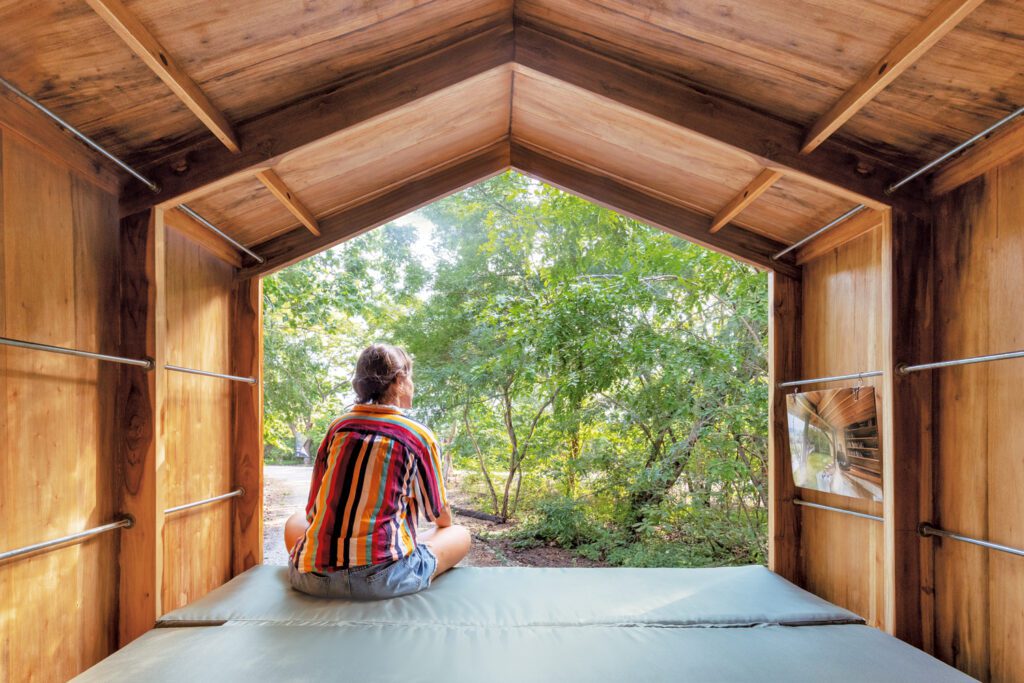 Dubbed La Casa Nueva, the dynamic structure can be reconfigured depending on the activity unfolding within and the degree of nature-communing desired. Door panels in the yellowheart exterior—a nod to shipbuilding in Guayaquil, where the pair is otherwise based—swing open to capture breezes and views, and platforms drop down to form work or dining surfaces. Solar-powered lights illuminate the space at night and on overcast days.
So far, the cabin has ventured on short trips along the coast, including Manabí province and the Cerro Blanco, a protected forest, but will soon head to the Mindo Valley in the Andes. In each place, it takes on a new guise, Alberto Andrade explains: "Taking the demands of habitability almost anywhere, La Casa aims to be perceived or experienced depending on the place where it stops—a way of life in which everything is in movement."