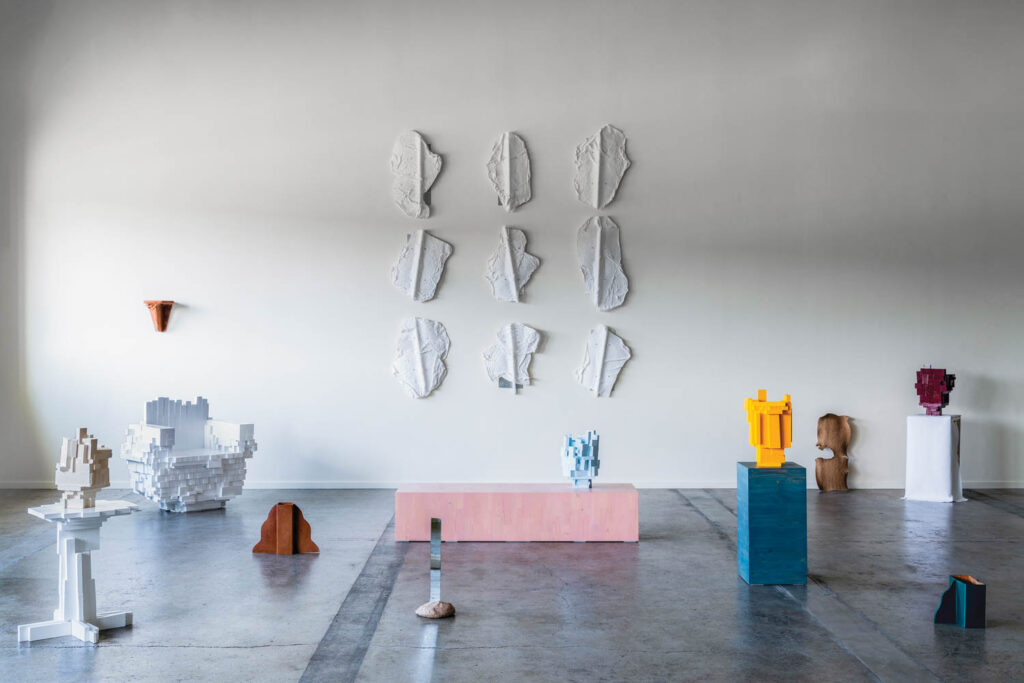 Kajsa Willner Says: Don't Waste Waste, Turn It into Furniture
Growing up in rural Sweden, Kajsa Willner found that crafting art was like a form of internal travel, one that allowed her to combine her passions—"children's theater, movies, musical shows, museums, stuff like that," she says, "as well as playing in nature with my friends"— to create different worlds. That fascination with an activity at once collaborative and transportive led her to study product design, first at KV Konstskola in Gothenburg, then at Istituto Europeo di Design in Rome and Milan, followed by work experience in Eindhoven, the Dutch creative Mecca. By the time she returned to Sweden and founded Studio Kajsa Willner in Malmö in 2013, the young talent was ready, she says, "to dare, to explore, and—in a playful way— to challenge preconceived ideas about what design is and should be."
Willner tackles a variety of self-initiated and commissioned projects ranging from functional art, idiosyncratic furniture, and site-specific installations to curated environments, exhibition spaces, and commercial and residential interiors. Her interdisciplinary studio takes an experimental and researched-based approach to collaborations with such clients as the Rimowa luggage store in Paris, the Halland Art Museum in Halmstad, and Design Museum Denmark in Copenhagen, with an emphasis on developing sustainable materials, processes, and systems ("I find problem-solving super fun," Willner admits). A recent collaboration with two Swedish furniture firms—retailer Olsson & Gerthel and manufacturer Fogia—resulted in "Crafted Potential," an exhibition in Malmö and later in Stockholm this summer, which suggested ways by-products and waste materials could be reintegrated into the furniture-production process. We talked to Willner about the show and how it fit into her philosophy and practice.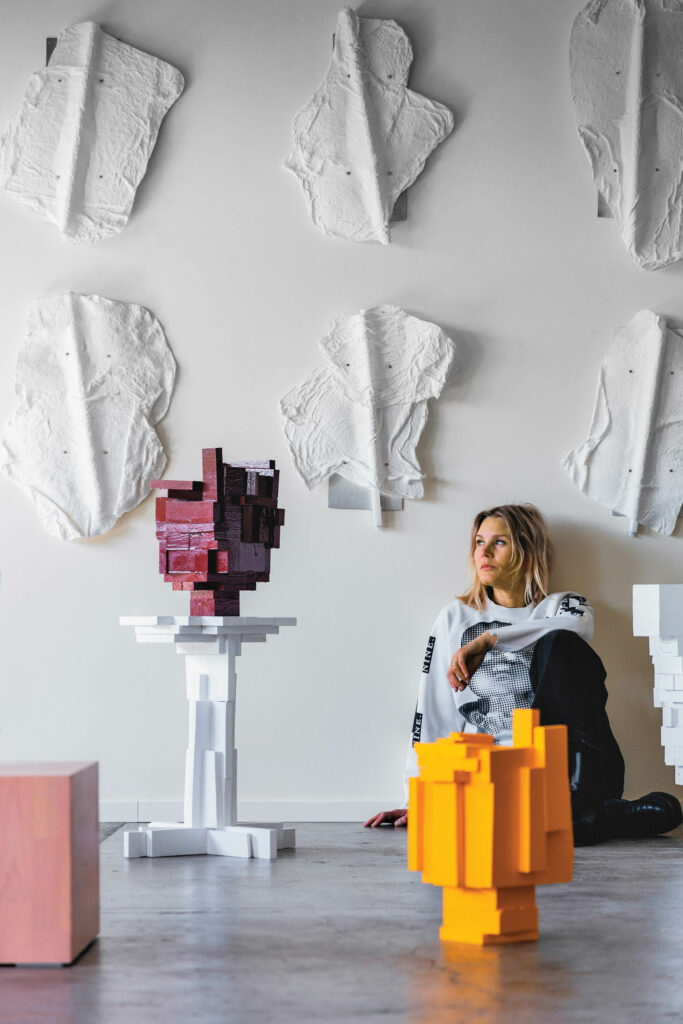 Designer Kajsa Willner Offers Insights into "Crafted Potential" Exhibit
Interior Design: "Crafted Potential" features a collection of objects and furniture pieces made out of residual materials and by-products from the manufacturing process. How did the show come about?
Kajsa Willner: The Malmö design store Olsson & Gerthel reached out, saying I was free to do whatever I wanted with just two conditions: I had to collaborate with a furniture manufacturer, and the project should finish with some kind of exhibition in the store.
ID: Once Fogia was chosen as the manufacturer, where did you go from there?
KW: I was looking to explore the potential of rein­troducing production waste back into the furniture-making system, using it as an untapped material resource. So I began by looking at Fogia's whole operation to see if it could be done in an improved way. The company was very open and transparent about its industrial by-products—wood scraps, sawdust, textile fiber, leather—showing me all the numbers and so on. I also visited the factory in Poland to understand how the facility really worked and gain a better understanding of the various materials' complete life cycles. Of course, there's a lot of timber in the waste stream, especially scraps in many different shapes, sizes, and species. I used some of them to construct the four vases, which just came out spontaneously—sometimes the hands have the intelligence!—but then I began thinking, Could I do something bigger with them? Hence the armchair and the pedestal table. The material itself puts a constraint on you—the form, dimensions, and availability of the offcuts determines what objects built with them will look like.
ID: Yes, the pieces made of wood scraps are like super-pixelated 3-D renderings of the regular things. But are they functional too?
KW: Yes. The chair is actually pretty comfortable, though it shouldn't be because neither the seat nor backrest is at an angle. There's a glass cylinder for flowers in each of the vases, objects I'd like to keep producing in the studio if we can work out how to get the wood scraps here. I asked the factory to produce a couple of prototypes for the exhibition—the pink low table and the blue plinth—which were made with finger-joint waste pine. It will be interesting to see if Fogia can put them into production in the long-term.
ID: Along with upcycling, did the exhibition investigate various forms of material development?
KW: We included a few material samples of a poten­tially new composite made with sawdust and bone glue, a natural adhesive that's a by-product of the meat industry. Another interesting material we worked with is recycled Nature Loft, a wool-fiber padding Fogia fills cushions and mattresses with. Using traditional papermaking techniques, we shredded and mixed it with tapestry glue, creating a feltlike textile that we molded into a series of organ­ically shaped sconces resembling coral reefs or sea anemones. LEDs inside create a soft, warm glow.
ID: Was the exploration of traditional craft techniques and processes a central theme of the show?
KM: Yes, I'm always interested in how craft techniques might influence new manufacturing systems that are less rigid and more scalable, productive, and sus­tainable. (The show was called "Crafted Potential" for a reason.) We made a vase and a little wall shelf out of upholstery-leather remnants using wet-forming, a process developed in ancient Egypt and Greece to make body armor, where the hide is soaked in water and then shaped by drying it on a mold. But as with all the themes investigated in the exhibition—upcycling, material development, collaboration, implementation—the use of craft techniques sug­gests that maybe the future of furniture design is more about liquid, scalable production in which some items are made on a small scale, others on a middle scale, while others involve mass production.