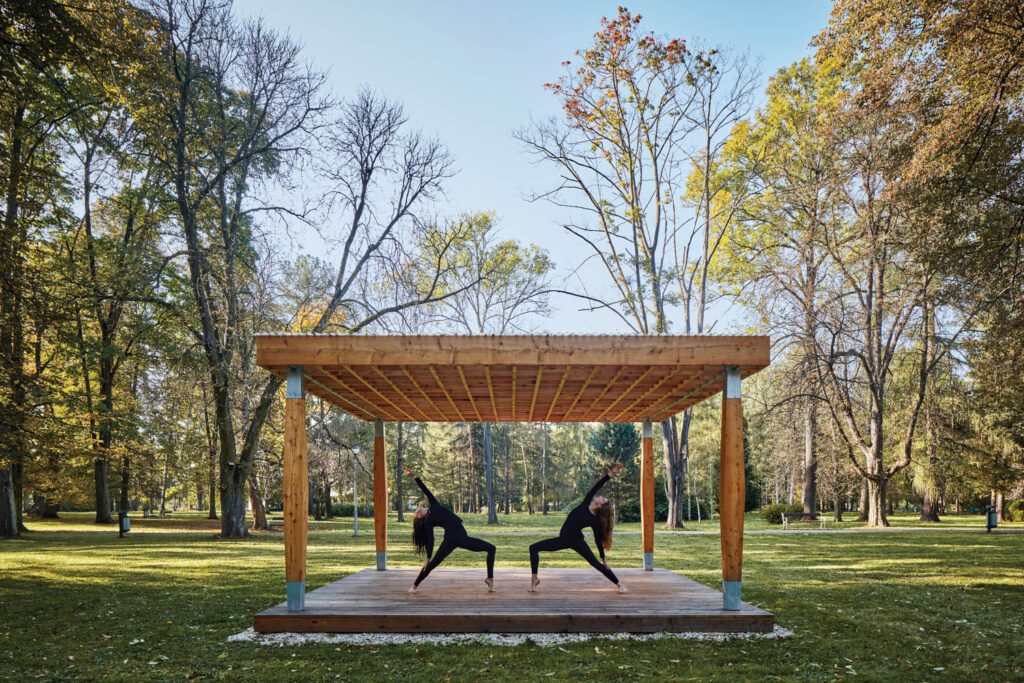 KLAR Creates Open-Air Exercise Pavilions in Czechia
The Moravian-Silesian region in northeastern Czechia was once an industrial powerhouse known for its steelmaking capabilities and vast coal fields. But after the last of the fossil fuel was mined in 1994, attention shifted toward one of the land-scape's other assets: its natural beauty. As part of an initiative to improve the area's public spaces, the regional government worked with Václav Kocián and Zdeněk Liška of local firm KLAR to create simple structures where people can exercise in communion with nature.
The modest timber pavilions, called Yogapoints, are designedto be easily assembled throughout the area's parks and naturereserves. "The object is the same, it's just the location thatchanges," Kocián says. Comprising a square platform, foursturdy columns, and a roof grid, the structures are made ofhand-sawed domestic larch fastened with galvanized-steeljoints. A top sheet of translucent polycarbonate allows sunshineto flow through the roof beams while keeping the heat andother elements at bay. "We love the games of light and shadecreated by the sun's rays," Liška adds. So far, five pavilionshave been erected in two sizes—90 or 295 square feet—thelarger of which can accommodate up to six yogis.
Clearly, the huts are named with yoga in mind, and the principles of the exercise practice—stability, lightness, simplicity—guided KLAR's concept. But Kocián and Liška invite anyone, from playing children to hikers seeking a moment of shelter, to utilize their pavilions and connect with the natural world.