Nick Luzietti, Renegade Designer and Hall of Famer, Dies at 76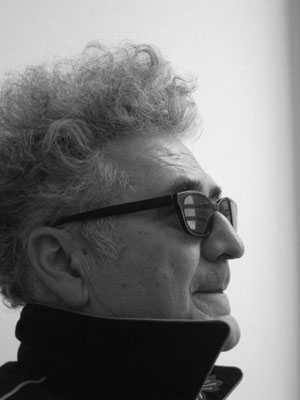 Nick Luzietti, Interior Design Hall of Fame inductee and design principal at VOA Associates, now Stantec, passed away recently at the age of 76. But his immense impact in the industry—and warm personality—continues to live on, especially among the many friends and colleagues he mentored throughout his career.
"BIG talent, BIG hair, BIG heart!"—that's how editor in chief Cindy Allen remembers Luzietti, adding, "The only thing that could possibly outshine Nick's stellar design work, was his outsized personality."
Always erring on the side of eccentric, Luzietti opted to forgo traditional black tie attire when he accepted Interior Design's Hall of Fame award in 2009. "He just had to make a scene and put on a crazy costume even though I gently suggested not to," Allen recalls lightheartedly, noting that he also had a flare for the poetic. "From hearing him passionately tell his team to always 'fight for design,' to watching him sketch on a packed L train so intently as if all alone."
Starting out in the field with a degree from the University of Cincinnati, Luzietti eyed a career in architecture. But at that time, the industry appeared more buttoned up, quite literally, which made him question whether it was the right path. "The idea of an architect was someone riding around in a sports car, having a blazer, special shirts… they creased their hair and, at that point, when I was running around with big puffy Italian hair and mohair sweaters, I didn't feel like design was going to open the door for me," recalls Luzietti in a documentary about his life and work produced for his Hall of Fame induction. As culture shifted away from materialistic ideas in the 1960s and 1970s, Luzietti gravitated toward interior design. "It was less serious than architecture, there was a flamboyance about it, a sense of theater about it," he adds in the film. By that definition, he fit right in.
Through his work with interiors, Luzietti established his niche, finding a longtime home at VOA Associates in Chicago in the 1980s where he progressed to the role of principal. Regardless of the project at hand, Luzietti always allowed the design to reveal itself rather than forcing a concept to come to life. He once remarked that some ideas are "like a whisper" while others are more obvious and bold. As a design philosophy, this approach ensured each space he worked on felt fresh and wildly original from financial firms to a space for a Chicago freight car leasing company.
Those who knew Luzietti also know him as an artist, always sketching his surroundings. "He hired me immediately because 'I could draw,'" shares Amy Adamson, cofounder of Adamson Molina Design, who started her career working for Luzietti. "Nick was an architect of course, but he was an artist first." As her first boss, Adamson also recalls Luzietti's guidance and encouragement as a mentor—a role he extended to many throughout his career. "He would drop sticky notes on my desk, to meet him during lunch at various marvels of excellence like the Inland Steel Building or the Chagall exhibit at the Art Institute of Chicago," she continues. "We would discuss the stainless-steel curtain wall or admire the significance of the Chagall America Windows. I felt like I was his only student, but he granted hundreds of opportunities and launched many careers."
Driven by minimalist principles and the work of Ludwig Mies van der Rohe, Luzietti created spaces that reflected his artistic eye, enlivening interiors with pops of bold hues and unexpected geometries. "Nick gave me the opportunity to have fun, be playful, and sometimes be a little crazy—to bring out the inner kid," shares Manuel Navarro, a former colleague of Luzietti's at VOA Associates, now design director and principal at IA Interior Architects. "He instilled the idea that 'design should be a kind of nomadic experience' that you bring with you; you surround yourself with it, the more we can actually paint a picture of what this is, the better chance we have of executing it and delivering it."
But Luzietti also knew when to kick back and relax, ensuring he spent plenty of time with family and friends. "He was always there for all of us all the way down to the grandkids," shares his daughter Nicole Morton. "We got together nearly every Sunday for homemade pizzas and lots of red wine in tiny cartoon juice glasses. He played games and taught us how to cook and how to take a day off to be together. He really made every moment special."
Echoing that sentiment, Allen reflected on his larger-than-life personality and infectious energy. "He was a complete original and I miss him already."
In addition to Morton, Luzietti, is survived by his son Tyler Luzietti, grandchildren Li and Rudy Luzietti, Max and Mae Morton; former wife Robyne Luzietti; and siblings Martin and Thomas Luzietti and Debbie Oaks.