Interior Design Honors 2022 Hall of Fame Inductees at 38th Annual Gala Followed by the Best of Year Awards Ceremony
With sweeping views of the Hudson River, a well-heeled crowd gathered at The Glasshouse in Manhattan December 7 for Interior Design's 38th Hall of Fame gala. Marking the return to an in-person event after a two-year hiatus, the night kicked off with concurrent cocktail parties followed by a celebratory dinner where editor in chief Cindy Allen honored 2022 Hall of Fame inductees.
"Can you believe it? We're back!" Allen said, beaming at nearly 1,000 architects, designers, and industry innovators in the room. But before spotlighting this year's stars, SANDOW Design Group CEO, Erica Holborn, took to the stage to add one more to the list—the evening's MC. "Design really is at the center of everything for Cindy," Holborn said, noting Allen's 20 year anniversary as editor in chief of the magazine. Not to mention her passion, endless energy, and ability to foster a sense of togetherness.
Get to Know Interior Design's 2022 Hall of Fame Inductees
Amidst a chorus of applause, Allen resumed her place on stage. "This is not about me," she said, offering heartfelt gratitude for the design industry at large. "It's about a world view of design—it's about you." With that, she introduced the first Hall of Fame inductee, Yves Béhar. "Few are born a true design natural like him," Allen said of Béhar who fearlessly explores new heights—and depths—of design.
"If you're a designer, every couple of weeks you're learning something that makes such a difference," shares Béhar in a documentary about his life and work created for the event. From 3-D printed forms made from waste material to undersea structures, the designer's curiosity proves boundless.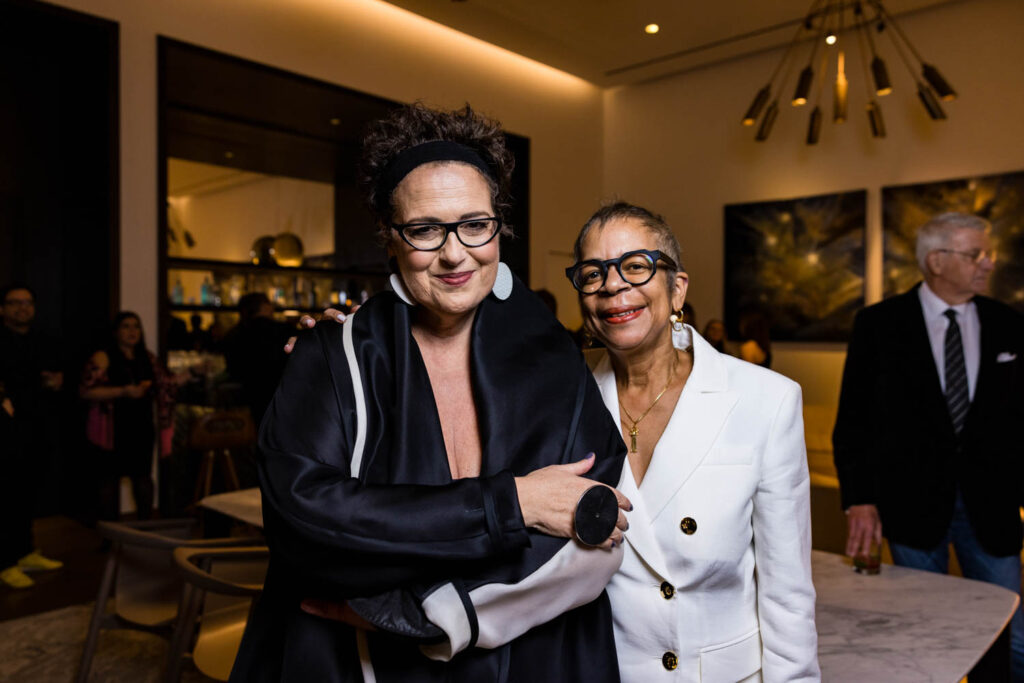 Up next, Allen introduced a Hall of Fame inductee whose voice she likened to a "gentle summer breeze"—the illustrious Mavis Wiggins. "Mavis is our own version of a design whisperer," Allen said, noting her ability to transform workplace design, even among traditional sectors like financial services, with her "quiet power." As Allen called Wiggins to the stage, she was met with a standing ovation—an emotional moment she captured with a quick photo on her phone before taking the mic.
"I'm completely overwhelmed by this opportunity," she said, recalling how her love of photography led to her career in design. "I love the idea of being able to shape spaces, and that's what looking through the lens of a camera taught me," she shared. Wiggins also stressed the importance of celebrating diversity in the field, touching on her challenges as a Black woman. "Let's leave the ladder down so the next person has the opportunity to climb it," she added.
Then Allen turned to Will Meyer and Gray Davis, who were joined by countless friends and colleagues at the event. "This design story is seeped in lots of 'get up and go'" said Allen, nodding in the duo's direction. "Will and Gray always have understood the power of partnership." Known for inviting hospitality designs that speak to the pair's southern roots, Meyer and Davis have amassed an impressive portfolio since forming their practice in 1999. "Storytelling and experiential narratives are what we do best," the pair said, inviting the Meyer Davis team to stand and share their Hall of Fame honor.
Last but certainly not least, Allen announced a special award to artist and activist, Claudy Jongstra. On her farm in the Netherlands, Jongstra lives and breathes her ethos—living off the land, from flowers to make natural dyes to wool that she transforms into ethereal installations. "She makes a habit of producing masterpieces using long lost techniques with one of nature's most wonderful materials—wool," shared Allen.
"I love working with wool," Jongstra shares in the Hall of Fame documentary. "You have to let the materials tell you whether it needs something or not." Jongstra's deep connection to the materials that she creates is reflected in her works, which feature layers of texture and unnamed colors, invented in her home studio.
As a climate activist, Jongstra opted not to fly to New York for the event, but another industry luminary with ties to Europe took the stage in her honor—Clodagh. The event wrapped shortly after to the resounding sound of applause, marking another Interior Design Hall of Fame for the books.
See Event Highlights from the 2022 Hall of Fame Gala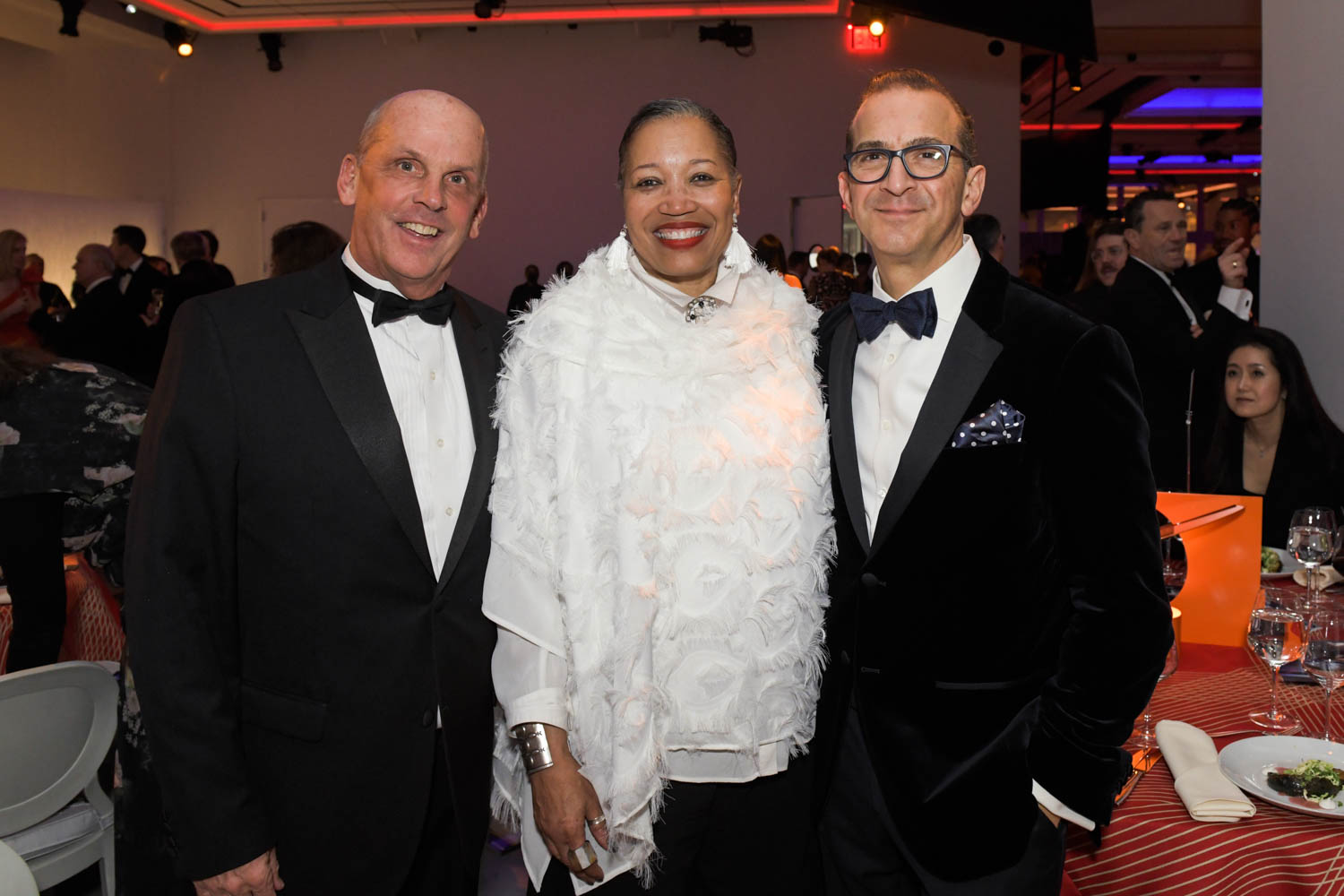 Festivities Continued at Interior Design's Best of Year Awards Ceremony December 8
But the fun didn't stop there. The following night, the design community convened at Penn1 in Manhattan to honor friends and colleagues at Interior Design's Best of Year Awards. With plenty of glitz and glitter on display, designers packed into the steps at The Landing to cheer on their contemporaries during a lively ceremony hosted by Allen. Cheers and applause erupted throughout the evening as Allen announced winners across project, product, and student awards categories. From striking and sustainable structures made from local materials to residential designs that reflect their unique surroundings, the 2022 Best of Year Awards ceremony returned with a bang.
See Event Highlights from the 2022 Best of Year Awards Ceremony
Hall of Fame Gala and Best of Year Awards Event Sponsors and Donations
A portion of the Hall of Fame gala proceeds will be donated to Americares, which provides funds to support families in Ukraine, and Clodagh's The Thorn Tree Project, which provides support for education to the Samburu people in Northern Kenya.
A very special thank you to our Hall of Fame partners, who played an integral role in creating the evening's festivities: Diamond Sponsor, Mohawk Group; Gold Sponsor and Red Carpet Sponsor, Bolon; Gold Sponsor and Garden Installation Sponsor, Garden on the Wall; VIP Reception Space Divider/Wall Sponsor, Molo; Tablecloth Sponsor, Momentum Textiles & Wallcovering; Centerpiece and Awards Sponsor, Hubbardton Forge; Gold Sponsor and Gift Bag Sponsor, Benjamin Moore; and Innovation Sponsor, Material Bank, which also offset the carbon footprint of the Hall of Fame gala.
A very special thank you for our Best of Year Awards partners, who played an integral role in the evening's festivities the night after the Hall of Fame gala: Student Awards Sponsor, Williams Sonoma; Innovation Sponsor, Material Bank; Awards Sponsors, Shaw Contract, Garden on the Wall, and 3form.