Patrick Nadeau Builds $340K Green-Roof House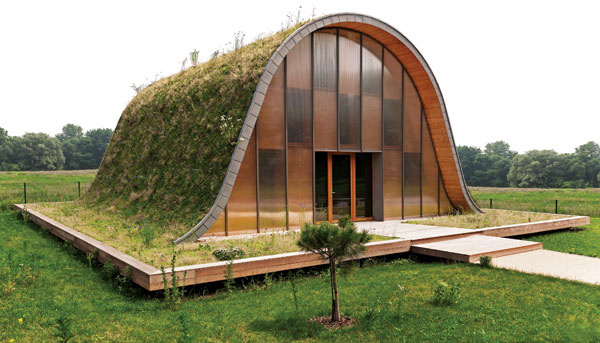 Photography by Hervé Ternisien.




A verdant wave, swelling on a tract of land in northern France, actually turns out to be a house by

Patrick Nadeau

. His name­sake architecture firm was one of five that won a competition organized by

Groupe Plurial

, a developer of affordable hous­ing in Reims—the goal being to build an energy-efficient residence with a budget equivalent to $340,000. Nadeau's design, a collaboration with the green-roof company

Ecovegetal

, uses a blanket of grasses, herbs, and succulents as thermal insulation.

"The wave is the most rational form to support all the heavy soil and plantings," Nadeau explains. This particular wave, constructed from plastic honeycomb to hold the soil in place, crests at 23 feet to shelter the prototype's two-story, 1,200-square-foot interior: living room, kitchen, multimedia space, two bedrooms, one bathroom. Pine planks line the underside of the roof. For the front and back facades, he chose panels of transparent polycarbonate. Everything rests on a concrete foundation, a platform that extends beyond the house proper to provide a ledge for outdoor sitting. He describes the overall effect as "a hat floating off the ground." Fanciful, yes. But this comes from the man whose chandeliers for a café at last year's Maison & Objet looked like enormous white hoop skirts dripping with Spanish moss.