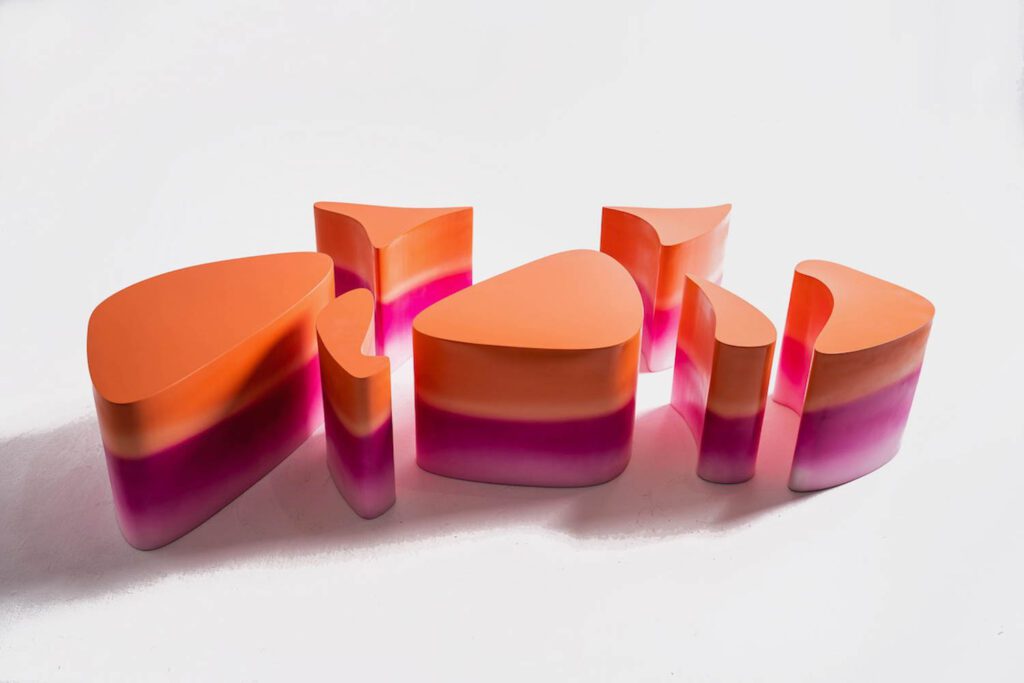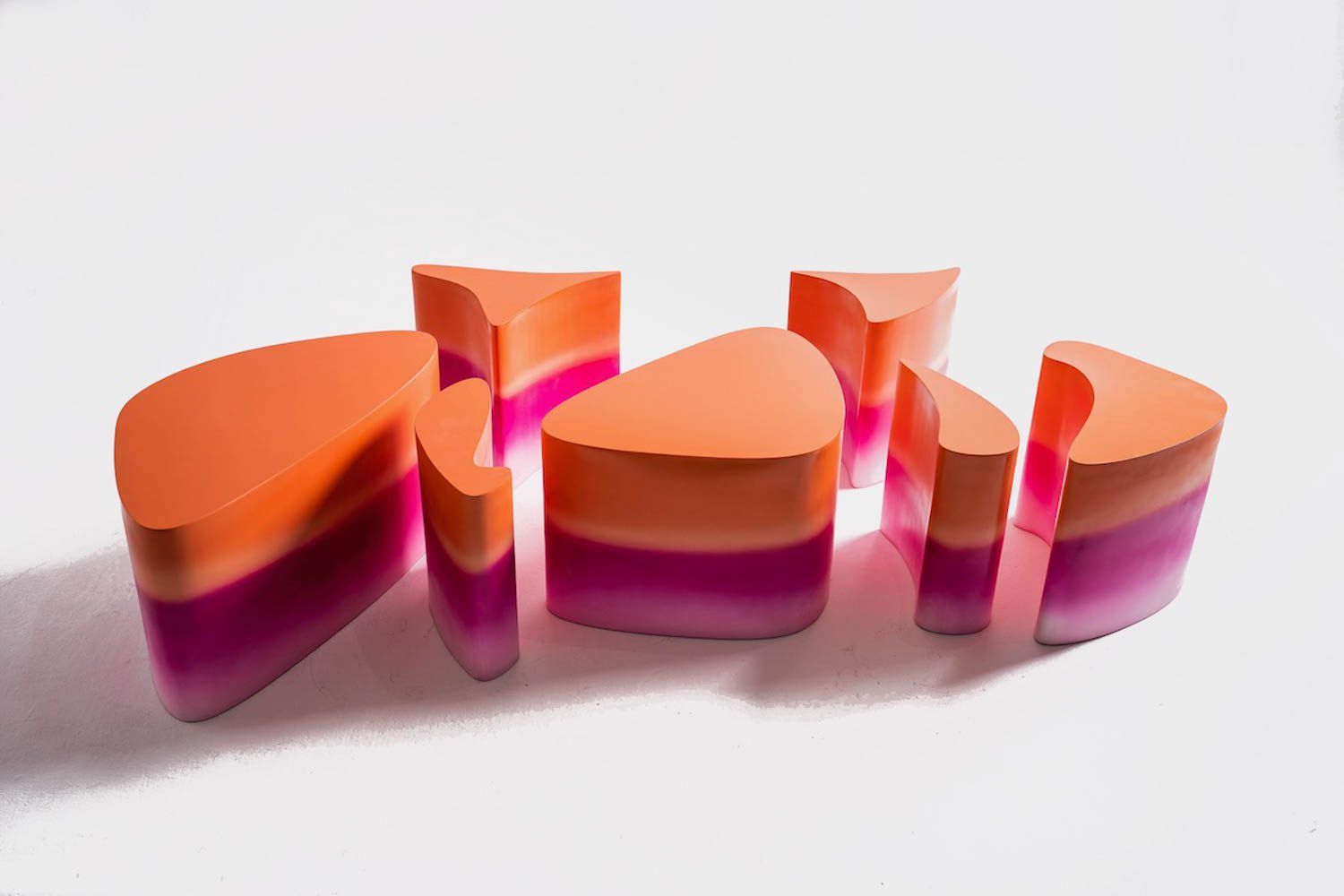 14 Product Highlights From Dubai Design Week 2022
Dubai Design Week returns to the Middle East this week, celebrating contemporary design November 8-13. Once again the show will include Downtown Design (introducing international furnishings to the UAE market) and The UAE Designer Exhibition (turning the spotlight to local designers). This year, the work from the 2022 edition of the annual Tanween design programme by Tashkeel was a particular standout. From a light formed from kombucha bacteria to a console fabricated from date seed concrete, here are 14 of our favorite finds.
Top Products from Dubai Design Week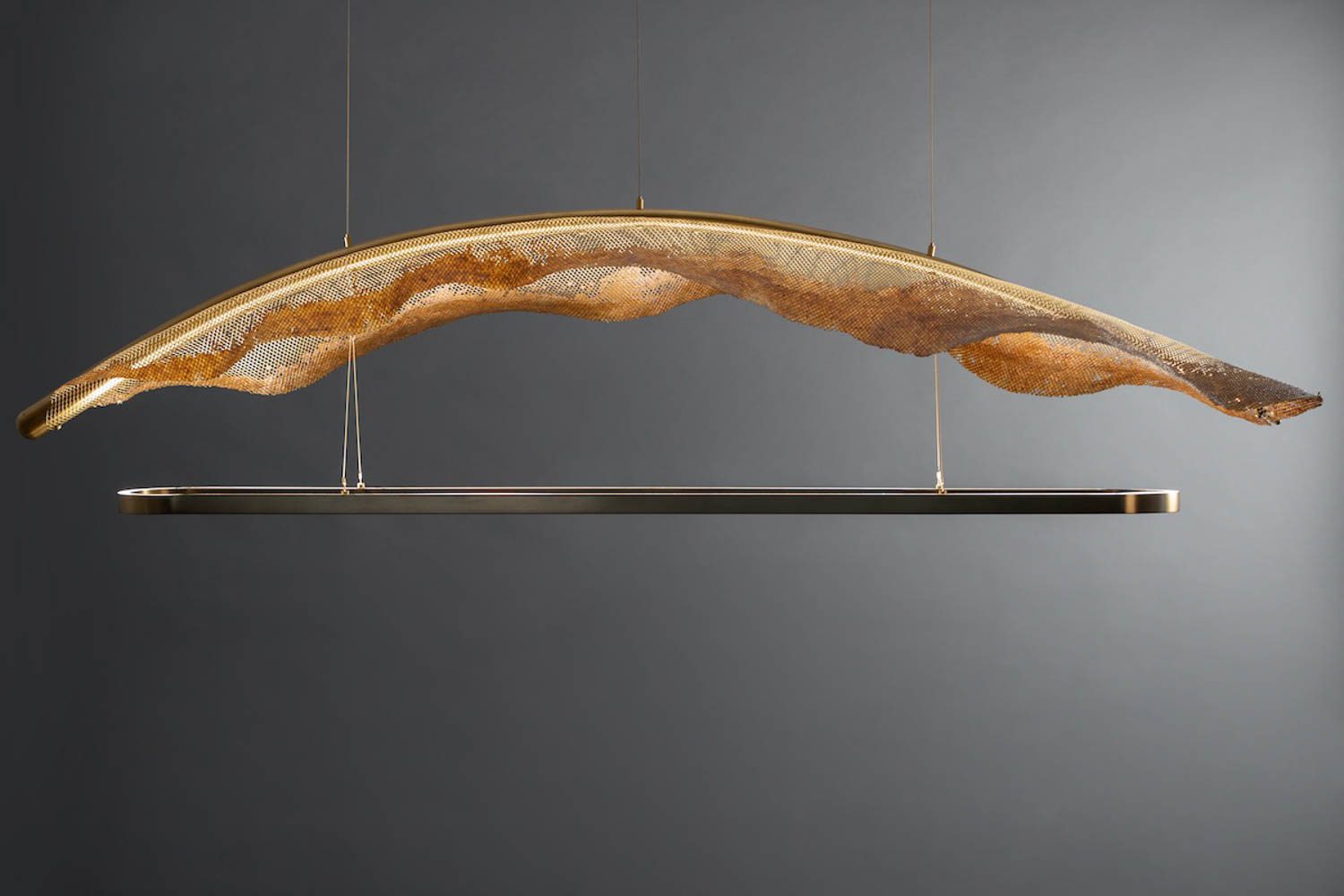 The bacteria grown during the fermentation process of the probiotic drink kombucha can be directed towards more than a healthy gut. Egyptian designer Shaza Khalil uses this bacteria for Skin, a ceiling-mounted light inspired by the Plumeria (Frangipani) tree.
2. Cosmic Candy by Form
A collection of nontraditional mirrors rendered in glass, marble, and wood, Cosmic Candy by Form is inspired by the cosmos, and the "structures and dynamics of cosmic energy, space, and time," explains Form founder Engi Jaouda.
3. Datecrete Console 0.1. by Sara Abu Farha and Khaled Shalkha for Tashkeel's Tanween Program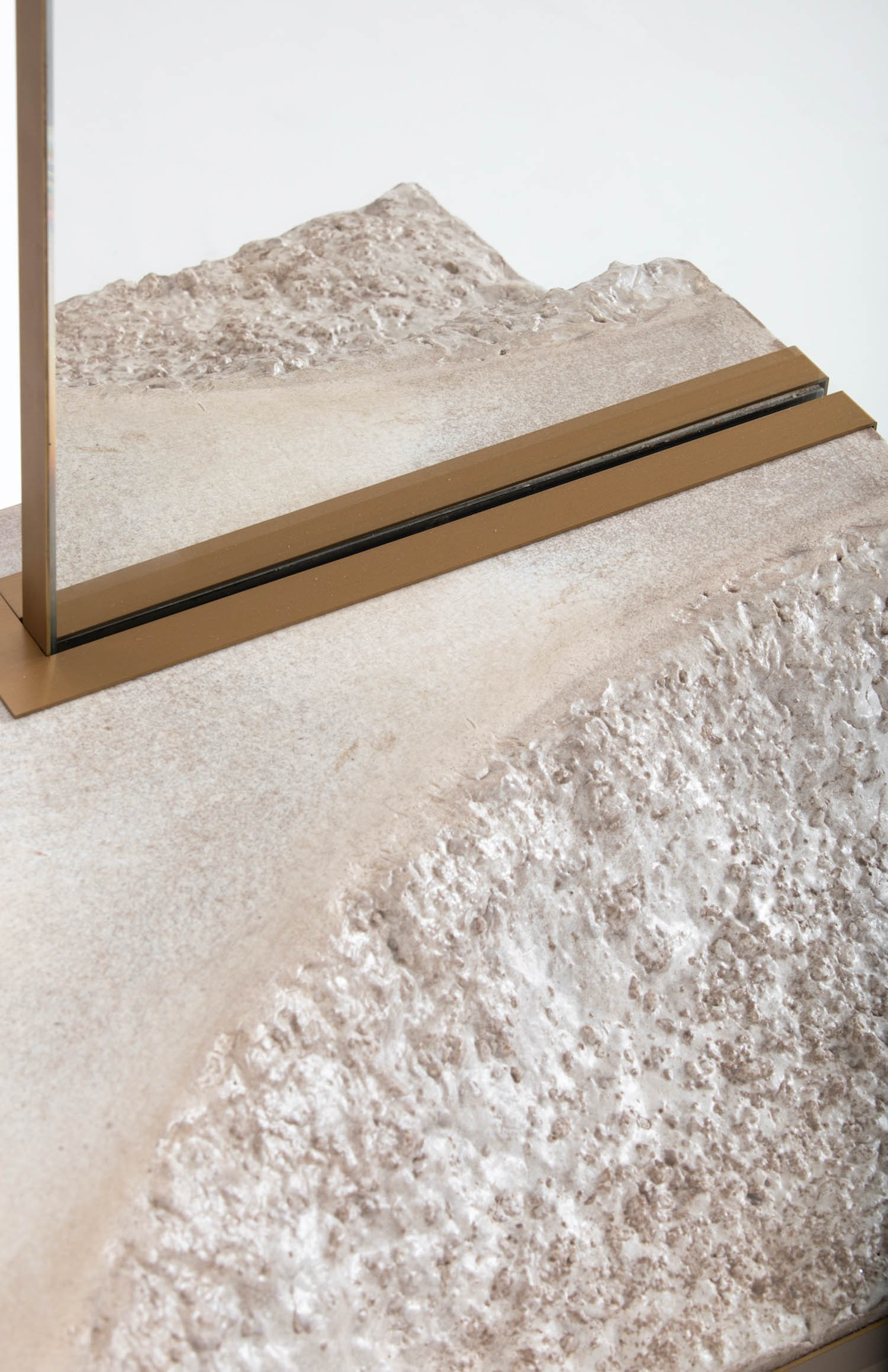 Exploring new materials, an urban planner and a chemical engineer conceived Datecrete Console 0.1., built from the world's first date seed-based cementitious material with no trace of concrete or resin.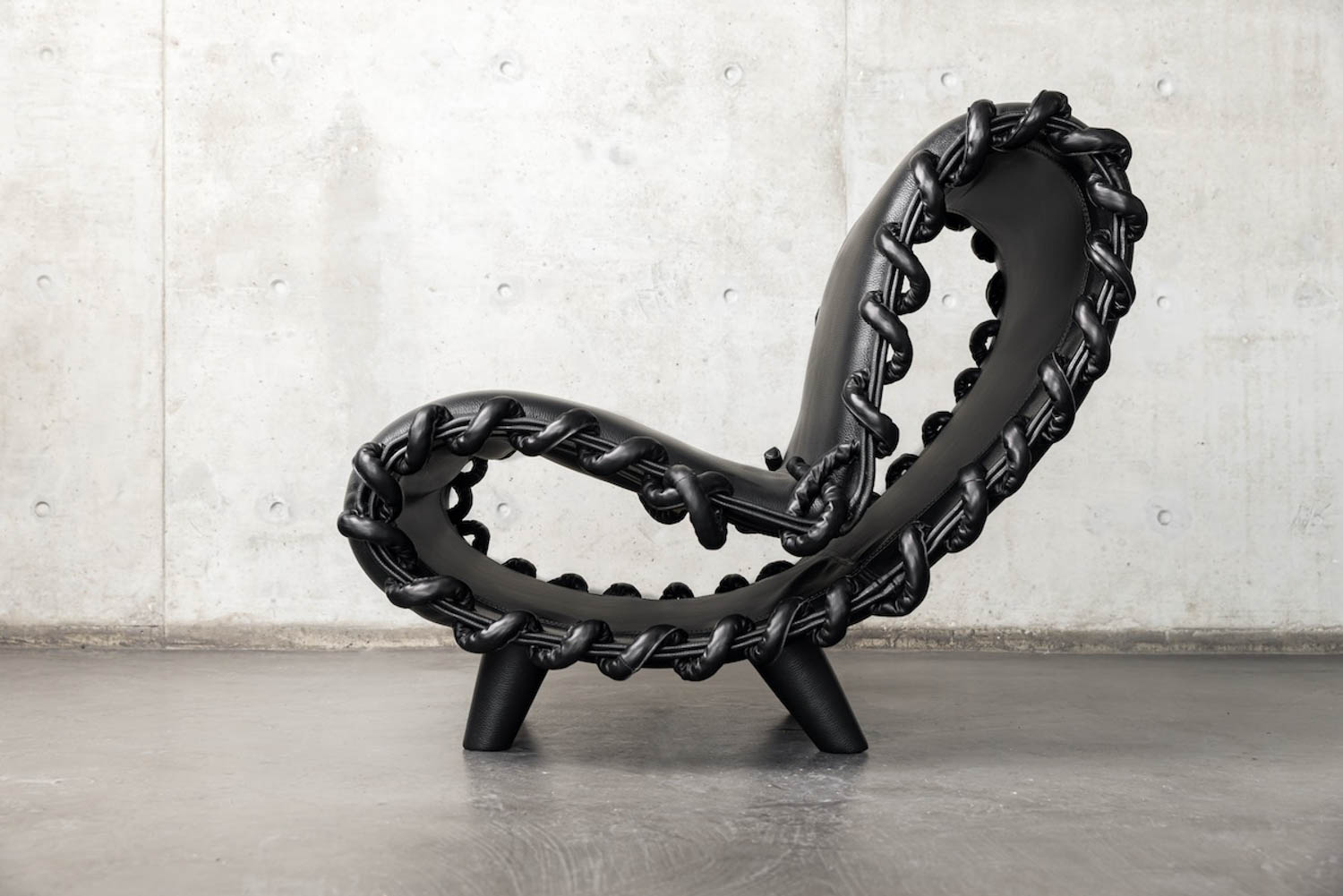 Hollow—and therefore light—the Gaar collection consists of a distinctive bow-motif armchair and a side table, both in stitched leather and made entirely by hand in by artisans incorporating traditional methods of craft in Lebanon. The solid wood top of the table earns its patina from a stain made from coffee.
5. Armitage Floor Lamp by Joe and Edward Armitage for Armitage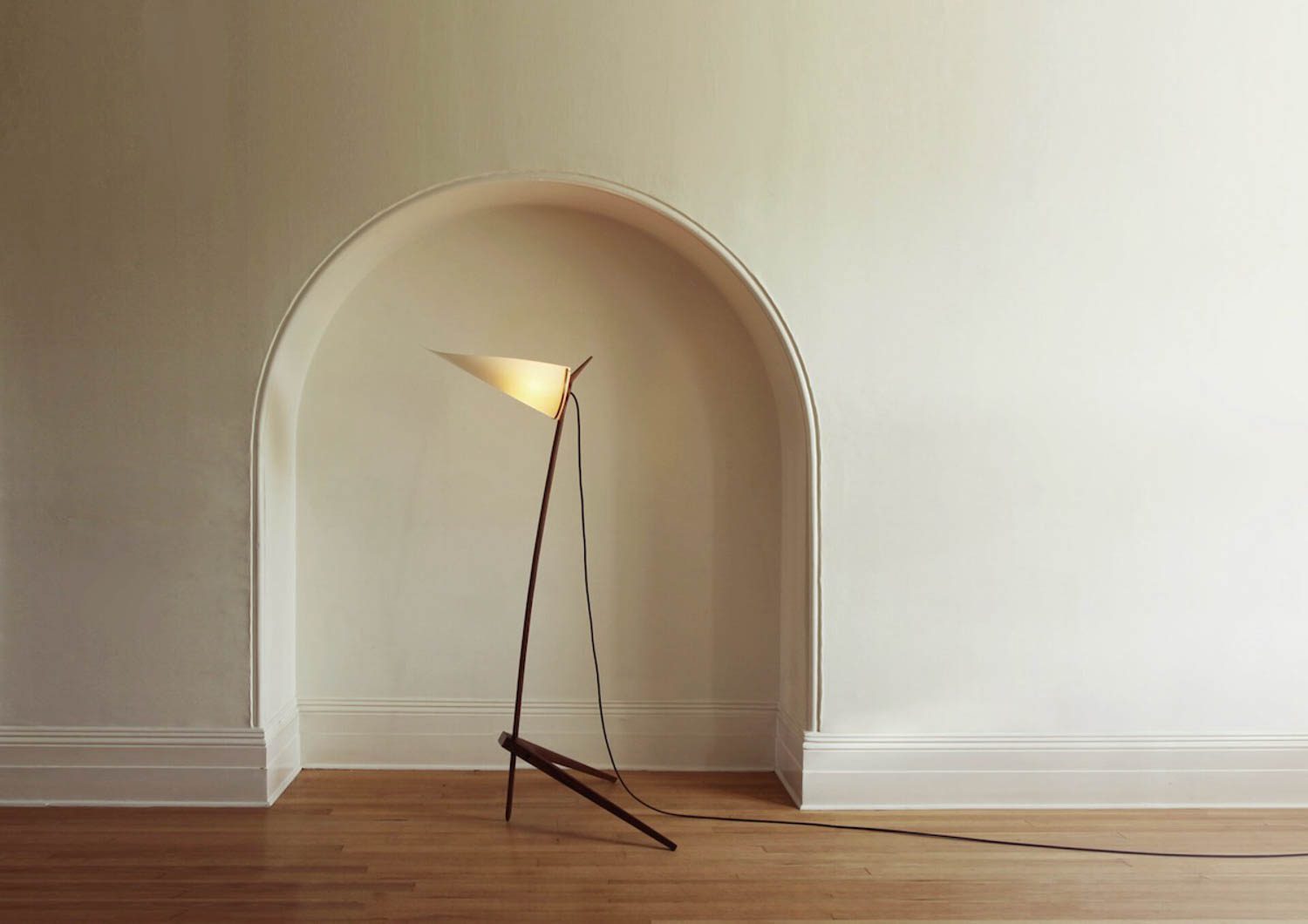 Joe Armitage revives two heritage designs from creatives in his family with the Armitage Floor Lamp. Rendered in solid walnut and brass, it's based on a 1952 lamp design by his grandfather with a conical shade printed with a textile pattern by his grandmother.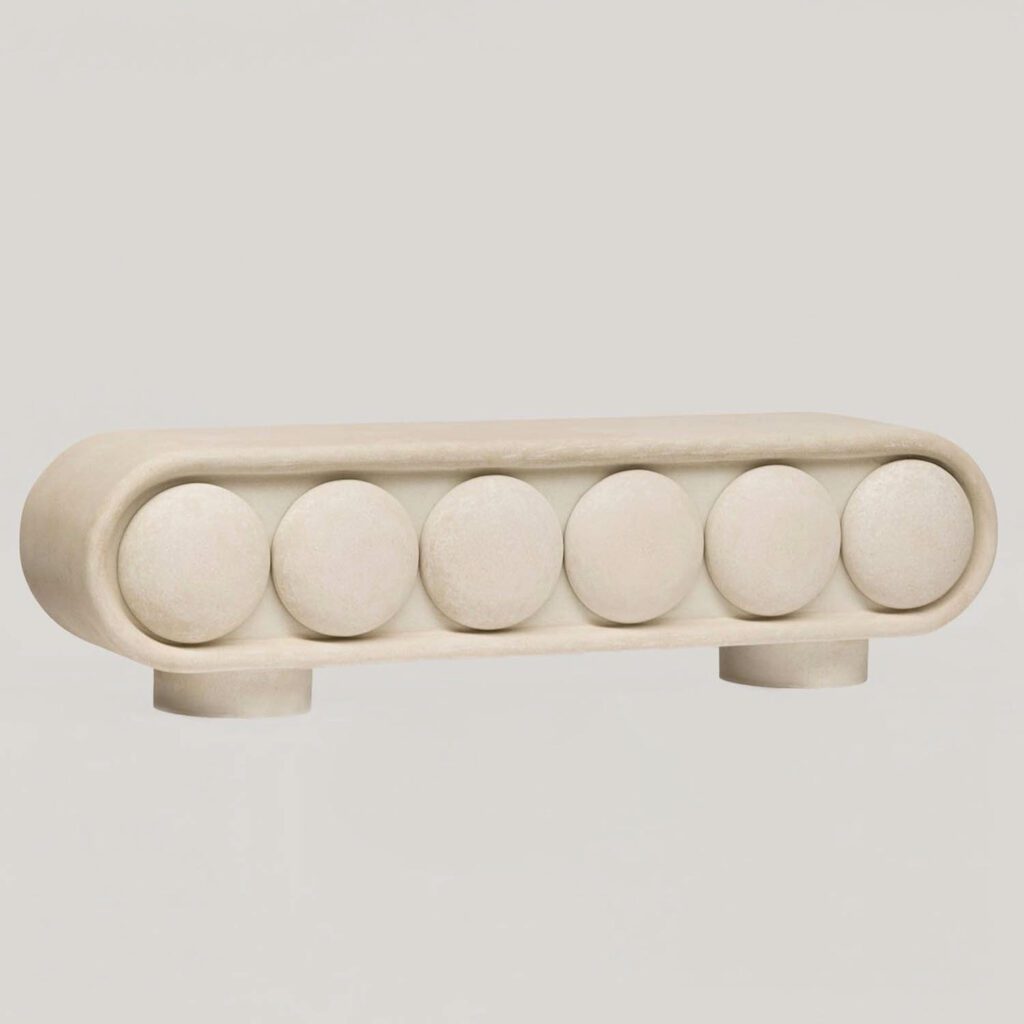 To mark the opening of its new flagship store and coffeeshop in Dubai, Spanish manufacturer La Nena Home unveils a furnishing collection. A series of rounded forms, Cabinet is made from the company's signature solid-surfacing material and handcrafted by local artisans from the Galicia region of Spain.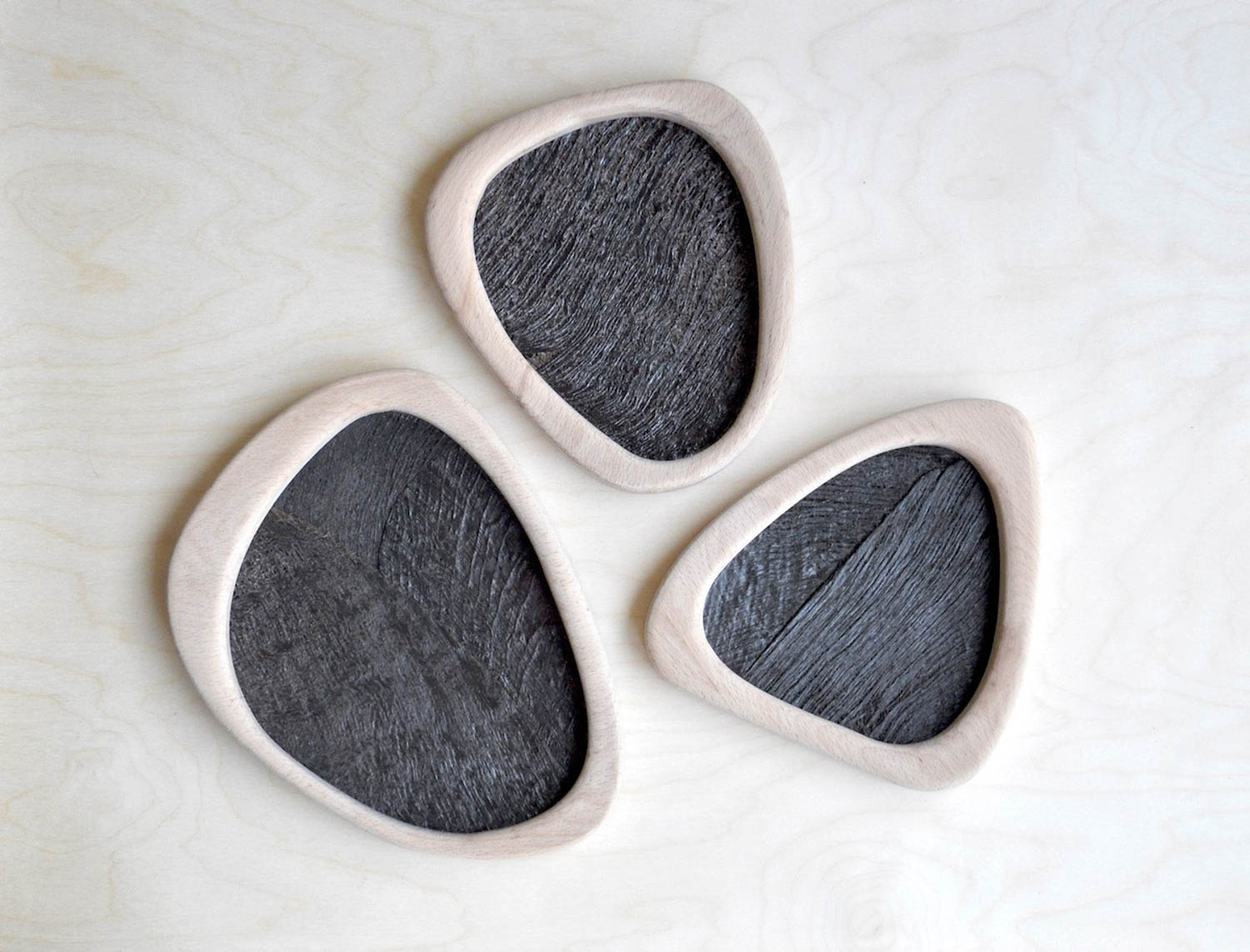 Employing wood marquetry techniques, Reem Jeghel reuses waste from the palm industry. Palm Veneer is composed of discarded palm fiber, which is collected and pressed into cardboard to make a veneer. The veneer is then arranged in beech wood frames. "The idea came about when I noticed workers taking down parts of the palm pieces to be discarded," says the designer. "I saw potential in this raw natural material and I wanted to highlight its rich texture and colors of it."
8. Love by Zufa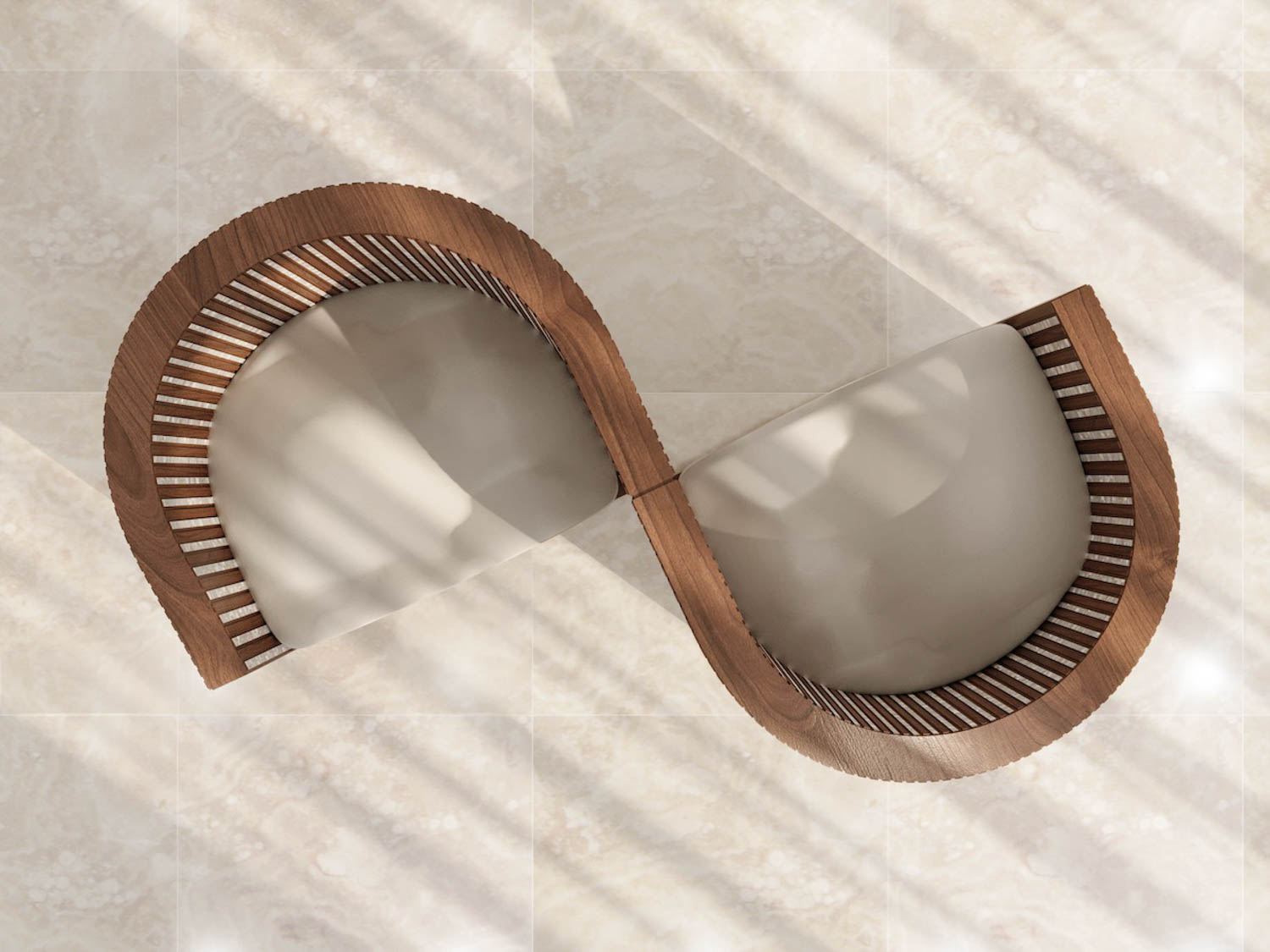 The wood-framed Love chair by design studio Zufa in Bahrain is complementary as a pair, with curves that fit together.
9. Pieces of Past and Present by Amna Alshamsi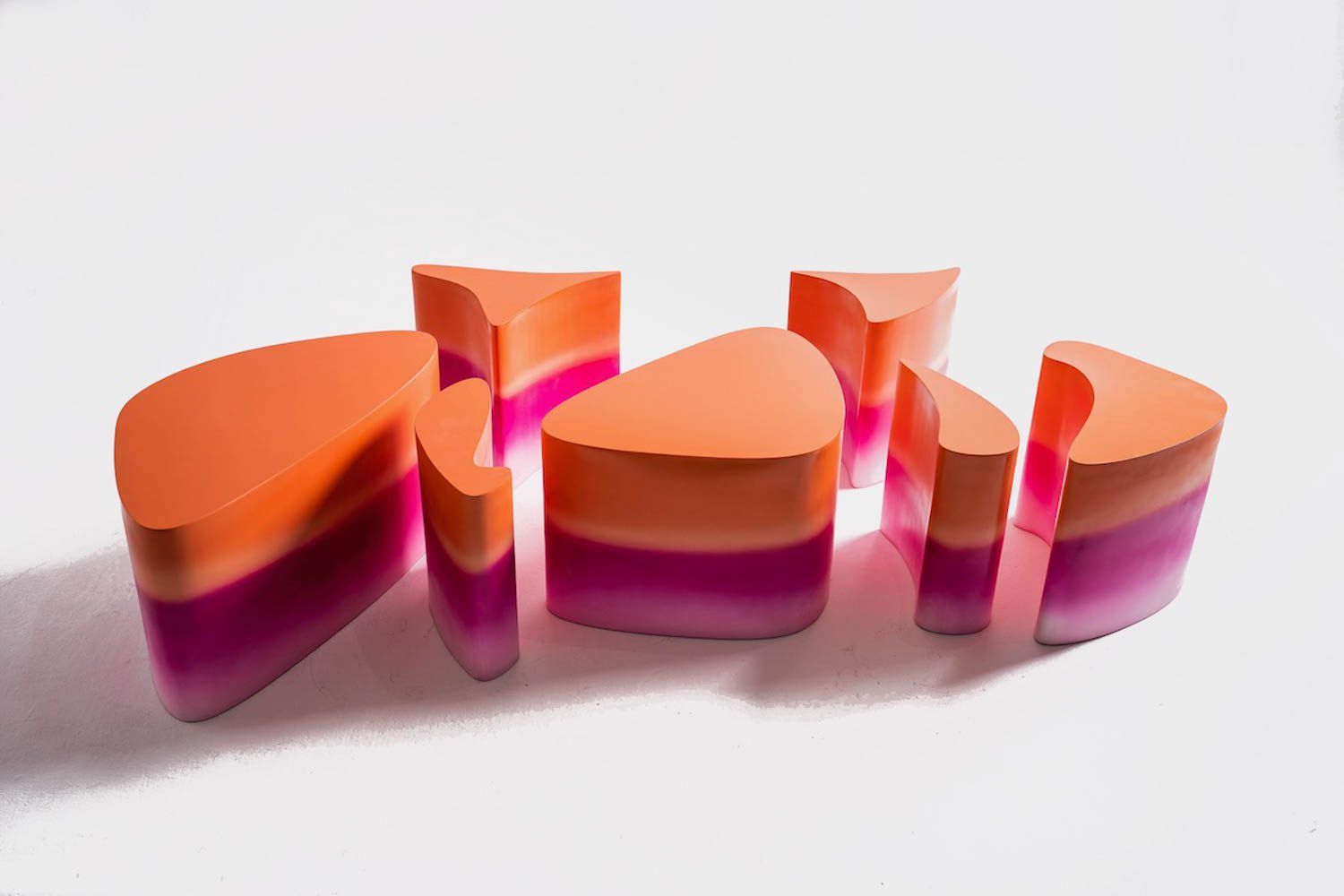 Seven segments inspired by the historic architecture of Dubai's Al Shandagha district merge to form gradient orange, yellow, and magenta coffee table Pieces of Past and Present. Deconstructed, they're stools or small tables.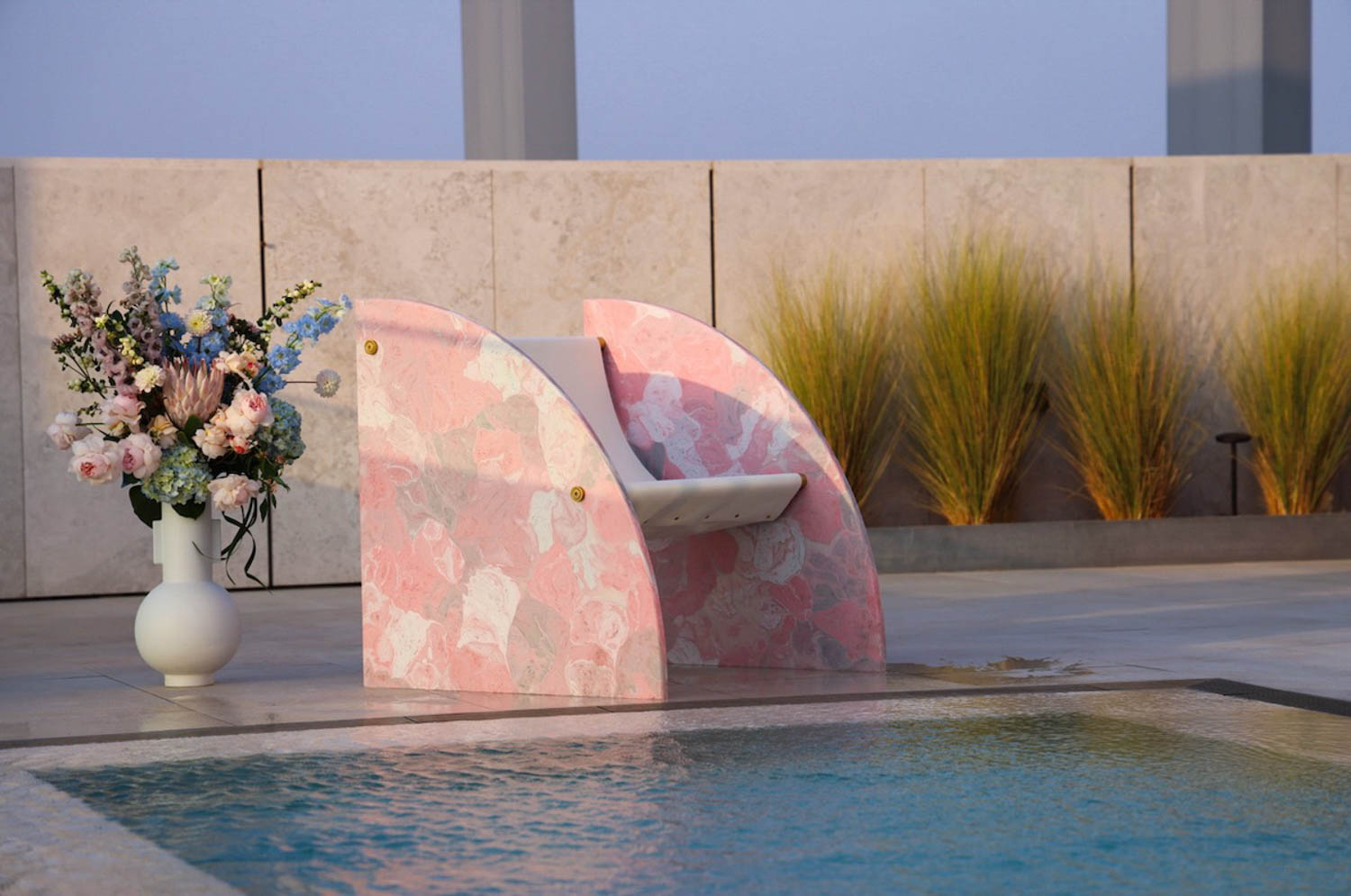 Mexican cactus (for the faux-leather seat) and 100 percent recycled plastic (for the frame and mainly sourced from plastic spools used for thread) are the sustainable materials behind Lounge by Anqa Stiudios. The chair is offered in four colors, among them Jumeirah Pink, a gradient pink and off-white. "We want to express that plastic isn't dead yet and somewhere is trying to rot in a dump, but that we're trying to breathe new life into the material, so that it is "still in the pink (meaning: alive)," says co-founder Doloris Schreiber.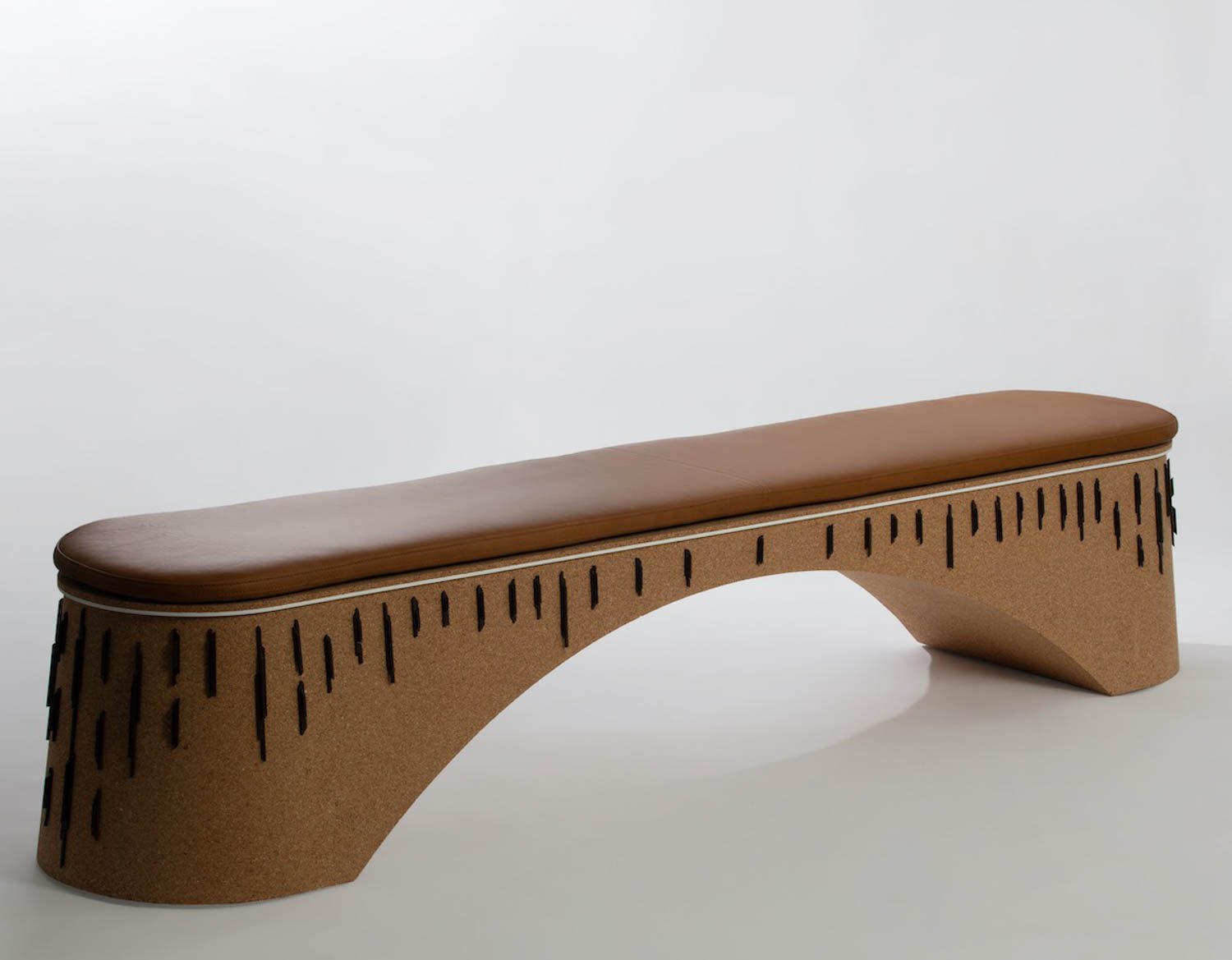 To breathe new life into biodegradable Palmade pallets Ebrahim Assur conceived bench Kaseeriya. Recycled cork and camel leather accents complete the transformation.
12. Fratelli by Mario Gagliardi for Baaya
The Bauhaus movement influenced the generous proportions of Fratelli by Mario Gagliardi, a wood-framed lounge chair with upholstered seat and back.
13. Mineral by Jassim AlSaddah for Samovar Carpets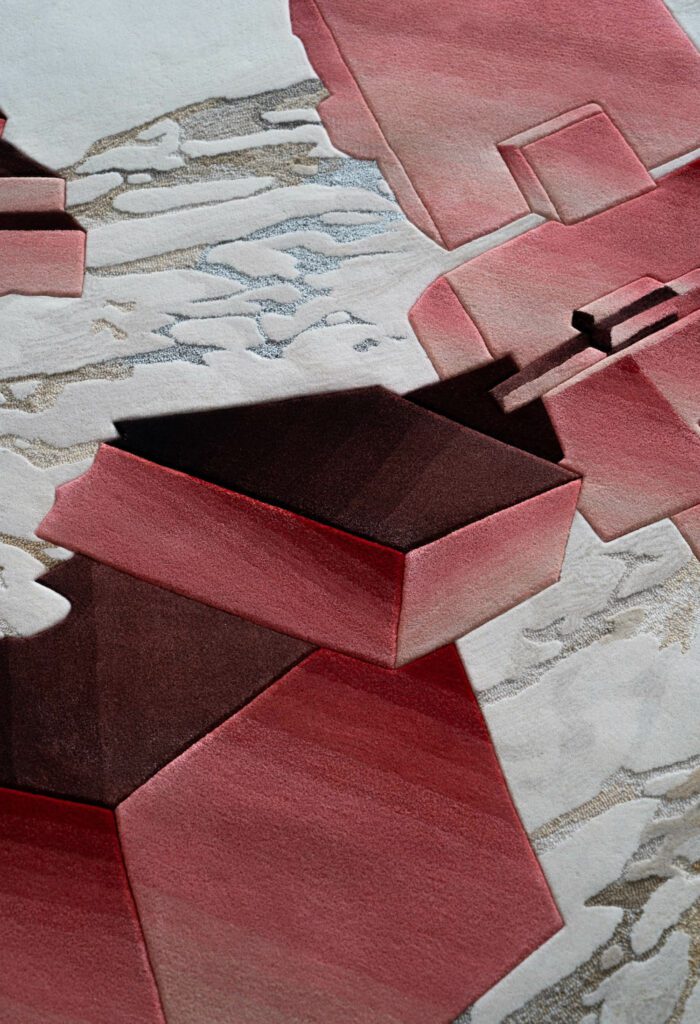 While the compositions in the Mineral collection of carpets by Jassim AlSaddah might seem highly abstract, they can be spotted in nature. Each motif comes from the geometry and crystal structures found in geology and mineralogy.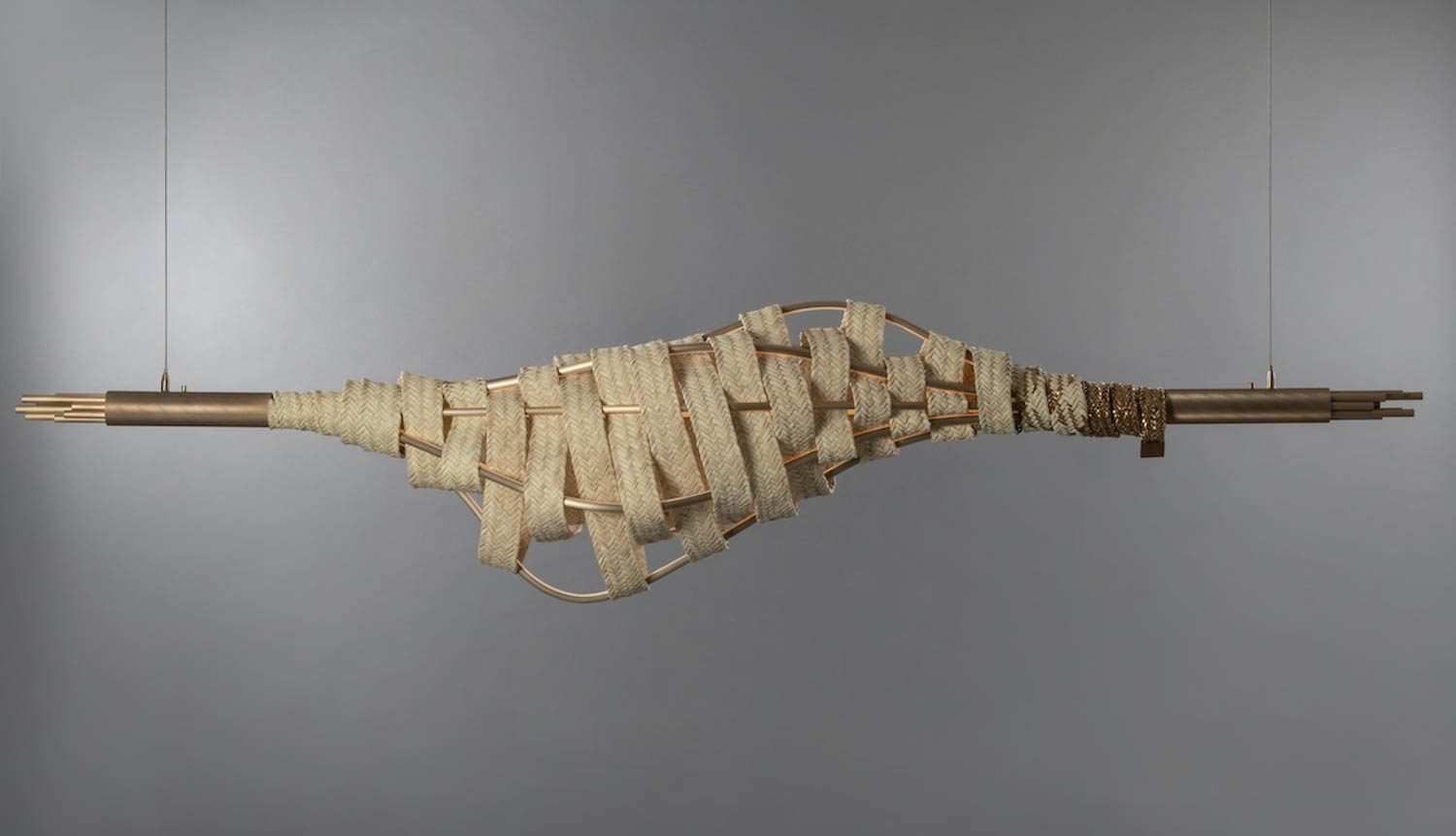 Pendant light Anamil (Fingertips) by Saudi Arabian designer Huda Al-Aithan highlights the regional craft of 'safeefah' (palm frond weaving). To produce the piece, the designer enlisted Emirati craftswomen.