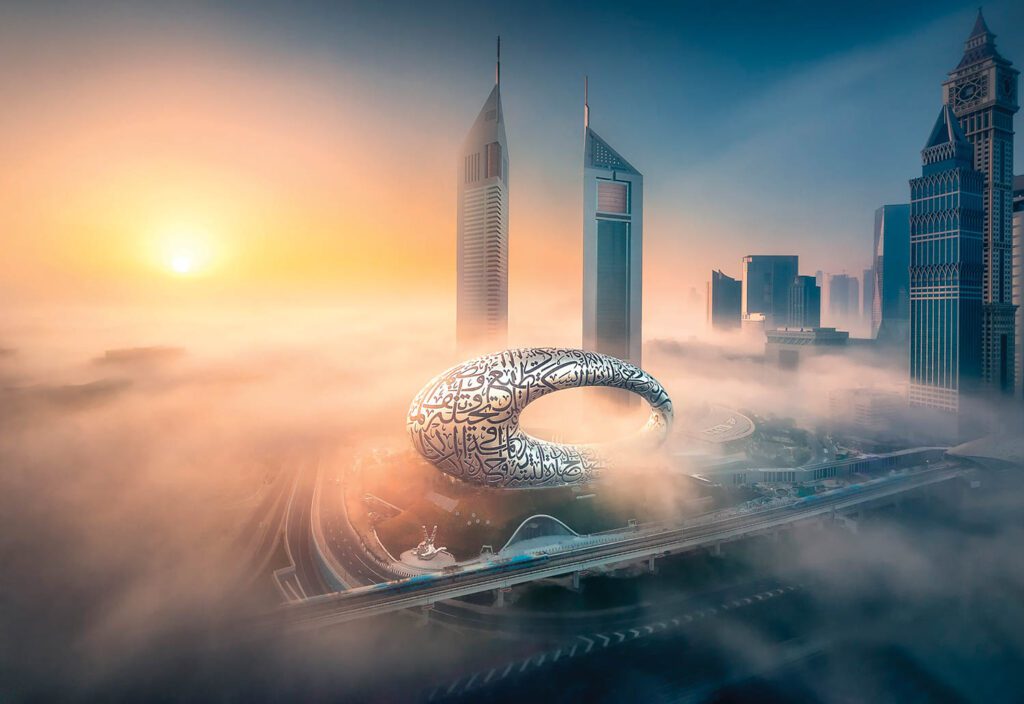 The Museum of the Future Opens in Dubai
Dubai has a reputation as a futuristic metropolis. Though it was a small UAE fishing community along the Persian Gulf only a century ago, today it offers the world's tallest building, man-made islands in the shape of palm trees, and skiing in the middle of the Arabian Desert. Now the Museum of the Future, a collaboration between local firm Killa Design and British structural engineer Buro Happold, celebrates what's still to come.
Opened on February 22, 2022, a date selected for its palindromic nature, the 250-foot-tall, 323,000-square-foot structure—a highly complex ovoid form with a hole in the middle, wrapped in a skin of curved stainless-steel and GFRP panels—looks something like a spacecraft dropped into the city's financial district. The building's surface is covered with Arabic calligraphy (actually window openings CNC-cut into the cladding) that spells out poetry by the emirate's ruler. Sample line: "The future can be designed and built today."
The permanent exhibitions, designed by German firm Atelier Brückner, include "Journey of the Pioneers," which leaps forward to 2071 for an expedition on the spaceship OSS Hope. It's filled with 3-D printed elements that could have been crafted en voyage, while black terrazzo flooring suggests something mined from moonrocks and asteroids. Back on Earth, the building itself is good for our planet's future: It's the first LEED Platinum–certified museum in the Middle East.