Rocky Mountain Hardware Turns Details Into Art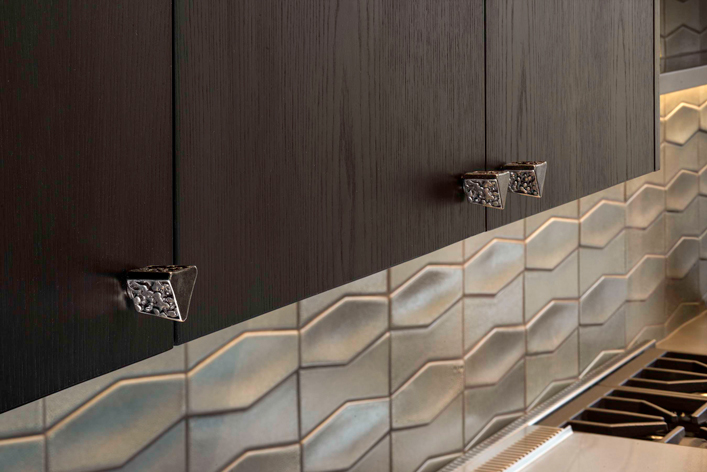 It's the little things that count. Bringing a hand-crafted touch to even the smallest details of a space can transform a project from a house to a home.
Rocky Mountain Hardware has been a long-time favorite of detail-oriented designers. Using only art-grade, 90% post-consumer bronze, Rocky Mountain Hardware's door and cabinet fixtures are crafted using Old World techniques, eco-friendly patinas, and hand-sculptured molds in an over 20-step process. Two of the latest offerings from Rocky Mountain Hardware exemplify the brand's artistic ingenuity and timeless appeal.
Ore
The geometric Ore collection originated in 2005 for a client looking to do custom hardware for nearly every component of their home. After garnering attention and curiosity from designers in the New York and Los Angeles trade show circuit, Rocky Mountain Hardware decided to incorporate the contemporary Ore into its burgeoning portfolio. According to president Christian Nickum, the company's artisans recast the original design, adding a softer touch to the angular edges that enable an easier grip. Ore comes in knob, lever, and two-grip styles for doors, as well as two pull and one knob option for cabinets.
Edge
The Edge collection features six surface textures that are completely unique to Rocky Mountain Hardware. Two standouts are Moonscape and Wire, both tactile and visual exemplars of the brand's creative vision.
The inspiration for Moonscape came from the production process at the foundry. "Due to the handmade nature of our hardware, there are sometimes situations when our craftspeople over-pour a mold, which causes molten bronze to spill onto the foundry floor," Nickum explains. "When the bronze cools, it creates a solid mass of freeform bronze that resembles a moonscape."
Wire was the product of one master craftsman's exploration into how string can be used to create varying depth in a bronze cast. Using a smooth cotton twine wrapped around a wooden plank, the craftsman was able to create a pattern that features miniature mountains and valleys within the cast. Different patinas give Wire a one-of-a-kind feel, providing this unique cast with an even more luxurious edge.
Learn more about Rocky Mountain Hardware's cabinetry collections by ordering a product brochure here.