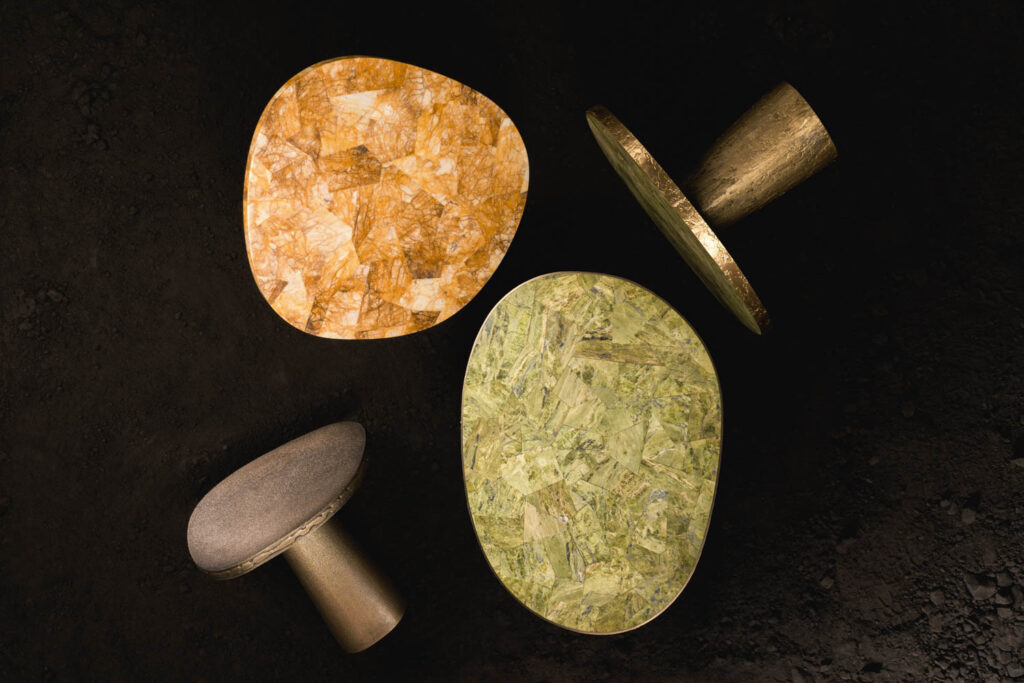 Must-See Exhibits to Catch at Salon Art + Design in New York
For its upcoming 12th edition in Manhattan, Salon Art + Design embarks on a refreshing approach. "Not an enormous change, rather a natural extension of what we do," hints Jill Bokor, the fair's executive director. This year, several jewelry designers will have displays at the Park Avenue Armory-housed fair, which offers a one-stop shop for collectors of design and art from various periods and geographies November 9-13. Five of the roughly 50 exhibitors specialize in jewelry, ranging from 19th-century vintage Tiffany's or Van Cleef finds to contemporary jewels from Portugal. "There is no other New York fair that skews so heavily into design," adds Bokor who was keen "not to disrupt that purity." The decision evolved from testing the waters last year with inclusion of individual design partners and a few jewelers under the Armory's soaring stairwells. "It seemed like this was the natural reaction to push our envelope a little bit and give the show a colorful refresh," she adds.
Bokor also noted the return of what she calls "New York neutrality" in designer palettes and collector demands: "After a few Covid years when color was needed to brighten our interiors, this revival of muted tones and materials can use some colorful company of jewelry," she shares. Newcomer design galleries such as Galerie Philia, Guy Regal NYC, Spazio Nobile and Mercado Moderno join returning exhibitors Cristina Grajales, Galerie Chastel-Maréchal, Maison Gerard, Todd Merrill Studio, or Twenty First Gallery. Visitors also will encounter booths occupied by jewelry experts Didier, DK Farnum, Rosior, Yvel, and Elevated Matter Gallery.
The Armory's spectacular architecture is of course not overlooked. From the historic rooms to the grand staircase, the 143-year old venue hosts installations by a broad range of exhibiting partners. Brazilian designer Fabiana Machado's Atelier FM, worldwide objects platform ABASK, and furniture gallery Charles Zana Mobilier occupy the floors of the Drill Hall while lighting and artwork-focused British gallery Cox London takes over the entryway and the nook beneath the grand staircase. An installation of contemporary ceramics by Ruan Hoffman is installed at the building's South Hall; New York's own Phillip Thomas re-orchestras the Colonels Room with the motto that "the every inch of your home is and should be a work of art."
Explore Salon Art + Design Show Highlights 
The global design powerhouse with locations in Geneva, New York, Singapore, and Mexico City carves a mini group show titled "Philia Classics Revisited." Doing justice to the gallery's inaugural Salon participation is a medley of 11 mainly young talents from its roster, such as Andrés Monnier, Elisa Uberti, Elsa Foulon, Pietro Franceschini, Paul Matter, and Frédéric Saulou. Given the designers' age demographic, "classics" might echo as a tongue-in-cheek choice of word, but the eight-year-old gallery itself is also a quite young endeavor, and the title reflects its rapid penetration into the design market through focused material exploration and fostering of new industry names. In this direction, all the objects throughout the presentation are made in travertine stone, with a limited edition of eight pieces. Uberti's bulbous humanoid lamps to Monnier's grotesque dining table and Franceschini's geometrically precise Licitra chair all hail from a new workshop called Galatea, located in Ensenada, Baja California.
The TriBeCa, New York, establishment run by its eponymous design maven owner also brings a group selection of furniture and objects, featuring Christophe Côme, Mark Grattan, Philip and Kelvin LaVerne, Jorge Lizarazo's weaving atelier Hechizoo, and Tim Horn. Mexico City- and New York-based Grattan—the winner of HBO Max's "Ellen's Next Great Designer"—exhibits a powdery pink-colored velvet lounge chair with polished stainless steel legs, as well as its larger love seat version. A 1960-dated Patchwork Table consists of bronze, pewter, and enamel by the LaVerne father-son duo, giving the industrial-looking table a sculptural finish.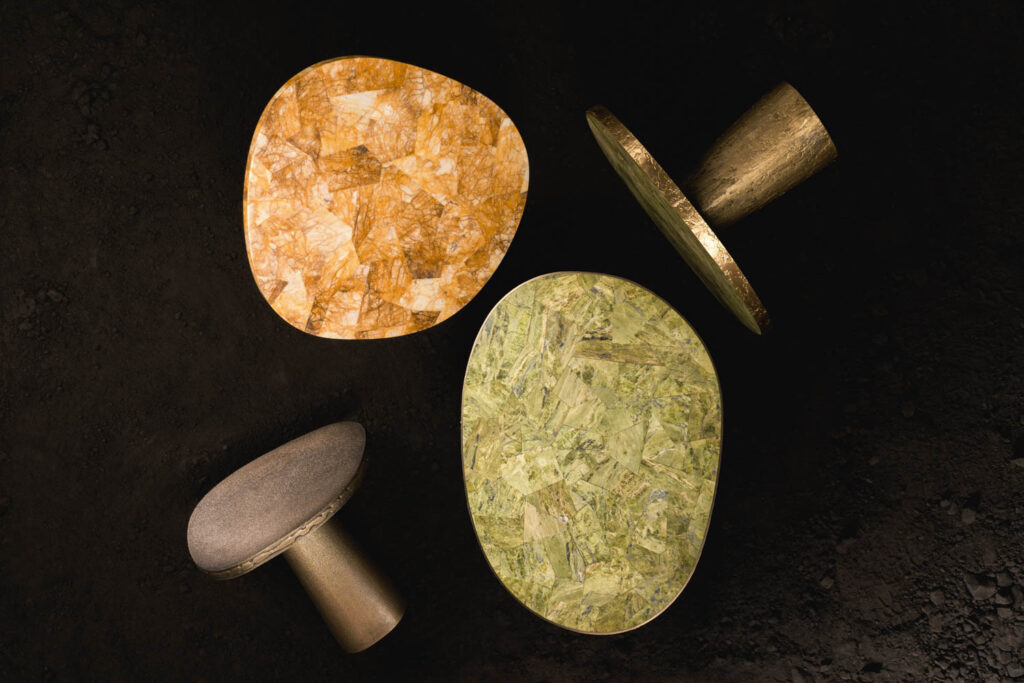 Another striking experimentation in table design awaits at Brian DeMuro and Puru Das's New Delhi- and New York-based design firm's booth. For their first-time participation, the founders debut four new collections, including the Tempest, Clarion, and Badal side tables. One of three Tempest tables' alchemy of leathered smoky quartz and satin bronze yields a painterly finish with sculptural accents. The dramatic yet demure aesthetic also expands to the series's other item in which a vesuvianite surface blends with an antique bronze frame.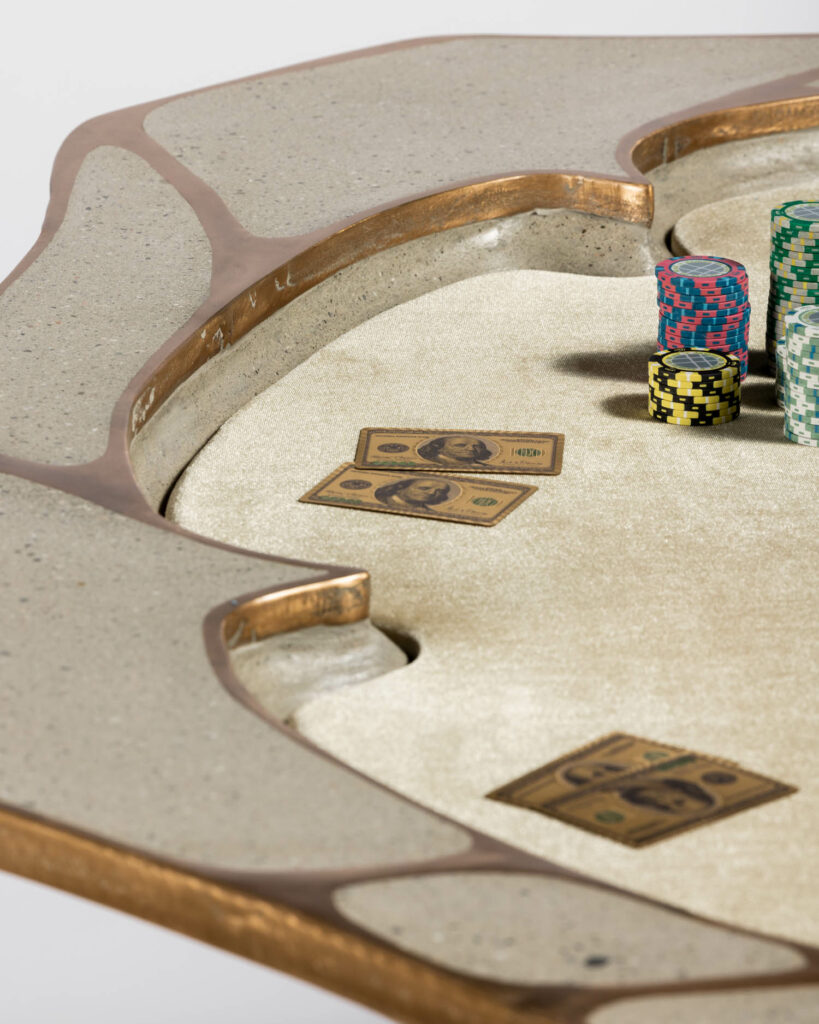 "There are fairs that have moved out of the Armory and continued their success at other venues, but I don't know if Salon could ever be successful anywhere else," says Bokor. A stark proof of the connection between the materials on offer and the venue is the fair's programming across the Armory's nooks and crannies as well as its soaring Drill Hall. A swift dialogue with the main exhibition hall's ornate interior is Los Angeles-based artist De Wulf's Exoskeleton series, a group of tables in bronze, brass, steel, stainless steel, and iron. Using reinforced concrete in poetic softness, the designer yields nature-inspired surfaces with gentle yet stern stems. Imperial Poker's design is a floral-formed bronze and fabric interpretation of a gaming table which would typically come in wood and suede.
Another Swiss- and New York-based power player making its Salon debut, the fair's Upper East Side neighbor presents an art-heavy display, featuring two pillars of western Modernism, Pablo Picasso and Louise Nevelson. The latter's Dawn's Presence–Two (1969-1975) is a life-size sculpture with architectural cues—somewhere between an imagined metropolis and abundant geometry, the white-colored hefty wooden formation possesses a timeless energy. A 1918-dated Picasso, titled Vintage, is an oil on plaster on board, juxtaposing a quartet of four female nudes.
Joining this year's grouping from Rio de Janeiro for the first time, the gallery with a focus on Modern and Contemporary Brazilian design presents a striking selection of mid-century furniture. A highlight is Móveis Novo Rumo's teacart from 1950s, made with plywood, metal, and veneered wood; slim and chic, the wheeled service table radiates a late Art Deco elegance. Jorge Zalszupi's 1960s era Brasiliana armchairs in wood and fabric contain the duality of geometric ends in wood and rounded forms in textile.
Global design platform founded by Tom Chapman and Nicolas Pickaerts presents a mini fair within the fair with an ample selection of objects in various styles, materials, and uses. The company's promise of design from all over the globe includes oiled walnut serving board from Biarritz, France by self-taught woodworker Lucas Castex, brass and iron sculptures Viennese designer Carl Auböck hand-casts with his four-generation craft and molds, and Murano company NasonMoretti's colorful glass tabletop objects that blend the mastery of blown glass with cold cutting techniques.
New York-based designer Matthew Fisher's trip to Volterra, a town outside of Florence, Italy, last summer inspired the collection he debuts, titled Elegy, featuring a low table in Brazilian quartzites and Middle Eastern onyx. Dark bronze and burnished silver metalwork suspends the stone surfaces with tectonic grandiosity and marble-like liquid characteristics. Merging archeologic mystery with a contemporary curiosity, Fisher's aesthetic philosophy filters an interest in antiquity with the time's production means.