Sharan Pasricha, Ennismore Founder, Talks Hospitality Design
Born in India, schooled in England, and now based in London, entrepreneur Sharan Pasricha is the founder and CEO of Ennismore, a global hospitality developer and operator. Established in 2011, the company made its first acquisition, the hip Hoxton hotel in the city's East End, a year later. Pasricha grew the brand across Europe and the U.S. and, in 2015, led the acquisition of Gleneagles, the Scottish heritage golf resort. After a merger with European hospitality giant Accor in 2021, Ennismore has become the fastest-growing and most diverse lifestyle-hotel company in the industry. Together with Hoxton and Gleneagles, the company now boasts 14 brands, including Mondrian, Delano, 21c, Tribe, 25hours, Jo&Joe, SO/, and Working From_, the last comprising coworking facilities in many of its locations. Now encompassing some 100 properties—plus roughly 140 more in the pipeline, around 30 of which are due to open this year—Ennismore is just as big on the F&B side, with 190 bars and restaurants in operation and up to 60 under development.
The Hoxton hotels are known for their serious design chops, and Ennismore has had an in-house interior and graphic design studio since 2016; it was expanded and renamed AIME Studios last year. The 30-person team doesn't design every hotel the company operates, however, and the portfolio is growing so fast that, as Pasricha jokes, "You sometimes find the operators making design decisions or the designers making food decisions." In order to provide oversight, maintain quality, and push designers to do innovative work in what is an ultra-competitive field, he has built up a group of external consultants around the world who "work with our owners to make that property the best version of the brand it can be." We spoke to Pasricha recently about his eye-popping hospitality empire.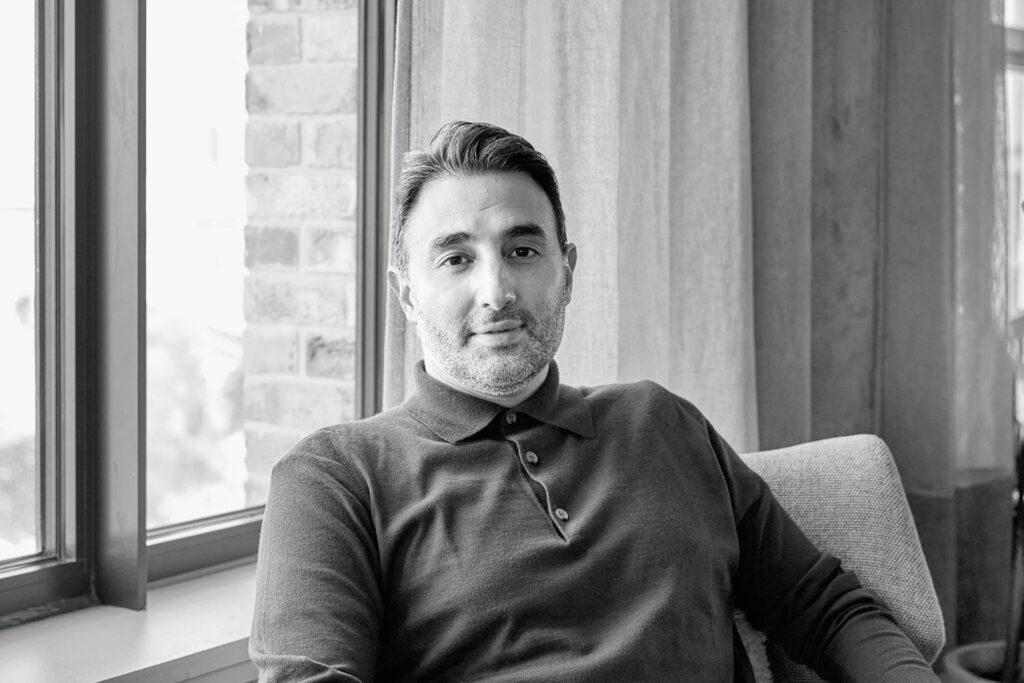 Sharan Pasricha and the Path to a Hospitality Empire
Interior Design: How did you get into the world of hospitality?
Sharan Pasricha: I sort of fell into it, really. I didn't go to Cornell and get the handshake, or work my way up the hospitality career echelons. Most of what I've done comes from being a serial entrepreneur, so fairly unemployable, I guess! This is my third business but the one that's lasted longest because it encapsulates so many of my interests, from design, storytelling, and architecture to behavioral science, consumer trends, hard-core operations, margins, time and motion studies, and labor costs. It's unusual to have an industry that captures such a gamut where your canvas is beautiful physical spaces.
ID: Your first acquisition as Ennismore was the Hoxton in Shoreditch. Why that hotel?
SP: I was very attracted to the area, which back then was an outlier with an industrial past and a creative present, where old warehouses and lofts were being converted into uber-cool offices and residential spaces. The hotel had gained a lot of notice thanks to its clever marketing strategies, but it was also underinvested. I saw an opportunity to get the property to reflect the rapidly changing area more, in terms of design, food, and programming and also people and culture. We started investing in those things, and as Shoreditch continued to flourish, so did the hotel. We realized that this could be transported to other exciting neighborhoods that are changing fast.
ID: How highly should design rate in the making of a hotel?
SP: For me, no one design discipline should speak more than another. Some of the best spaces are where I am thinking, How has all of this come together so beautifully? The lighting marries with the FF&E, which matches with the curtains and in turn with the uniforms and music. It's like cultural programming, where you're taking these talented creators and making sure all of them are in harmony so that nothing is jarring—unless that is done consciously.
ID: What is the most important space in a hotel?
SP: The public spaces may be beautiful but if you don't have guest rooms that are functional, thoughtful, considered, and considerate, people are not going to come back. So many look great but are wildly impractical—there's nowhere to leave your suitcase or put your toiletry bag in the bathroom, for example. I think this is where operations, art, and science converge to create something that's insight-based. One advantage of having an in-house design team is they can conceive stunning spaces and then sit with the housekeepers to get feedback on what works and what doesn't.
ID: In 2021, you entered into a joint venture with Accor, the largest hospitality company in Europe. Why?
SP: Again, I never had this in my grand plan. What was apparent to me was that there was an amazing opportunity to build a company that, frankly, doesn't exist because nobody is in that intersection of scale and authentic storytelling. If you want to be a fast-paced, dynamic global hospitality company, you need a partner to be able to deliver on that scale.
ID: What are your key future markets and openings?
SP: Our business is biggest in Europe but growing in the Middle East and Asia, and substantial in the Americas, where I think there's a huge opportunity for us. In terms of openings, the Maison Delano Paris opens this month; the first Mondrian in Southeast Asia launches in Singapore in spring, followed by the 21c Museum Hotel St. Louis, the SO/Uptown Dubai, and the Hoxton Charlottenburg in Berlin, which is on a beautiful tree-lined residential street. Since we're a brand-first organization, we're only as good as the neighborhoods we're in.
A Closer Look at Ennismore's Hospitality Locales