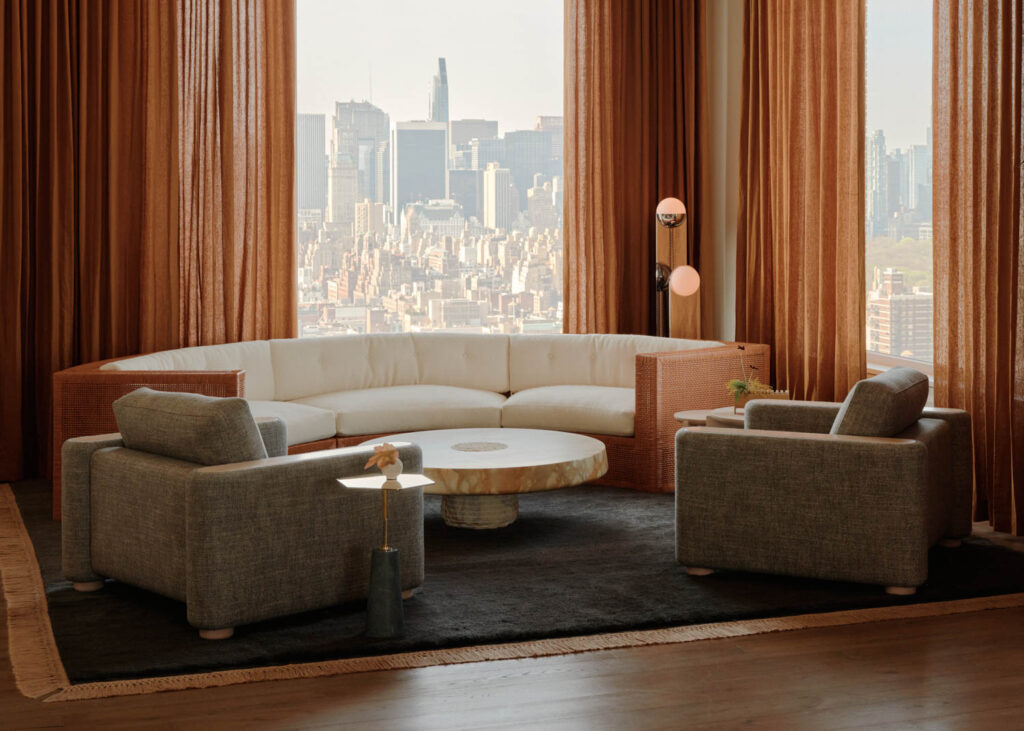 7 Standout 2023 NYCxDESIGN Exhibits Worth The Buzz
Editors and designers alike have playfully observed the NYCxDESIGN festival's weeklong celebration of design has expanded over the years, encompassing not just multiple weeks but, some might say, the entire month of May. Luckily, the extended schedule provides us with ample time to savor and admire the latest offerings. Here, Interior Design recaps a selection of the year's outstanding NYCxDESIGN expositions, many of which are works by female-identifying designers and curators.
---
Interior Design is proud to unveil the 2023 NYCxDESIGN Awards winners. Check out product, project, and student honorees, and catch all the excitement on demand on DESIGNTV.
---
Cast-offs from the stone yard become covetable tables, chairs, and lighting for Slash Objects's Unbroken exhibition. New works by founder Arielle Assouline-Lichten include Lino and Oni, the latter a green onyx-topped table with hand-finished aluminum legs. The pieces evoke genial characters while utilizing scraps of travertine, onyx, and marble twirled into tables fastened with custom-machined aluminum hardware as well as suspended celestial light fixtures that double as mobiles. Impeccable details and elegant forms made the collection a must-see.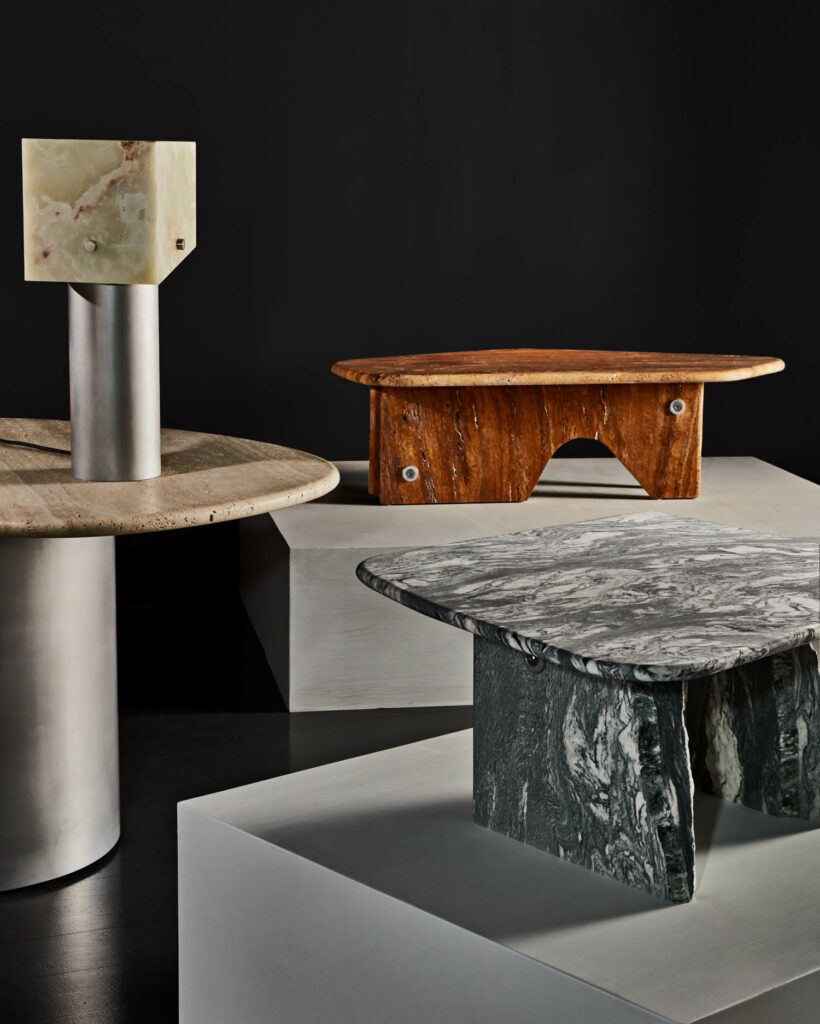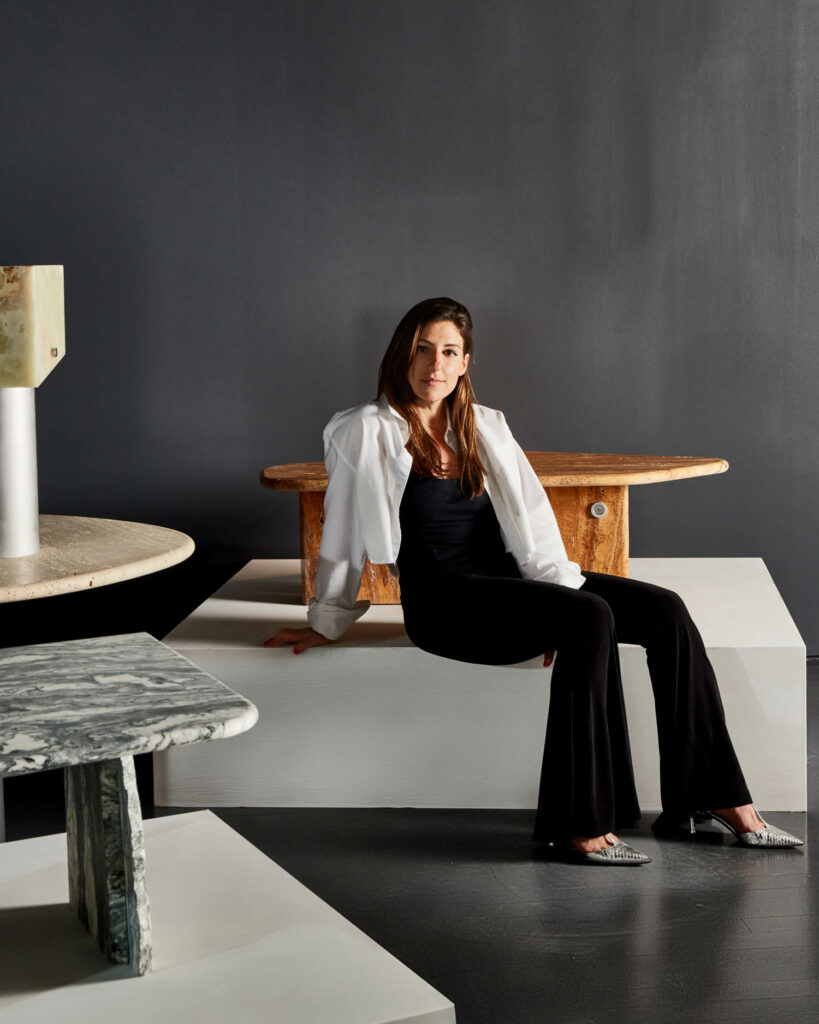 Powerhouse trio Crystal Ellis, Hillary Petrie, and Stephanie Beamer of the firm Egg Collective celebrate 11 magical years of crafting elegant-yet-functional furnishings. Three years in the making, their new collection includes standout pieces such as the Robins armchair with a sinuous powder-coated steel frame. Fortune tables incorporate totems and iconography like snakes (the symbol of infinity and love), honeycombs (sweetness), and hearts on hands (charity) on their surfaces. The Ouroboros sign, depicting a snake swallowing its tail, evokes the cycle of life, and the firm's collection reflects its dedication to rebirth and reinvention.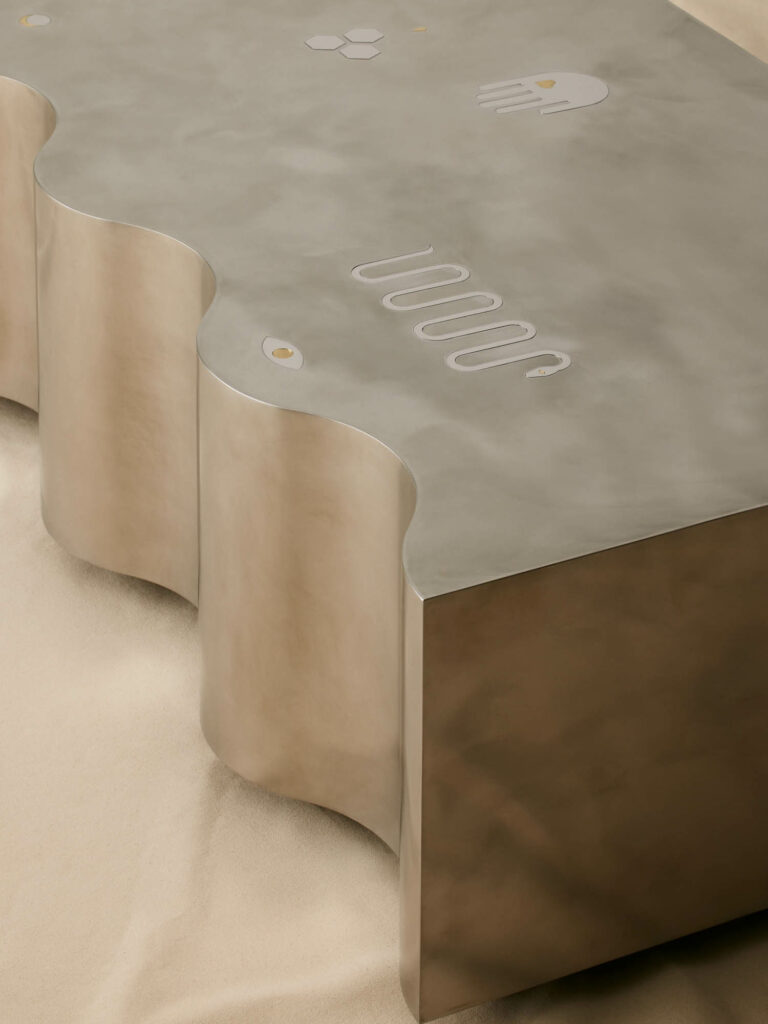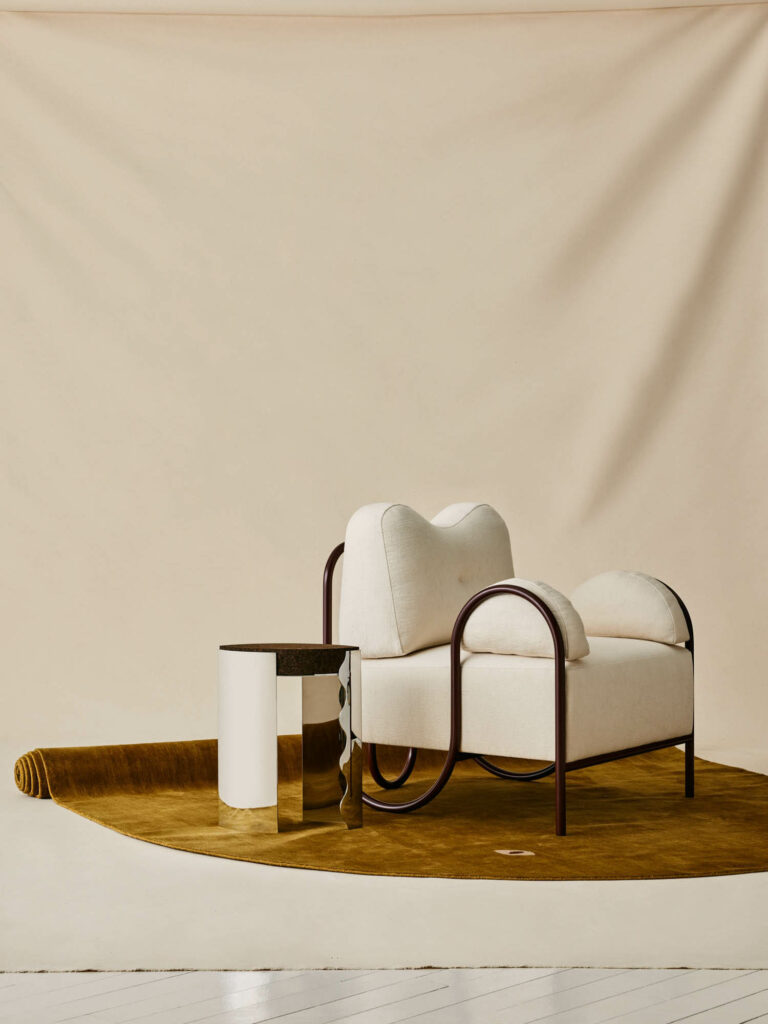 Marta & Catalog Sale's Make-Do
Back after last year's outré showing of toilet paper holders, Los Angeles-based gallery Marta unveiled a collection of Make-Do chairs against the industrial backdrop of a former medical facility on Manhattan's Chatham Square. A collaboration with auction house Catalog Sale, the group's 24 historic and contemporary ad-hoc pieces spotlight the creativity of its talent-filled roster, including Isabel Rower, Sarah Burns, and Chen Chen & Kai Williams. Tasked with fashioning seating using on-hand materials, the artists incorporated varied media—from cardboard to discarded carpets to beaded car seat covers—into their designs. Memorable pieces include Sarah Burns's slipper chair, featuring soft padding paired with pine slab, and CCKW's amalgam of materials unearthed in a recent studio move.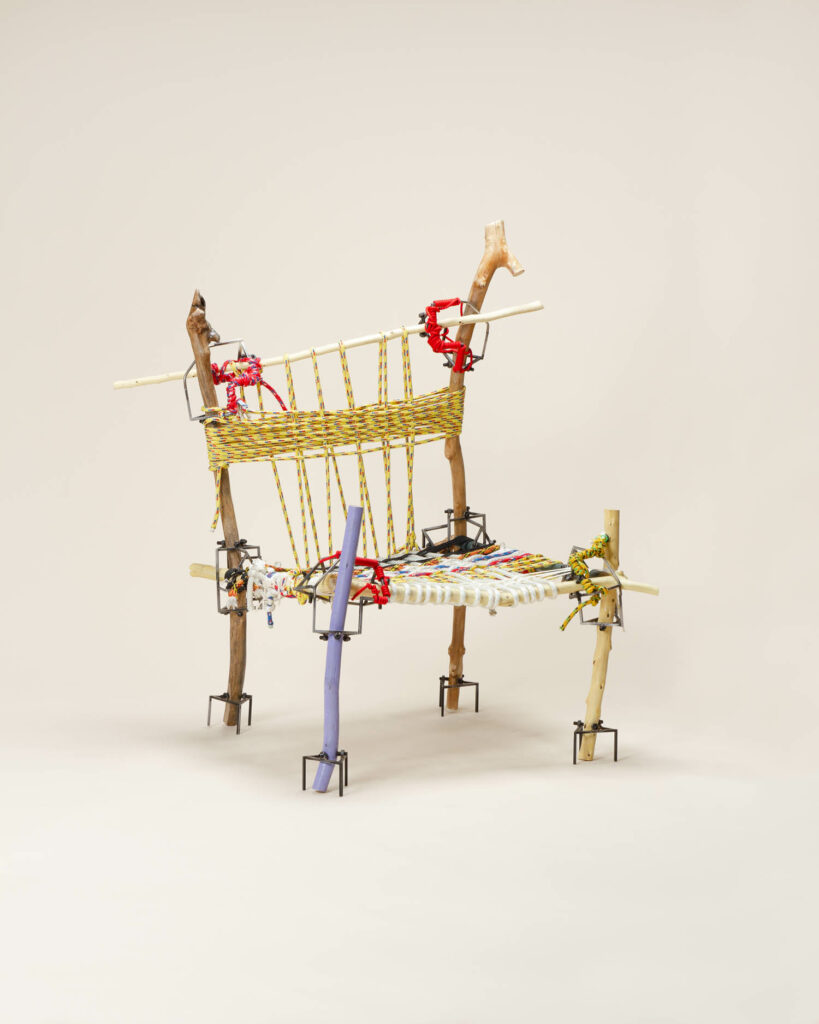 There's a reason HBO's "Succession" chose to film in Radno̲r's sophisticated apartment-like showroom on Manhattan's Upper East Side: The skyline views are stunning, but the furniture and accessories are even more elevated. For this exhibition, Radno̲r founder Susan Clark offered a textural, low-slung coffee table hewn from a single piece of Italian Siena marble. A rakish lounge chair by Bunn Studio with well-construed details like bleached maple inlay armrests affords deep repose and a place for devices. Inaugural launches from the brand's Radno̲r Gallery program include chairs in ancient woods by Japanese maker Toshio Tokunaga that delight the eye and artwork by Abigail Booth stitched and printed with natural dyes. All pieces pair nicely with the sunset-saturated space.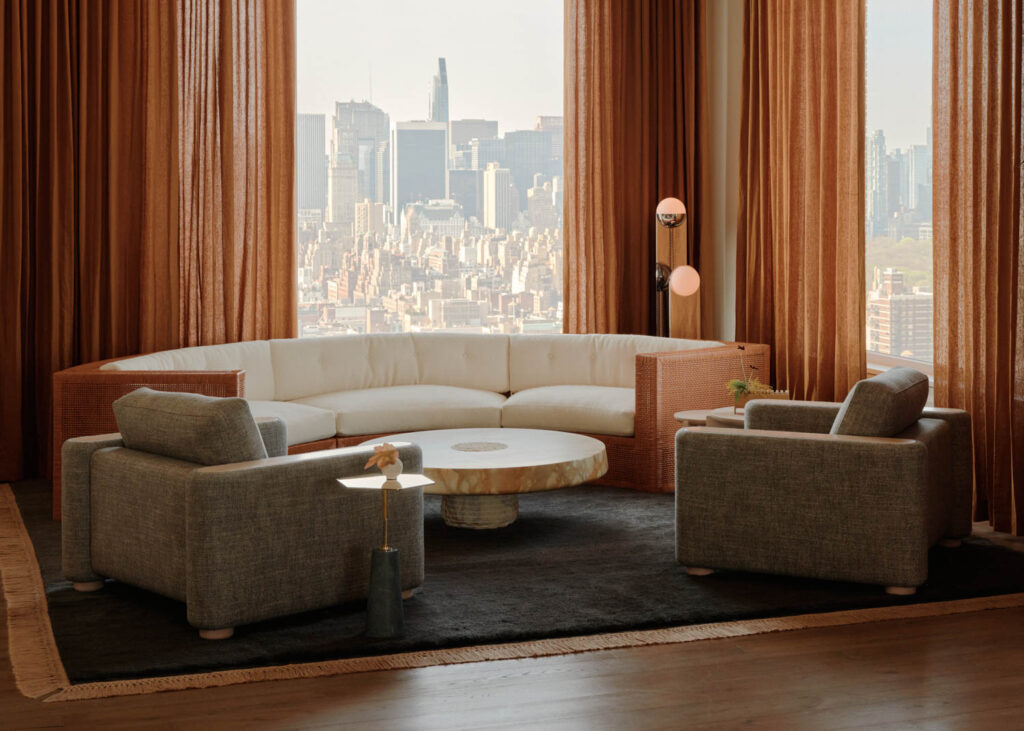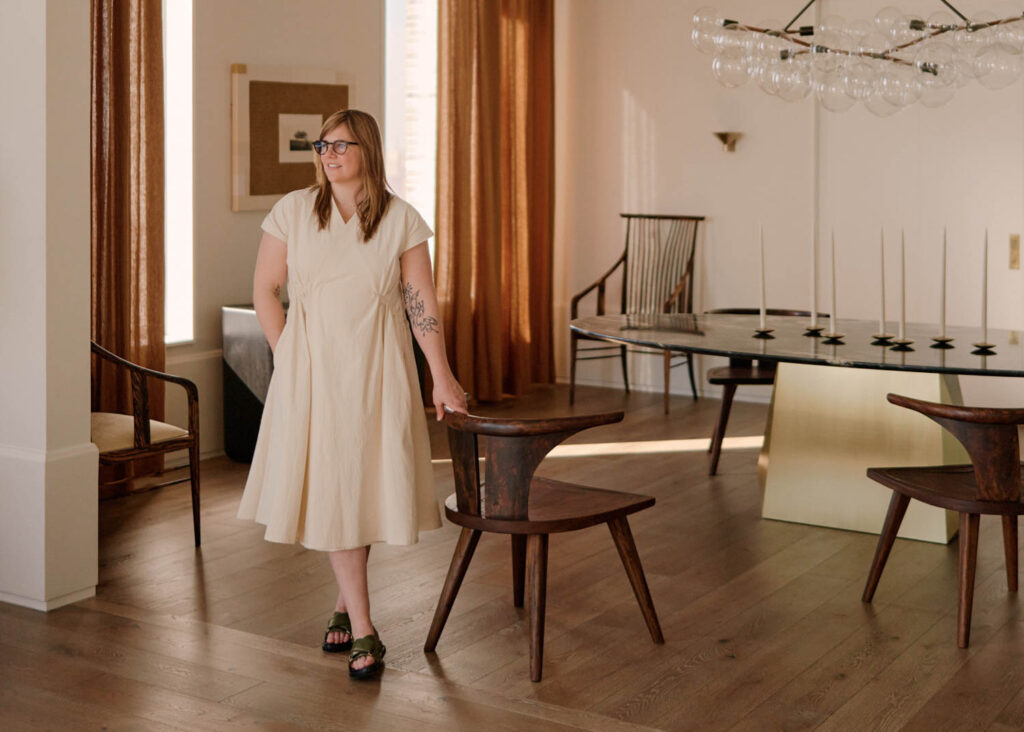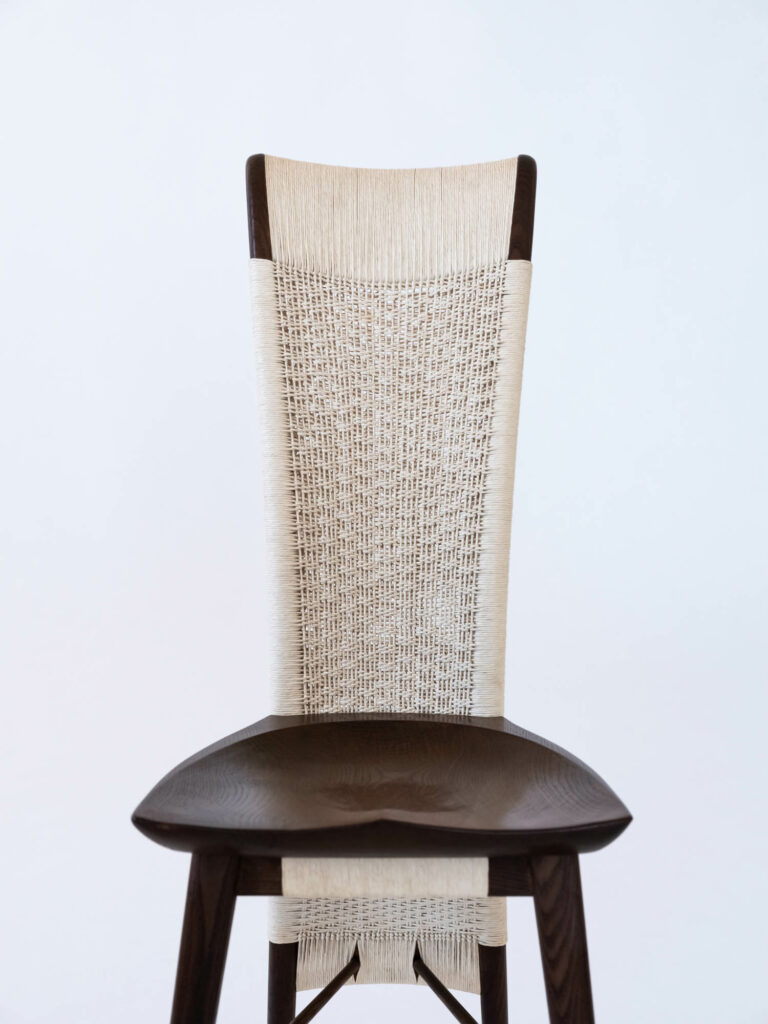 A true highlight of the New York design circuit, this moving show of fresh works by Asian American Pacific Islander (AAPI) female-identified creators merits best-in-show for this year. Held within 3.1 Phillip Lim's store and co-curated by Lora Appleton of the Female Design Council and Andrea Hill of Tortuga Forma alongside design alliance AAPIDA, the exhibition invited designers, artists, and makers to offer their takes on reflection and finding place within the historically white-centric United States. Bubbly, iridescent lamps by Brooklyn-based Rosie Li worked in concert with a tabletop mirror by Jean Lee (of Ladies & Gentlemen Studio), referencing the story of Narcissus. Knot guru Windy Chien pushed her work with new materiality such as flecked performance rope applied to transparent flame-polished acrylic strips. Kinetic wood forms by sculptor Pooja Pawaskar of Whirl & Whittle delighted. Urvi Sharma of INDO- offered a mirror obscured by swingy strands of ball chain nodding to traditional Indian architecture and jewelry.
Design was a walk in the park (literally) at Brooklyn's Naval Cemetery Landscape where the exhibition "Public Access" is on display through June 3. For a continuation of the "Furnishing Utopia" exhibition, Jean Lee of Ladies & Gentlemen Studio tapped like-minded designers to explore design for the public good and communal use. Comprising 36 works from 39 designers, the showcase includes highlights like a squiggly rainwater collector by Vera & Kyte; an anthropomorphic habitat for bees by Grain; a lost and found station by Ladies & Gentlemen Studio; and a bike rack with attached circular stool co-conceived by Jonah Takagi and Pete Oyler.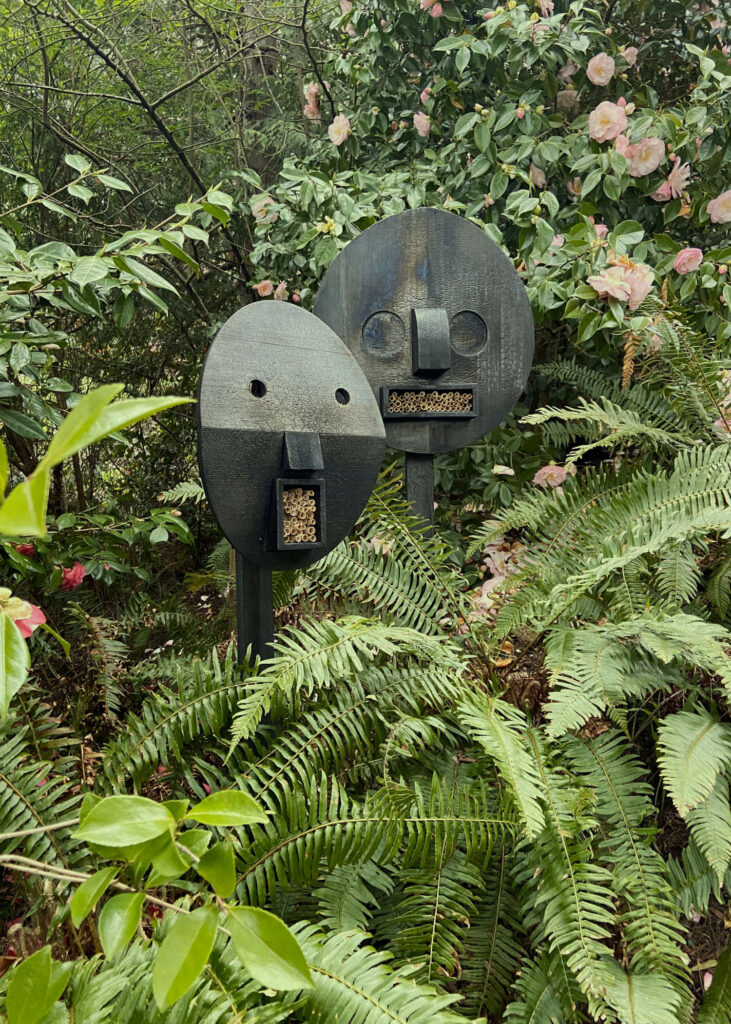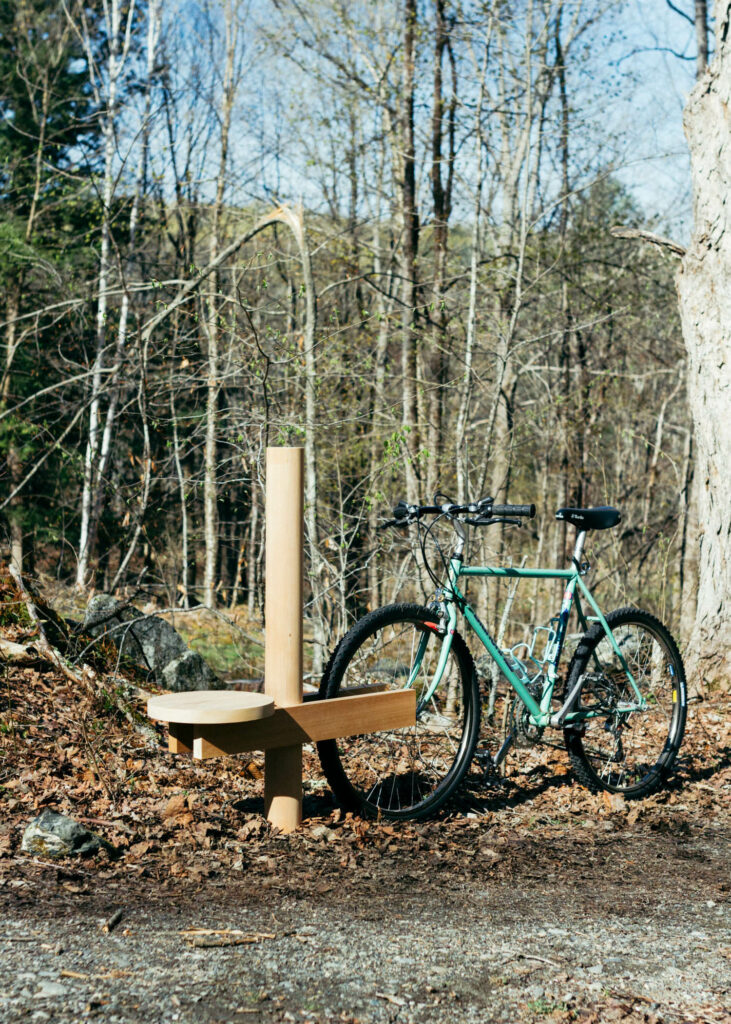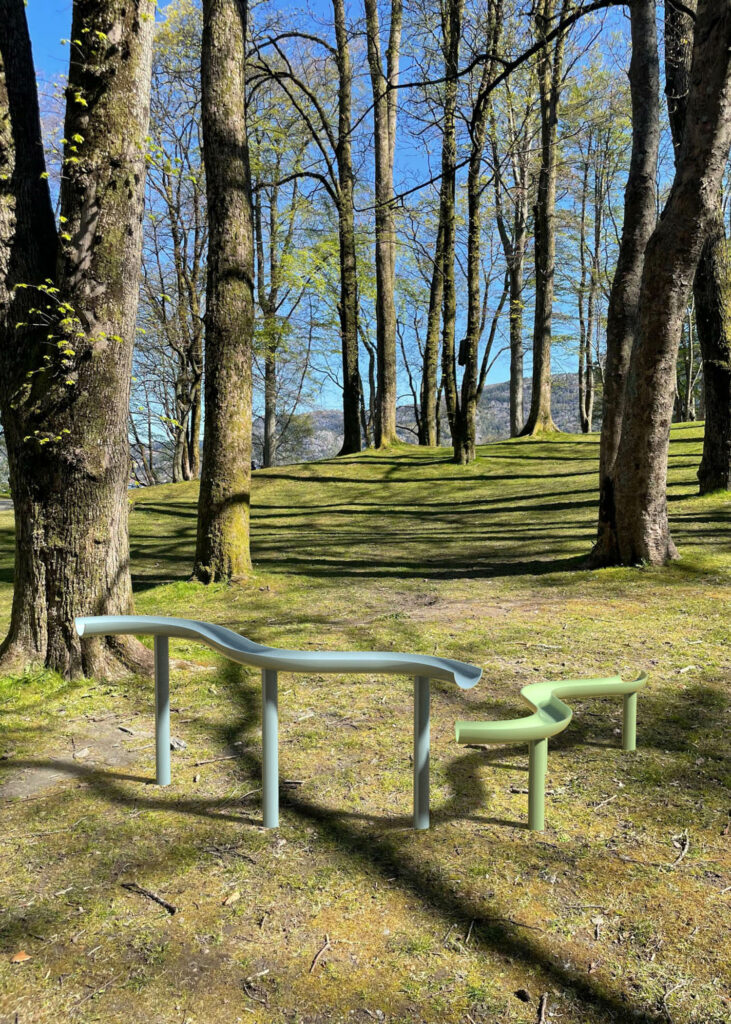 Don't call it a come-back: Jill Singer and Monica Khemsurov of Sight Unseen have been ceaselessly triumphing independent designers since their founding in 2009. After publishing their book How To Live With Objects in late 2022, the duo found time to curate and produce another lovely showing of design's emerging and established minds at Voltz Clarke's Lower East Side gallery in conjunction with artist Heather Chontos's colorful abstract paintings. Included works such as playful Tone tables in hand-dyed acrylic by Sohyun Yun; a stained glass table lamp by New Zealand-based Frangere, marking the return of the material once utilized by Tiffany Studio; and Danny Kaplan's newly launched ceramic furniture invite admiration. The best part: The shoppable show comprised new additions to the Sight Unseen Collection that can all be purchased directly.