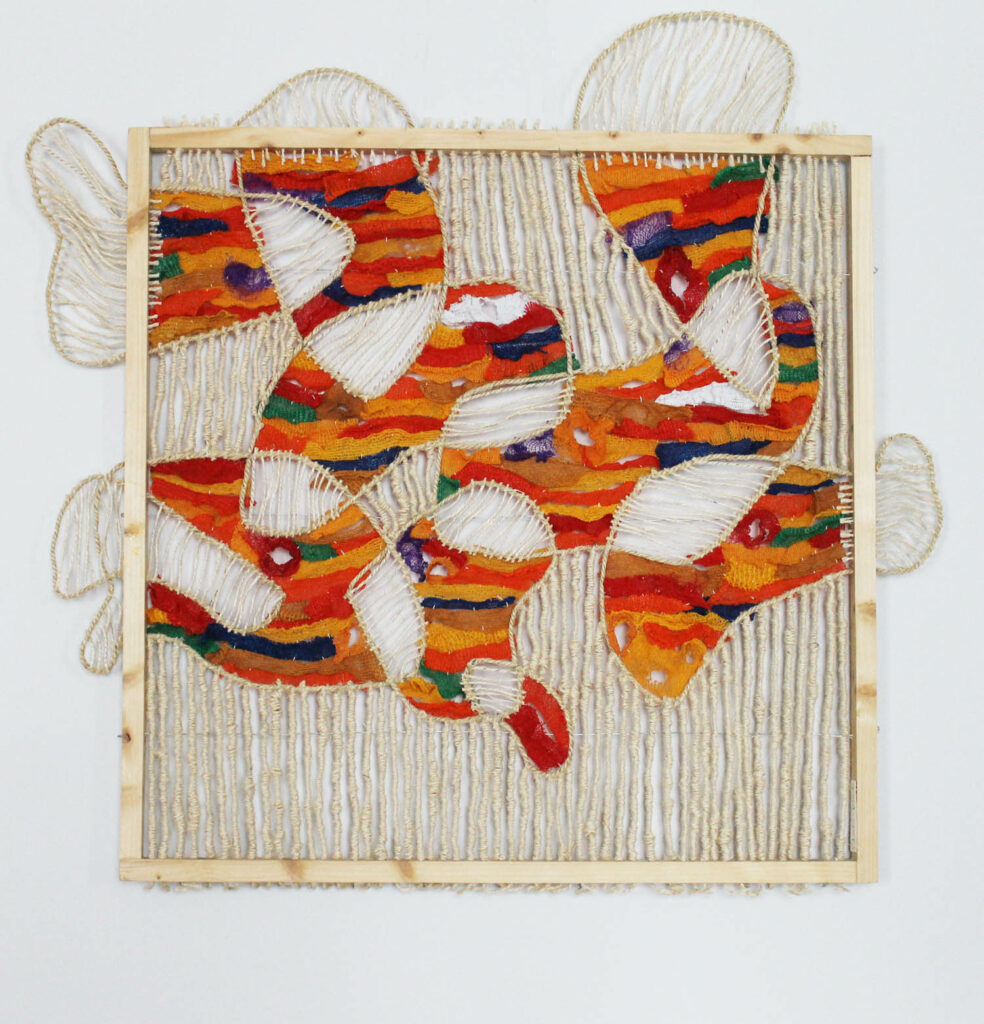 Highlights from 'Threadwork: Women Redefining Fabric Art'
The digital realm is an increasingly reliable platform to exhibit and even experience art, but what about mediums that hold three-dimensionality and texture in their DNA? The skyrocketing popularity of textiles within the art sector in recent years prompts curators, organizations, and collectors to seek a range of means to present the most recent and experimental in the practice. This duality encouraged Saatchi Art associate curator India Balyejusa and assistant curator Siting Wang to organize the group exhibition "Threadwork: Women Redefining Fabric Art" on their online platform.
"Saatchi Art has always been an online gallery, way before the pandemic," Balyejusa says, noting the rise in virtual exhibitions since 2020. "After 13 or so years, the technology has improved but we still work with our exhibiting artists in the same way, most importantly making sure they photograph their work as detailed as possible." This crispness in detail is particularly crucial for the 17 women artists exhibiting at "Threadwork." They explore the methods artists engage with textiles today under the influence of technology, climate awareness, and identity politics. "Textiles tap onto a straddle between two and three dimensions," Balyejusa adds, "they are so tactile but they still can be exhibited on a wall."
The main thread (pun intended) throughout the show is the material's prominence as a historically female-identifying means of self-expression. From defying fiber's association with craft as an inferior practice next to high art to the possibilities that technology has granted artists in production methods, the show's participants engage with contemporary textiles in fresh ways. "It has been with the feminist movements that fiber art started to be considered fine art," says Balyejusa. Tapestry, sculpture, needlework, knitting, as well as works that refuse direct classification appear in the online show.
Scrolling down the exhibition website, the visitors encounter works by the likes of Jeeyon 'G' Roslie, Susan Smereka, Amadi Greenstein, Puja Bhakoo, Femke van Gemert, Carmen Mardonez, Andie Grande, Vanessa Valero, Thera Hillenaar, or Demi Overton. Breadth in geography is perhaps the show's biggest advantage. From Japan to India, France, the Netherlands, United States and United Kingdom, artists with studios in various parts of the globe unite in the inclusivity of the digital realm. Unconventional materials on the other hand constitute another important element of the check list. Plastics, leather, or acrylics, for example, are among the mediums artists explore in ways that include 3-D printing with fabrics.
Female Fiber Artists Showcase Their Work in Saatchi Art Exhibition
Thera Hillenaar
Female Gaze
The Dutch artist is a recent addition to Saatchi Art's platform but she was one of the first artists who grabbed Balyejusa's attention when she began exploring the artist pages on the platform for the show. "Seeing that she works with leather as a medium was very exciting," says the curator. Densely assembled, various cuts of leather interject other soft materials such as felt in this energetically abstract wall piece. Hillenaar captures a mantra-like mystery in her arrangement of colorful fabrics in a tight configuration.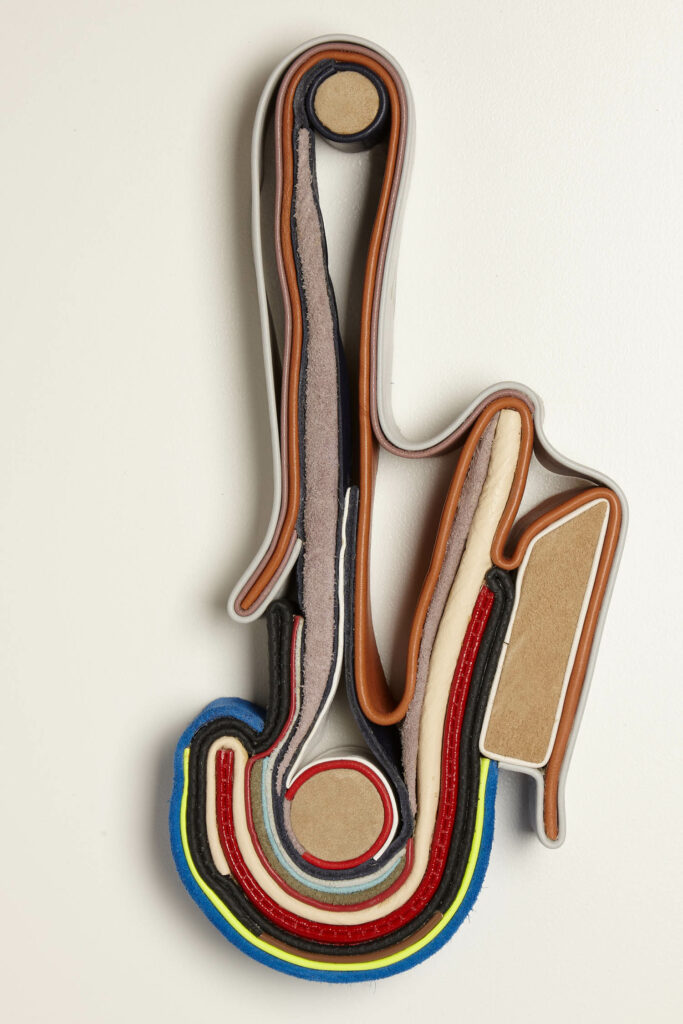 Andie Grande
Summer of Dreams
Another newcomer to the platform, the French artist Andie Grande intrigued the curator with her "decompositional" approach to weaving in a way that flirts with sculpture. Working with discards wrappings, she orchestrates intricately chaotic compositions that in the case of this work drapes from its frame. The material's past life and role in the environment crisis meet with Grande's elegant handling of different colors and cuts of plastic.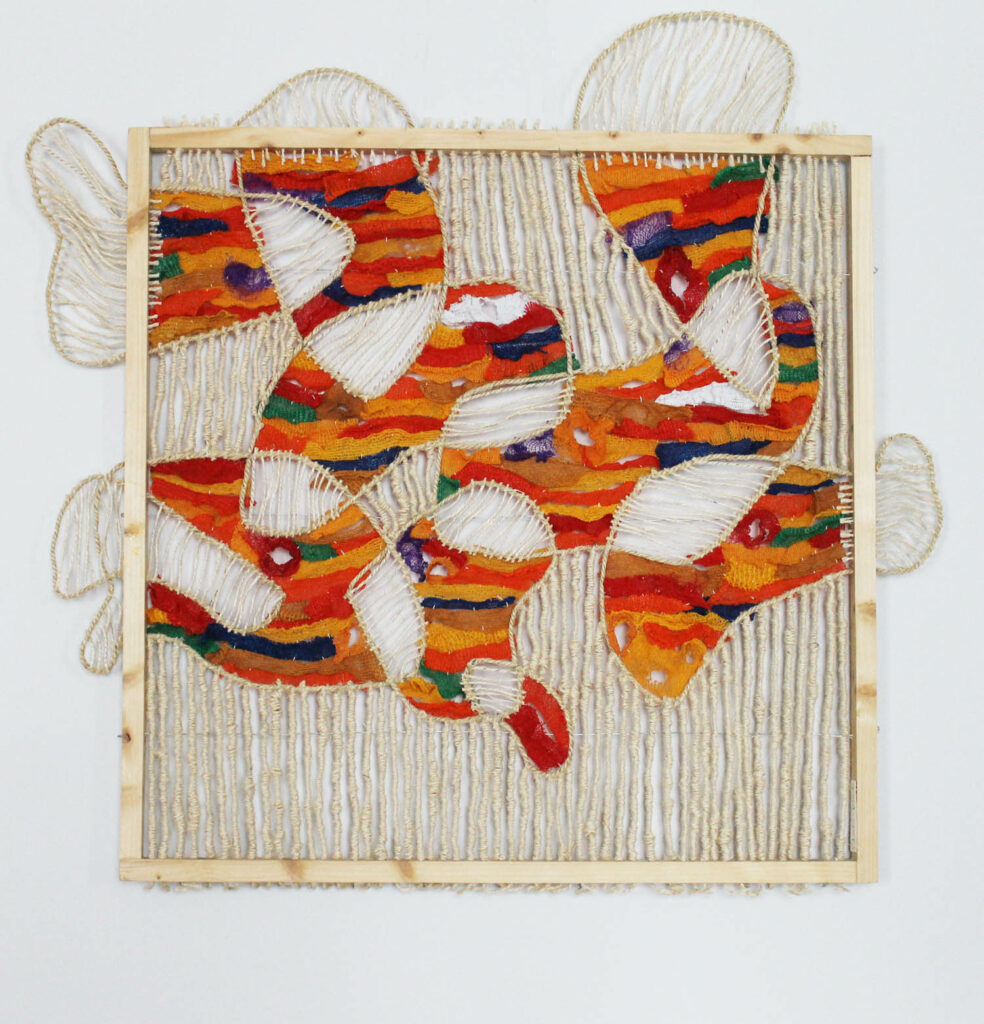 Susan Smereka
Harbinger
An energetic serenity inhabits Smereka's woven monotype on paper wall piece in bright pink. The artist uses various forms of paper, including family photos, letters, and found printed media, to cut in various shapes and print monochromic colors on, followed by her process of machine-sewing the pieces together. Layered and textured, the abstract work holds traces from the materials' past lives.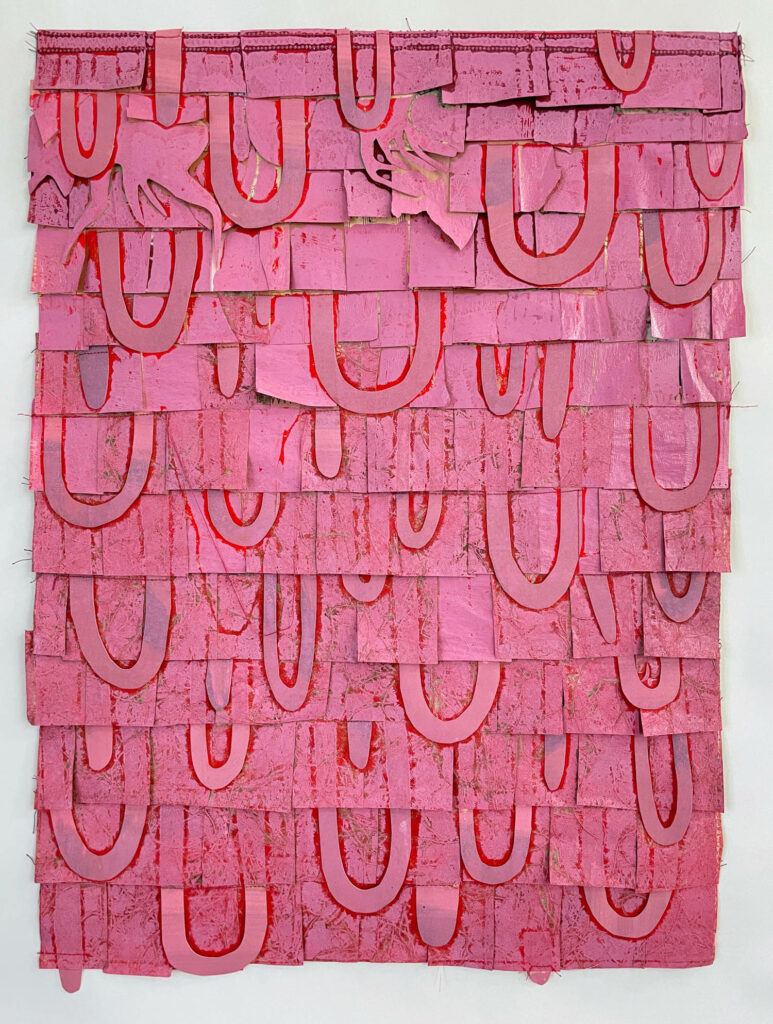 Carmen Mardonez
Imaginary Topographies
Discarded pillows and bedsheets provide the base for Mardonez's three dimensional work which also features yarn, cotton, and fabric. The intimacy embodied in bedding materials is enveloped by colorful threads that eventually yield a mysteriously corporal work that resembles intertwined bodies as well as colorful mountains. The inspiration that the Chilean artist finds in California where she lives is reflected in homages to natural landscapes and light associated with the west coast.
Leili Khabiri
Silent are The Ghosts of Stones
The Iranian British artist's practice of hand-weaving is not only a productive curiosity but also a meditative exploration of history, lineage, and the self. Using elements from poetry, dream journals, and oral histories, Khabiri weaves both figurative and abstract elements together, blending the immediacy of written words with subtlety of drawing. Minimal and intimate, lines of yarn unite in works such as Silent are The Ghosts of Stones, which operates like a visual poetry or a sketchbook, yet written in fabric.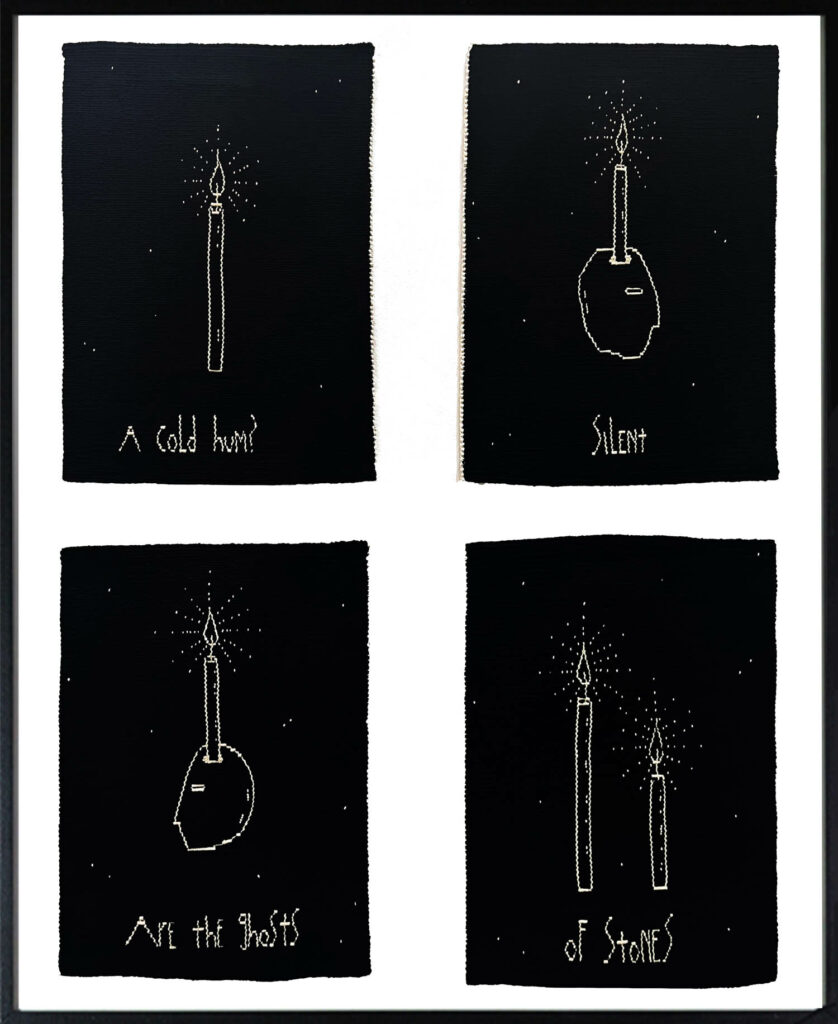 Jeeyon 'G' Roslie
Aquarius
Vibrant colors dominate 'G' Roslie's energic tapestry that replicates a sunrise backdropped by a pink sky. A lush greenery which also resembles a waterfall accompanies the dawn, or maybe the arrival of the sunset? It is this bright mystery that energizes her tapestry which hangs from a wooden beam. The artist's play with colors and forms salutes the genre of painting and pays homage to artists who pair nature's own forms with abstraction to juxtapose their own spiritual visual lexicons.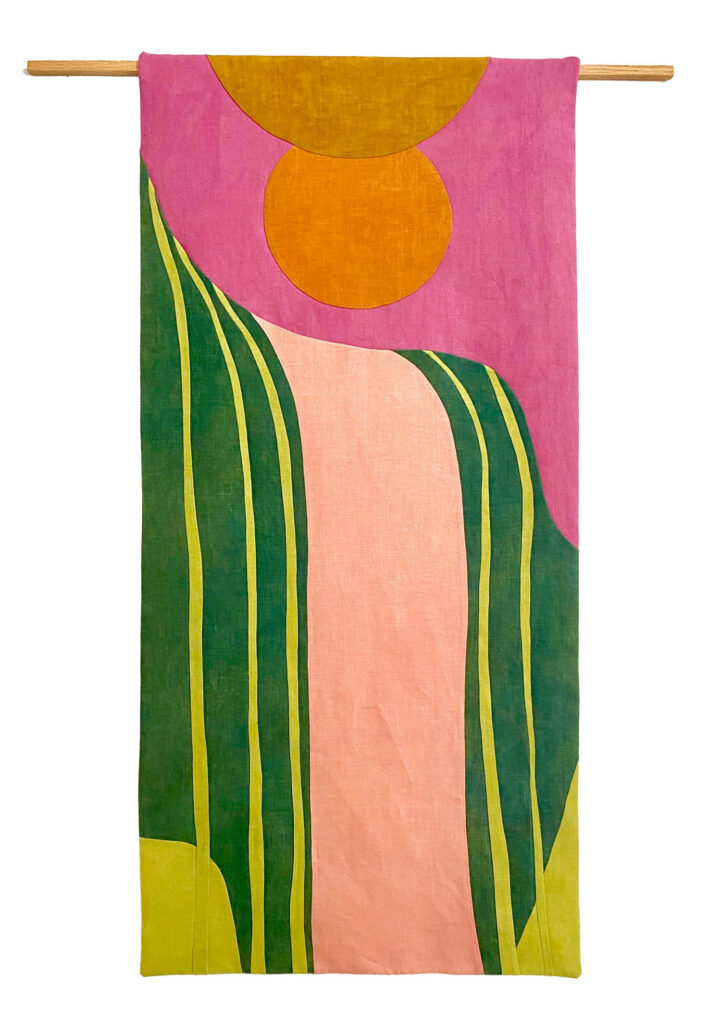 Puja Bhakoo
Fragmented PB/FM-01
The female form finds its direct representation in Bhakoo's fiber painting of a woman. Portraying the figure fragmented, partially with the lower half of her face and shoulder lets the Indian artist grapple not only with complexity of the self but also hints at notions of process, patience, and meditation which are all associated with the practice of weaving. Balanced with a pointillist abstraction with the other half of the vertical tapestry, the female figure inhabits the fiber surface with confidence and precision.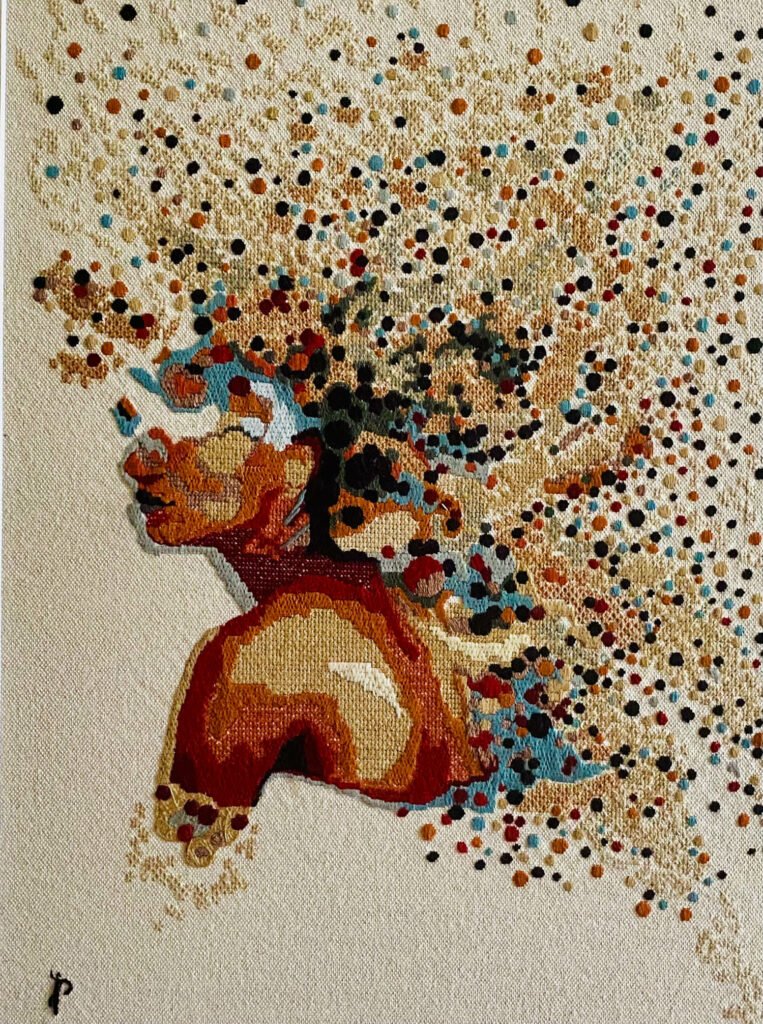 Vanessa Valero
Topography
A potpourri of textures and colors renders Valero's wall-hung work as irresistibly vivacious. From powdery pink to earth brown and alluring red, vibrant colors radiate soft textures, including tassels that sprout from the work's fuzzy surface. The Colombian artist's composition has a topographic feel, like lakes or fields observed from a bird's eye view, with the tassels accentuating the surface like gushes of wind or a summer rain.