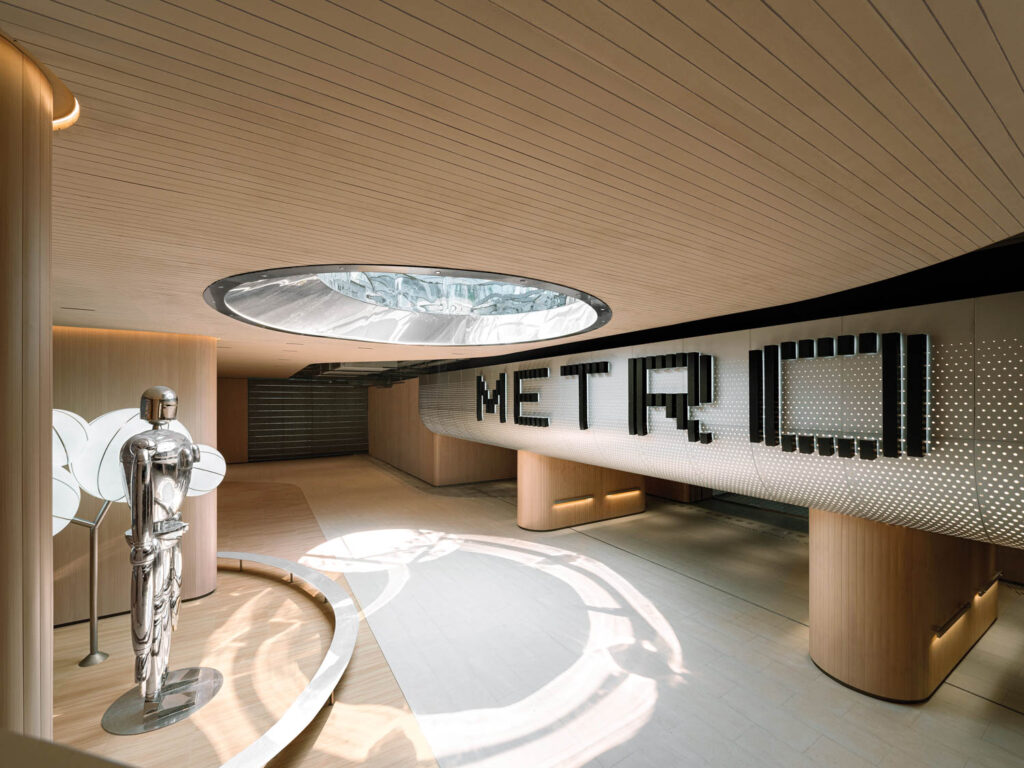 For the 19th Asian Games, Tomo Design Creates a Futuristic Plaza for a Metro Line in Hangzhou
Urban rail transit has long been a key part of China's strategy to support its exploding population and economy, with nine of the world's biggest metro stations now within its borders. Currently, the southeastern city of Hangzhou is expanding its train system in anticipation of the 19th Asian Games, an Olympics-like event set for September 2023. By then, the city hopes to have 383 miles of track (for reference, the New York subway system, one of the largest globally, has 665 miles).
Wuchang station, on Metro Line 5, is included in the expansion. Above it, a massive transit-oriented site dubbed Wonderland comprises more than 14 million square feet of residential, commercial, office, and cultural space. Developer Vanke tapped Shenzhen-based Tomo Design to create a grand 21,500-square-foot underground plaza connecting the complex to the subway. "It's the place where visitors to this community arrive," firm founder Uno Chan says. "So, we get to make the first impression."
Tomo sought for the space to integrate nature, technology, and the future. The first is introduced via a wood-look ceiling featuring a large steel-trimmed oculus that brings in sunlight, plus views of the trees and sky above. As for the latter two, what embodies those ideas better than a robot? Chan's version, a sort of guardian of the metro entrance, is 18 feet tall, shiny stainless steel, and accompanied by what appears to be some sort of streetlamp. Both are encircled by a low bench, an invitation for visitors to sit and gaze at the installation. Those curious enough to touch either piece get a surprise: They'll activate a sound-and-light show.