Whitney Museum Sees Fame and Glory Before May 1 Opening



Photography by Nic Lehoux.




On May 1, four years after breaking ground and seven years after initial designs were released,

The Whitney Museum of American Art

opens its new space at 99 Gansevoort Street, the site of a former meatpacking facility. The museum's first iteration—Whitney Studio, a place for artists created by Gertrude Vanderbilt Whitney in 1914—was located at 8 West 8th Street, just a few blocks away. In the new structure's lobby-level gallery, Whitney herself can been seen lounging on a divan, welcoming the eyes of the press who visited the site this week in anticipation of the official opening.

"We really got it right by building on this site," said Bob Hurst, co-chairman of the board of trustees, in his opening remarks to the press. Whitney firsts include a 170-seat theater, educational spaces, conservation areas, a reading room, offices for the entire staff, and views in every direction. At 220,000 square feet, the building designed by

Renzo Piano Building Workshop

with

Cooper Robertson

nearly doubles the size of the previous space on Madison Avenue.



View from the Hudson River. Photography by Karin Jobst.




Mentioning the new building's 4,000-ton steel frame and 28,000-ton weight, board president Neil Bluhm credited his ability to appreciate "the engineering masterpiece Renzo has created" to his real-estate background.

And the Whitney is greater than its $422 million asymmetrical structure—including all nine levels in steel, concrete, stone, reclaimed wide-plank pine and low-iron glass (yes, LEED Gold certification is expected).

"This project was never merely about the building," said Adam Weinberg, the museum's Alice Pratt Brown Director since 2003. The building, made by thousands of people over 11 years, is also material for artists to work on, in, and around.

"This building stands between the city and the rest of the world," said Renzo Piano, noting the future park that will replace a salt storage facility adjacent to the Hudson River, just west of the museum across the West Side Highway. The Pritzker Prize-winning architect joked that the 6,000-square-foot lobby and surrounding 8,000-square-foot outdoor plaza near the High Line's south entrance should be considered "a piazza," because he's Italian. On a more serious note, Piano compared the ground floor area to a wider street, a gathering space where people feel welcomed: "You see out, you see traffic—it's part of the city." And inside, he joked again, you take your shoes off and go up.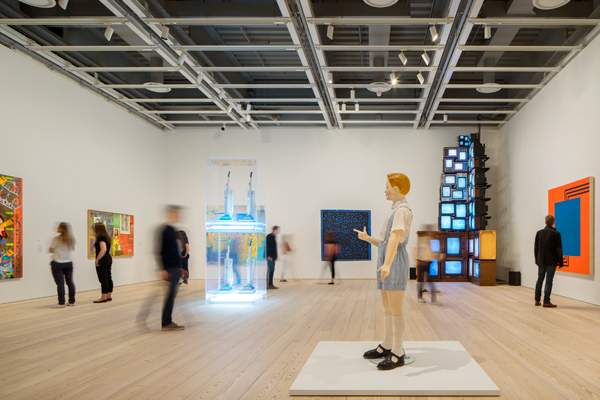 Photography by Nic Lehoux.




"America is Hard to See", the opening exhibition, which will run through September 27, fills every floor with more than 600 objects chosen from 22,000 to represent "the inconvenient complexity of American Art," explains Donna De Salvo, chief curator and deputy director for programs. There's no tidy summation, she said, highlighting the four Richard Artschwager elevators (the last major work by the late artist, they are immersive installations simulating experiences like standing under a table or within a basket) and Mary Heilemann's site specific "Sunset" which includes 40 colorful chairs that are both works of art and places to sit in the largest outdoor gallery on the 5th floor.

There, inside, you also find the largest column-free museum exhibition space in New York: 18,000 square feet, divided by removable walls attached to tracks. "The ceiling is designed and engineered like a machine," said Scott Newman, FAIA, of Cooper Roberston, partner-in-charge of more than 30 museum projects. In addition to lighting it provides a flexible source of power and data, and the structural capacity to support almost any kind of art in all media, he explained.

Also opening May 1: Untitled, the ground level, 72-seat dining room and 52-seat outdoor full service restaurant helmed by executive chef Michael Anthony. He takes menu inspiration from both the yet-to-blossom trees and the lines of the museum, the High Line, and the design of the open kitchen, which is one long line behind the bar. Anthony is responsible for the cafe on the 8th floor as well. There, indoors and out (an awesome exterior stairwell leads to its terrace), you can choose from soups, salads, toasts, and desserts.

If pre-opening enthusiasm, critical accliam, and press buzz are any indication, the Whitney will be a hit. So, enough said. "You know very well a singer should not explain a song before they sing," said Piano. "You should go around and enjoy." We wholeheartedly agree.



Photography by Nic Lehoux.