Wilshire Grand LA Unveils Staggering Rebuild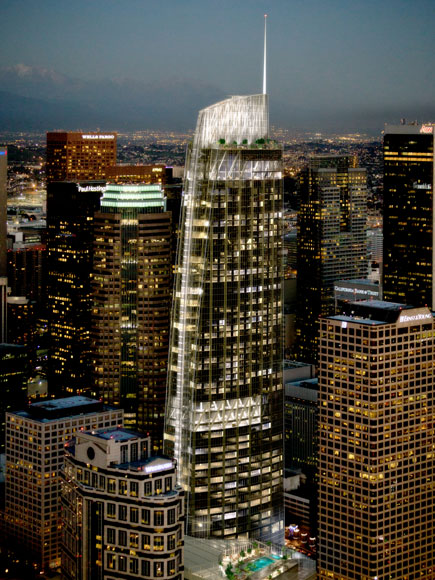 Come 2017 Los Angeles' skyline will see a radical change. That's the slated completion date for

AC Martin Partners

' hospitality and retail complex

Wilshire Grand

which, spire included, will rise to 1,100 feet to become the city's tallest building.
Developed by

Korean Air

, the mixed-use project brings a 900-room hotel tower rising above 17 levels of Class-A office space, a podium providing 45,100 square feet of restaurant and retail space, as well as ballrooms and meeting venues. All told, the Wilshire Grand will total 2.1 million square feet.
In addition to being a skyline beacon—think of it as the city's Eiffel Tower—the hotel will feature a 70th-floor sky lobby to introduce arriving guests to the project's scale as well as panoramic views.
"The project is about five big ideas," says David Martin, principal, whose grandfather, by the way, designed nearby City Hall. "All great hotels are about the place," the architect continues. "The Wilshire Grand will be about LA—its art, culture and climate." Idea number four entails technological efficiency with an eye to LEED-Silver certification, and number five proposes the project as a new center of town.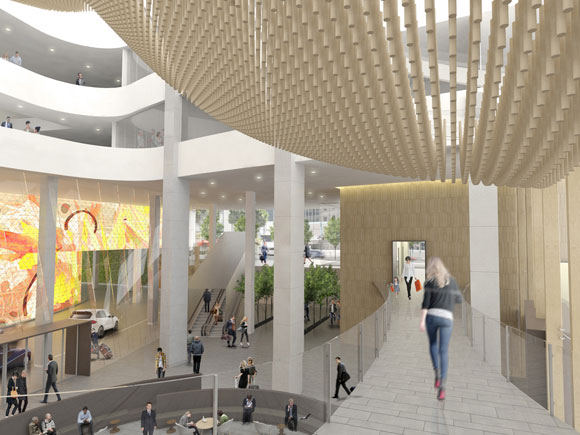 Among the Wilshire Grand's amenities are those linked with LA. Addressing both the near-perfect climate and the city's car culture is a

porte-cochère

entry. Tied to the former are proposed indoor-outdoor cafes, pedestrian-friendly plazas, and landscaping that blurs boundaries with indigenous plants. There will be two pools, one on the podium deck, the second on the 75th-floor roof deck.
The building itself will become a billboard for installation artists such as Bill Viola and Jennifer Steinkamp. AC Martin Partners says dream big.

Renderings courtesy of AC Martin Partners.