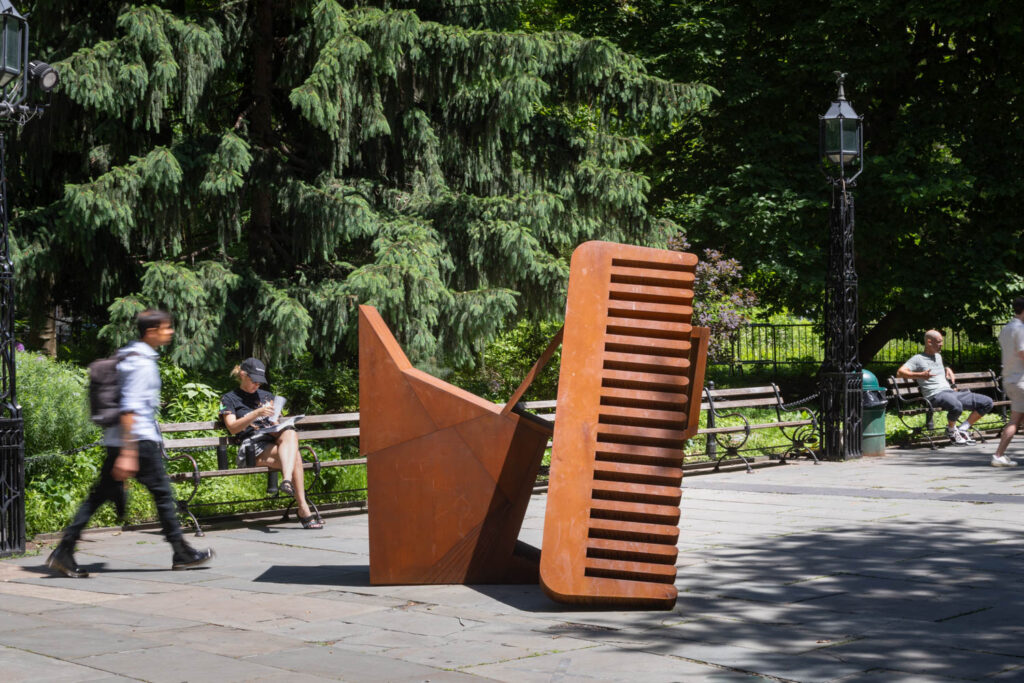 Wyatt Kahn's Mammoth Cor-Ten Sculptures Debut in Downtown Manhattan
Prior to this summer, Wyatt Kahn was perhaps best known as a painter, specifically his monochromatic multi-panel artworks. But that perception may change for anyone walking through City Hall Park in New York. It's there that his seven sculptures compose "Wyatt Kahn: Life in the Abstract," representing not only his first public-art exhibition but also his first pieces in Cor-Ten steel. And he really goes big with it, each piece monumental—the largest clocking in at 3,300 pounds.
They're the outcome of Kahn's examination of the spatial relationship between painting and sculpture, two and three dimensions, and developing a language that integrates abstract forms with everyday-life items, like a comb or sunglasses. "The figures have their own narrative, and I hope visitors will find their own meaning based on their experiences," Kahn says. "To me, the potted plant in Morning represents nurturing an idea, while someone else may be reminded of the plant they raised during the pandemic."
Each sculpture is constructed of numerous steel sections welded together into blocklike forms, their front and back mirroring each other to create an illusion of drawing in space, their rusted-red tone resulting from Cor-Ten's natural weathering process. The sculptures also evoke the steel structures of the city's architecture, which, as a native New Yorker with an MFA from Hunter College, Kahn knows well.