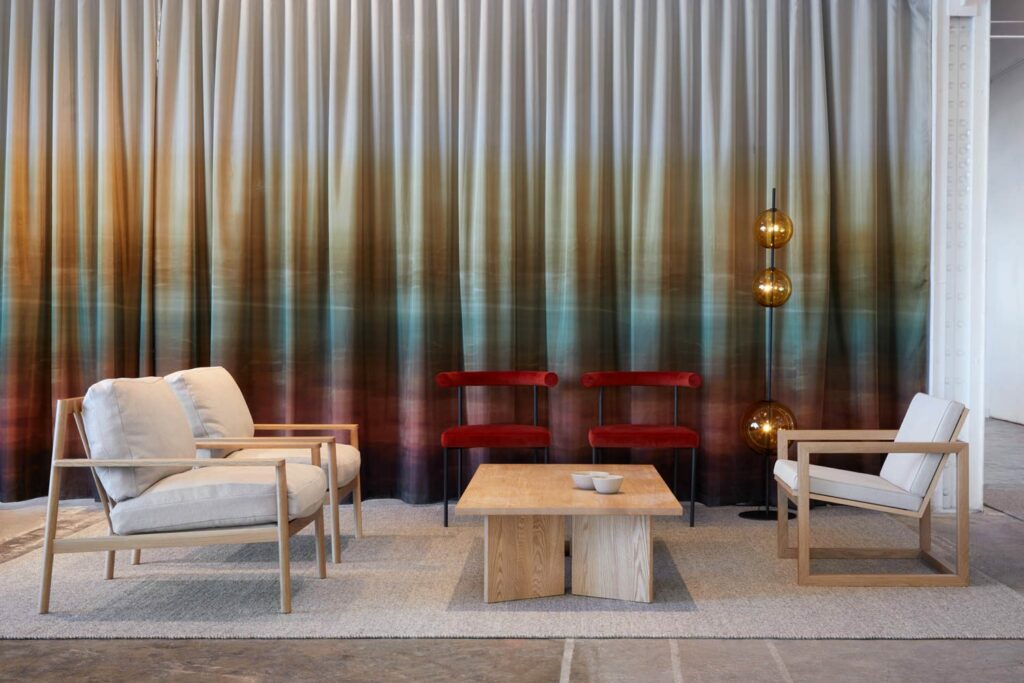 New Zealand's Fresh, Contemporary Design Scene Takes the Spotlight
Want to take a gander at a design market that hasn't yet over-saturated Instagram feeds? Fresh from the antipodes, it's the New Zealand Design Pavilion, open to the trade and public now until July 1 in Shack 15 at San Francisco's iconic Ferry Building.
Six Kiwi manufacturers—Resident, Citta, James Dunlop Textiles, David Trubridge, Noho, and Nodi—have banded together to showcase an assortment of their furniture, lighting, flooring, and textiles. Together, the wares highlight the nation's unique perspective: clean of line with a focus on natural materials, not dissimilar to Japanese and Scandinavian design but with a marked casual, laid-back effortlessness.
The New Zealand Design Pavilion marks the first independent exhibition of foreign homeware design in the country since the pandemic scuppered travel, and the most comprehensive showing of New Zealand design in the U.S. in modern history. Designed in partnership with creative agency Aditions, the 7,500-square-foot exhibition references common elements that are a through-line through much of New Zealand's design ouput, whether it be the architecture of Fearon Hay or the modernism of the late Maori architect Rewi Thompson.
The importance of the natural world and protecting that through sustainable design shines through as does love for the sensory qualities of the country's coastal, forest, and alpine landscapes. New Zealand's daylight is inimitably bright, standing in stark contrast to Europe and North America's warmer glow (maybe blame the nearby hole in the ozone layer?). That light picks out detail with such clarity that any over-the-top embellishments or maximalist frenzy tends to look garish. ("I remember taking fabric samples back from overseas and they looked completely different, far too saturated!" recalls Mokum design director Stephanie Moffitt of the phenomenon.) That perhaps goes some way to explaining the natural drive of New Zealand design with its focus on elemental materials such as wood and concrete and its often sober details. It's an aesthetic that translates with alacrity, however. "We all have much more in common than we think, and so this New Zealand Design Pavilion represents the power of our collective lens on the world," says Resident co-founder Scott Bridgens. "The light is different down here, and through this initiative we aim to illuminate our creativity and ingenuity, and most importantly, share it with others."