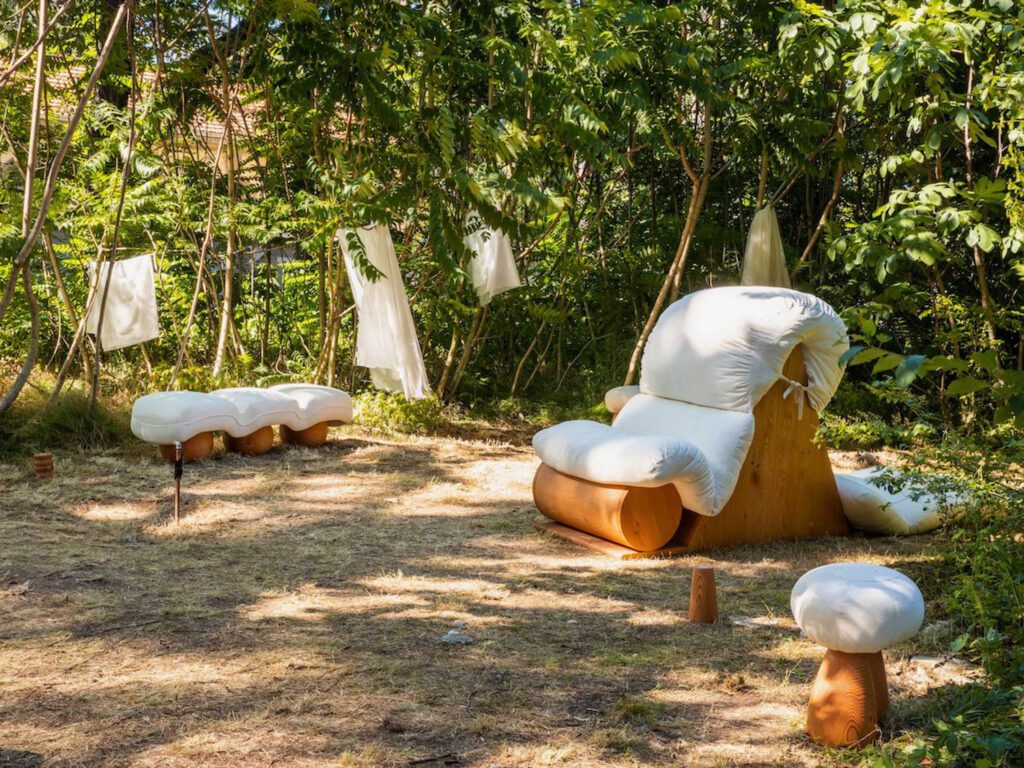 Alcova 2022 Returns Design to the Grounds of an Abandoned Nunnery for Milan Design Week
Larger than last year and packing more tumble-down buildings with contemporary design, Alcova returned to Milan Design Week. The fourth edition of the off-site event coinciding with Salone del Mobile and conceived by Valentina Ciuffi, founder of Studio Vedèt, and Joseph Grima, founder of Space Caviar was held once again at an abandoned former nunnery and military hospital.
From June 5-12, 90 exhibitors overtook four buildings and the lush green grounds—an area expanded to nearly 2.2 million square feet—and drew nearly 60,000 visitors. From furnishings inspired by female bodies and insects to pendant lighting that is color-changeable, here are 12 of our favorite finds.
1. Peaches by Bohinc Studio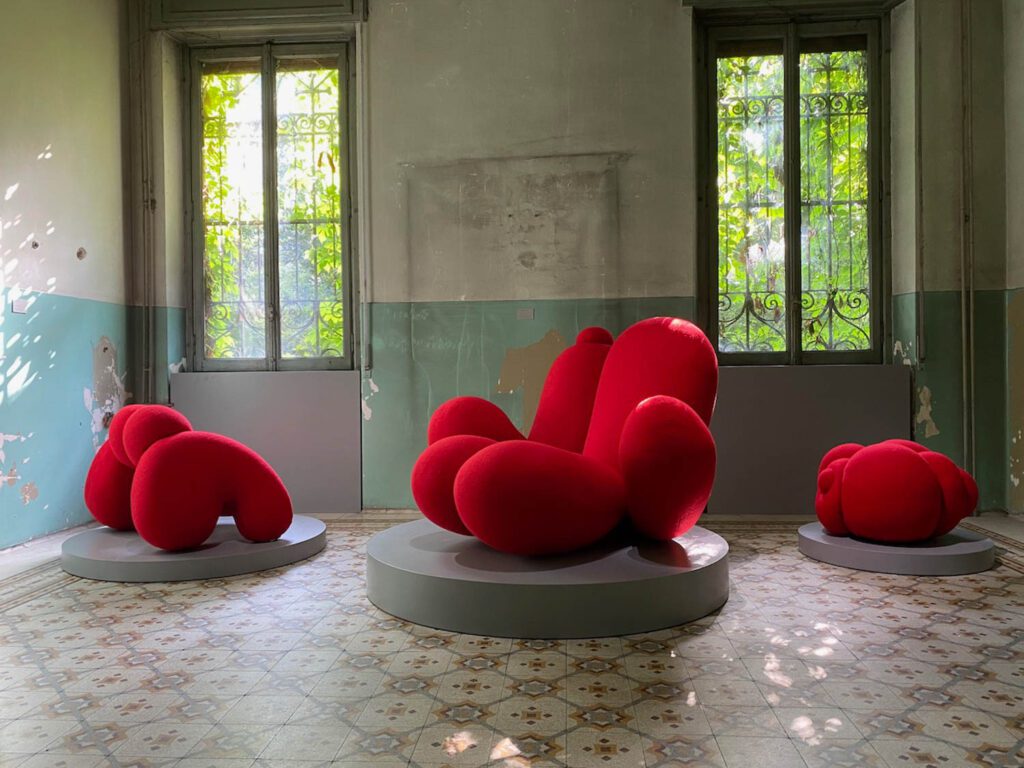 Inspired by realistic female bodies—not society's perception of the ideal—Peaches is an upholstered seating collection by Lara Bohinc for Bohinc Studio. Wool-upholstered foam layers are behind the voluptuous soft curves of armchairs Big Girl and Derrière and the Peachy pouf.
2. Venus by Serena Confalonieri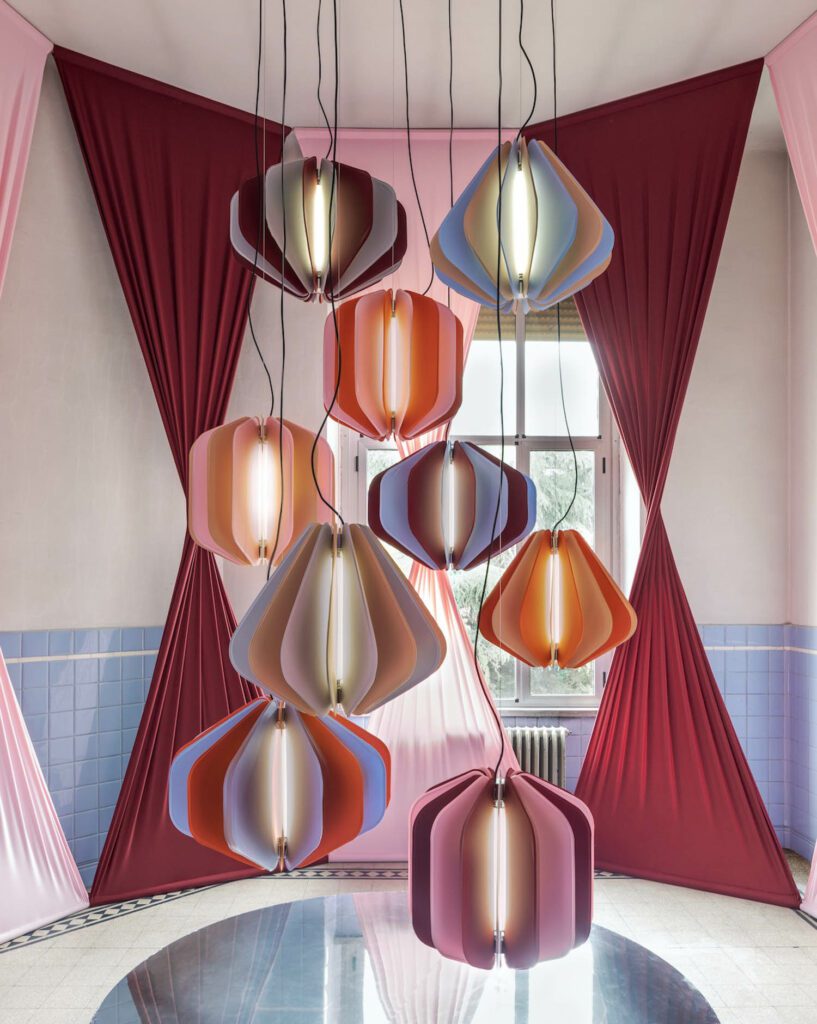 Granting a color refresh on a whim, Venus, a collection of metal and lycra pendant lights by Serena Confalonieri for Servomuto, has segments that are easily tugged out and swapped.
3. Insectum by Kickie Chudikova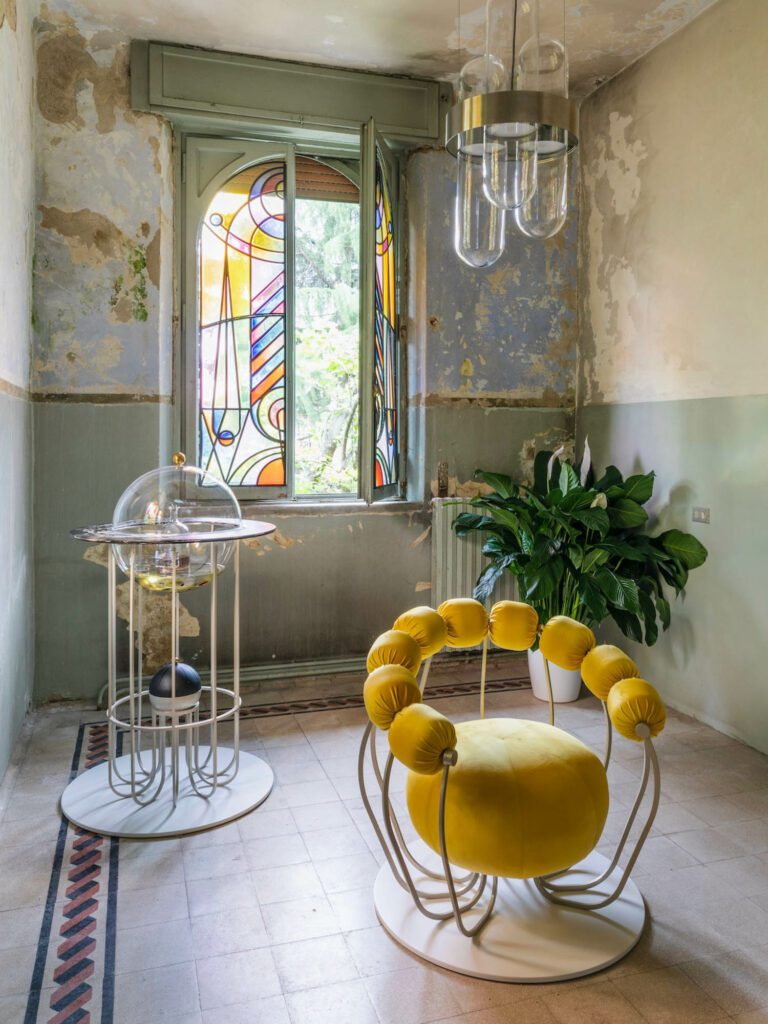 Since her childhood, the small yet mighty bug has captured Kickie Chudikova's attention. Struck by recent reports that 40 percent are threatened by extinction, she conceived the Insectum furnishing collection, including two 3D-printed glass stained windows, a rug, a mini bar (containing floating insects), an armchair (with 10 arms), and a pendant lamp.
4. 90 by Duccio Maria Gambi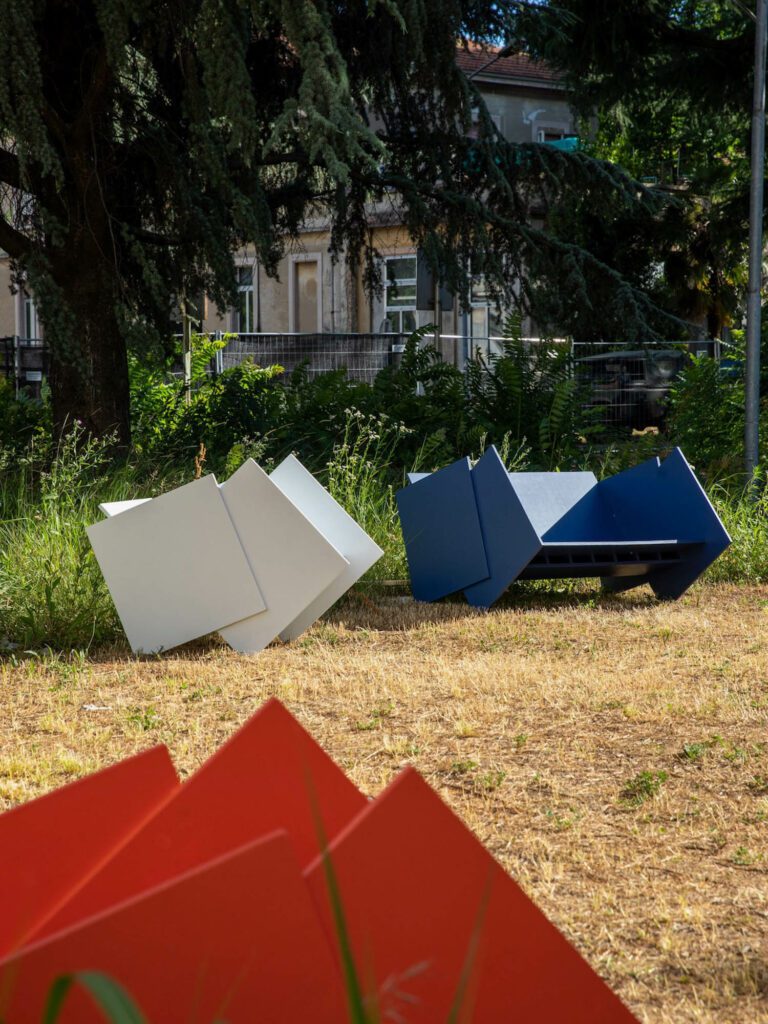 Forever dynamic, the plywood and paint 90 armchair by Duccio Maria Gambi is a composition of right angles.
5. Otherside Objects by Sam Klemick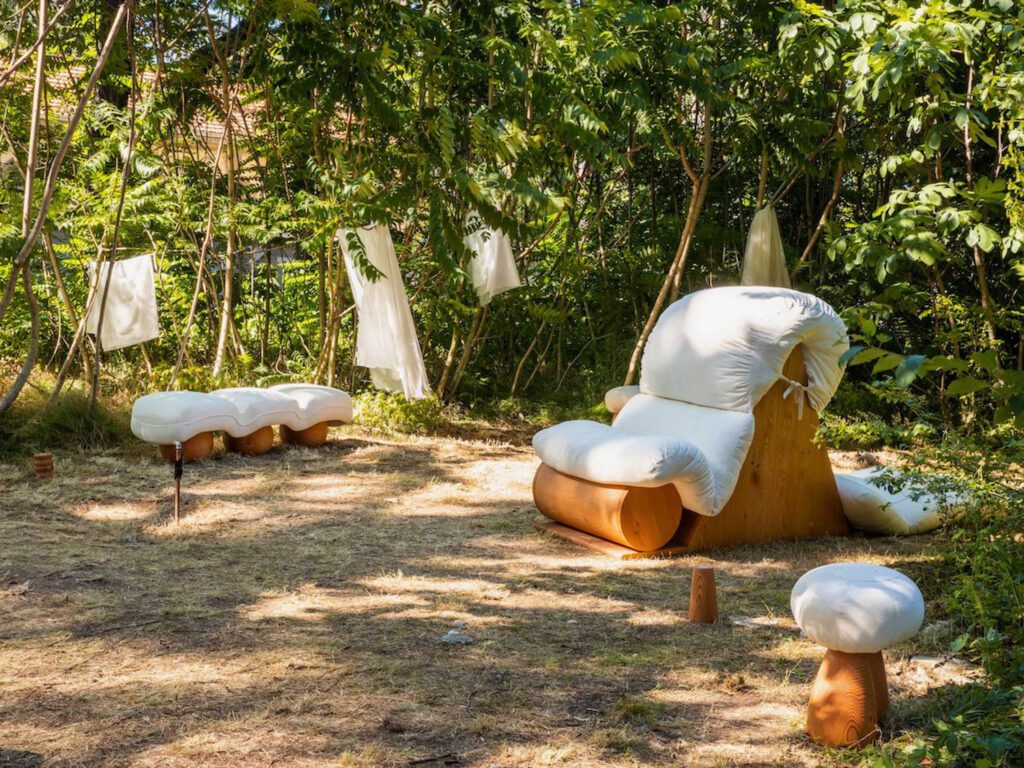 Deadstock canvas and Douglas fir (reclaimed from the streets of Los Angeles) are the materials behind Sam Klemick's family of whimsical outdoor furniture for Otherside Objects. The mushroom-like Cutie and Landing stools, Bench, and the Nap chair are all crafted by hand: Gold resin fills in the cracks and imperfections of the wood, turned on a traditional lathe.
6. Quantum and Sienna by Adrian Cruz Elements
Wood furniture from the 1980s finds new form and material in a collaboration between Adrian Cruz and Sandro Giulianelli for Adrian Cruz Elements. "After visiting Sandro's apartment, I suggested we reintroduce his beautiful wood furniture using resin techniques already employed in my lighting collection," says Cruz. Shown here is the Quantum armchair and the Sienna table, both in solid cast resin with sand in a gradient color effect.
7. Equilibrium by Studio Gonzalo Bascuñan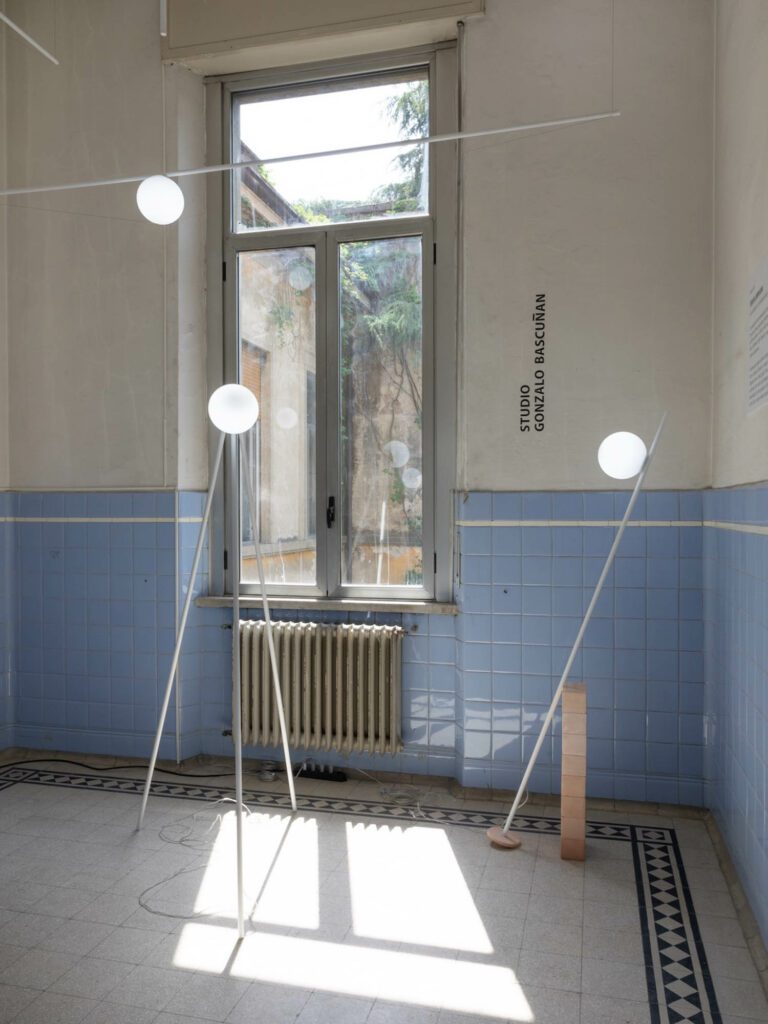 To achieve the delicate, minimalistic suspension of the Equilibrium LED lighting collection, with its translucent glass offered in spherical or conical geometry, Studio Gonzalo Bascuñan connects ultra-thin steel wires to walls and ceilings.
8. Ceramic Furnishings and Sculptures by Elisa Uberti
Curved shapes hinting at caves or arched shelters are central to the unique and limited-edition chamotte and terracotta collection of ceramic furnishings and sculptures by Elisa Uberti, a fashion industry alumna. Shown here, from left, are: Baume #1, Refugee #19, Horizon #5 (all lamps), the Eden chair, which doubles as a plant stand, and the Edifice #43 lamp.
9. Rug'n Roll by Johannes Budde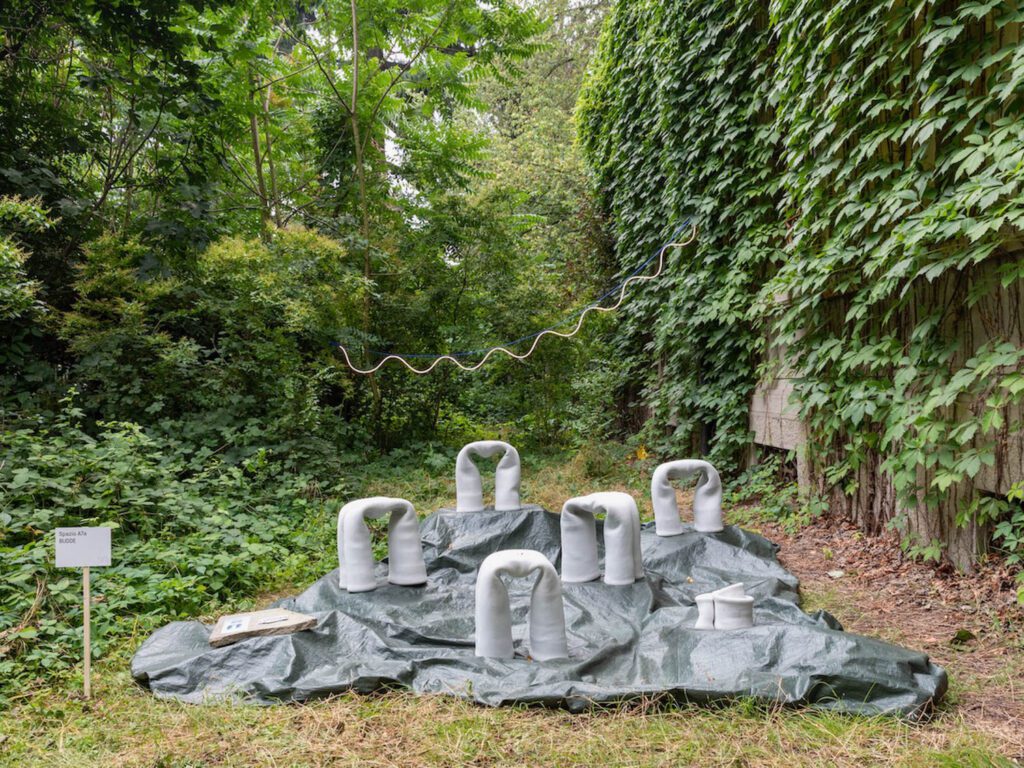 Johannes Budde captures the textile-like properties of the initially flexible industrial concrete product Concrete Canvas with the Rug'n Roll concrete stools, each unique.
10. Solar Energy Kiosk by Cream on Chrome and Novice 52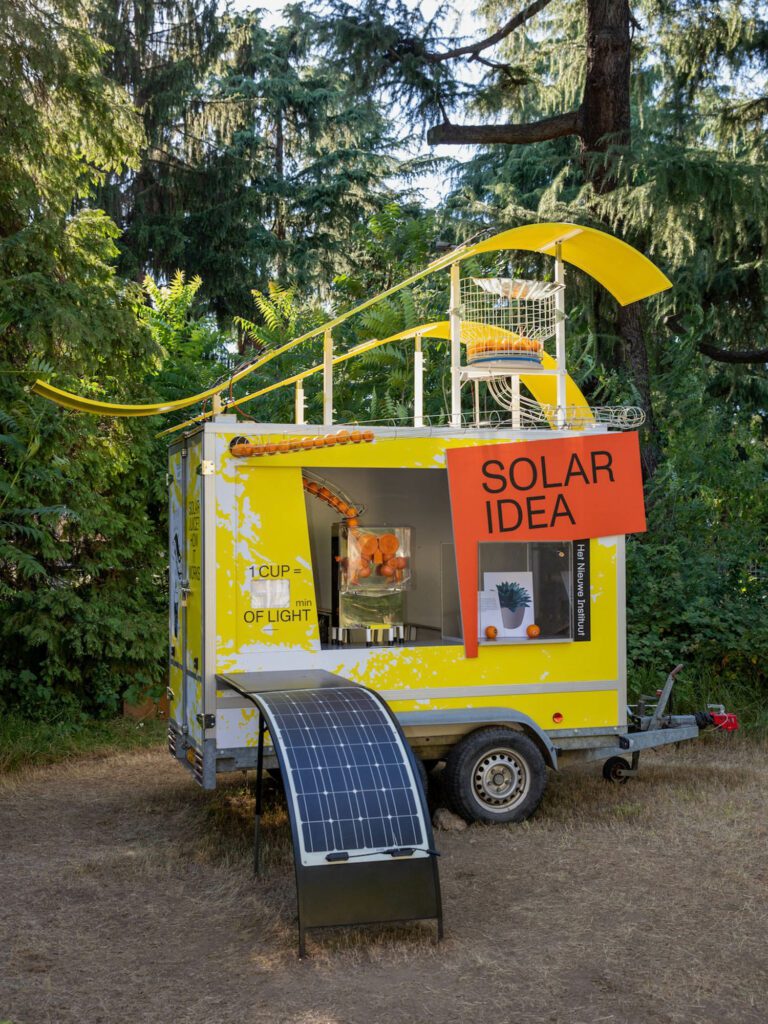 Vitamin C is served via solar power, with the Solar Energy Kiosk by Cream on Chrome (concept and design) and Noviki (graphic design) for the Het Nieuwe Instituut. Tapping the sun, it squeezes orange juice—and prompts conversations on clean energy.
11. Come, Stay, Taste by Studio Terre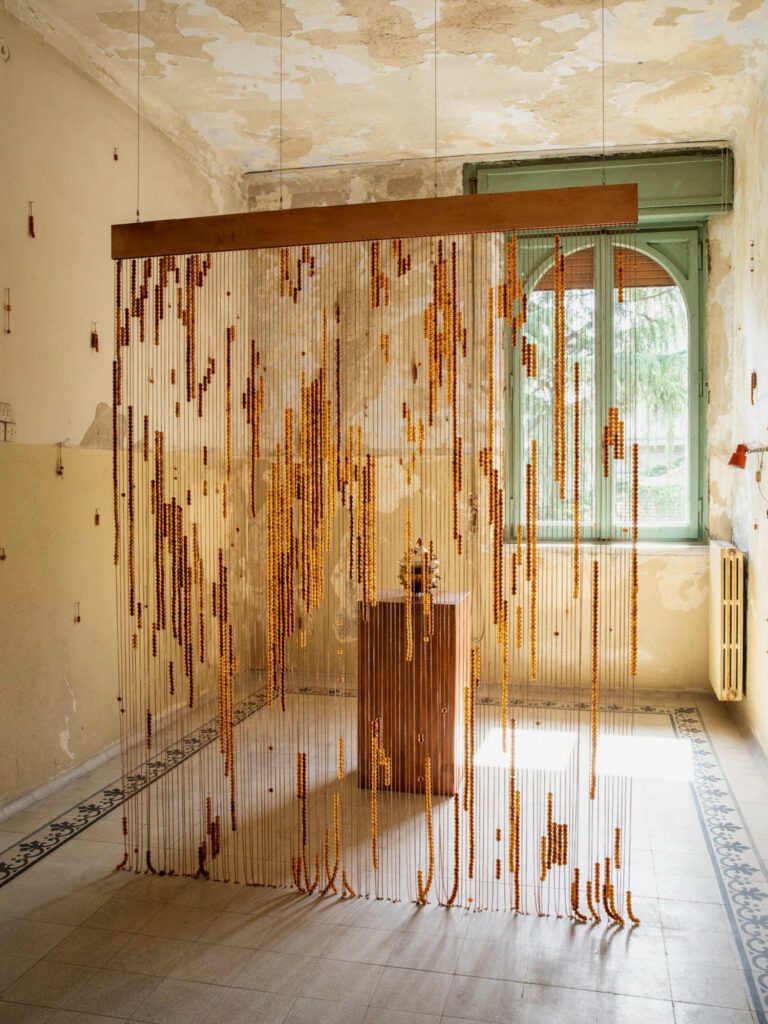 A play on light, sound, and shadow, Come, Stay, Taste, a room divider by Studio Terre, is a customizable curtain of Murano glass and terracotta pearls that chime with the breeze.
12. Fran Lamp by Llot Llov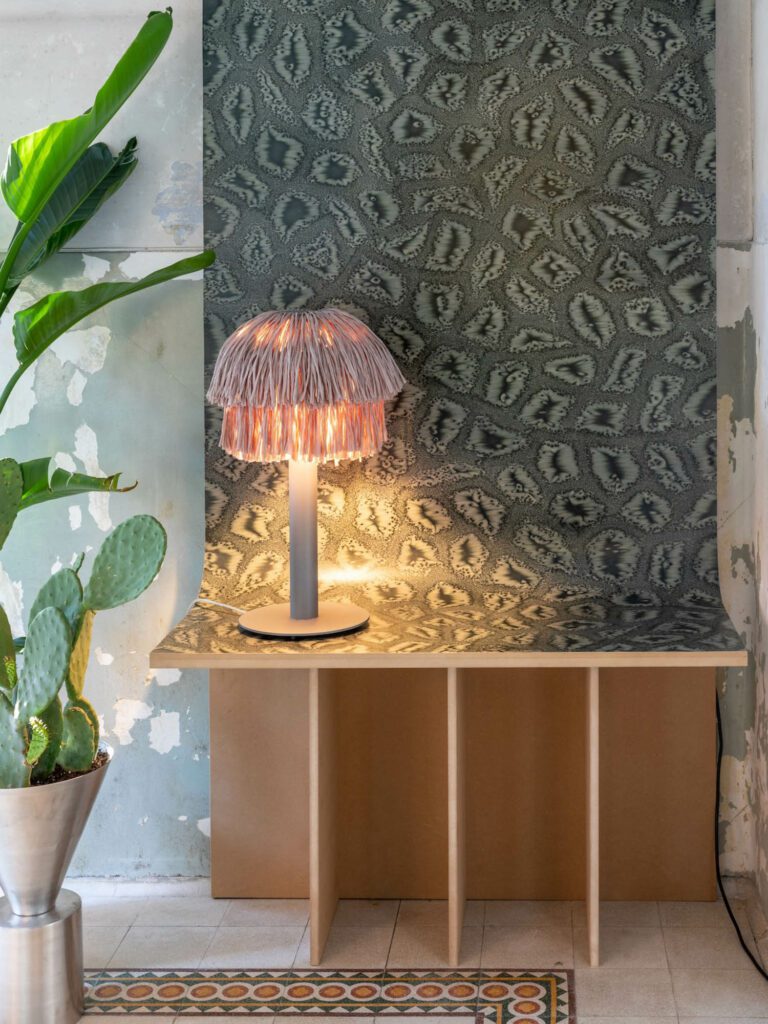 Raffia, a natural fiber composed of palm leaf cellulose, is the material used for the signature shade (with its bob-like haircut) of the Fran lamp by Llot Llov. The series also includes a pendant.
read more
DesignWire

Salone del Mobile to Spotlight Sustainable Design

Milan is getting serious about global warming. The 60th edition of Salone del Mobile, the world's largest furniture fair, which this year runs from June 7 to 12, has taken on climate change, placing a strong focus on s…

DesignWire

10 Questions With… Monica Förster

Monica Förster shares her recent launch for Italian furniture manufacturer Zanotta and her furniture to be featured at Salone del Mobile.

DesignWire

10 Questions With… Lara Bohinc

Designer Lara Bohinc sits down with Interior Design to discuss the success of Bohinc Studio and her latest collection set to premiere at Salon del Mobile this June.