12 Editors' Picks From the October 2020 Edition of LAUNCH
Statement pieces, eye-catching colors, and interesting forms are high on our editors' radars. Here is a collection of 12 LAUNCH products featured in the October issues of Interior Design that will brighten up any space.
1. Arbour by Hay
Soft cushions filled with OEKO-TEX–certified foam bring a cossetting touch to a solid-wood-frame sofa by Oslo's Andreas Engesvik and Daniel Rybakken. Switch up the look via swappable slipcovers.
Standouts: Available with 22 upholstery and five frame options, solid oak, walnut, or beech wood make for a solid base.
2. Blume by Pedrali
This collection is characterized by a soft and rounded shape, owing their distinctive appearance to their sophisticated flower-shaped profile in extruded aluminum.
Standouts: Designed by Sebastian Herkner, numerous finishes are available for all chair, loungers, and tables in the collection.
3. Ines by Nicholas Obeid
A chair the designer coveted in the designer's great aunt's Buenos Aires apartment sparked an ebony-frame room divider embellished
with retro caning and lush brass.
Standouts: With a bisected brass base, the 48″ x 70″ dimensions include 16 inch-wide panels.
4. Roll by Sancal
Eduardo Villalón and Alberto Sánchez of MUT Design birthed an athleisurely yet elemental chair modeled on a leg-press machine, its unconventional cylindrical cushions clad in leather or fabric.
Standouts: The lacquered F1 steel structure allows for fixed fabric around foam cushioning.
5. Armchair AA I by Smolenicky & Partner Architektur
Is it a seat or a sculpture? Poised on a red marble pedestal, Joseph Smolenicky's aerodynamic swoop of veneered plywood is treated to seven layers of high-gloss lacquer.
Standouts: The satine veneer of this limited edition, Swiss-made chair adds a level of luxury.
6. Oasi by Misha Milano
A panoramic silk wall covering conjured from the imagination of Italian designer Cristina Celestino is a fanciful landscape indeed, one that interweaves tropical leaves with abstracted fruits and rolling dunes.
Standouts: The peach and sunset pictured here is one of two bold colorways, both with embroidery detailing. The covering is comprised of nine panels, each 90cm wide.
7. Relief by L'Opificio
Italian architect and interior stylist Bruno Tarsia teams with the Turin-based brand to launch a neo-geo jacquard—a contemporary take on the 15th-century Gobelin technique
Standouts: Made in Italy using a formaldehyde-free cotton-viscose-nylon blend, nine vibrant colorways are available.
8. Plush Velvet by Harlequin
Impactful indeed, a tony polyester velvet ideal for window treatments and upholstery stands up to stains and comes in every color of the rainbow…and then some.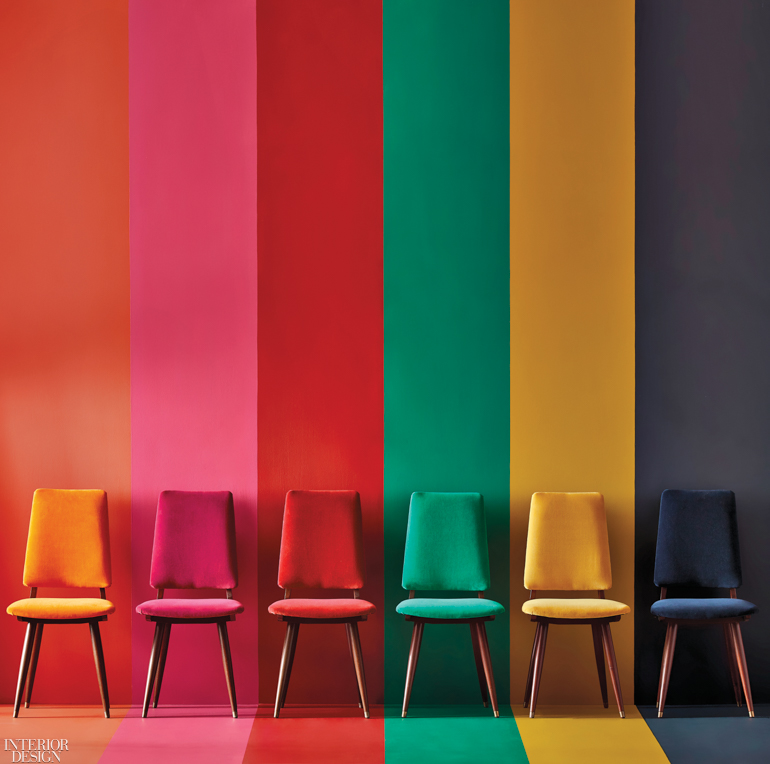 Standouts: From the Prism Plains 2 collection, the 55.1″ chairs come in 50 colors.
9. Romby by Porro
Equally at home in a dining room or the boardroom, GamFratesi's gravity-defying swivel seat levitates a cocooning cushion on an inverted cone of solid natural or black-stained ash.
Standouts: While the base is solid wood, fabric can be swapped out for leather for seat upholstery. Dimensions are 49.5 x 54.1 x 80cm
10. Erosions by Calico Wallpaper
Multimedia artist and Snarkitecture cofounder Daniel Arsham's first foray into the genre arrives in the form of a trompe l'oeil design that seems to burst through the wall.
Standouts: The nonrepeating custom mural in a selenite colorway is LEED certified, using Type II PVC and POA.
11. Rider by Zanotta
High-tech meets handcrafted: The zippy saddle shape of Ludovica & Roberto Palomba's languorous rocker comes courtesy of a rigid polyurethane base upholstered in luxe hand-stitched leather.
Standouts: Padded with graduated polyurethane, the lounger's quilted cover is removable and covers an optional additional cylindrical headrest.
12. Bolet by Eo Ipso Studio
Handmade in France of enameled clay and raw brass, the crisply graphic lamp—the brainchild of Nadia El Abany—is dressed in a flirty cotton lampshade with flair to spare.
Standouts: Each lamp is unique with slight color and surface variations.