Gray Malin Shoots Photographs in Antarctica for a Cause
Even when travel was an everyday occurrence, visits to Antarctica were reserved for the most intrepid. After all, the mostly ice-covered continent has an average inland temperature of -67 degrees Fahrenheit, while that along the coast can "climb" to 14 degrees Fahrenheit. As for four-star (or any star) lodging and dining—good luck. That said, count L.A.-based photographer Gray Malin among the fearless. He spent a week photographing the other-worldly landscape, not only to document its fierce beauty in the face of climate change but also to present it along with an allusion to the parallel beach universe he knows so well. All the while subtly alluding to a cautionary tale. Thus, the sweeping vistas of glaciers with penguins in their natural element. Yet alongside them are flamingos, beach balls, kites, striped sun umbrellas and towels, props that are decidedly foreign to the habitat but enable Malin to make his point. During this time, he had only his sister as an assistant. She helped keep the items in place.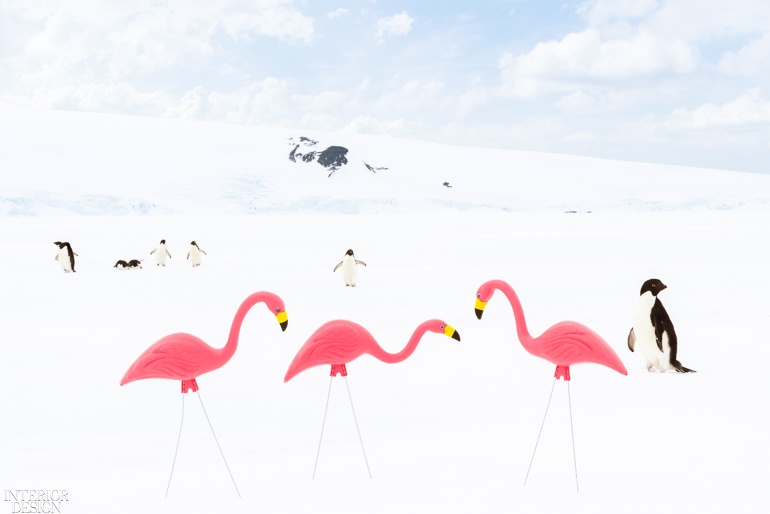 Stunning in its ethereal imagery, the photography also presents a tangible purpose in support of the Natural Resources Defense Council, the international, non-profit environmental agency. As a charitable component, Gray plans to make a donation to NRDC at the end of the year. The 26 images, including one triptych, are signed, limited in edition, and available in three sizes. Sales are exclusively on the photographer's site, www.graymalin.com.