Rebecca Atwood and Pottery Barn Collaborate on Soothing Home Collection
Rebecca Atwood is no stranger to the blurred line between art and design—in fact, she's built a career on translating mediums like watercolor and gouache to textiles. Now the Brooklyn-based artist, designer, and author has infused her ethereal aesthetic into a collaboration with Pottery Barn. Debuting at an inarguably residential-focused time in our lives, the collection ranges from wall and floor coverings to bedding and bath décor, with a few accessorizing touches to top it off, all decked out in Atwood's original painted prints.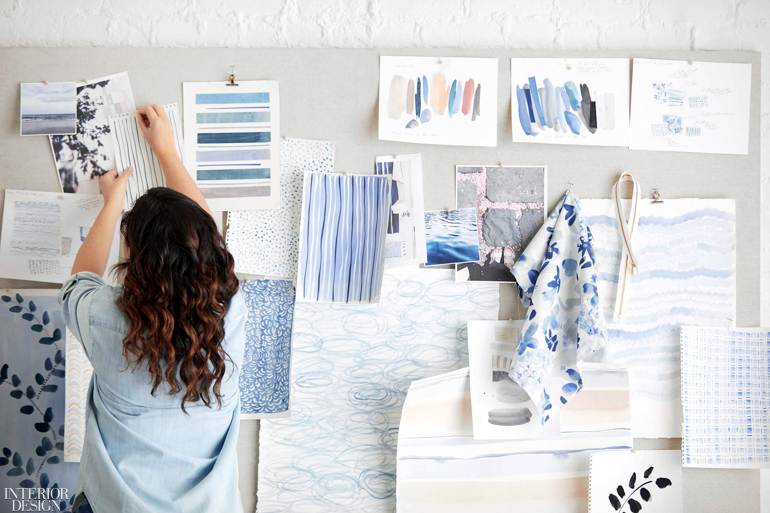 "We are all spending more time in our homes, and it's reminded me how important our homes are. They provide safety and security. They are often one little area of our life we can control," Atwood says. "This collection was designed with the goal of bringing happiness and calm into peoples' homes, something I think we could all use right now."
The results are soothing indeed, specifically through the prints' reflections of natural elements. "I love that we have the ability to create an environment that's right for us in our homes," Atwood says. "This collection is really tied to the coastal landscape of my childhood and the textures of nature."
The coastal connection is evident, but not too obvious. A shower curtain in blue evokes waves lapping on the shore or, more abstractly, sedimentary rock layers. A quilted duvet combines cool and warm tones in a mixture of prints seen throughout the collection. Simplified wind patterns add dimensionality to towels and the detail repeats in napkins and even cosmetic pouches. But going the matchy-matchy route isn't too tempting—these pieces are meant to work in harmony regardless of colorway or pattern. That's Atwood's signature: a complementary mix that brings balance to the home.
Up next: Product Live With Rebecca Atwood