Swurve, Keilhauer's First Carbon Neutral Chair, is Designed with Nature in Mind
As designers worldwide are reimagining what corporate offices will look like as working from home becomes more essential, the parallel quest to find an ergonomic yet stylish chair continues on. And in 2020, standards are such that the production process of a piece is equally as important as its design. With its first-ever carbon neutral chair, one company has an elegant and organic solution for spaces of all sizes.
Marked by its flowing lines and contained proportions, Swurve from contract furniture manufacturer Keilhauer, is the result of years worth of research. Expected to carry BIFMA level® 2 and SCS Global Services certification for Indoor Air Quality at the Indoor Advantage™ Gold level, Swurve is manufactured in facilities that produce zero waste to landfill and offset 100 percent of electricity use with renewable energy credits. "Swurve proves that great design and sustainability go hand in hand," says Mike Keilhauer, Keilhauer president.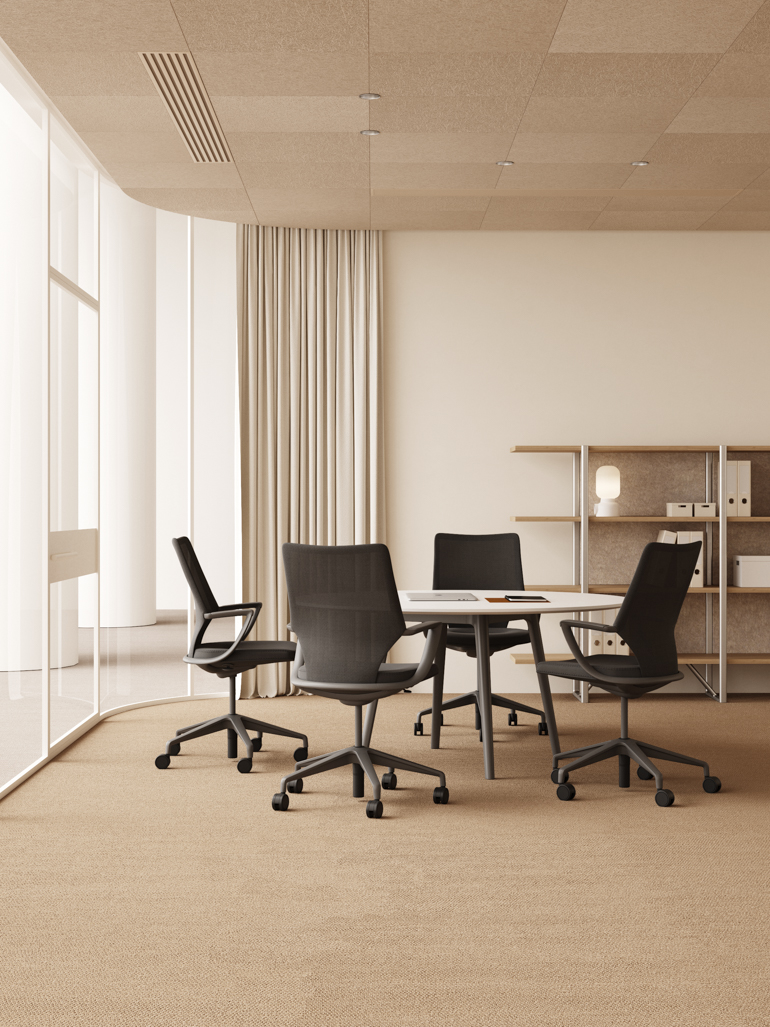 Sustainably sourced materials with end-of-life recyclability go a long way with Swurve. Offered in 22 shades for the mesh option and over 40 for leather and vinyl, Swurve is available in colors that suit reserved to statement-making palettes, plus fills a color gap in the market with its variety of neutral tones. Easy and simple to sanitize, Swurve's inherent versatility comes through in its design in addition to its expansive color options.
Lightweight, comfortable, and carefully scaled, Swurve moves easily making it easy to rearrange and create areas that respect physical distance while encouraging collaboration. Hidden ergonomic backings and lumbar support is care of tension between the mesh back and frame, creating a hyperbolic paraboloid, which means that, as designer Andrew Jones explains, "the fabric wraps around the body."
Swurve's distinctive, sculptured form reflects shapes found in nature. The shallow, concave form of the seat, for example, alludes to leaves and petals, further emphasized by a flexibility and the lightness the user feels as Jones' design cradles the bum. Graceful, swooping arms gradually change in thickness and shape as they subtlety twist out from the chair's body creating a round and curvaceous feeling. What's more is that pressure is removed from the back with even the subtlest of movements.
"Shapes are a vehicle for color," Jones says about his design process and wanting to lead with "simplicity" as the mesh, leather, or vinyl finishes can slip on and off the frame of the aluminum chair like a garment. Making an impact in design while reaching a milestone in their sustainability efforts, Keilhauer's Swurve chair is a natural solution to multiuse meeting rooms and offices.