10 Fantastic Fine Dining Experiences
Dig into these fantastic fine dining options, just in time for Valentine's Day.
1. Alain Ducasse at Morpheus by Jouin Manku
Michelin-starred chef Alain Ducasse's latest culinary endeavor is a French/Asian-inflected fantasia inside a Zaha Hadid Architects–designed hotel in Macau. Blown-glass tubes cascade from the silvery ceiling to divvy the 7,000 square feet into discrete zones. Imparting a flattering, ambient glow, the icicles seem to drip into reflecting pools that wend around the dining room's periphery.
2. Ta-ke by Kengo Kuma & Associates and Steve Leung Design Group
Recalling shõsugi ban, a method of charring wood to preserve it, walls at the entry are charcoal gray, while white pebbles cover the floor. A path of stepping-stones then leads to the main dining room, an ode to inter­woven bamboo. Beyond bamboo partitions, the VIP room is visible, its granite teppanyaki table backed by brass panelling.
3. Birch by DA Architecture Bureau
White-barked birch–a common symbol in this Russian region's poetry, paintings, and folklore–becomes a symbol of openness and simplicity at the St. Petersburg eatery. Birch was founded by four young chefs seeking a modern, relaxed environment to serve affordable yet refined fare. DA Architecture Bureau utilized everyday elements in unexpected ways to create a tasteful background for the cuisine.
4. DaDong by George Wong Design
A traditional Chinese courtyard is conjured—and updated—with bamboo-mimicking acrylic rods, a hunk of Chinese limestone for the host stand, and a hexagonal "window," a common architectural feature.
5. Beijing Kitchen by Sybarite
Verdant onyx panels, brass detailing, and a run of uniform acoustic discs work in tandem to reference the symmetry, hierarchy, and greenery of the Forbidden City.
6. Sake Dojo by Land Design Studio and Wick Architecture & Design
Sedate maple-veneered plywood is enlivened by floor-to-ceiling panels printed with fish, wave, and blossom imagery by Japanese tattoo artist Horifuji.
7. Baisheng Garden of Excellence Club by Daosheng Design
The design of the buzzy Baisheng Garden of Excellence Club draws heavily from its location, a bustling city along China's Pearl River Delta. He YongMing, design director for Daosheng Design, conceived an edgy interior that channels numerous regional influences: the rolling mountains as depicted in traditional Guangdong ink paintings, the gestural lines of Chinese cursive, and the exuberant choreography of the local Lingnan-style dragon dance.
8. Cortina by Heliotrope Architects
For Cortina, a restaurant in Seattle, Heliotrope Architects wanted to keep the design understated and elegant. A carefully reconfigured layout positions custom tables near a long run of windows. A 64-foot-long bar in the white oak and granite provides a space for happy hour. Although custom white-oak woodwork defines the space, a red oak ceiling provides warmth. Walls, meanwhile, are white-painted panels more often found in residential spaces, to help diners feel right at home.
No matter what kind of sauce you prefer, or whether you'd rather throw a slab of meat or an array of fresh vegetables on the grill, the most important part of any barbeque is the fire. The Dubai-based firm 4Space clearly had this in mind when they conceived the interiors for AtmosFire, a 6,000-square-foot restaurant a stone's throw from the Persian Gulf's beaches.
10. Icha Chateau by Spacemen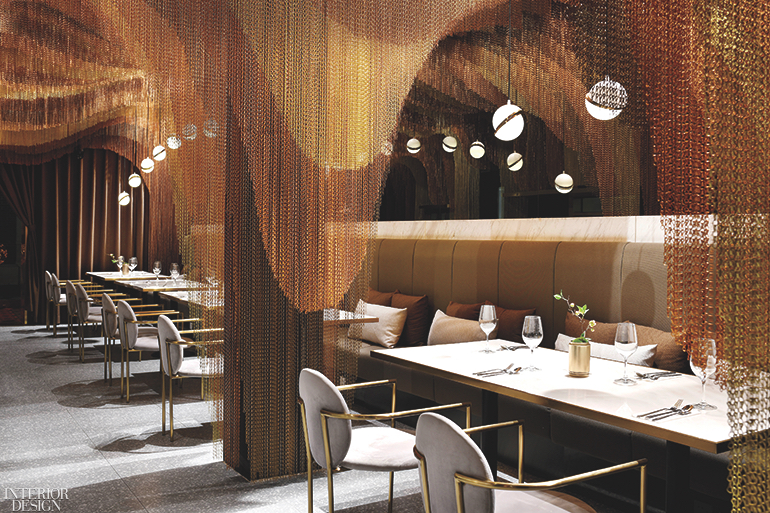 Spaceman design duo's futuristic name links to the firm's aesthetic: bold and experiential, particularly apparent in the studio's hos­pitality projects. One such is Icha Chateau, a Western fusion restaurant and teahouse in Shanghai. Spacemen was challenged to create an eye-catching exterior but without adding so much as a nail to the brick facade—the 19th-century former villa is landmarked.
See more delicious fine dining options here, or on our Restaurants and Bars Pinterest board.