24 Pastel Interior Design Spaces That are Oh So Dreamy
In the realm of pastel interior design, pale shades that hearken back to one's nursery room wallcovering and to the petit fours of afternoon tea have transcended their sweetness. Now trending in eyeshadow shades, loungewear, and, of course, interiors, these colors bring a fresh vibe. Enjoy these 24 scrumptious spaces, each a testament to the charming spectrum of pastel hues in modern interior design.
Editor's Note: This story was originally published April 12, 2020, and has since been updated to include even more punchy pastel design projects.
Pastel Interior Design Trends Seen Across Residential and Hospitality Spaces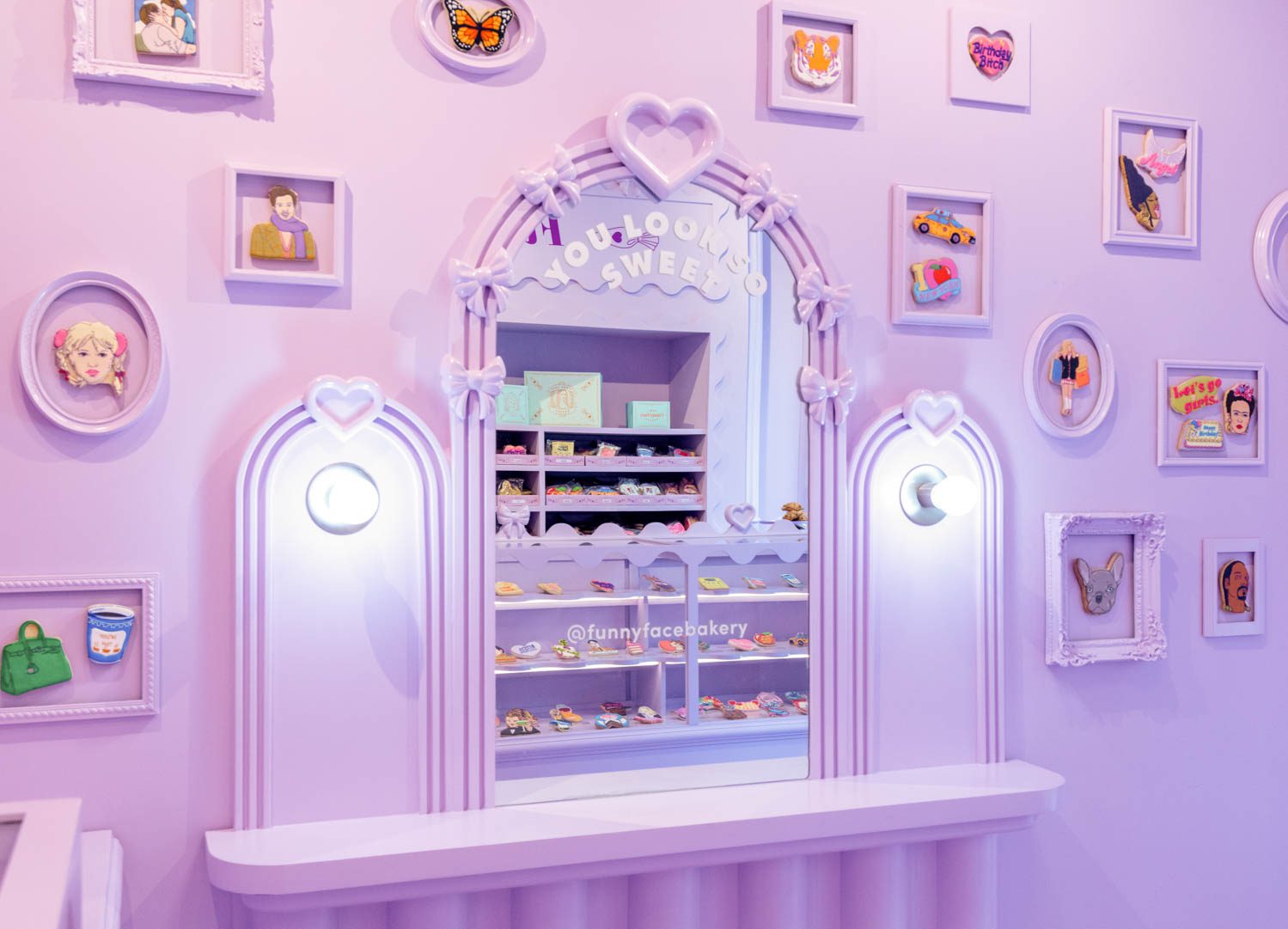 Madelynn Ringo's playful interiors here for Funny Face Bakery, but also seen at the Museum of Ice Cream, and beauty and wellness brands like Glossier and Bala, could be seen to bely her serious credentials: an architectural master's degree from Yale, dues paid at adventurous firms like SO – IL and fizzy hospitality juggernaut André Balazs Properties, and the launch of her own eponymous studio. Her passion for pastels comes through in Funny Face's whimsical lilac interiors. Read more about Ringo Studio's affinity for playful pastel interiors.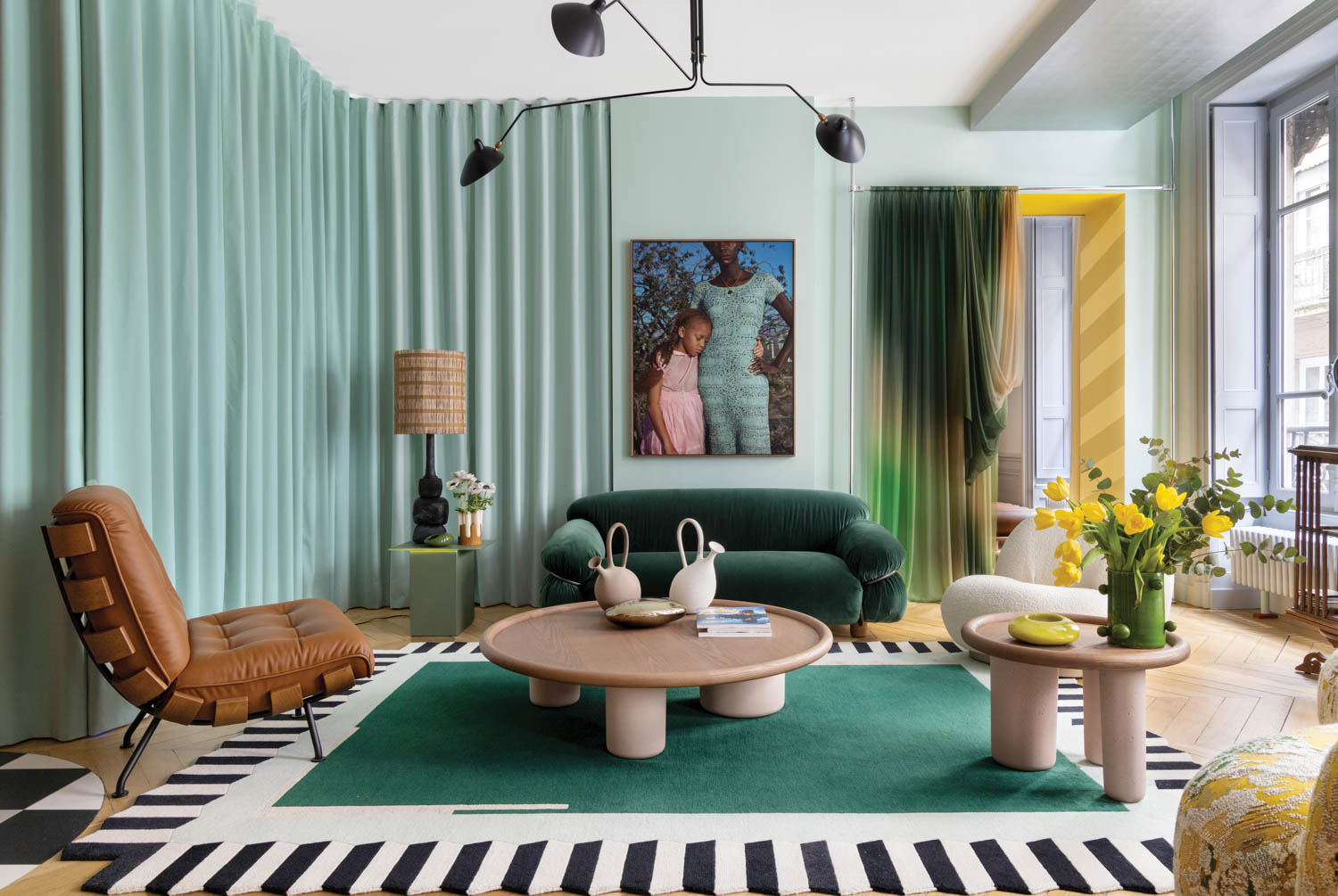 The founder of Claude Cartier Studio dreams up a Lyon, France apartment that pays homage to the silk fabrics produced there. Think luscious colors, bold patterns, and rich textures. The living room in particular features an Erwin Olaf photograph, Gianfranco Frattini's Sesann sofa, and Studiopepe's Pluto cocktail tables on a rug of her own design, all flanked by pastel green walls and matching curtains. Read more about this dreamy French apartment with colorful interiors.
The center, which specializes in holistic beauty and health treatments, spans a 2,150-square-foot space. Its palette of pink and pistachio offers an updated '80s aesthetic, amplified by arched doorways, brass accessories, and terrazzo. A sense of calm is found thanks to its quiet palette. This pastel interior design project is one to remember! Read more about this light and airy wellness center.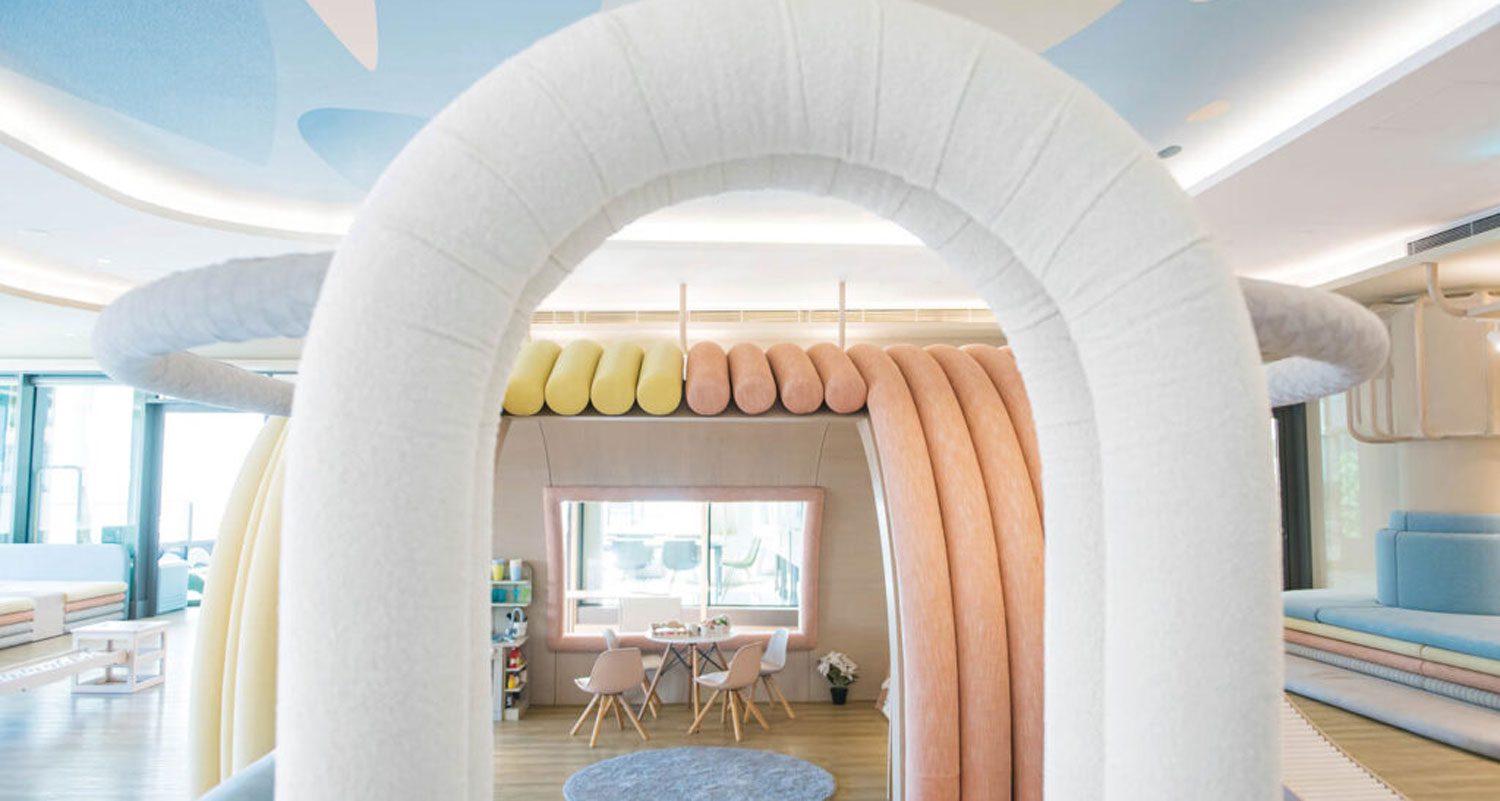 What better place for pastels than a space meant for playful learning? One of many bespoke features in this indoor playground and learning center, a curvilinear playhouse without walls or a roof, inspires children to use it as a cave, reading nook, or balcony. Daylight filters in through dreamy wallpaper, evocative of Ebru, a traditional Turkish marbling art. Read more about this perfectly pastel indoor playground.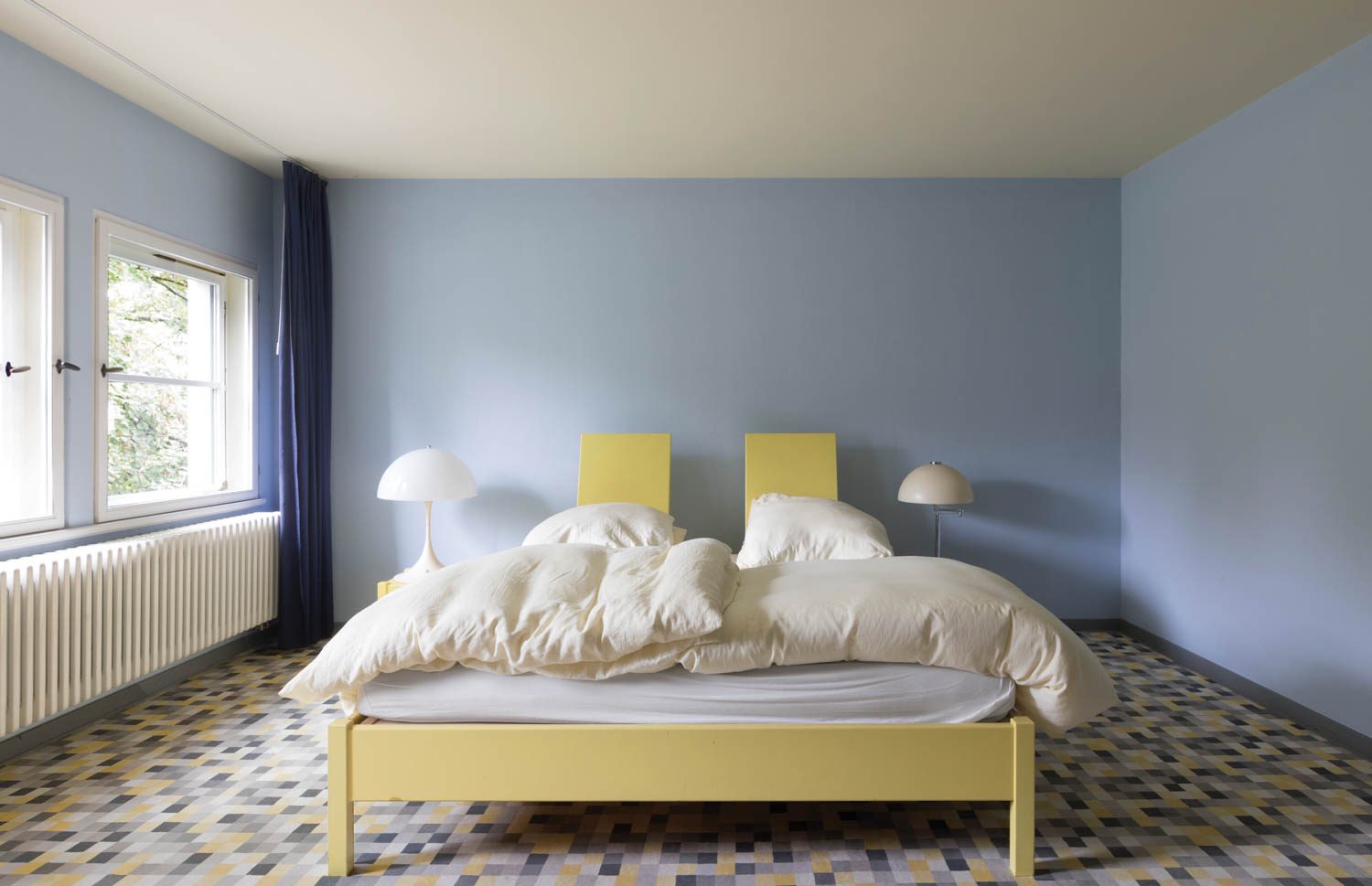 One of only six private residences completed by Bauhaus founder Walter Gropius before he left Germany permanently in the mid-1930s, the Auerbach House identifies with a preoccupation of the early Bauhaus: the use of color as an essential element in architecture. Baby blue walls are the backdrop for a sunny yellow platform bed in the primary bedroom, atop a new carpet based on designs by Bauhaus student Gertrud Hantschk. Read more about the Auerbach House.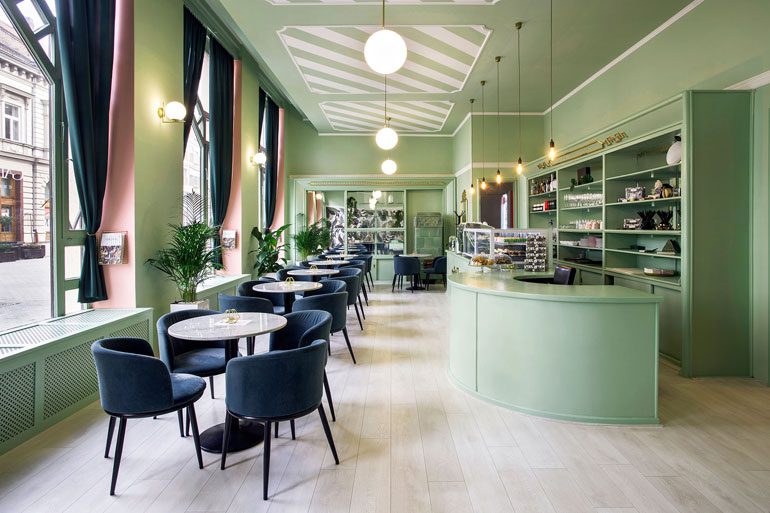 Once belonging to a chocolate factory, this café is covered in pastel green paint, even extending to the ceiling that evokes a vintage vibe with its white stripes. Designers wanted the color-scape to nod to popular pastries, like French cakes and macaroons. Read more about the sweet shop's green pastel interiors.
Jean-Honoré Fragonard's 1767 "The Swing" is a Rococo masterpiece that not only pushed the boundaries of propriety but, some 250 years later, continues to inspire designers like Nabil Dbouk and Ali Basma of the Lebanese firm Three Studios. The pair looked back to the painting—and to a passion for pastels in the early 20th century—for the interiors of Ayla, a women and children's apparel store in Tyre, a seaside city in southern Lebanon. Read more about this apparel store.
Originally designed by local architect Domenico Malinconico, the 7,500-square-foot, stone-and-plaster ancestral home, now a boutique hotel, comprises two wings flanking a courtyard. Ludovica+Roberto Palomba retained many original elements, celebrating the majestic volumes and their centuries-old frescoes. They stripped away wall coverings, replacing them with gentle washes of blues and celadons inspired by the glorious paintings. Read more about this renovated 19th-century hotel.
India Mahdavi's interiors embody a similar playful irreverence. In 2017, for the macaron-specialist Ladurée, she created a Los Angeles tearoom akin to a garden of delights, with pistachio-colored walls, icinglike lattice, and tables resembling meringues. Read more about Mahdavi's playful pistachio-themed design.
The Avenue Green Sheshan is ELTO Consultancy's attempt to blend interiors with the outside environment through neutral colors, natural materials, and open, uncluttered spaces. It's a departure from the plastic-fantastic rainbow aesthetic often utilized in early-education design. Shown here, painted gypsum-board nooks are designed as rest or shoe-removal areas. Read more about this pastel playroom.
Reading might be fundamental, but that doesn't mean it can't also be fun. The Kids Winshare bookstore in China's Sichuan province capital city of Chengdu is no dusty maze of books. Instead, courtesy of Panorama Design Group, the shop is an inviting radius of circular zones orbiting around an engineering marvel of a central dome. Read more about this colorful bookshop.
Ilaria Miani turned an entire medieval hilltop village into a hospitality complex offer­ing a culinary academy in the former schoolhouse, suites outfitted in furni­ture custom-made on-site, and a jet pool inspired by ancient Roman baths. Read more about this former schoolhouse turned hospitality complex.
Nothing compares to rebar when it comes to creating physical strength as a reinforcement for concrete or masonry. But as the Saitama, Japan-based firm Organic Design Architecture Studio discovered, it can make quite a strong visual impression, too. When asked to revitalize an unused floor in an office building in Tokyo, ODAS architects Hideo Kumaki and Yuichi Tada decided to take advantage of the inherent geometry and elegance of the material. Read more about this blue-hued Tokyo office.
Proud of its employee-satisfaction record, digital studio Bakken & Bæck sees itself as one big family. So perhaps it's not surprising that the company turned to real-life siblings to refresh its offices in Oslo and Amsterdam. To re-energize the tired former industrial quarters, the designers came up with a theme: Scandinavian Spaceship. The firm wrap­ped the entire space in seamless Nordic blue, with six gathering areas adding playful pops of con­trasting color. This project exemplifies the essence of pastel interior design, blending serene color palettes with contemporary styling. Read more about the Scandinavian-inspired space.
Feels like a spa, works like a gym. That catchphrase is embodied in Shelter, a multifunctional center occupying a two-story building in one of Sydney's harborside suburbs. The shedlike structure designed by Esoteriko had to accommodate four distinct programs: exercise facilities, ice baths, saunas, and a juice bar. The firm's approach was a simple organization of spaces—defined by screens rather than walls for openness but some privacy—with a restrained and carefully considered materials palette. Read more about this multifunctional center.
The enduring popularity of bubble tea has proved its frothy appeal won't pop any time soon. Particularly in China, where Ambrosia, a shop in trendy Shenzhen, enlisted Melbourne, Australia-based Biasol to design a concept as effervescent as the beverage it serves. For a sense of unity, a blushing terrazzo covers not only the floors, but also lower sections of the walls, tabletops integrated into banquettes, and even the front counter. Read more about this bubble tea shop with blushing interiors.
If it's dreamy at Chip, that's intentional. In addition to the aroma of the freshly baked, famously gooey cookies wafting through the tidy Long Island City bakery, the setting employs blond millwork, creamy marble, curved forms, and ethereal lighting. It's conceived by the New Design Project. The clouds sprinkled across the cookie tins were translated into a cluster of paper lanterns and rounded arches in the partition separating front and back of house. Read more about this dreamy cookie bakery.
"Designing for a school is also designing for the future of education," explains Nuno Da Silva Tang, of Atelier Nuno Architects. The Hong Kong-based firm recently completed a new lobby space for the medical campus of a university, which lacked a dedicated space for the students to come together. In Hong Kong, where there is a "constant struggle for space," this element was all the more needed. Parallel to the sofa, four meeting rooms, a pantry, and a locker area blend together into a fluid peach-colored zone. Read more about this peachy-keen lobby.
In an office by Garcia Tamjidi in San Francisco, California, meeting rooms for Kendo's celebrity brands include vinyl wall covering of ad campaign photography featuring Kat Von D and Rihanna's Fenty Beauty products, the latter matched with a chair by Ronan & Erwan Bouroullec. Read more about this beauty office.
For all its bars, day spas, and barbecue joints, Los Angeles's Koreatown lacked panache. All that changed with the Sydell Group's flagship LINE LA hotel, which gave Sean Knibb, until then a landscape designer, entry into the hospitality world. For the brand's third property, LINE Austin, Knibb, collaborating with local architect Michael Hsu, had a different mandate entirely. No sense of place was needed. Highlighting the versatility of pastel interior design, this space masterfully combines soft hues with modern aesthetics. Read more about this Austin hotel.
Uprooting Venice origins for its growing staff of 60, online florist Bouqs relocated to a 14,000-square-foot brick and glass bow-truss building in Marina del Rey, California. Enviable for the bones, but with inherent challenges. Ultimately, they posed no sweat to Wolcott designer Andie Chang. Seen here, custom tulip-inspired pendants light a trio of pastel-painted niches. Read more about this funky floral company's office.
When Sivantos needed a new corporate headquarters for its 600 employees in Singapore, it enlisted PLH Arkitekter to transform three floors of 143,000 raw square feet. Break-out areas throughout the open office are anchored by built-in seating upholstered in fabric ranging from teal to coral. Shown here, chairs in the cafeteria host a more pastel palette of pinks, yellows, and greens. Read more about this Singapore HQ with a range of pastels.
Building a narrative around womenswear boutique Antidote's commitment to sustainability—its tagline is "where conscious meets desirable"—Atelier de Yavorsky enlisted a fresh pastel palette and such natural materials as concrete, copper, and oak. Read more about Antidote's pastel palette.
Mothers deserve a little pampering no matter where they live, and Cairo-based Quinto Architects is making things a little easier for local moms with The Cloud. Located in the city's bustling Heliopolis district, The Cloud complex incorporates a lounge/co-working space, kids' area, yoga studio, spa, hair salon, and locker room with a distinctly rosy palette designed to appeal to millennial mothers. Read more about the rosy reception at this multiuse space.
Looking for more pastel interior design inspiration or just love a room with bold colors? Take a look at these other colorful stories: 9 Perfectly Pastel Seats, A Sugary Pink Palette Enlivens a Donut Shop, LinkedIn's Midwest HQ Captures the Spirit of the City
Read next: 14 Red and Pink Interiors Tell Their Own Love Stories