A Call to Action: HTC's Seattle Headquarters
Taiwanese cell-phone company HTC made a call of its own when its U.S. user-interface team needed a new Seattle office. On the other end of the line were Lisa Chadbourne and Daren Doss, whose Chadbourne + Doss Architects was already in the midst of renovating the house of HTC's creative director.

New steel seismic bracing stabilizes the Moses Building, a 1900 Seattle warehouse where Chadbourne + Doss Architects designed an office for cell-phone company HTC.

The 5,000-square-foot office is on the second floor of a 1900 warehouse recently converted by Shed. HTC requested an open, collaborative environment that would truly live up to the name Innovation Office. Since the bones were good and the budget small, the husband-wife architects responded with a minimal materials palette of plywood, glass, and plastic laminate anchored by shiny black asphalt-composite floorboards. A plywood worktable is long enough to have stations for 12 of the employees—half of whom sit facing an even longer stretch of whiteboard for jotting down program codes and device designs. Opposite stand six glass-fronted pods, should those creative minds need some quiet.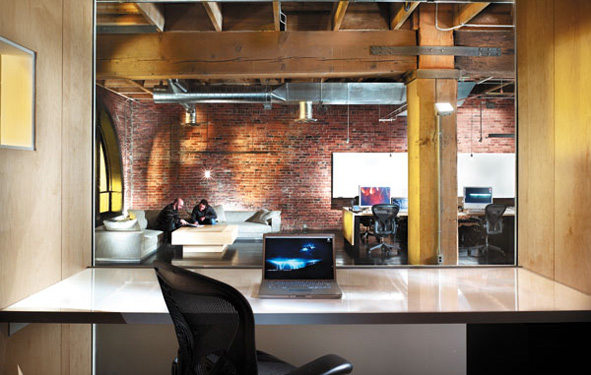 The writable plastic-laminate desktop in a pod.


Photography by Benjamin Benschneider.