Updated November 22, 2022
A Rainbow of Design Projects to Celebrate Pride
We're celebrating Pride with 20 projects of all colors.
Editor's Note: This story was originally published on June 24, 2020 and has since been updated to include even more colorful spaces to celebrate Pride.
1. Ringo Studio Works Out Bala's First Ever Retail Store in New York's SoHo Neighborhood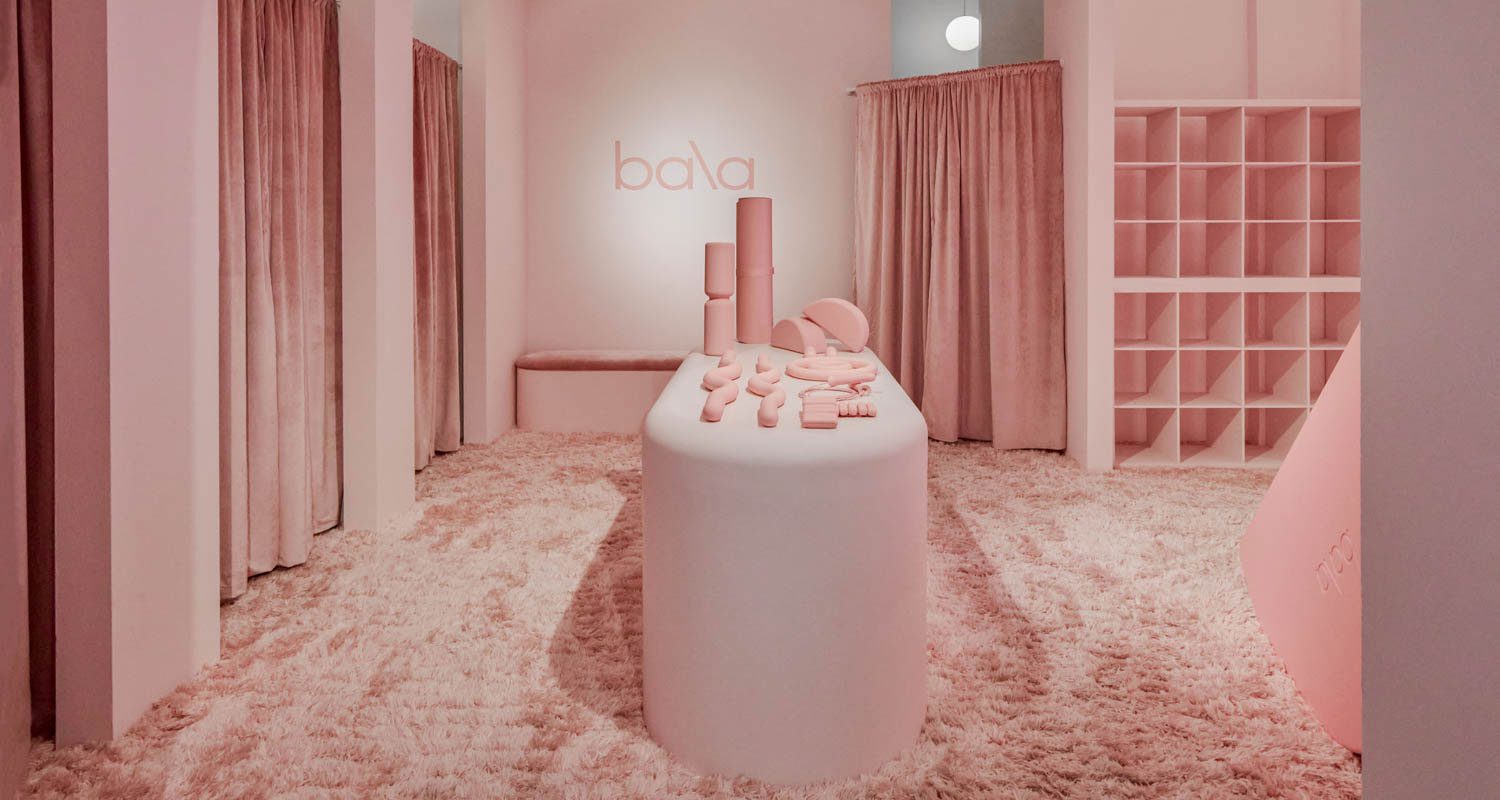 The fashionable fitness brand enlisted Ringo Studio's Madelynn Ringo to bring these disparate creative forces together for their first ever retail store, located in the heart of New York's SoHo neighborhood. Read more.
2. Courtyard No. 1 in Heze City, China by AOE
Inspired by suprematism, the early 20th–century abstract art movement, a residential sales center's glazing of UV-resistant panels is intercepted by geometric apertures framed in stainless steel. Read more.
3. HOK Designs HQ that Celebrates the Senses for Shiseido Americas
Transformation is key to what Shiseido is. Founded in 1872, the Japanese corporation has evolved over the last century-plus from a local cosmetics company to a global personal-care giant. Part of that expansion includes the New York–based Shiseido Americas, for which HOK won the bid to design the workplace. Read more.
4. Clap Studio's Mars-Inspired Boutique Launches in Hong Kong
Clap Studio's design for a Hong Kong women's boutique draws on Mars, in that its environment is like an undiscovered planet, with a "landscape of impressive mountains and pure materials," co-founder Àngela Montagud explains. Entry to the 1,800-square-foot shop is through two archways lined in space-agey aluminum. Inside is a sleek setting of moon-white walls and ceiling anchored by a plinth-populated terrain of terra-cotta tiles. Read more.
5. Peter Marino Melds Understated and Chromatic at Maison Louis Vuitton New Bond Street
Believe it or not, Peter Marino designs three to seven Louis Vuitton shops a year, each different. Some are renovations of existing Peter Marino Architect interiors, as is the case with Maison Louis Vuitton New Bond Street in London, the firm's third inter­vention at the site, which demonstrates how all of Marino's Vuittons have become increasingly gallery-esque. Read more.
6. PlotCreative Draws on Tradition to Create CJ GO Noodle Shop Outpost
Noodles are one of the most ancient of foods, and one of the most modern. Articulating that mix of old and new was on the mind of PlotCreative Interior Design director Oscar Chan when the Crystal Jade GO brand of noodle shops asked him to conceive a new outpost in Kennedy Town on Hong Kong Island. Read more.
7. Sou Fujimoto Architects Draws on the Local Landscape for House of Music, Hungary

Beethoven would be pleased. The famously outdoorsy composer of the Pastoral Symphony translated nature into sound, so—were he in Budapest today, encountering the House of Music, Hungary—he would understand its translation into architecture. Read more.
8. Department of Architecture Co. Takes a Fresh Look at Shingles For a Northern Thailand Inn
What makes a shingle a shingle? That was the question Amata Luphaiboon and Twitee Vajrabhaya Teparkum, Department of Architecture Co. principals, asked themselves for Little Shelter, an inn in Chiang Mai, Thailand, that the firm designed and which Luphaiboon co-owns. Wanting to be sensitive to the region's centuries-old architecture, they decided to take a fresh look at the venerable building material. Read more.
9. Massimo Adario Takes an "Atemporale" Approach to Renovating a Storied Florence Apartment
Remember the movie version of E.M. Forster's "A Room with a View" with its honeyed images of Florence, Italy? That's the swoonily romantic lens through which one can't help viewing the gloriously eclectic Florentine apartment that architect Massimo Adario recently renovated for his partner—an art, design, and fashion lover, who also happens to be an architect. Read more.
10. Capexus Designs Massive Czech Republic Office for T-Mobile
When T-Mobile Czech Republic asked Capexus to redesign 43,000 square feet of one of the largest single-tenant buildings in Prague, they didn't just change the floor plan—they changed how the company's 20-member teams work. Read more.
11. OMA and Gruen Associates Design Audrey Irmas Pavilion, Los Angeles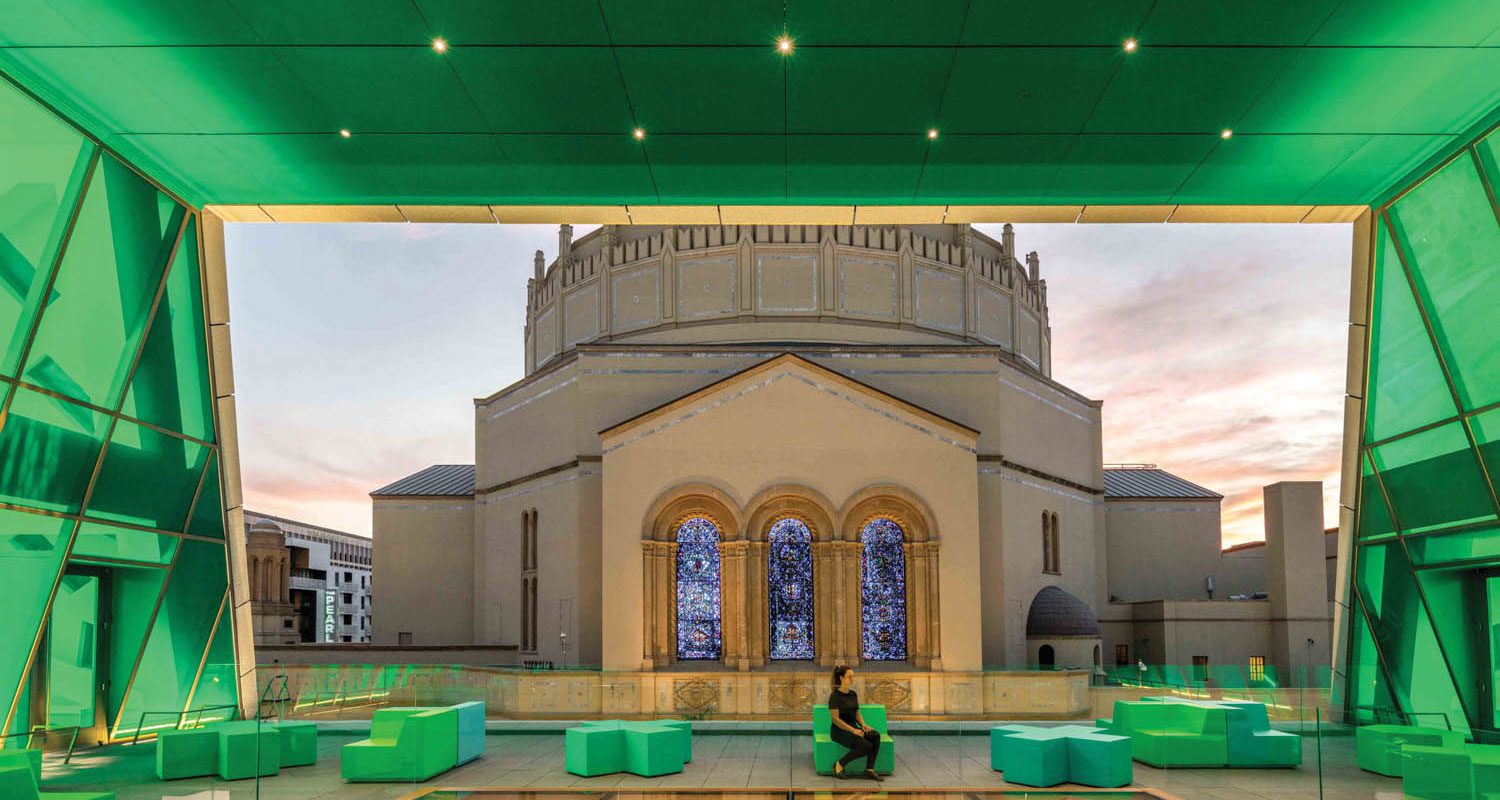 Lobbies, conference rooms, reception spaces, and service facilities flank either side of the hall and chapel in simple, orthogonal layouts. On the roof, OMA cut a circle that opens to a glass-enclosed sunken garden one floor below. Read more.
12. Otto Studio Takes a Page from Dante's Poetry for the 25hours Hotel Piazza San Paolino in Florence, Italy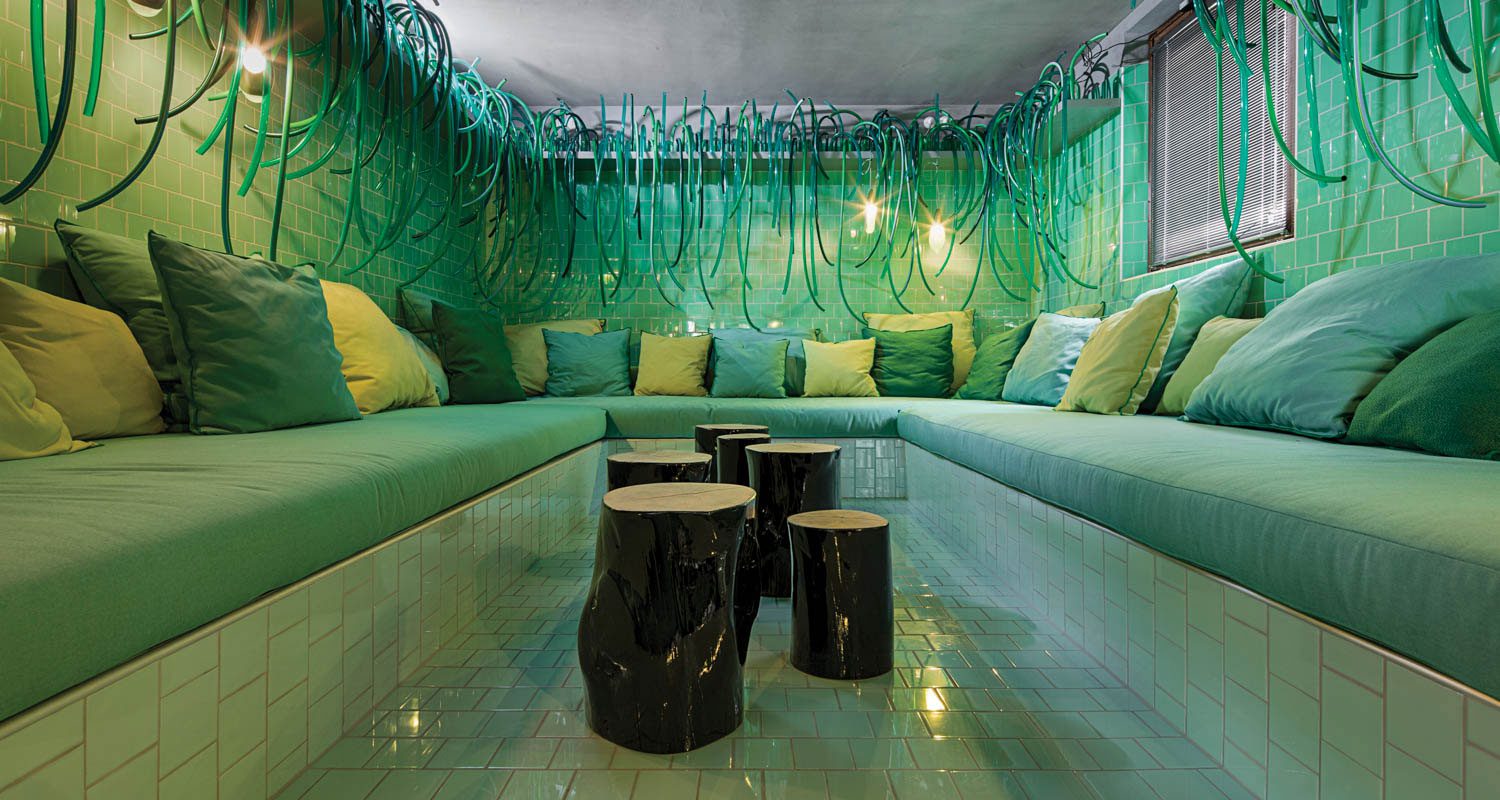 Interior Design Hall of Fame member Paola Navone embraced both the paradisal and the infernal when she drew on Dante Alighieri's epic poem, La Divina Commedia, as inspiration for the interiors at 25hours Hotel Piazza San Paolino in the 14th-century poet's native city. Read more.
13. Biology Inspires Unbot China's Office by Prism Design
Open-plan digital startup offices staffed with Gen Y- and Z-ers are practically commonplace these days. How to differentiate? Such was the challenge posed to Prism Design by client Unbot China, an online marketer, for its relocated Shanghai workplace. Read more.
14. Waterfrom Design Gives Aqua Health Clinic in Beijing an Edgy Aesthetic
Building on millenniums of wisdom, ancient Chinese medicine tends to the human body's vital energy, or chi, using herbs, acupuncture, and massage. The Aqua Health Clinic in Beijing's trendy Sanlitun district builds on that antiquity, but is contemporary and cutting-edge in appearance, courtesy of Waterfrom Design. Read more.
15. Gensler Reinforces Knoll's Design Philosophy at New Chicago Flagship
The buzz around Chicago's Fulton-Randolph Market District caught the attention of executives at Knoll, who, earlier this year, decided to move the furniture company's local showroom from its longtime home in the Merchandise Mart to an expansive 24,000-square-foot space in Fulton Market. The neighborhood's raw yet refined character is what inspired Gensler's concept for Knoll's new flagship. Read more.
16. Firms Join Forces to Give Organic Form to a Family Villa in Melbourne
Almost inevitably, calling a building sculptural arouses the suspicion that function played second fiddle to the architect's shape-shifting vision. In designing a house worthy of the epithet, however, Michael Leeton, principal of Leeton Pointon Architects + Interiors, kept form and function in equilibrium as deftly as a juggler spinning plates. Read more.
17. Slack Headquarters by Studio O+A Wins 2019 Best of Year Award for Large Tech Office
Studio O+A principals Verda Alexander and Primo Orpilla like to invent—and reinvent—the workplace. The Interior Design Hall of Fame members also like to tell stories. Their firm took the narrative concept for the San Francisco headquarters of Slack, the office-messaging innovator, to a new high. Read more.
18. Panda Nana Designs an Out-of-This-World Whiskey Bar in Zhangzhou, China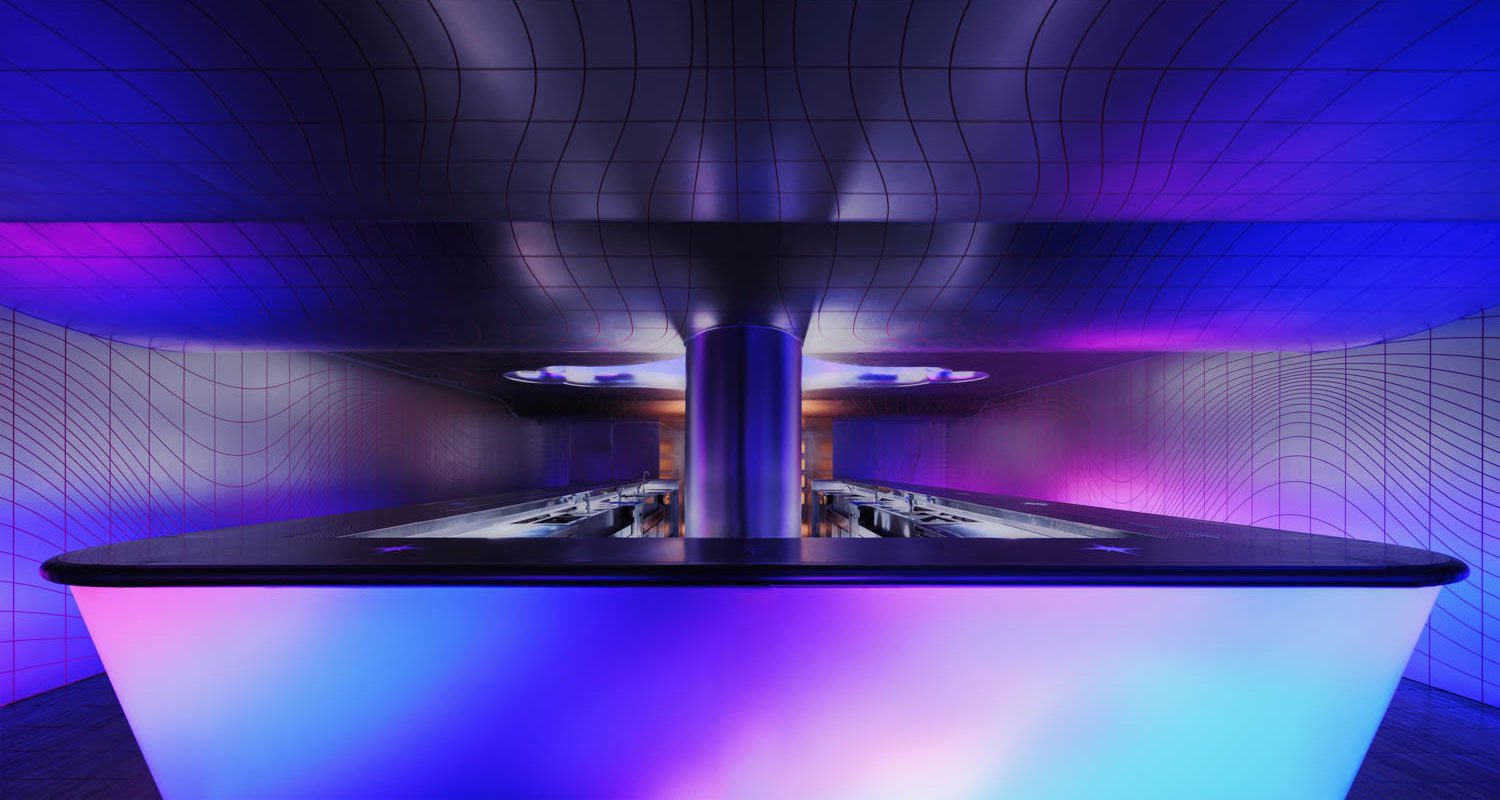 Sometimes you just need a drink. Other times, you need a complete intoxication of the senses—and for the latter occasion, Panda Nana designed the Control Bar in Zhangzhou. Read more.
19. Various Associates Channels the Five Elements for Morph Event Venue in Shenzhen, China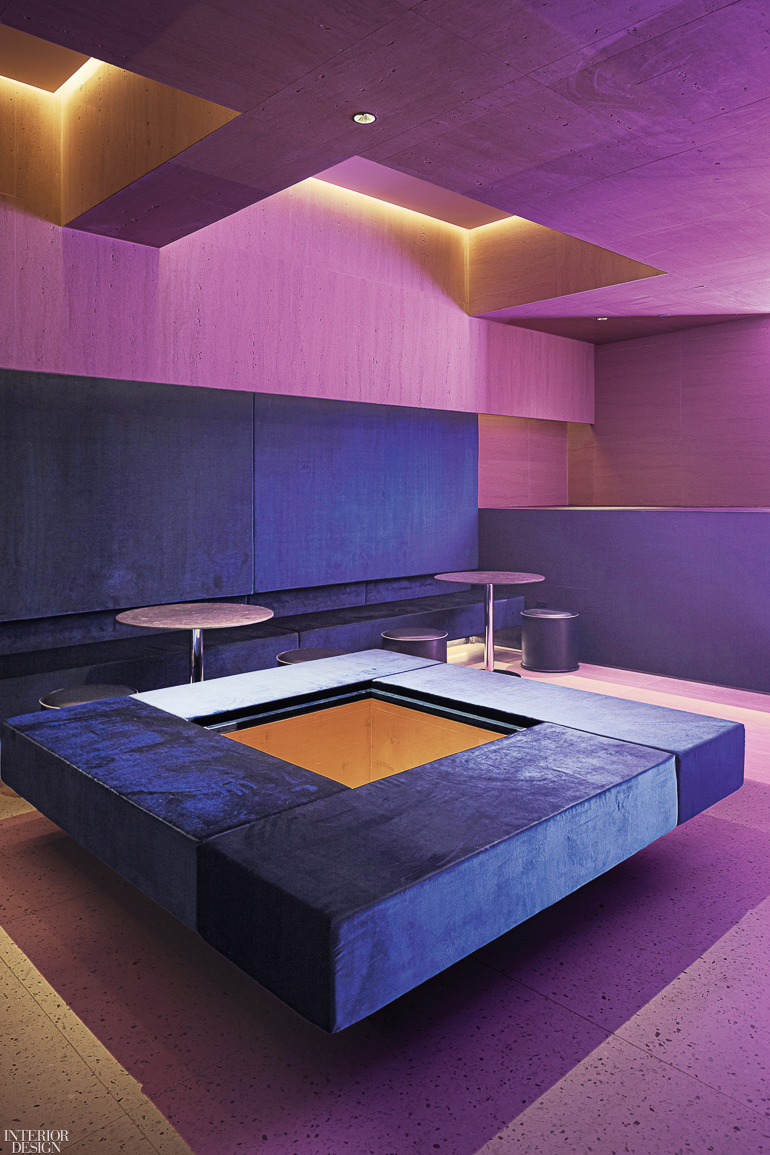 Dongzi Yang and Qianyi Lin founded Various Associates, a collective of spatial, graphic, interactive, and product designers working on inter­national research-based projects. One such project is Morph, an 11,000-square-foot event venue in Shenzhen, Lin's hometown and a relatively new city in a country grounded in tradition. The color of custom velvet-covered benches in the mezzanine is meant to recall water. Read more.
20. The Food Court Gets a Modern Update at Le Cathcart in Montreal
Over the last decade, the food court has increasingly become an essential urban hub for both snacking and socializing. But how do you keep these already aging staples looking as fresh as the food? When it came to Le Cathcart Restaurants et Biergarten at Montreal's Place Ville Marie, the answer was to embrace the city itself. Read more.