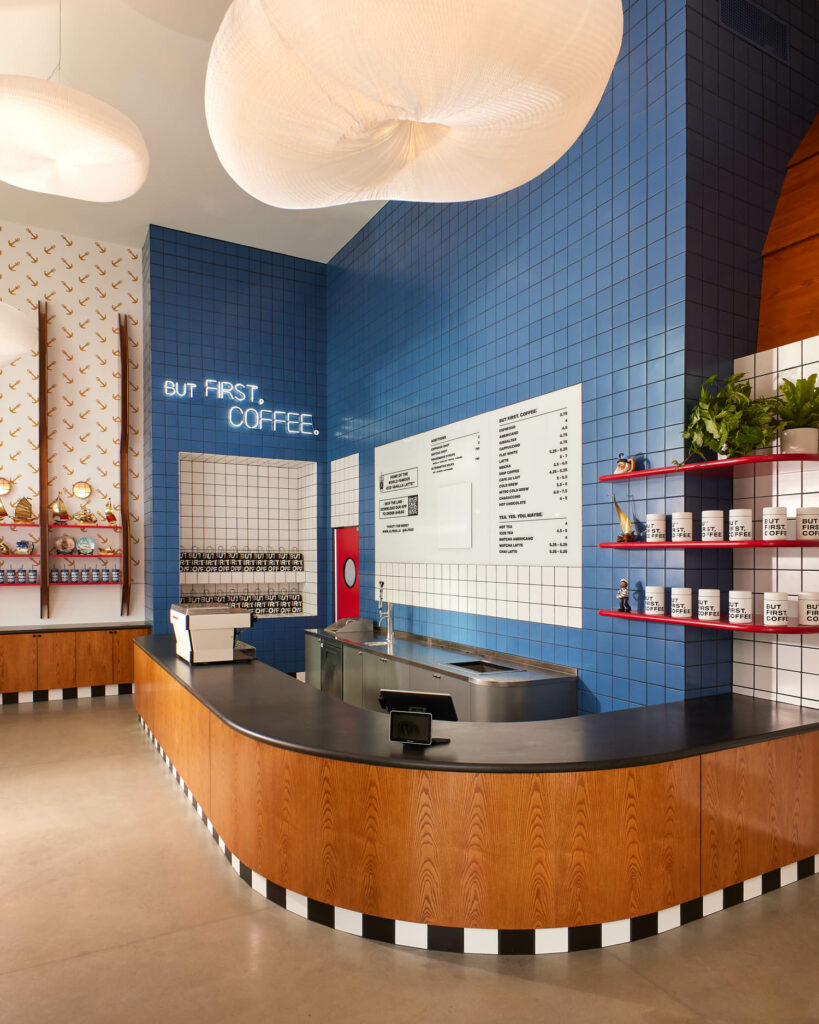 Alfred Coffee Sails Into Marina Del Rey With Nautical Design
Shamelessly nautical, cheeky, and punctuated with precise craftsmanship, Alfred Coffee's newest location in Marina Del Rey, which opened in January 2023, plays up its waterside location. The seventh in a series from design firm Studio Sucio, the 1,000-square-foot storefront pairs expansive vertical space with intuitive programming and an Americana palette.
Since opening his first Alfred Coffee on Melrose Place in 2013, founder and CEO Josh Zad, has prided himself on deliberate, individual design. With shops throughout Los Angeles, Austin, and San Francisco, as well as Kuwait City, Alfred's Instagram-worthy interiors continue to attract coffee- and design-lovers alike.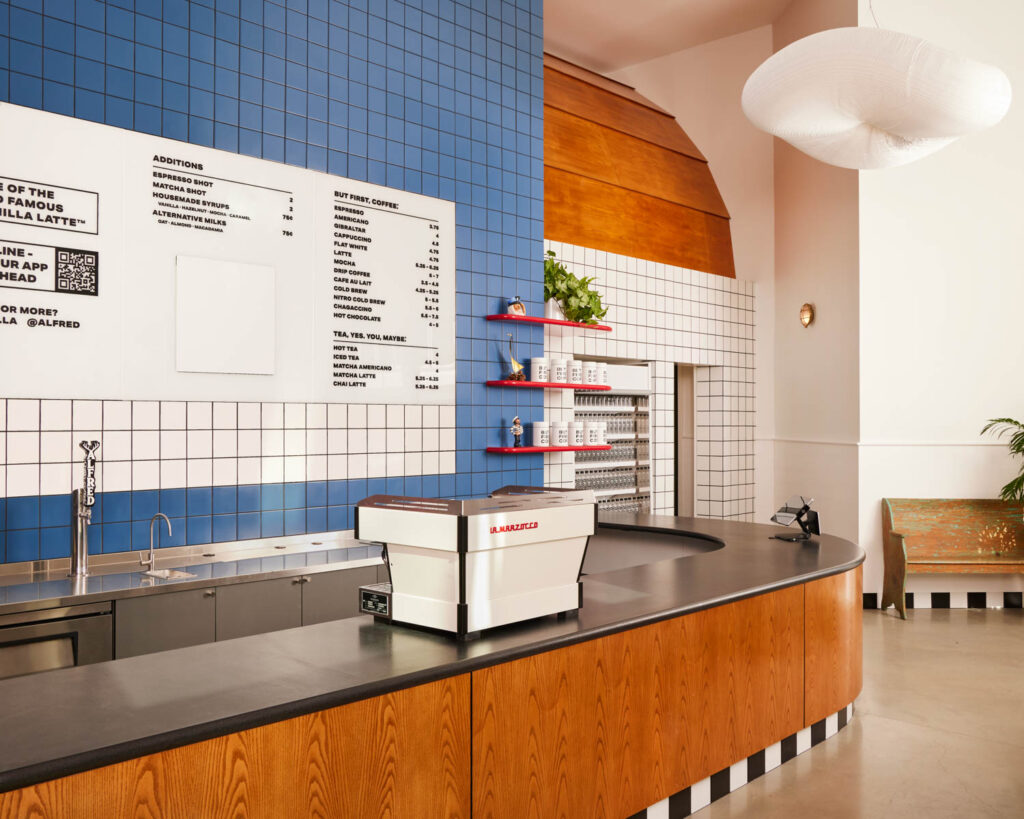 "Alfred shops always have an exuberant feeling to them," says Studio Sucio principal Leslie Barrett. With seven completed and three in the works, Barrett and cofounder, Fernando Bracer, have mastered the art of translating the brand's key features, like its signage and black-and-white awning, into unique customer experiences. Alfred Robertson evokes an upscale Italian gelateria, while Alfred Malibu looks more like a meditative surf shack.
"When we start a new Alfred, we look at the location and context" Barret says. "Alfred Marina Del Rey called for camp and we just went for it."
The space features floating cloud pendants from Mono Design, plywood shelving meant to mimic boat rudders, black-and-white baseboard tile, a porthole door, and a lacquered, curved serving counter.
"A heavy influence was yacht rock," Bracer adds. "There's a wall with album covers from Christopher Cross, Boz Scaggs, Pablo Cruise, and Captain and Tenille, as well as an impressive collection of brass model boats from John De Mott sourced from Ebay and Etsy.
While the naval-themed coffee shop may appear all fun and games, exquisite attention to detail allows the design to shine. "The theme is light but the construction is serious. If it wasn't crafted so beautifully, it wouldn't work," Bracer says. For the tiled wall, which includes a cut-out window for to-go orders, extra care was given. "Getting the tiles perfectly squared so no tile was cut was hard and we had to work with the contractor to get the framing right, checking many times," Barrett says. Plus, the wood veneer cabinets, which anchor the space, were hand-selected to achieve thoughtful patterning.
The "small but sweet" space, placed within a new-build commercial site, also has soaring ceilings, up to 25 feet. And while this could have felt drafty, a curved back-of-house space—a "building within a building" as the design duo have said—helps modulate the scale. "It feels surprisingly intimate," Bracer says.