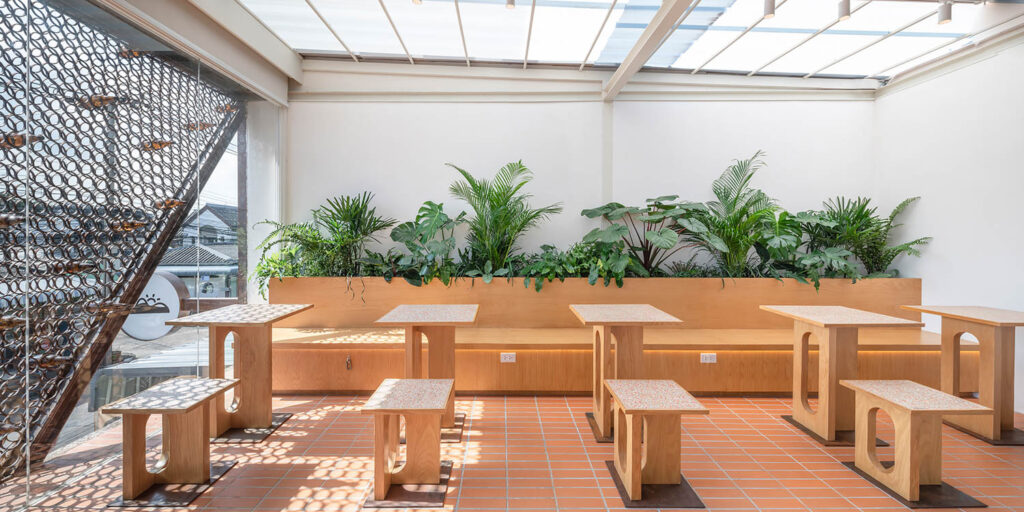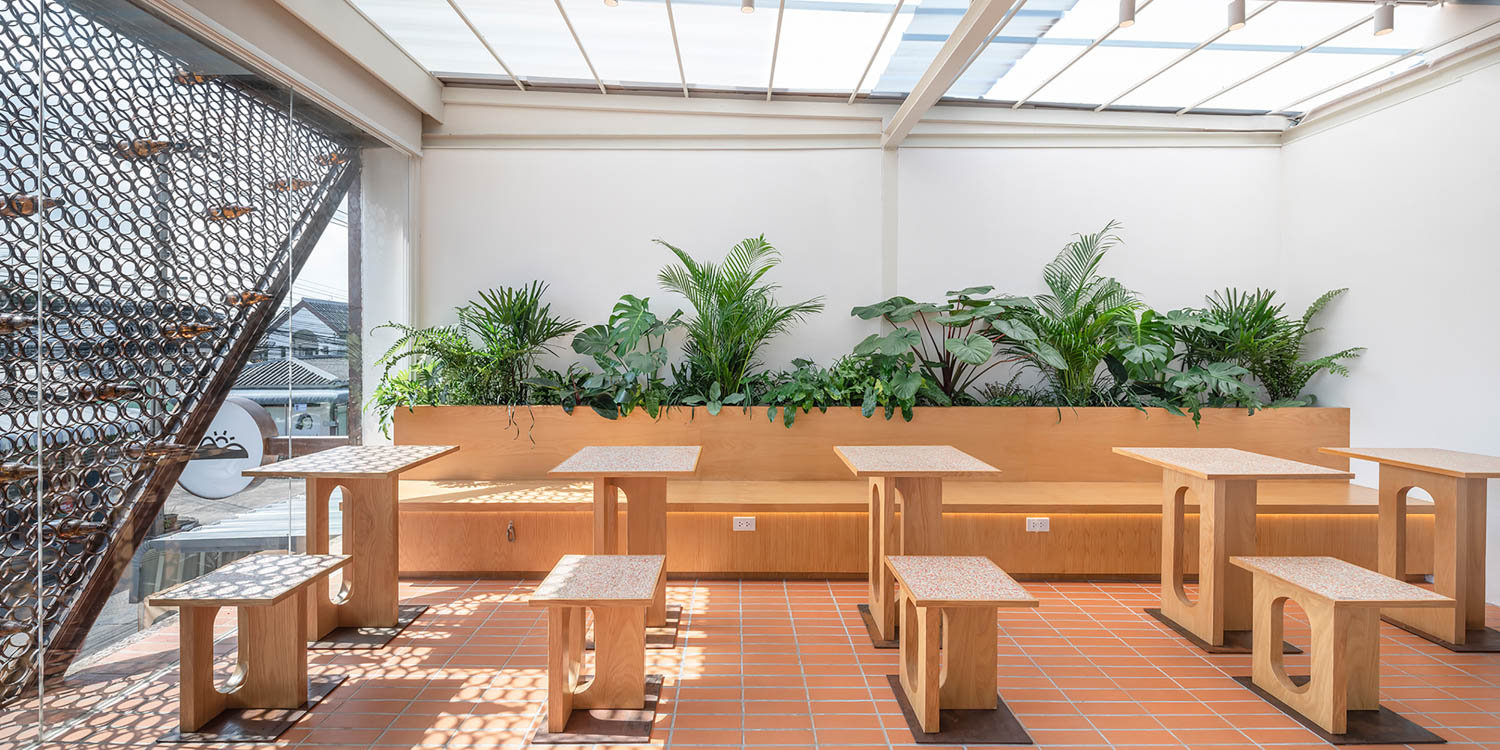 Spacecraft Designs a Zero Waste Coffee Shop in Bangkok
A community gathering space and premier example of sustainable design, Early BKK café, a two-story coffee shop in Saphan Sung, Bangkok, was forged from local upcycled materials. Milk cartons mixed with plywood, known as re-board, were cleverly utilized for the door, ceiling, and furnishings while 600 beer bottles frame its facade.
"The owner called us to design the cafe and mentioned her intention to use only recycled materials," says Spacecraft co-founder Sathika Jienjaroonsri, who grew up in the same neighborhood the cafe is located in. "She wanted to provide a space for villagers to have their daily coffee, as well as foreigners and other Thai people. It's also pet-friendly" Now, a landmark of the community, Early BKK café has become a hub for both socialization and education.
For the exterior, bottles were placed within metal rungs, creating an impactful, eco-friendly aesthetic. Inside, broken down clear and brown bottles meld with concrete for one-of–a-kind terrazzo that graces the floors as well as the bathroom and barista countertops. Bottle impressions, which Jienjaroonsri calls "bottles fossil," add further depth to the unique material palette. There's also a spiral staircase, brick flooring, and galvanized oil basin in lieu of a traditional bathroom sink.
On the second floor, guests can enjoy open-air seating and views of the bustling street corner below in a space that also can be transformed for community events. In addition to coffee and pastries, the café sells second-hand clothing, a logical initiative in Early BKK's mission of sustainability. Pair that with solar power, a no straws and no plastic cups policy, and bring-your-own-cup discounts—all steps meant to encourage guests to think about the impact their daily actions have on the environment.
Due to its unique design, initially, visitors stopped in to take photos without necessarily understanding the story behind the recycled materials or their usage. Now many patrons have asked how they can purchase re-board for their own homes. "They think it's fun and [adds] value for the Earth," Jienjaroonsri says.
Not only does Early BKK café provide an important place for Saphan Sung's multigenerational residents, but it showcases what can be created when you think outside-the-box.
Early BKK Café Takes Upcycled Design to New Levels