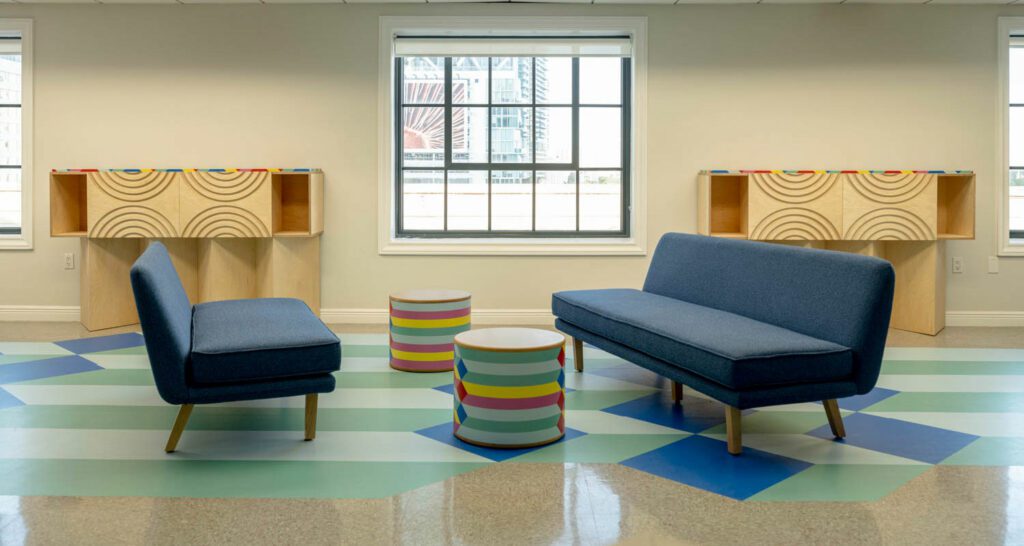 AMLgMATD invoke 'Tropical Cubism' for the Museum of Art and Design's Education Lab in Miami
The Museum of Art and Design at Miami-Dade College's new Education Lab, a 1,500-square-foot space housed in the Freedom Tower downtown, will offer the community a host of innovative lectures, workshops, and artmaking activities. The space needed to be as forward-thinking and flexible as its curricula, which is why MoAD approached local firm AMLgMATD to conceive its design.
Over the next few years, co-founders Laz Ojalde and Natalie Zlamalova refined not a space, but a style. "We searched for a commonality that would bridge our artistic approaches and principals and that would feel appropriate to exist within the walls of the 1920s-built landmark," the pair say. "Natalie's Czech background and admiration for early Czech Cubism & Functionalism and Laz's love of industrial design and Art Deco, especially the overly stylized Tropical Art Deco found mainly throughout South Florida, were focal to the process. We discussed what if these two different yet somewhat similar styles of decor and function amalgamated and lived on today as a hybrid style called Tropical Cubism?"
The end result fuses bold colors and abstract geometries for a space with reconfigurable furnishings and intriguing finishes, organized into a quartet of arrangements including a main area, children's area, reading zone, and build/work zone. "Every single piece had to be designed with modularity in mind so that it could be carried in and assembled on site by only a couple of people," say the design duo. "Tropical Cubism gave us the ability to play creatively with bold angular line work and historic silhouettes. And it allowed us to artistically reinterpret the styles' functionalities and purpose in this space." Not to mention offering inspiration to future generations learning in the lab.