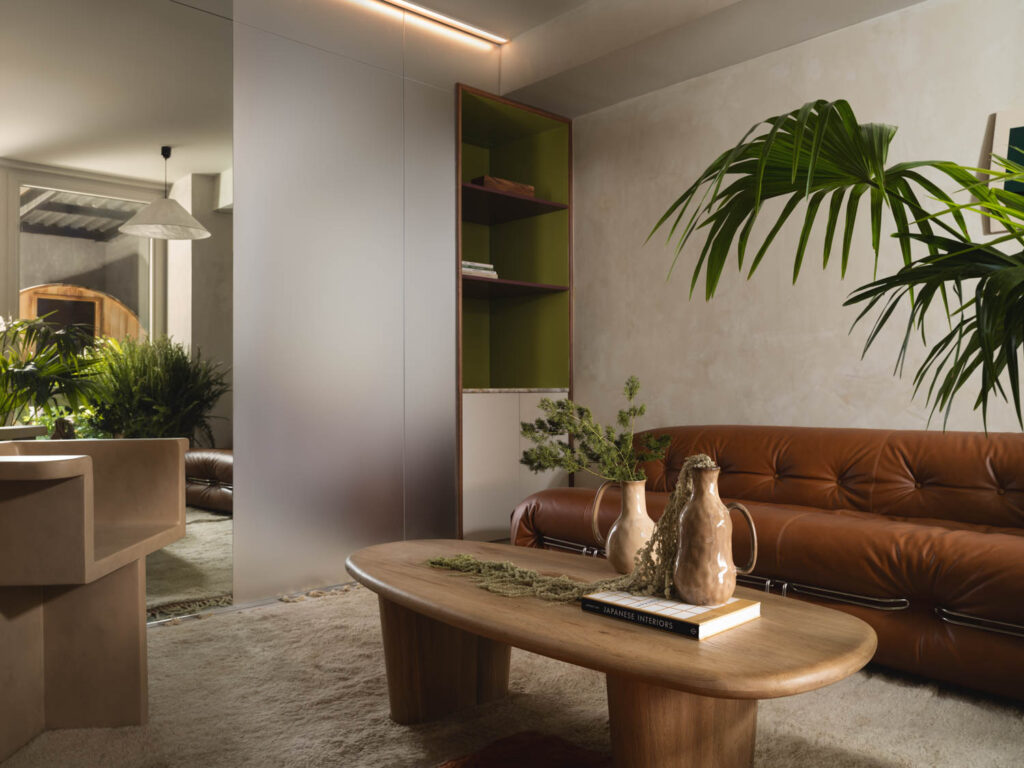 This Bushwick Oasis Brings Nature to an Urban Setting
Traversing through Bushwick's industrial labyrinth of dive bars, graffitied warehouses, and uber hip coffee shops, one needs a moment of refuge. That was the goal for an artistic couple when they tapped Hira Sabuhi to revamp their 1,600-square-foot garden duplex in 2021. Sabuhi, an architect who honed her skills at heavyweight firms like SOM and Rockwell Group, had recently launched her eponymous studio during the fall of 2020. "I was looking to create with more intent," the designer muses.
As CEO of Hidden X Soul, an art collective aimed at solving complex global conflicts via creative collaborations, Sabuhi was primed for a professional leap, pandemic notwithstanding. Her clients, impressed with Sabuhi's discerning portfolio and philosophical approach to architecture via Hidden X Soul, gave her carte blanche creative control.
"This project was a spatial execution of elevating the consciousness, maintaining a connection to nature in the midst of an urban setting," explains Sabuhi. She employed her novel approach to design and architecture, transforming her clients' 2019-built, impersonal home into a tonal, textural sanctuary fondly named the Bushwick Oasis. It was a study in contrasts: Rough, site-specific industrial details merging with smooth, organic forms.
"Creating with complete imagination is just as important as recognizing pragmatic restraints," recalls Sabuhi, like size. The brief entailed housing multiple programs in a mere 800-square-foot common area on the ground floor, intended as a living room, meditation zone, office, and full bathroom, while invoking a bucolic charm not readily apparent in Bushwick.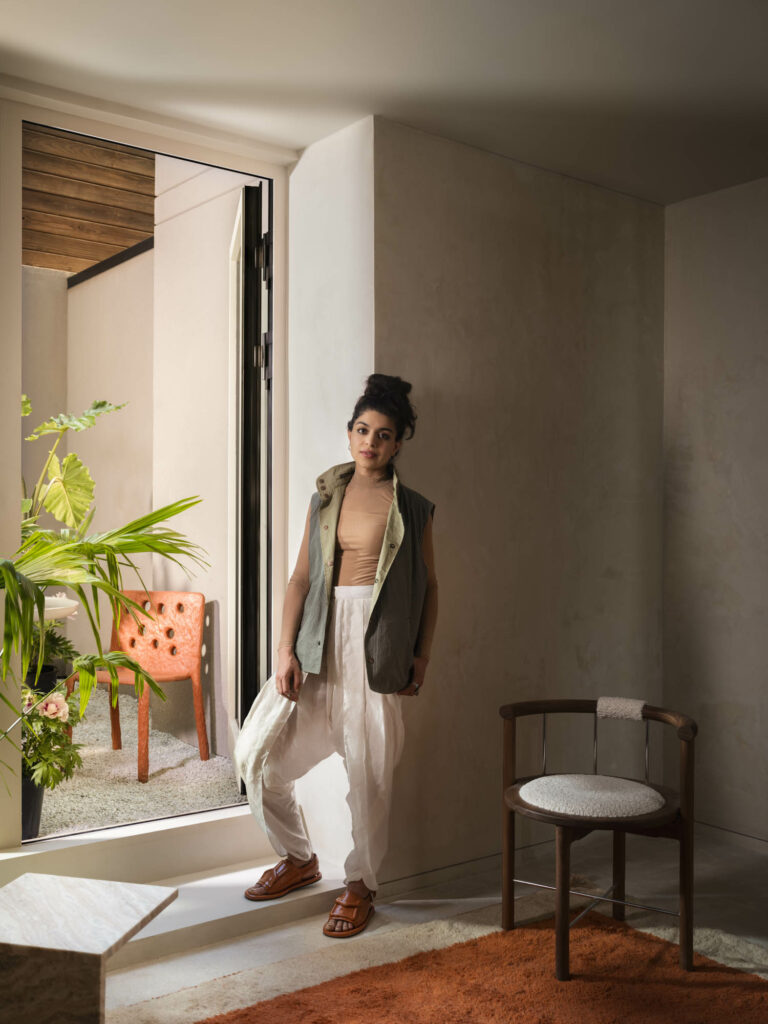 Transforming a Bushwick Apartment into an Urban Escape
Sabuhi rose to the challenge, cleverly employing refracting glass and two-way mirrors to optimize sight lines, with earthy Venetian plaster-clad walls to balance the mirrored features. Supply chain issues ever-present, Sabuhi specified Farrow & Ball paint for her contractor to make bespoke plaster that balanced the organic palette, which was accented with plum and chartreuse. It turned out to be one of her favorite pairings. "The juxtaposition between the synthetic nature of the reflective materials and soft edged millwork gives playful personality, celebrating the beauty of nature and the beauty of manmade at the same time," she affirms. Brutalist side tables, a sumptuous Italian sofa, and a surfboard-shaped, solid wood coffee table (which doubles as a tea station) complement the petite living area. In the dining room, modern chairs explore negative space, and a steel, hobnail wall art adds depth to the formerly boxy space.
Sabuhi's client initially specified wide white oak planks for the entire ground floor. "Shortly before installation, the garden level was flooded," says Sabuhi. What could have been a crisis sparked inspiration. Looking for a more durable material, she specified a custom concrete tinted floor to match the plaster hues, creating a cozy cave-like dwelling. "Concrete ended up being more in line with the vision, and arguably a more beautiful result," notes Sabuhi. Indeed, the texture invokes industrial Bushwick's legacy, while its light hue, cossetted by plush Moroccan rugs, embraces the quiet luxury the client wanted. It's a dreamy, multi-functional getaway from the city, within the city.