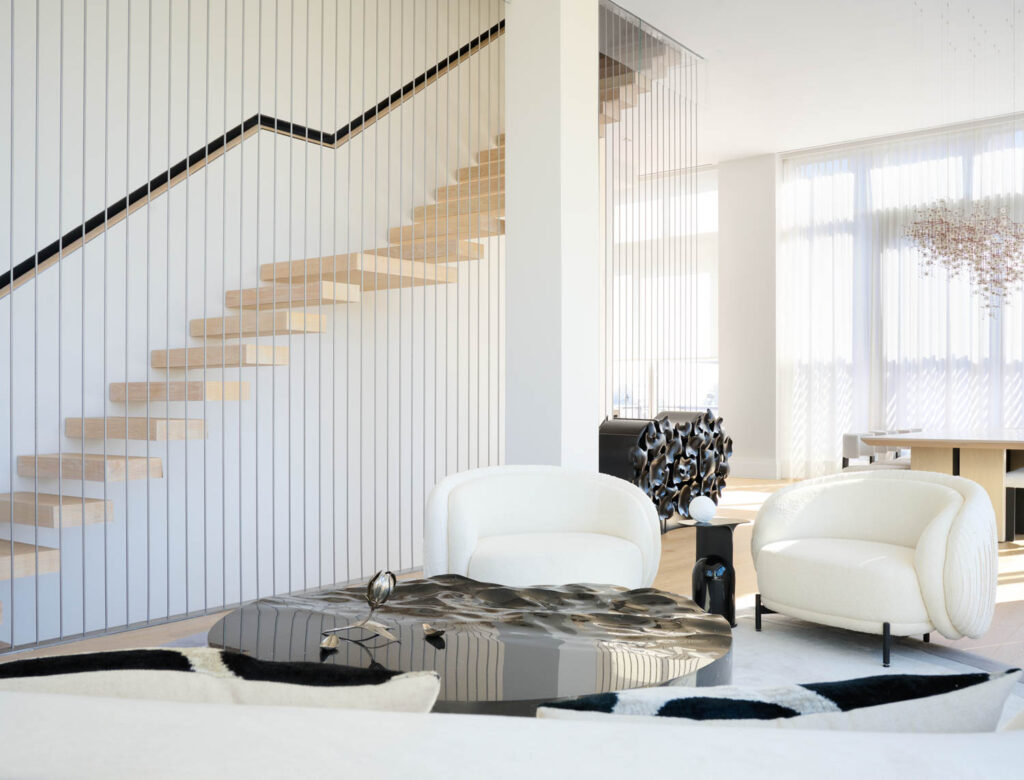 Butter & Eggs Designs a Layered West Village Penthouse
For a Sydney-based family, interior design firm Butter & Eggs was brought in to customize and furnish a four-story West Village penthouse. The clients requested a showstopper that could also withstand family life and be comfortable for everyday living. "They trusted us completely throughout the process," founder Judy Dunne explains. "As a result, we were able to create a highly functional home with an organic, global sensibility."
Dunne worked with lead designer Claudio Albano to create spaces that command attention but also capture natural elements for a serene atmosphere. A masterful attention to materiality, texture, and color throughout the home creates coherence between the zones, while details spark conversation and invite closer inspection. In the living room, a floating rift oak staircase defines the space, which has 14-foot-high ceilings. On the macro level, the petals of a vintage ashtray detach to form individual ashtrays—for styling, not smoking.
In the dining room, floor-to-ceiling windows bring abundant light into the space. The dining table is a custom piece by Butter & Eggs, with a beveled edge top in white-washed riffed oak. In a corner, a small ceramic vase by Jane Yang D'Haene stands on a pedestal. More of Yang D'Haene's ceramics adorn the kitchen, which also features bar stools by Mark Albrecht Studio for Holly Hunt.
The master bedroom, with sweeping views of Manhattan, incorporates a custom sofa by the firm, alongside a bed with a leather headboard. In the daughter's room, a rosy MJ Atelier wallpaper has gold leaf accents and songbirds that were beloved by the child's grandmother.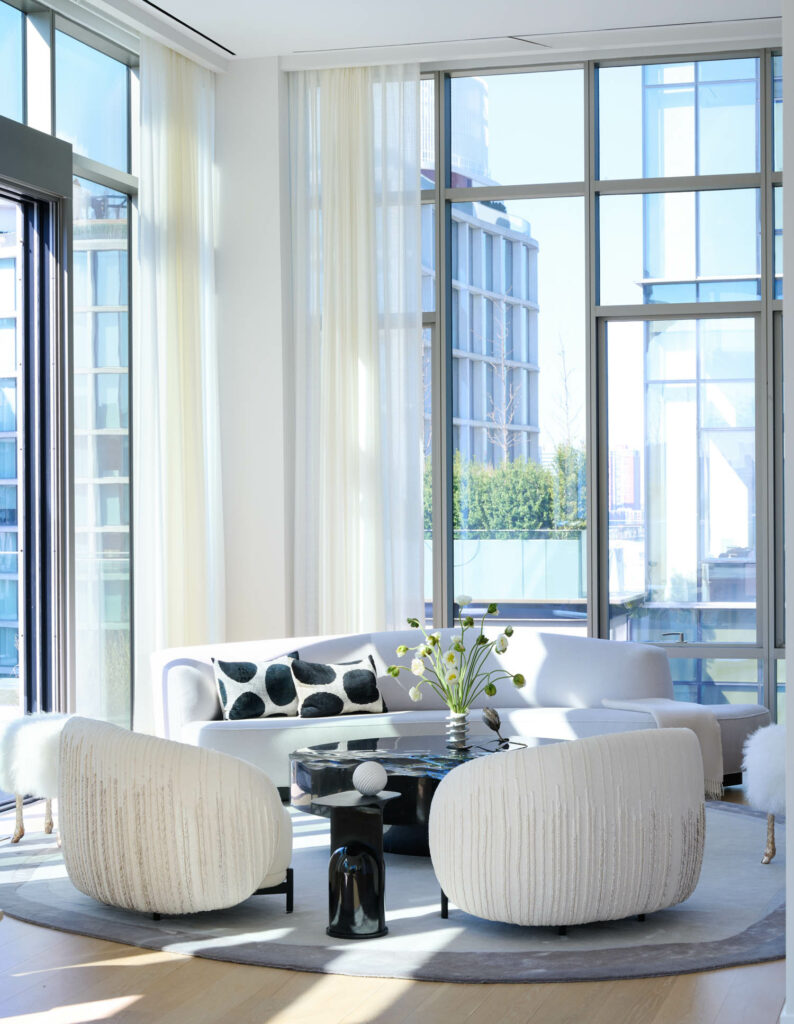 Although these touches are elegant and sometimes delicate, Butter & Eggs considered durability and functionality for the penthouse. The Vladimir Kagan sofa in the living room is upholstered in a sumptuous fabric that could work in outdoor spaces. And other pieces are upholstered in performance fabric and durable cowhide.
"Unique pieces recall the clients' love of the outdoors," Albano explains. "And together, they create a quiet, peaceful family retreat in the city." But if that isn't enough, there's actual outdoor space, of course. For the terrace, Butter & Eggs added the ultimate detail: A luxurious pool.
A Manhattan Penthouse Designed for Family Fun