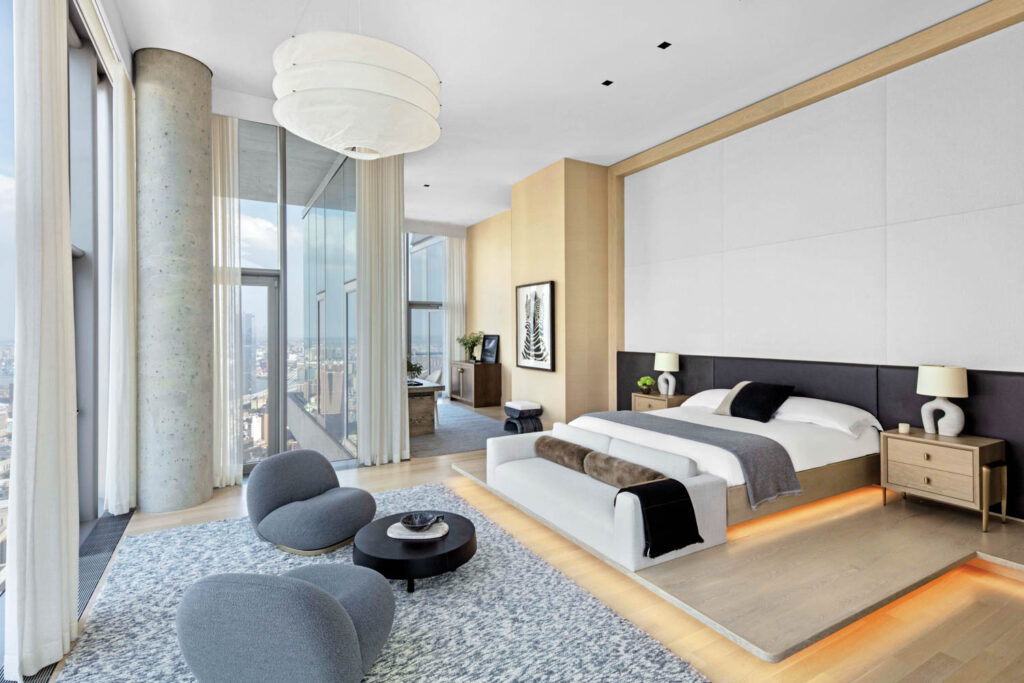 Meyer Davis Designs a Sprawling Manhattan Penthouse
A chance encounter started the ball rolling on the redesign of a full-floor penthouse atop one of New York's most avant-garde structures. The glittering 56 Leonard in TriBeCa, completed in 2017 by Herzog & de Meuron, is often affectionately likened to a stack of Jenga blocks. The cantilevered upper floors make the 57-story building a standout on the downtown skyline and give its lucky residents uninterrupted 360-degree views.
"One weeknight, I was out having drinks with friends when a potential client happened to pop in," recalls Will Meyer, principal of Meyer Davis. The men were acquainted but had not seen each other in years. "It was midnight, but he said, 'I just bought this new apartment. Let's go look at it.'" Up they went several dozen stories, emerging into a 5,500-square-foot aerie surrounded by 14-foot-tall windows. "Imagine coming out of the elevator and seeing these outrageous views. It was a white box with nothing going on but also the most amazing blank slate possible."
Soon after, Meyer and fellow principal Gray Davis—jointly inducted last year into the Interior Design Hall of Fame—met with the homeowner to share their thoughts on making the vast residence more human-scale and inviting. "The client appreciates good design," Davis says, "and loves music and hosting parties. But the apartment also had to feel comfortable when he's there alone or with his kids."
Meyer Davis Creates a Warm and Approachable Penthouse Design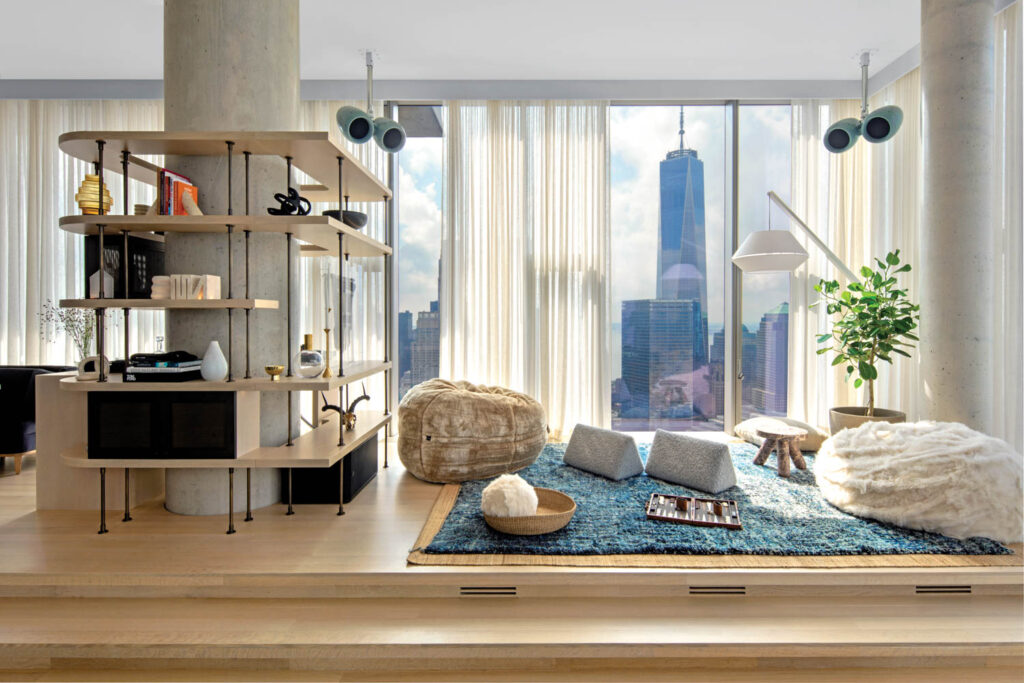 "The client had a clear idea of how it should feel: warm and approachable," says Meyer Davis associate Shannon Senyk, senior design lead on the project and at the firm. "The views were there, but the space itself was quite cold and austere. We needed to add layers through architectural finishes and soft, lush textures." Conjuring welcome is a practiced skill for the firm, which places not only 60th on our 100 Giants list but also 24th among the Hospitality Giants.
Meyer Davis Transforms a Loftlike Layout into Functional Zones
The team devised a number of strategies to tame the open, loftlike layout, which is augmented by two terraces and a balcony totaling 1,600 square feet of outdoor real estate. "A super-large space should be zoned in subtle ways, making rooms without making walls," Meyer observes. The designers arranged the furniture informally, with three separate seating groups in the main living area "so you can hop around and sit in different places," as Davis puts it. Chief among the architectural upgrades—and there were many, including four-and-a-half renovated baths and an oak-and-marble kitchen beneath an existing statement stove hood—was a zoning gesture Meyer reports "made all the difference in the world": a raised oak platform that spans about a quarter of the living area.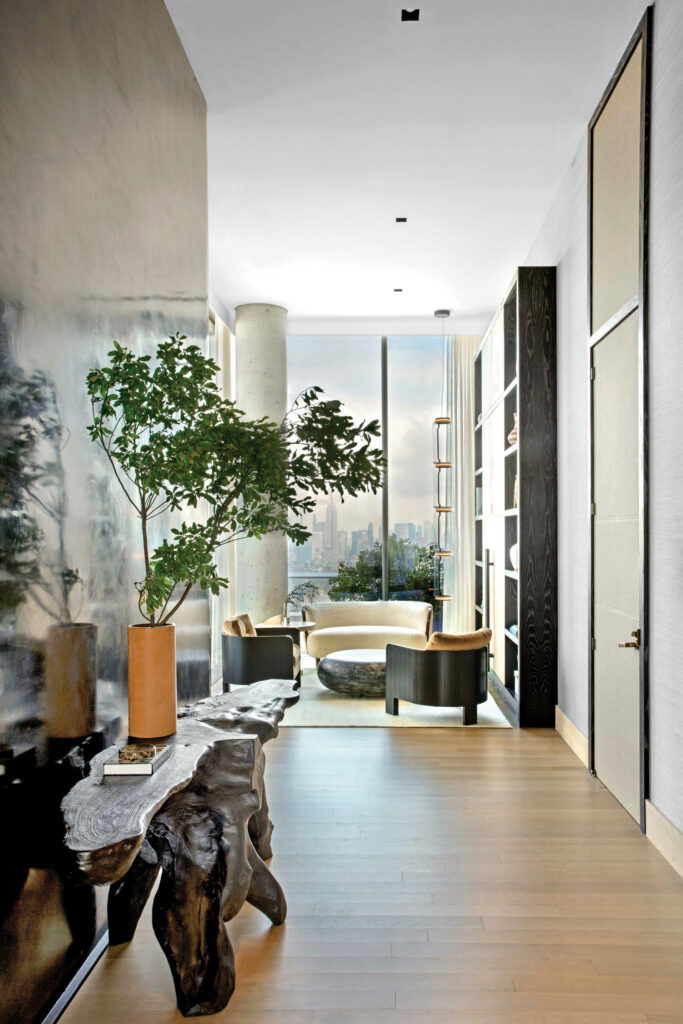 One prime corner of the platform, groovily furnished with furry beanbags on a nubby Moroccan rug, became "the spot people gravitate to," Senyk notes, lured by its casual coziness. (The sunset views aren't bad, either.) Nearby, a custom shelving unit lightly encircles a hefty concrete column. "It divides the space and adds function," Meyer says of the freestanding structure, which incorporates a bar and a professional-level sound system that make the area emphatically party-ready. The column is one of a dozen that march rhythmically along the apartment's outer walls. "The rules we set were all about letting the architecture be what it is," Meyer continues. "We wanted a delicate piece of millwork that wrapped around the column but didn't touch it, didn't diminish its importance."
Wherever Meyer Davis made interventions, it introduced sensuous, luxe materials and finishes. The partition separating the entry from the dining area was refinished in graphite-colored Venetian plaster and the existing gas fireplace in it reframed with blackened-steel panels. "We liked the hand-finished quality," Senyk says. "It's another layer," and the dark massing is a striking contrast to the abundant light everywhere else. Closet doors at the entry were upholstered in leather. Pale cerused-oak wall panels turned one of the four bedrooms into a chill-out den that doubles as a guest room. And by installing the same paneling and a row of glowing pendant fixtures in the door-lined central hallway, a difficult space that Davis says "felt like a service corridor" is now experienced as an atmospheric passage terminating in thrilling city views.
Furnishings Reflect a Relaxed Luxury Aesthetic 
The furnishings—predominantly new or custom pieces with a couple of vintage items thrown into the mix—all contribute to Meyer Davis's trademark relaxed luxury, providing deep comfort while hold­ing their own against the grandeur of the architecture and the glory of the setting. Modern classics like Pierre Paulin lounge chairs and Ingo Mauer pendant fixtures join such contemporary pieces as a BassamFellows daybed and a Kelly Wearstler desk, the ensemble arranged so as not to disturb the pervasive feeling of cloud-borne calm. At the same time, the designers were mindful of placing the furniture in a way that, Meyer notes, "enhances your ability to take it all in." The overall palette is neutral but far from colorless, comprising mostly blues, grays, and browns. The rust color of the velvet upholstery on a sofa in the den is the boldest hue in the apartment. "We brought in colors from the city and the sky," Meyer concludes, "so as not to compete with the main event."
---
---
Inside the Manhattan Penthouse With Expansive Views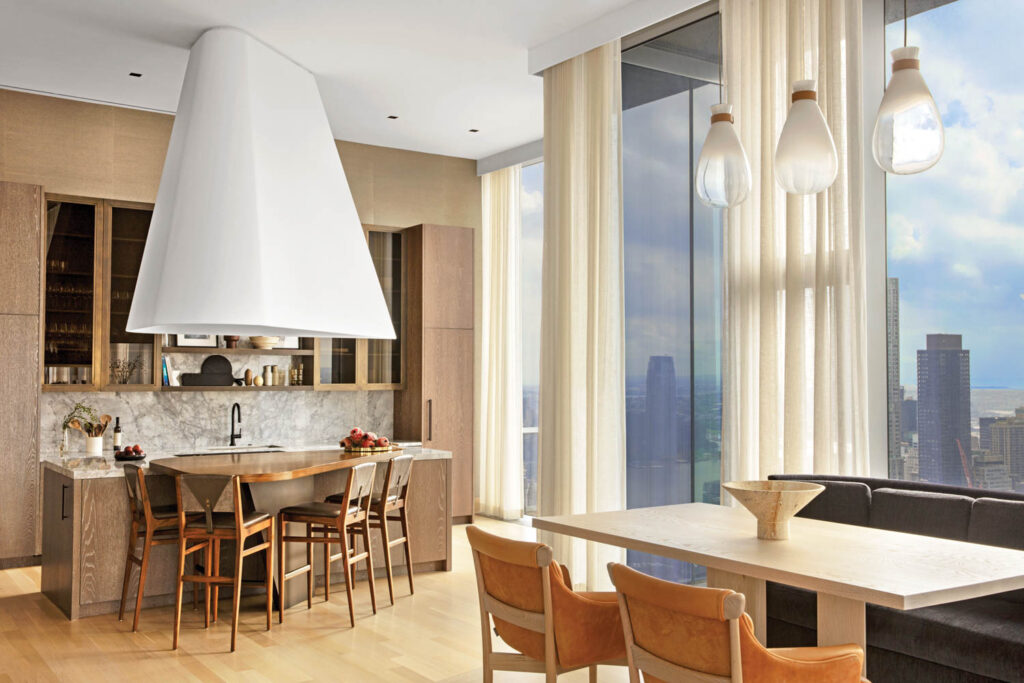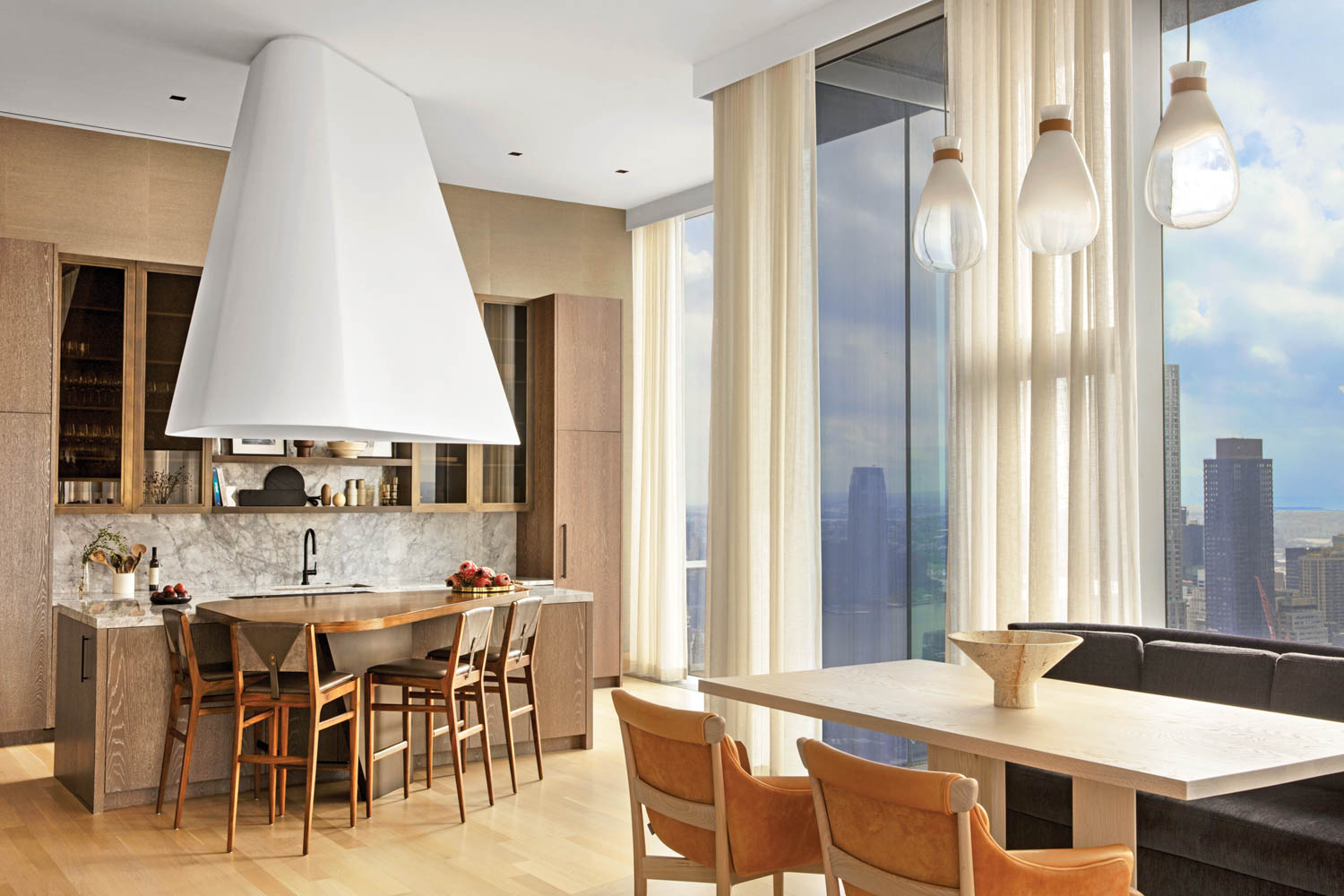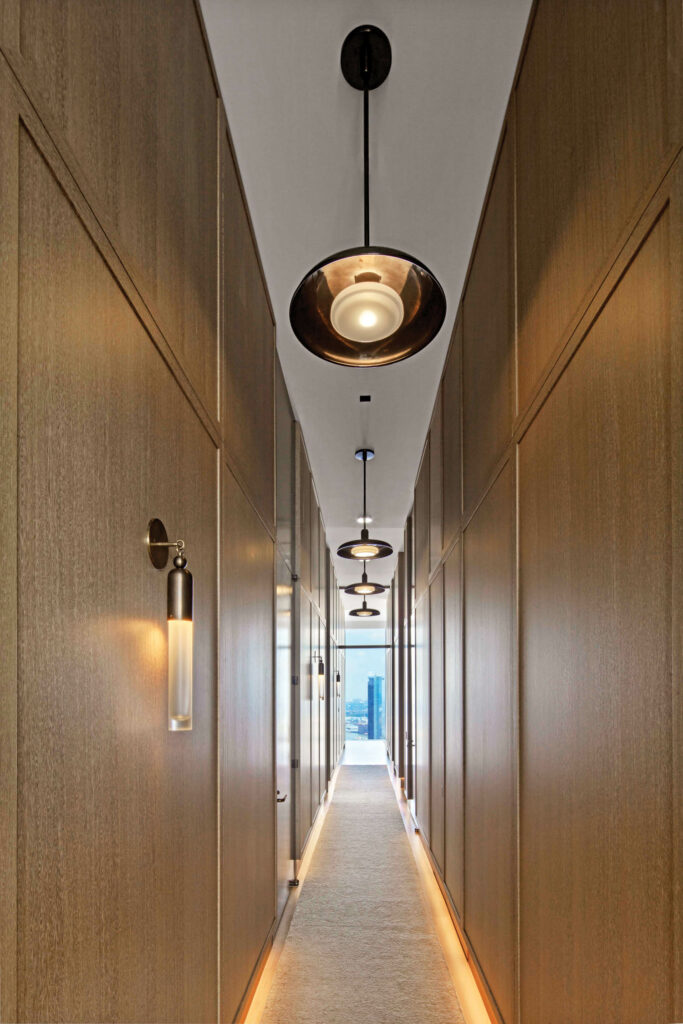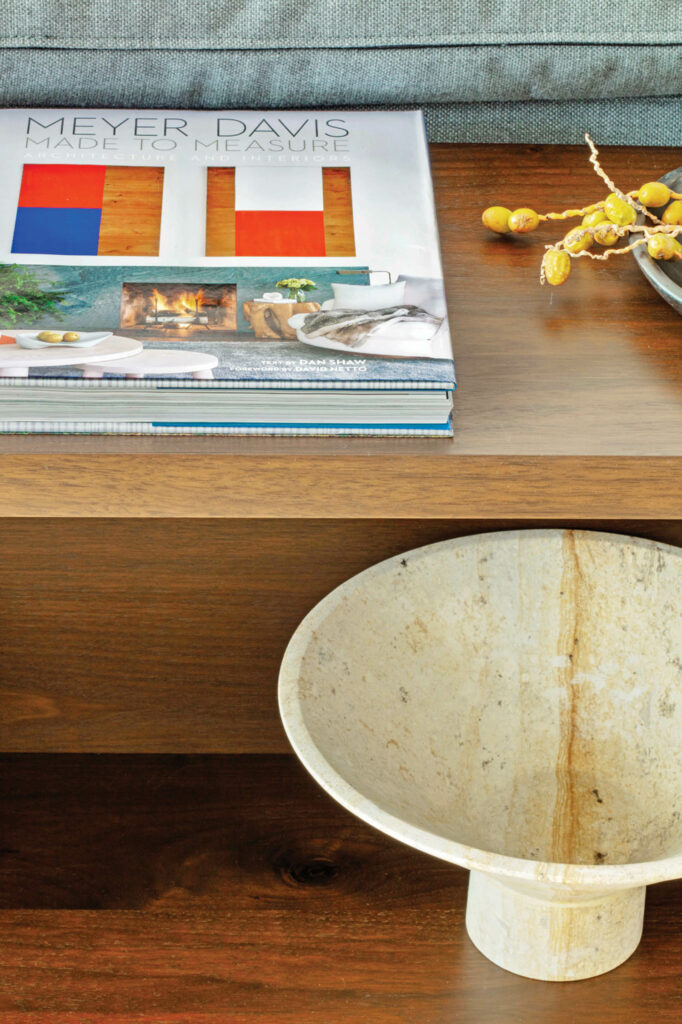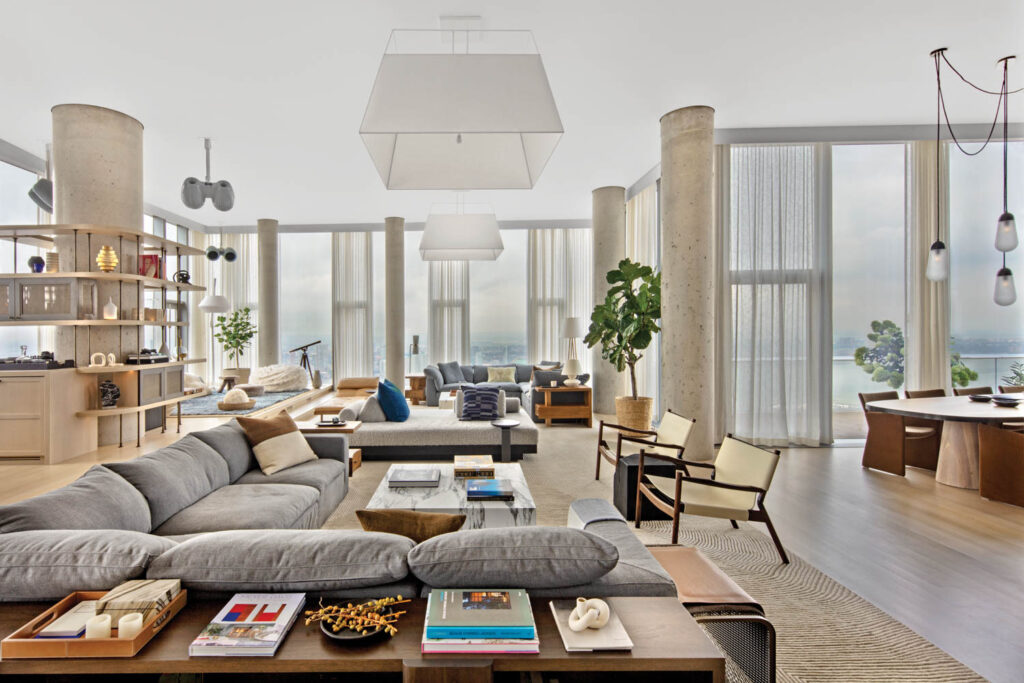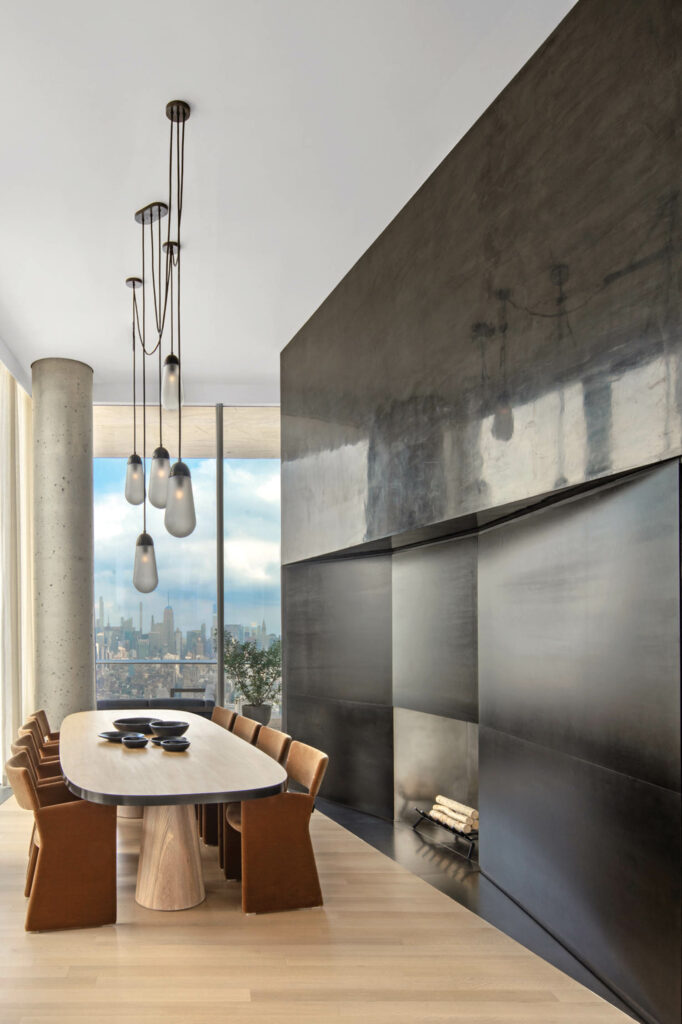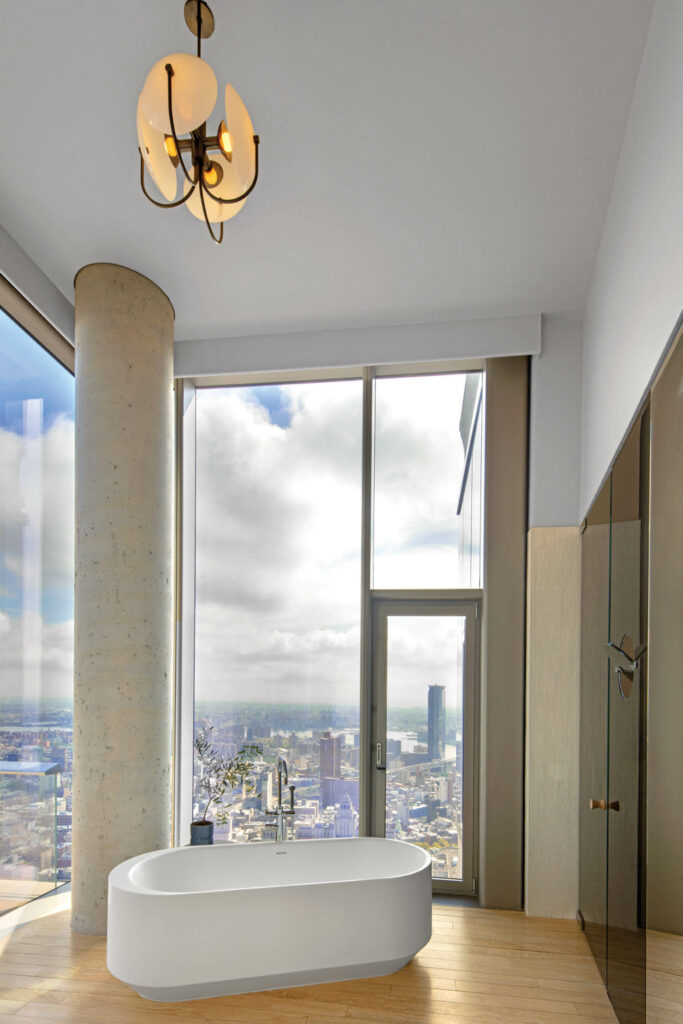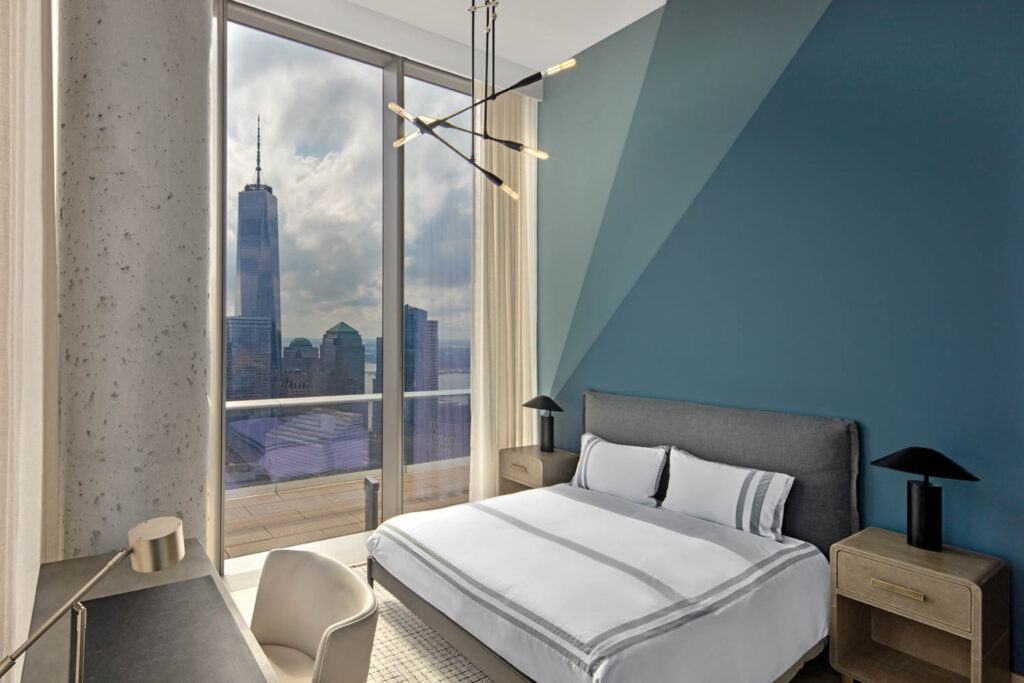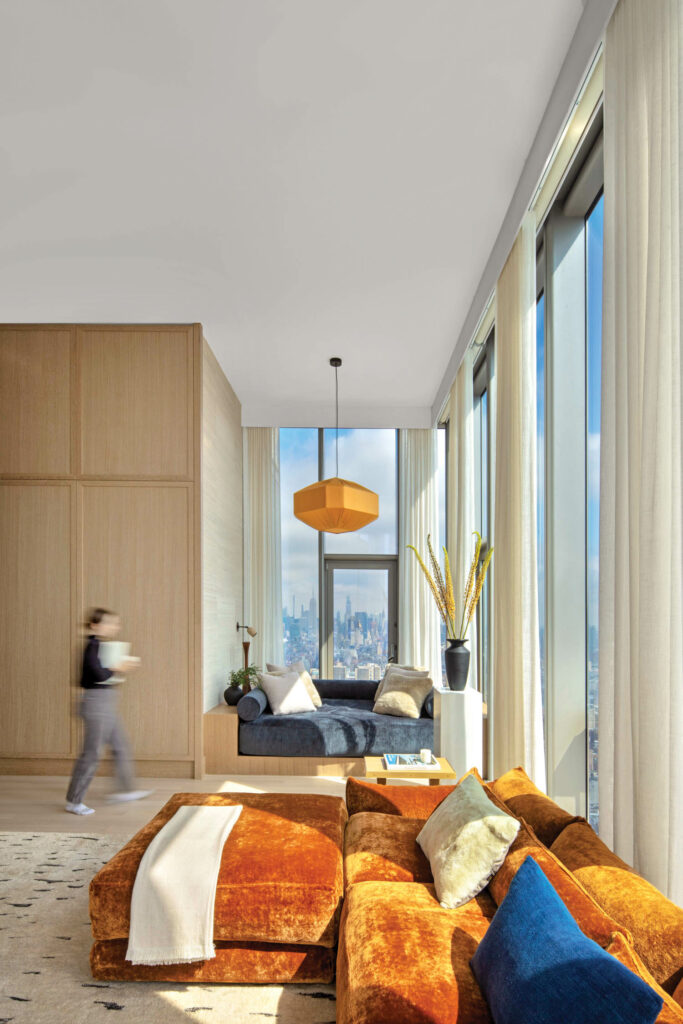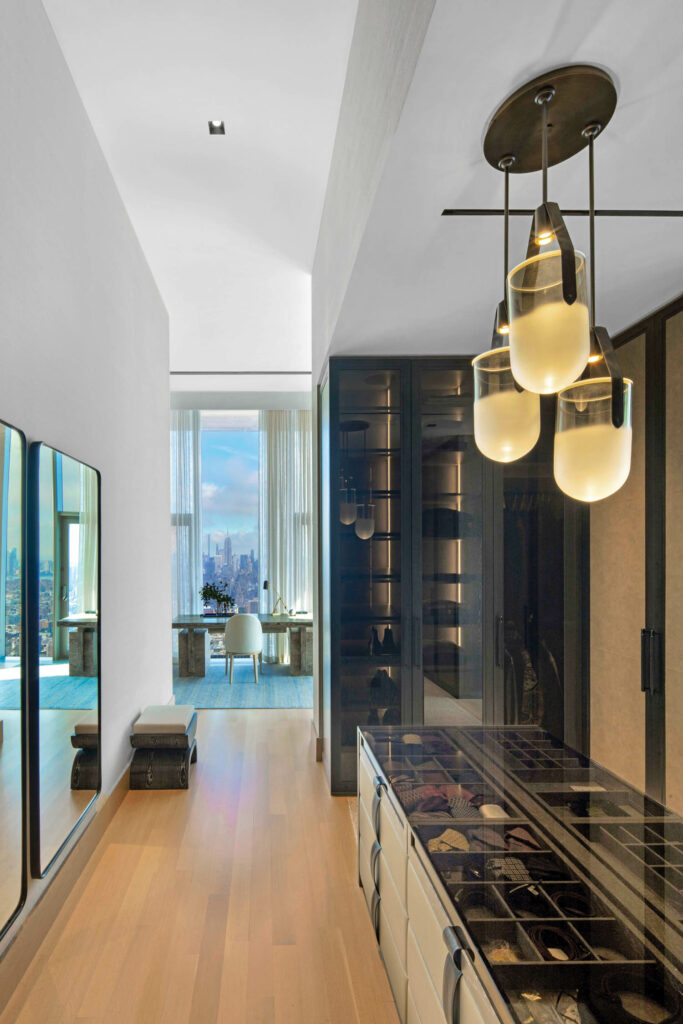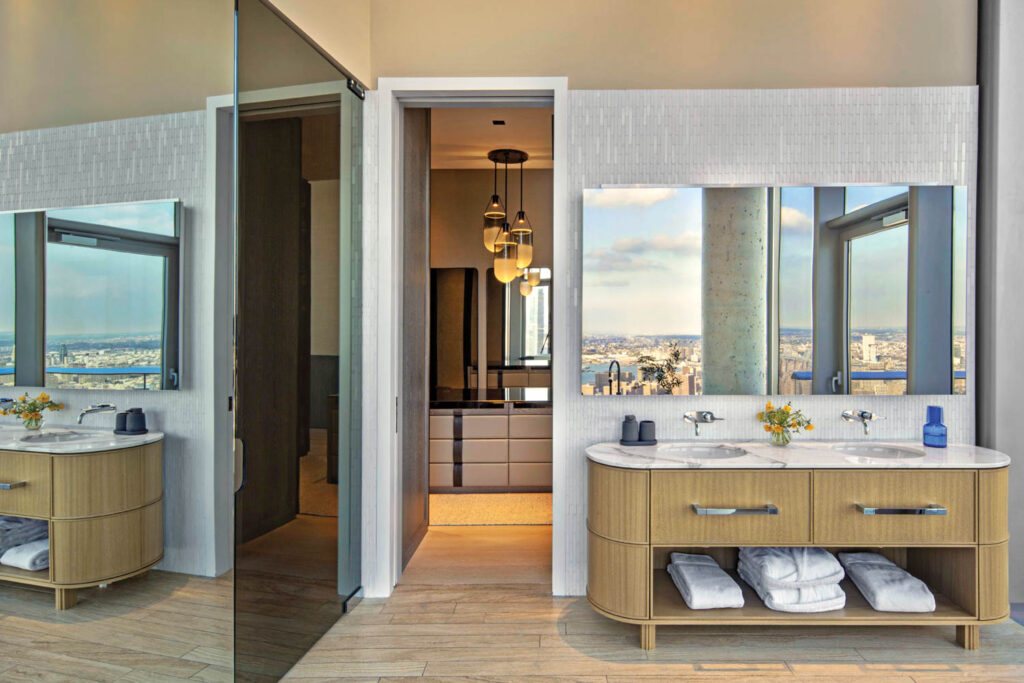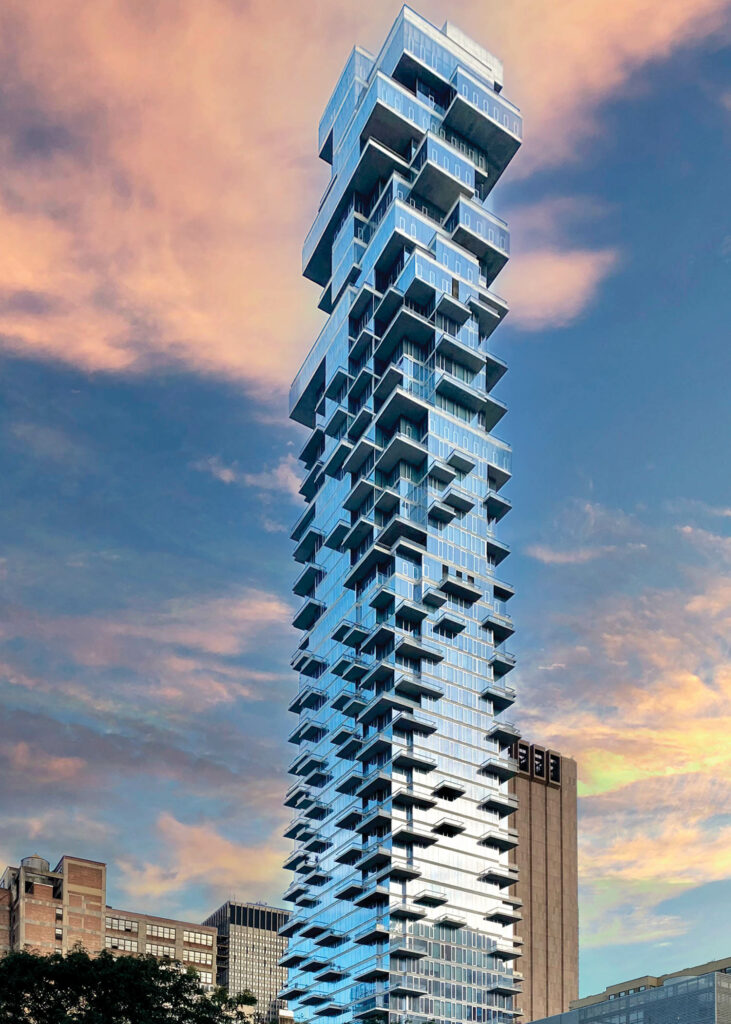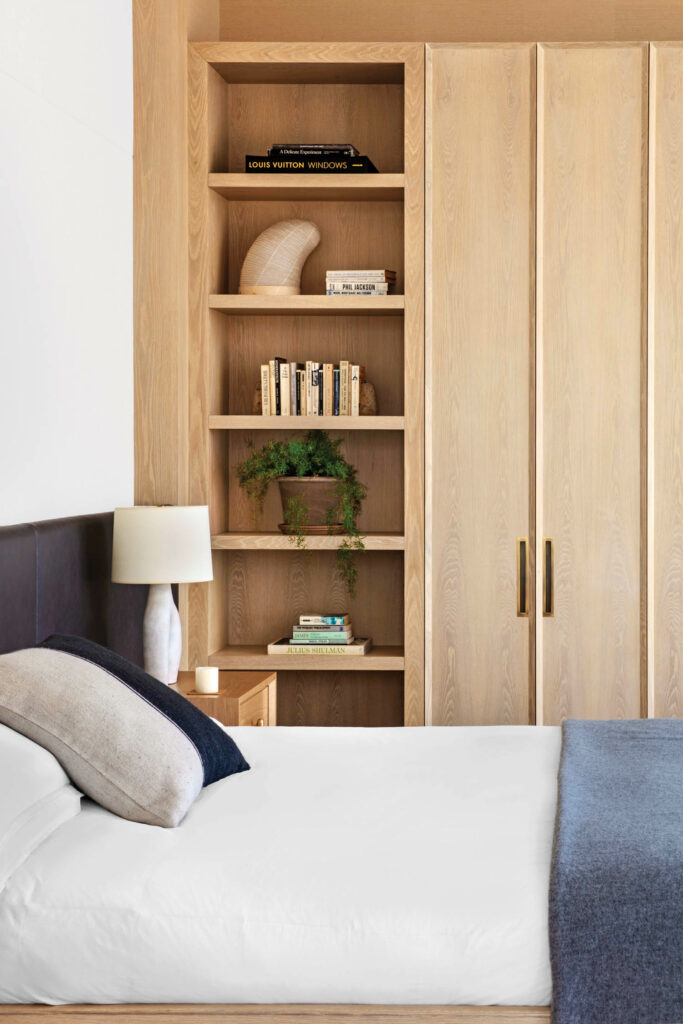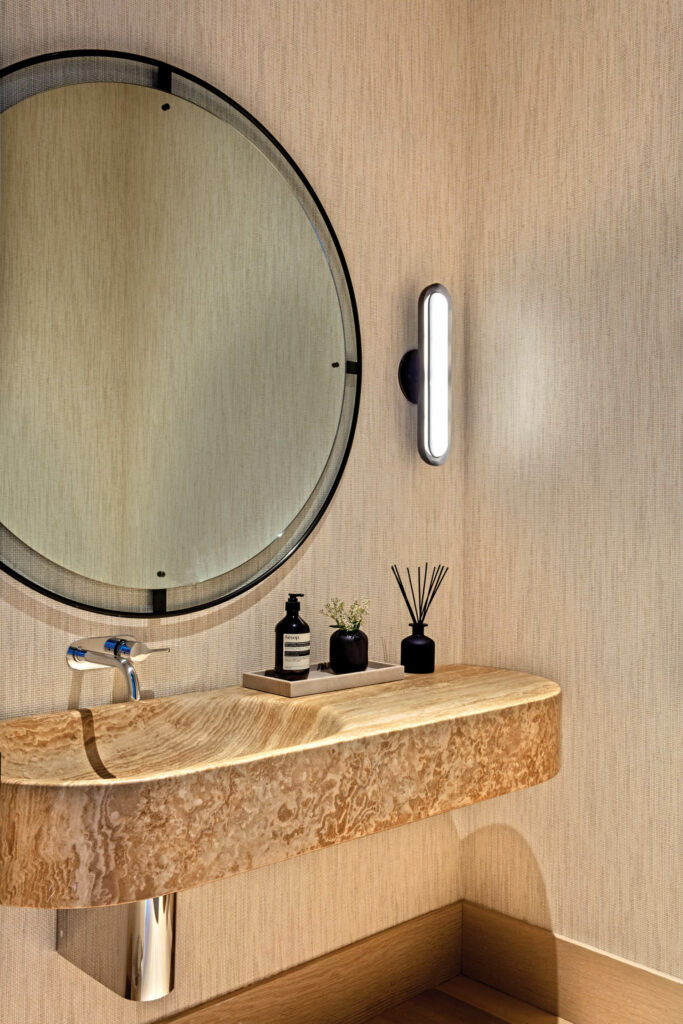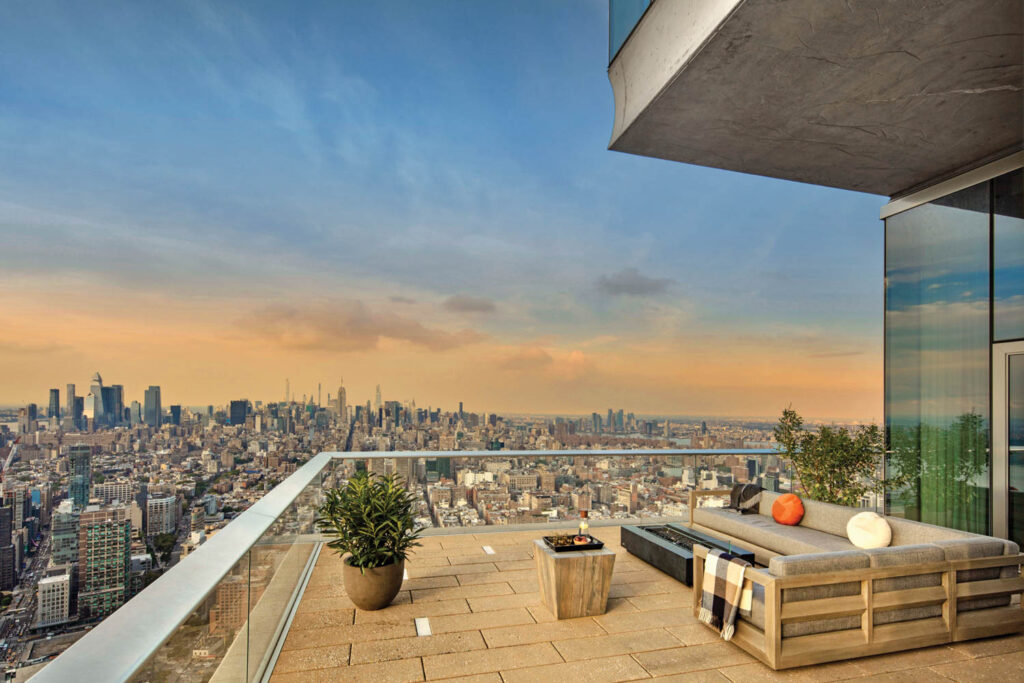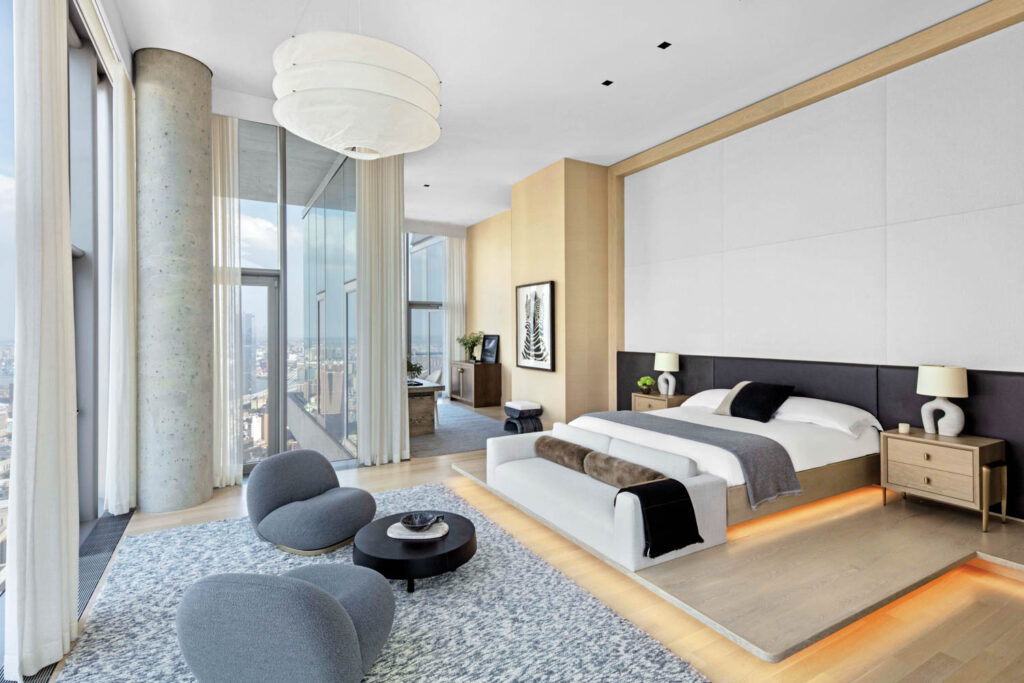 PROJECT TEAM
PROJECT SOURCES
FROM FRONT
THROUGHOUT