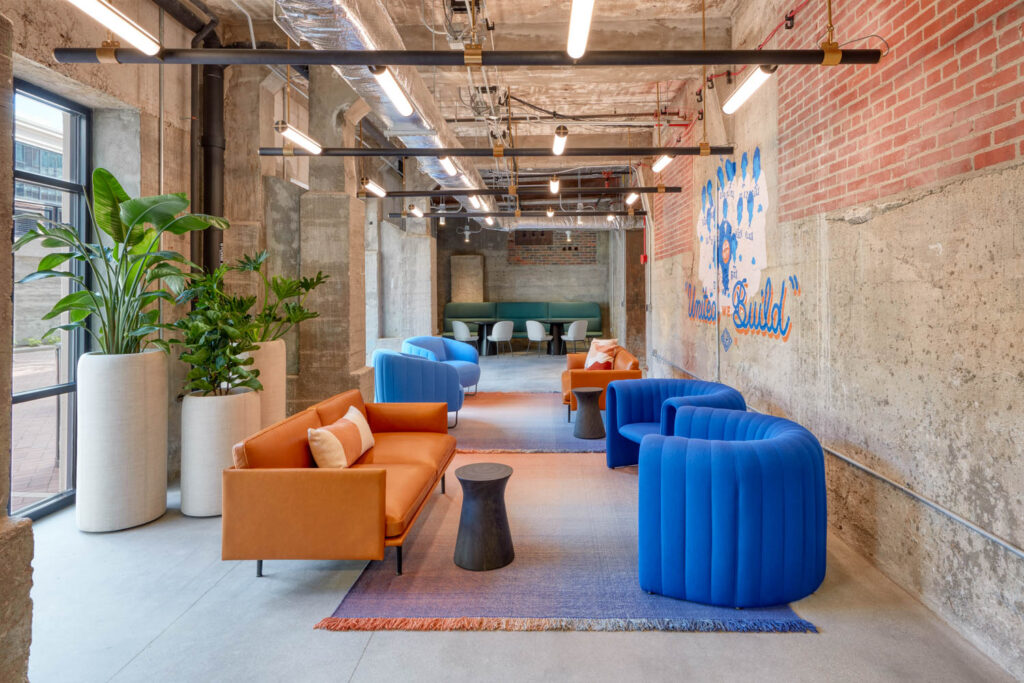 CannonDesign Injects Fresh Energy into a Historic GE Campus
When it comes to General Electric, Indiana is home to one of the brand's historic epicenters. Located in Fort Wayne, the former manufacturing campus, which opened in 1883, is now a beacon of innovation thanks to a collaborative design overhaul led by CannonDesign. Known as Electric Works, the build spans 39 acres and includes space for work, housing, retail, and more.
"We began with deep research around Fort Wayne's innovation history and more specifically the impact General Electric (GE) had on the community," says Michelle Rotherham, St. Louis interiors practice leader, CannonDesign, noting the company's varied contributions, from street light systems to motorized elements for home appliances. "In addition to this legacy of invention, General Electric defined Fort Wayne's business economy through the 20th century," adds Rita Radley, interior design leader, CannonDesign. "At its peak in 1944, GE employed about a third of Fort Wayne's workforce. So, beyond just celebrating innovation, we also wanted to create a design that paid homage to the sheer impact this place had on its home city."
How Sustainable Practices Inform the Design of Electric Works
With design partners Ancora and Carr Workplaces, the team identified three project goals: Connect to the GE legacy; celebrate local artists and makers; and create energized spaces that encourage interaction and innovation. The resulting space delivers on all counts. The bones of Electric Works's industrial complex shine in its various hubs, which feature flexible work spaces, event space, and expansive conference rooms. "We all understand that adaptive reuse is an especially important sustainable design strategy moving forward and I would argue the Electric Works project takes this even further," says Rotherham. "We were so deliberate and intentional with every material and every space. We hardly painted any of the existing structure, we did not use cladding. We put modern design elements in the beautiful existing architecture and preserved as much of Electric Works' built legacy as we could."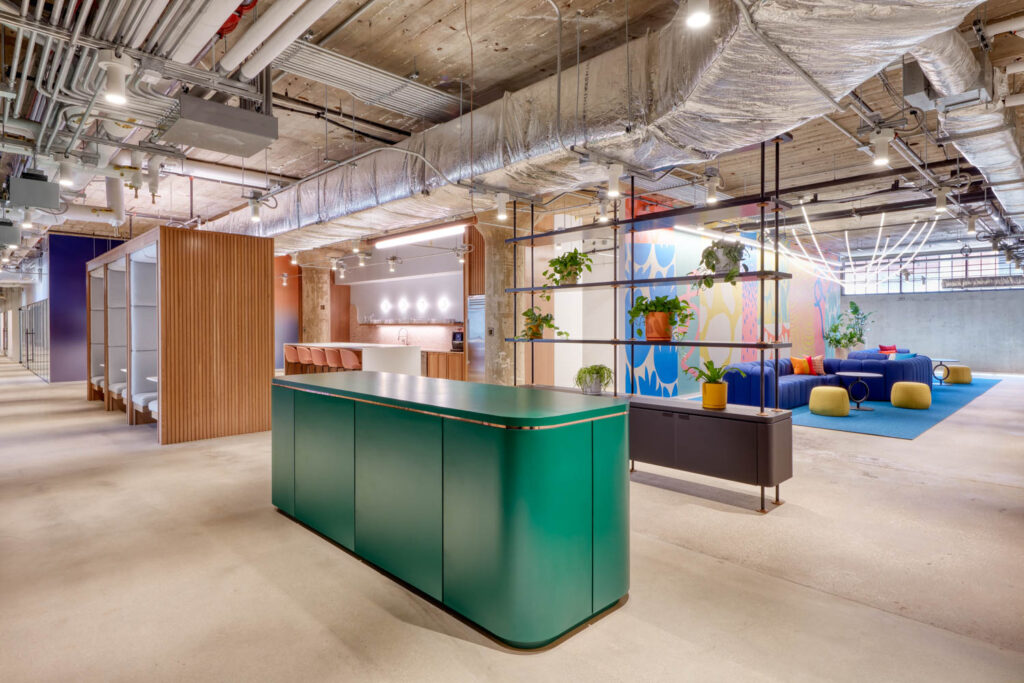 But the designers didn't stop there. They measured the sustainable impact of the entire Electric Works development, beyond their project alone. "In retrofitting the buildings with new windows, roof assemblies, accessibility features, Mechanical, Electrical, Plumbing (MEP) systems within the existing building as opposed to building new, Ancora saved an estimated 28,000 metric tons of carbon emissions," adds Radley. "That is equivalent to what it takes to power 3,500+ homes for one year. It would take 461,312 tree seedlings ten years to sequester that amount of carbon."
Local Art Illuminates a Rich Company History 
The industrial aesthetic in the Electric Works office complex reflects the building's roots: Exposed concrete and brick walls are balanced by pops of color and flexible furnishings. Works by local manufacturers and artists enliven the walls curated in collaboration with Field Trip Art Advisory, a group dedicated to engaging the city's community. Nods to copper magnet wire, a material invented in Fort Wayne that played a critical role in generating electromagnetic field needed to power GE appliances, are woven throughout, including in copper chandeliers. Vibrant murals, meanwhile, offer a visual narrative of the company's history. Fort Wayne artist Lyndy Bazile reimagined old GE blueprints with fresh geometric forms and local woodworker Nicolas Kramer built tables from trees removed during construction, the designers share.
Of course, in a space dedicated to the power of electricity, lighting plays a vital role. A variety of fixtures illuminate the space, adding a soft glow. "Lighting was an important aspect of this project, both because of GE's Arc lighting system and the limited access to daylight the existing structure provided," says Olivia Gebben, interior designer, CannonDesign. "The colors, our creative lighting solutions, even the Calico wall coverings create these bold bursts of energy and light throughout, especially in the social spaces." Every detail makes for an energized work space pulsing with life.
Walk Through Electric Works's Industrial Chic Work Space