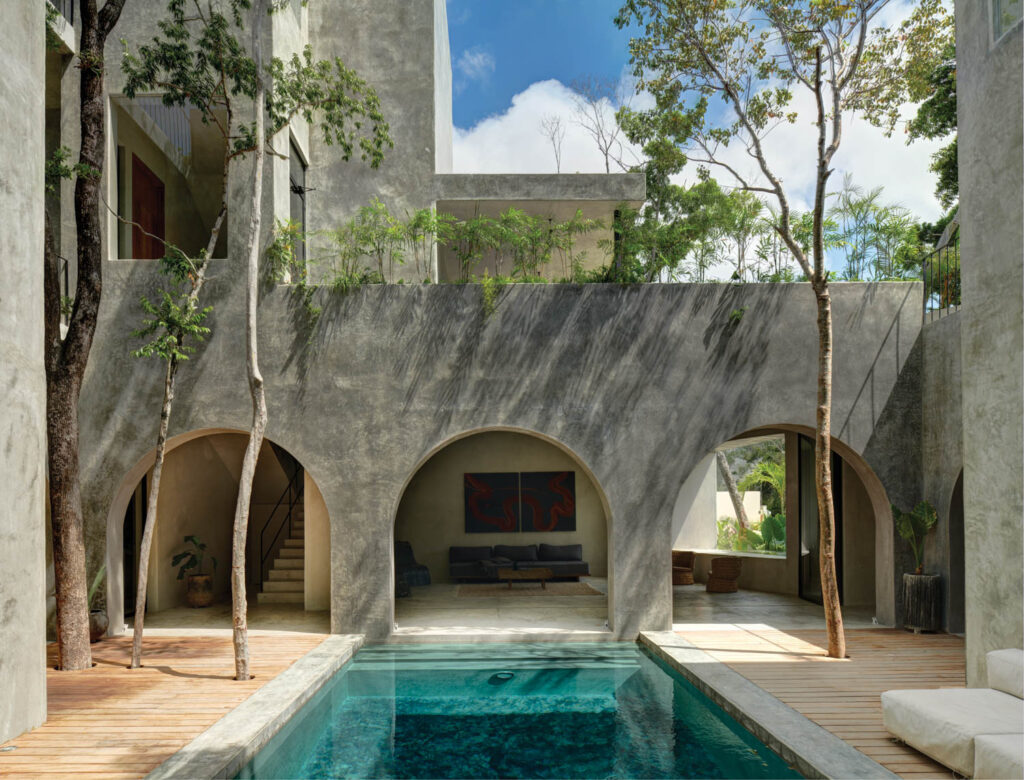 A Contemporary Hacienda in Tulum Caters to Local Makers
The "life's short" wake-up call of COVID inspired many people to make major lifestyle changes—from resignations to relocations. For Aviv Siso, that meant leaving behind the rat race of New York, his home of 20 years, for coastal Tulum, Mexico, on the Riviera Maya. The Belgian-Israeli entrepreneur had recently visited the wellness-focused beach destination and fallen for its luxe-bohemian vibe. "The pandemic presented the perfect opportunity to break from my intense city life, to disconnect and try something new," Siso explains.
A real-estate investor, property developer, and partner at Equator Capital Management, Siso desired an abode that could comfortably accommodate guests, potentially serve as a rental villa when he was out of town, and function as a hub to host yoga retreats and other confabs for Tulum's dynamic community of creatives. He purchased a small plot in a leafy neighborhood with the ambition to create a minimalist structure that nurtured a feeling of calm, with high ceilings, expansive windows, an open flow of spaces, and a strong connection to the surrounding vegetation—a modernist take on the traditional Mexican hacienda. He envisioned pairing local stone and timber with polished concrete, a material whose gray tone would contrast nicely with the property's greenery and that would leverage the construction skills of area artisans. "There is such apprec­iation here for craftsmanship," he notes, "and beautiful concrete- and stonework are entrenched in Mexican building culture and tradition."
An Abode Designed to Reflect Mexican Culture and Tradition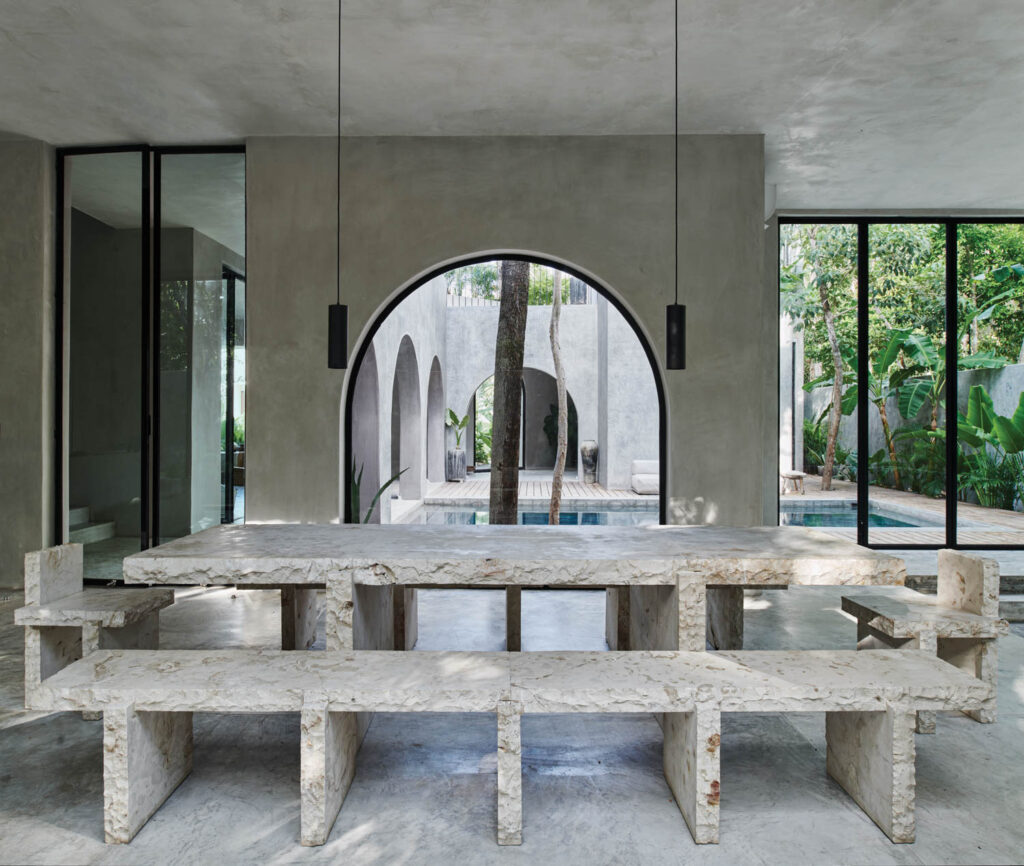 Siso enlisted a team of multidisciplinary talents to realize his concept. After collaborating on the original plans with Luis Alejandro Cuesta Perusquía, founder of the sustainability-minded local firm Arquitectura Mixta, Siso completed the project with the help of Alexandra Pedregal, a friend and designer in mediums ranging from interiors to fashion. The resulting five-bedroom residence, with five bathrooms and two half baths, is apportioned into two wings: a three-story main house and a slightly sequestered two-story volume containing a garden-level sleeping suite and a second-floor studio with mini-kitchen and lounge, all totaling 8,000 square feet. Common rooms are arrayed around a central courtyard pool in the manner of a Moroccan riad, while secluded bedrooms overlook the tree canopy. Folding iron-frame glass walls and full-height picture windows create an easy indoor/outdoor flow throughout, while an enfilade of arched doorways between spaces softens the austerity of the matte-polished concrete architecture. The deft interweaving of alfresco, enclosed, and intermediary zones and the careful framing of sight lines offers a sense of discovery from different perspectives and vantages.
To resolve the decor, the pair turned to another multihyphenate entity, World by Hand, a downtown Tulum boutique founded by Francia Rábago that sources handcrafted designs from across the globe. The studio supplied most of the textiles, rugs, and cushions—as well as the rattan chairs presiding in the gallerylike living room—and, through its architectural arm, oversaw aspects of the build-out and landscaping.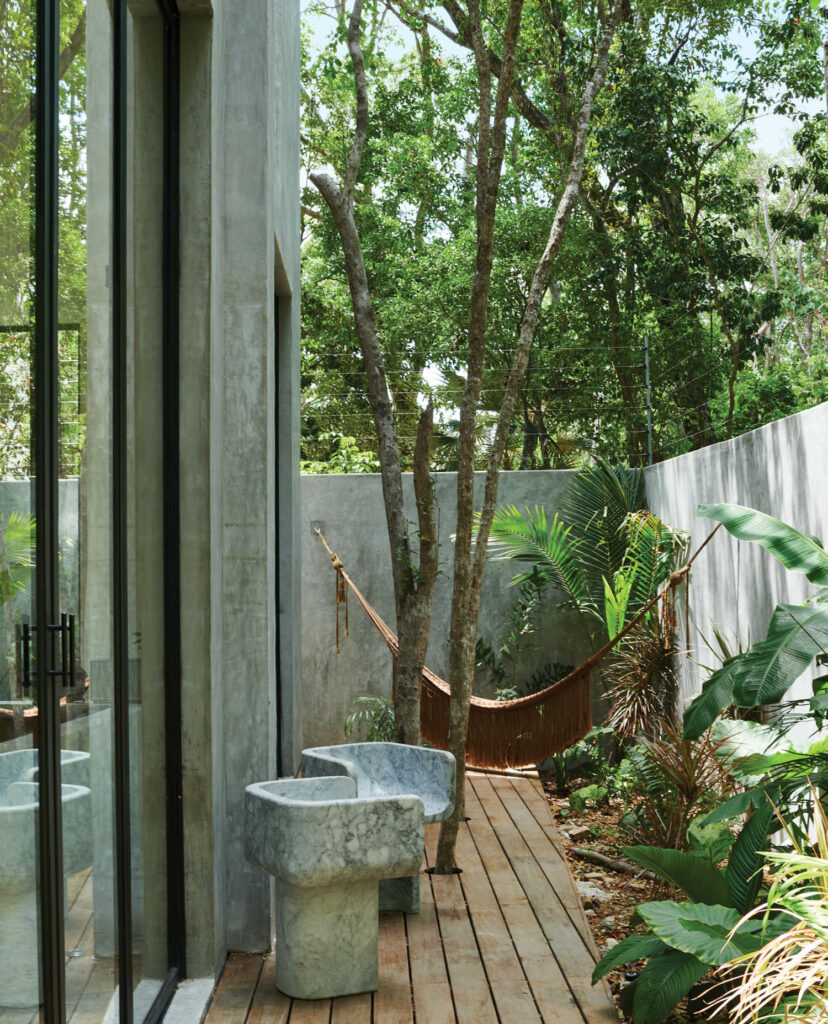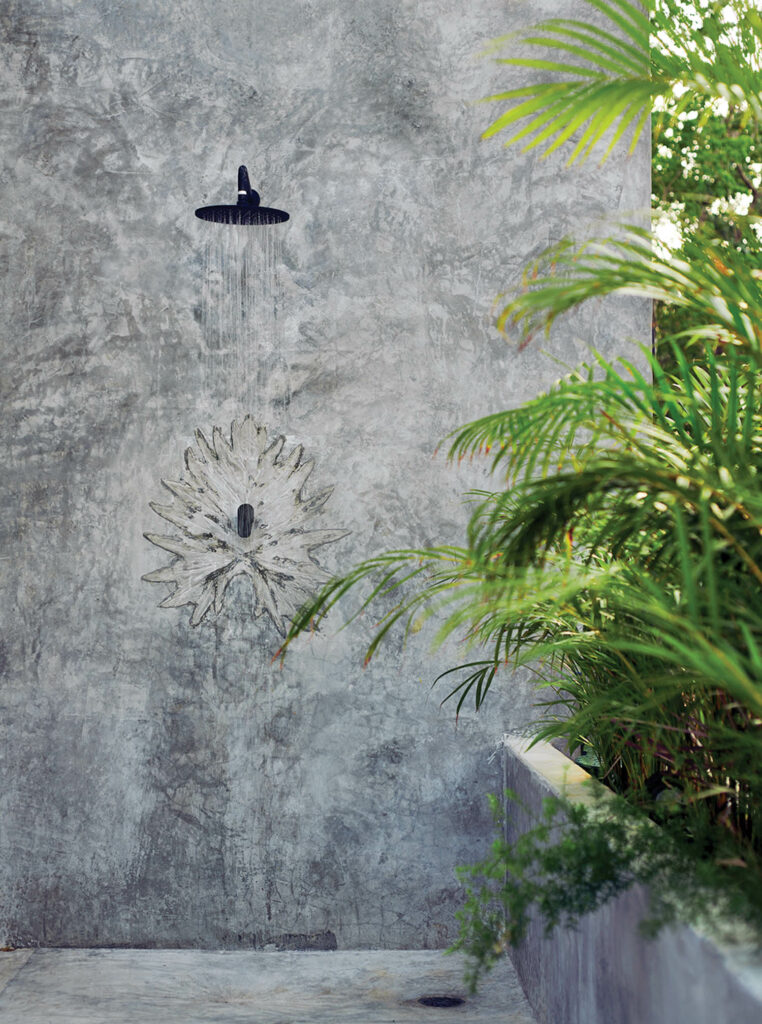 A Modern Hacienda With Functional Art
The mood inside is serene, with hushed tones and sculptural appointments. Verdant views form the backdrop of almost every room. Statement furnishings crafted from local stone are in perfect alignment with the architecture and further connect the interior to its natural surrounds. The dining area's table, benches, and chairs, for instance, are unique pieces of functional art made from rough-hewn slabs of Crema Maya, a lush Mexican limestone. They are the brainchild of architectural designer Stephanie Ström, founder of Sublime Studios, a cross-disciplinary outfit based in Tulum and Melbourne, Australia. Shaped by the passing of time, the pieces suggest modernity, while appearing as though unearthed from some long-forgotten temple. "The stone's neutral base and veining adds a sense of movement that creates a feeling of nature," says Ström, who credits Constantin Brâncusi as inspiration, as well as Japanese and brutalist design. She also contributed a pair of elemental stone lounges that occupy the living room and the cylindrical steel pendant fixtures illuminating the kitchen/dining area.
The heart of the house, where everyone gravitates at the end of the day, is the sitting area's conversation pit. The sunken sectional centers on a cocktail table accented with handmade resin vessels by artist Mónica Calderón, whose work channels ancient Mexican designs; a hidden switch converts the tabletop to a firepit. "This is a house that ultimately needs to be enjoyed with an ensemble—to give space to express and share art, music, meditation, and food, to create memories," Siso enthuses. Nicknamed Casa Shalva, a moniker derived from the Hebrew expression for the sensation of peace, the retreat is ultimately a place to disconnect and connect in equal measure.
Inside the Meditative Retreat Designed for Indoor-Outdoor Living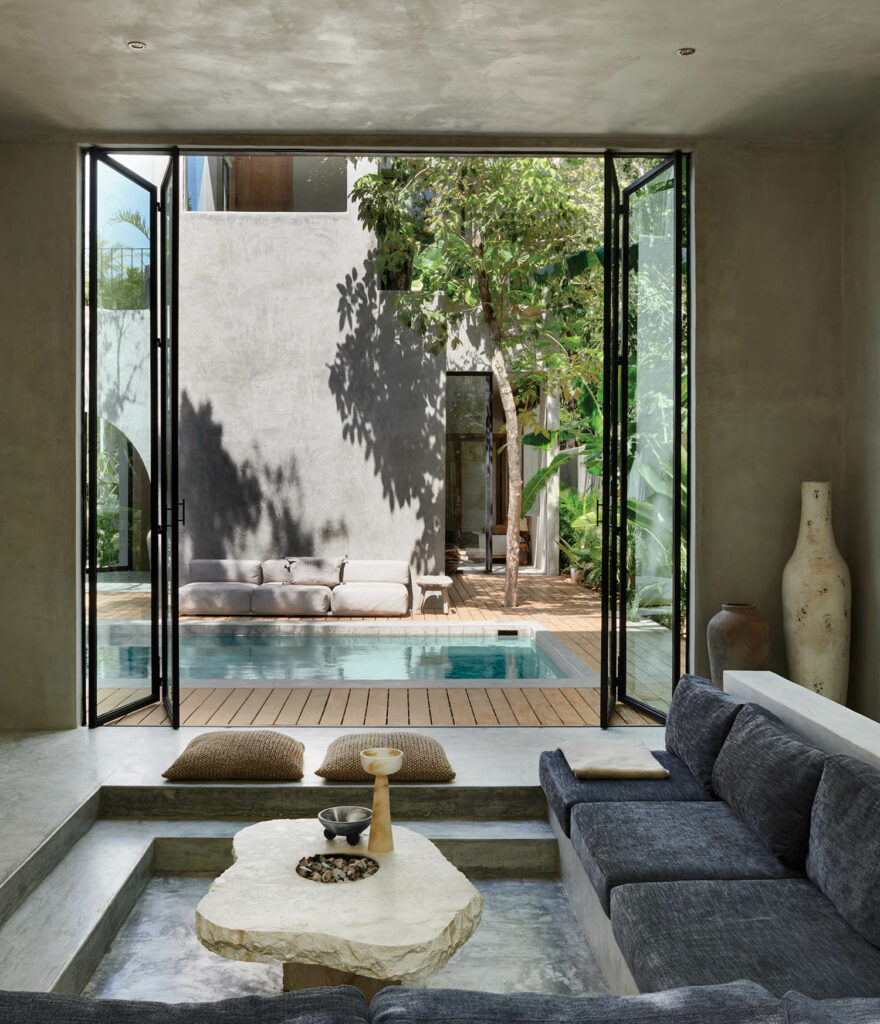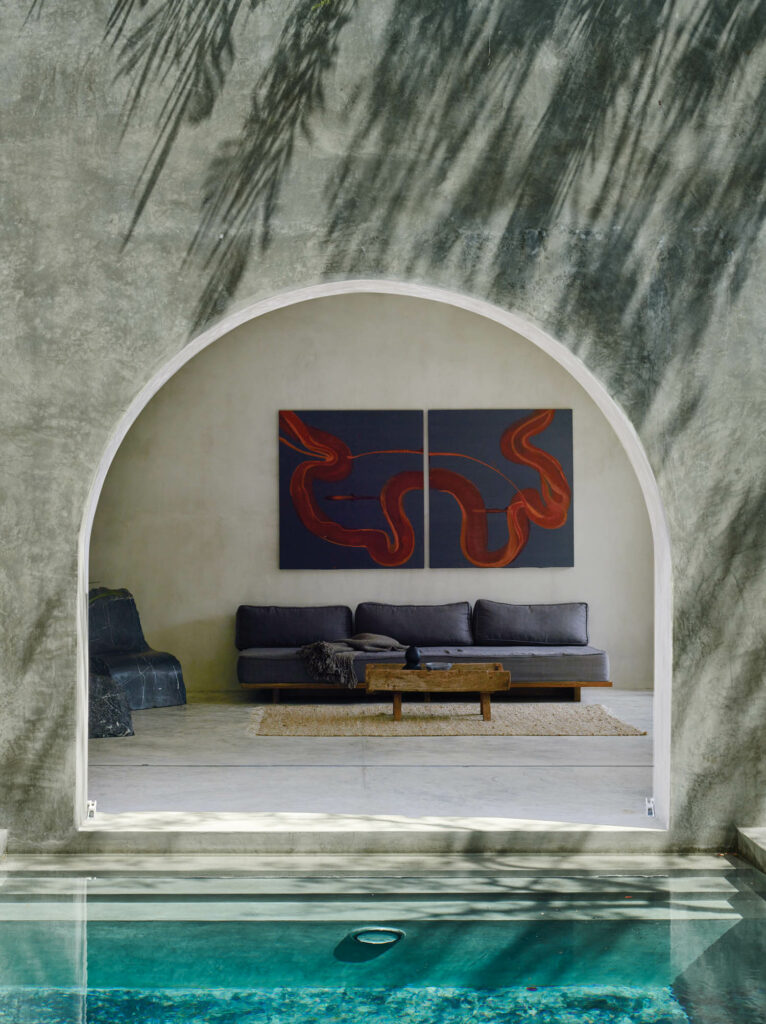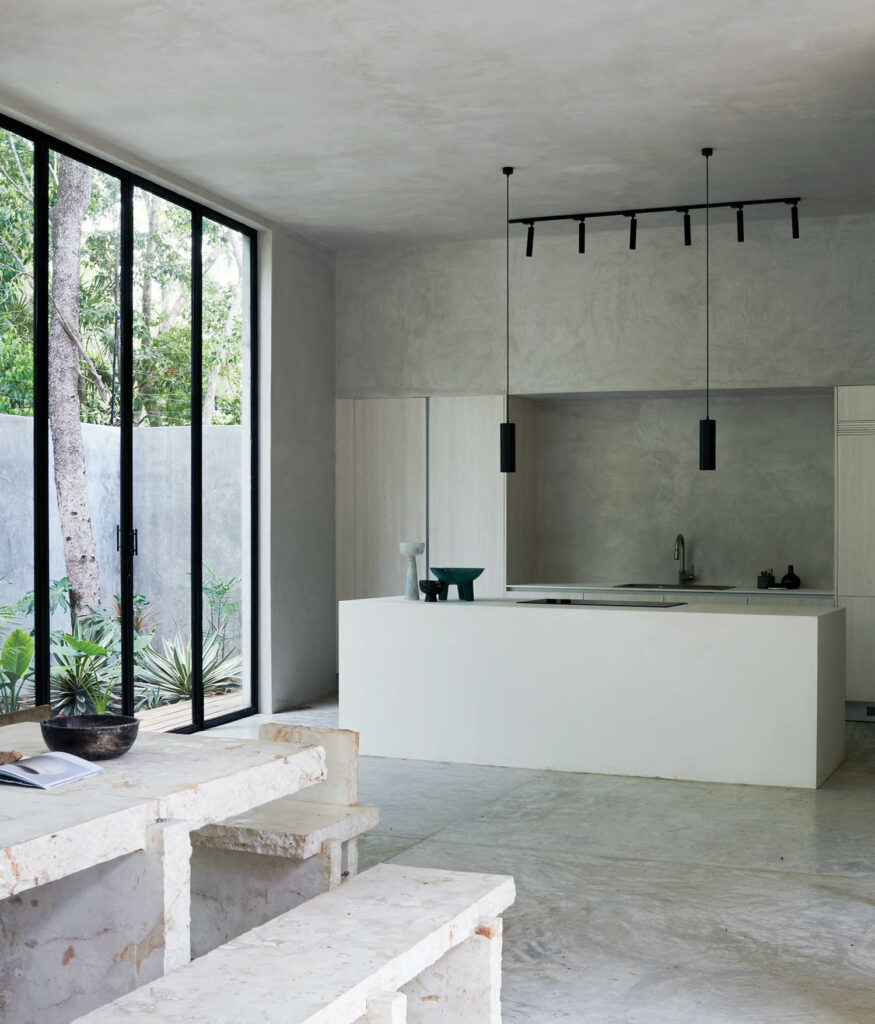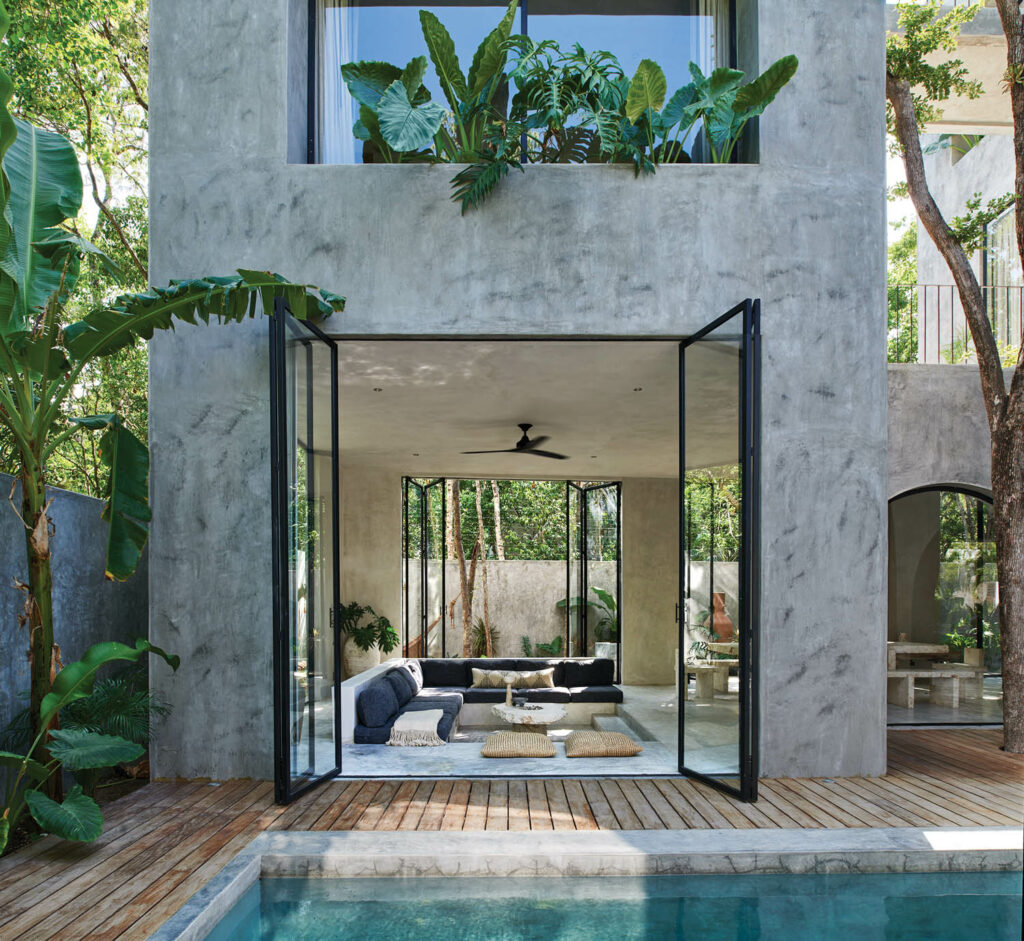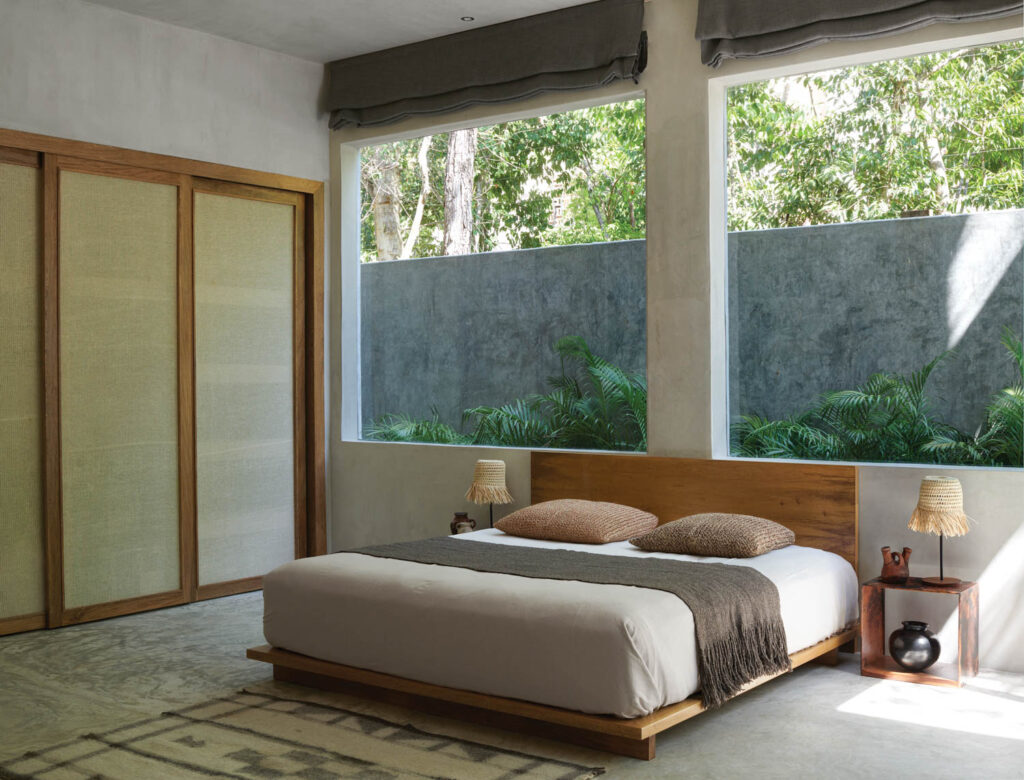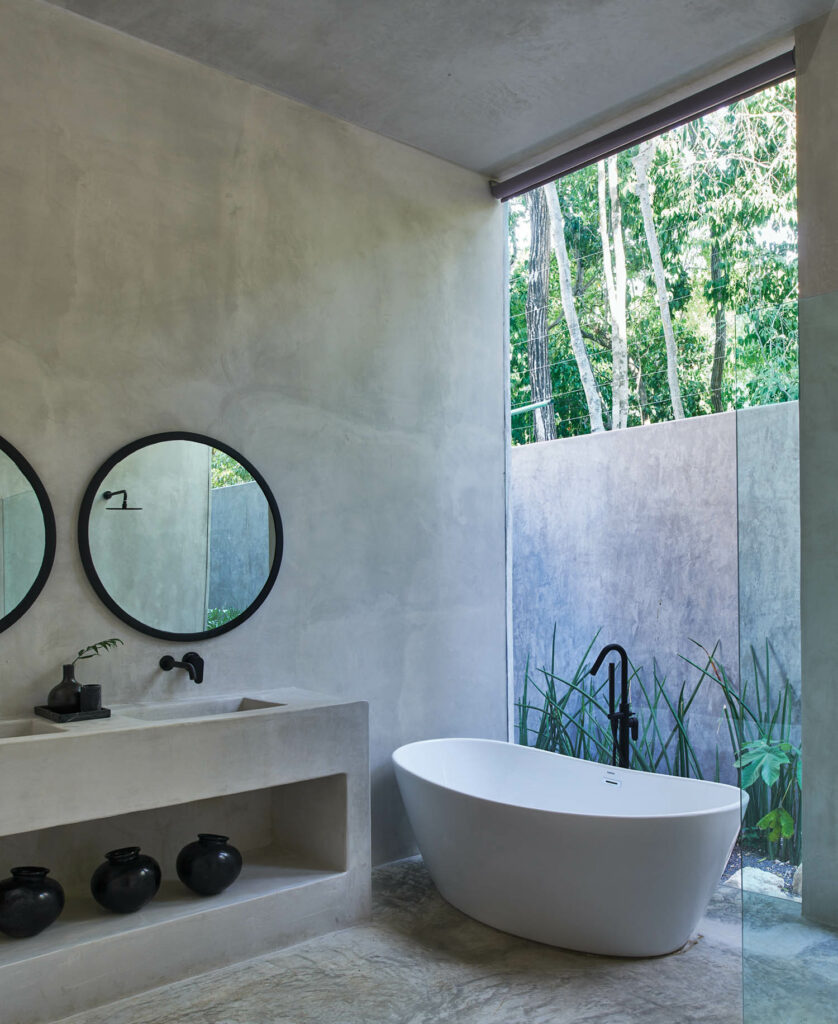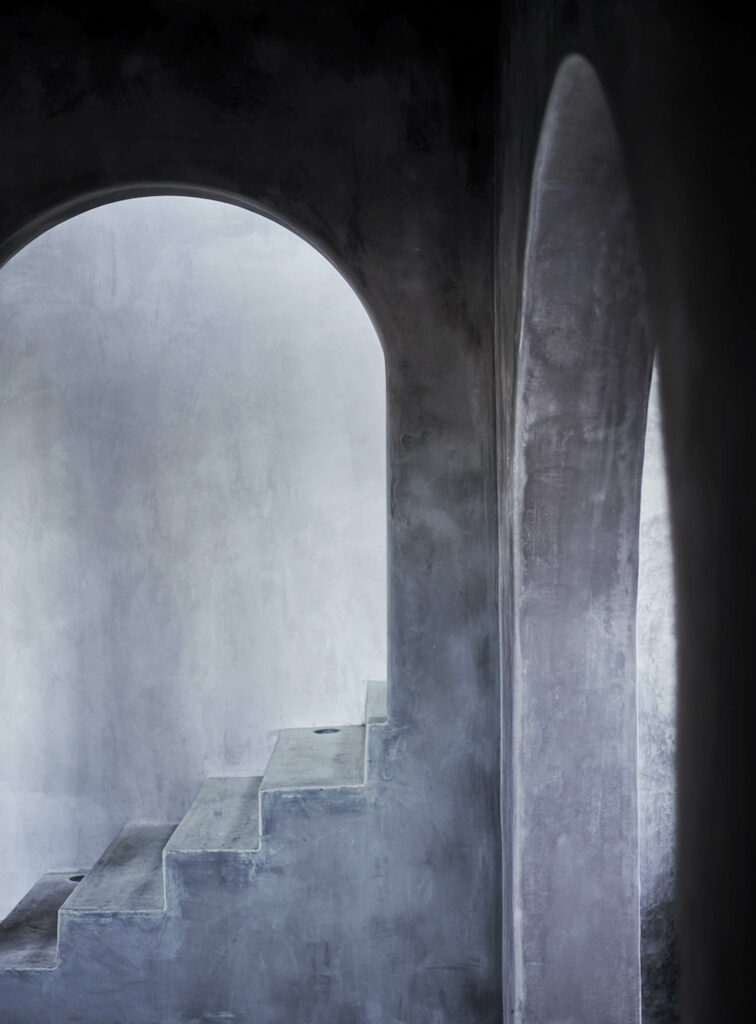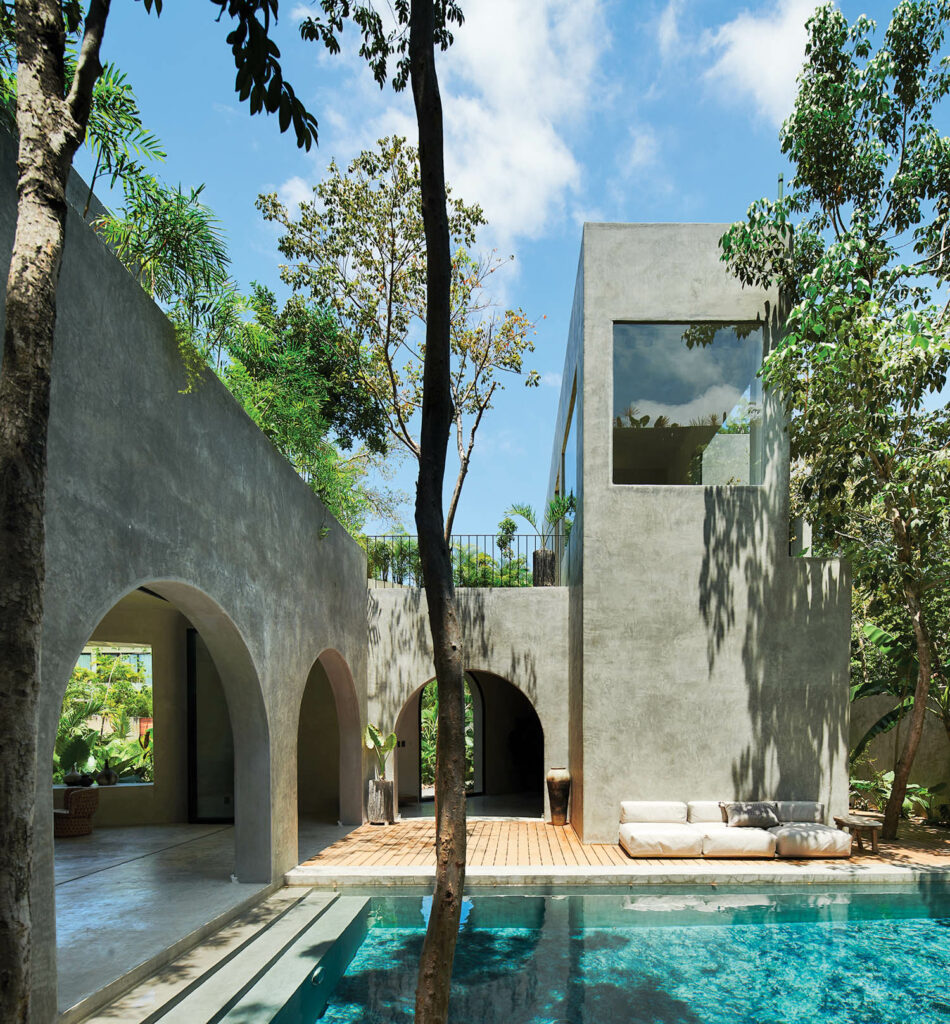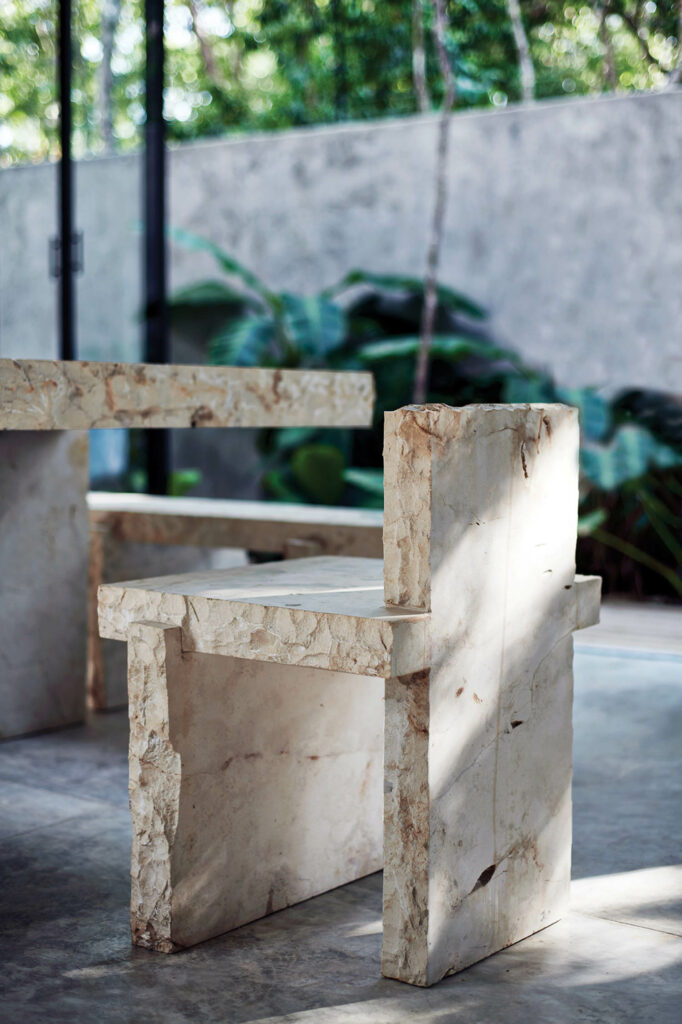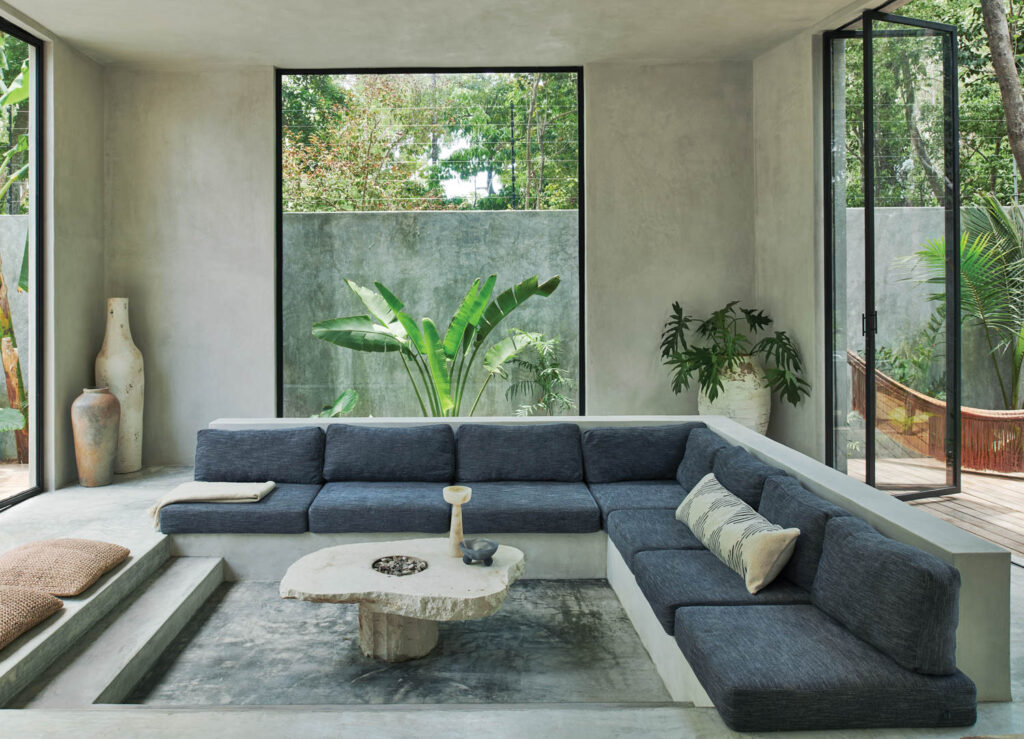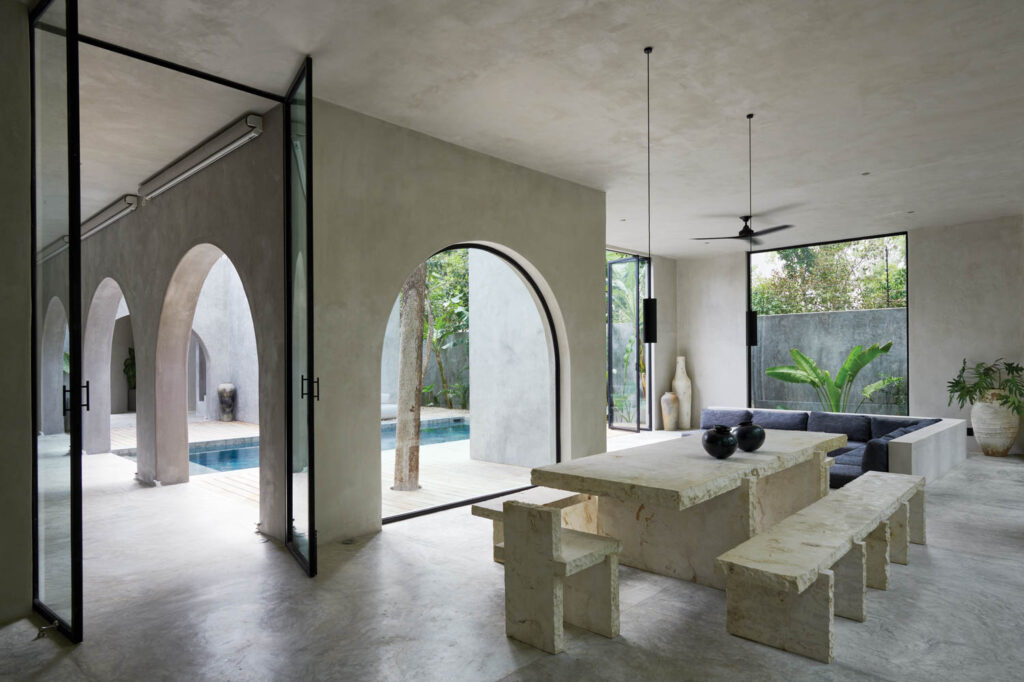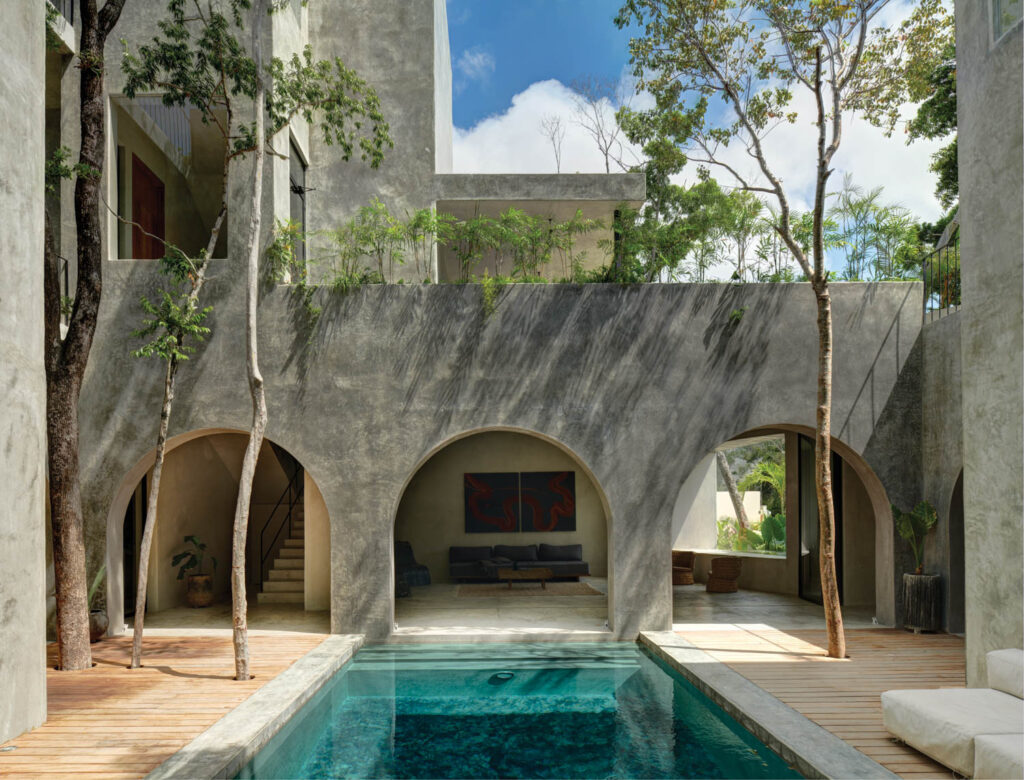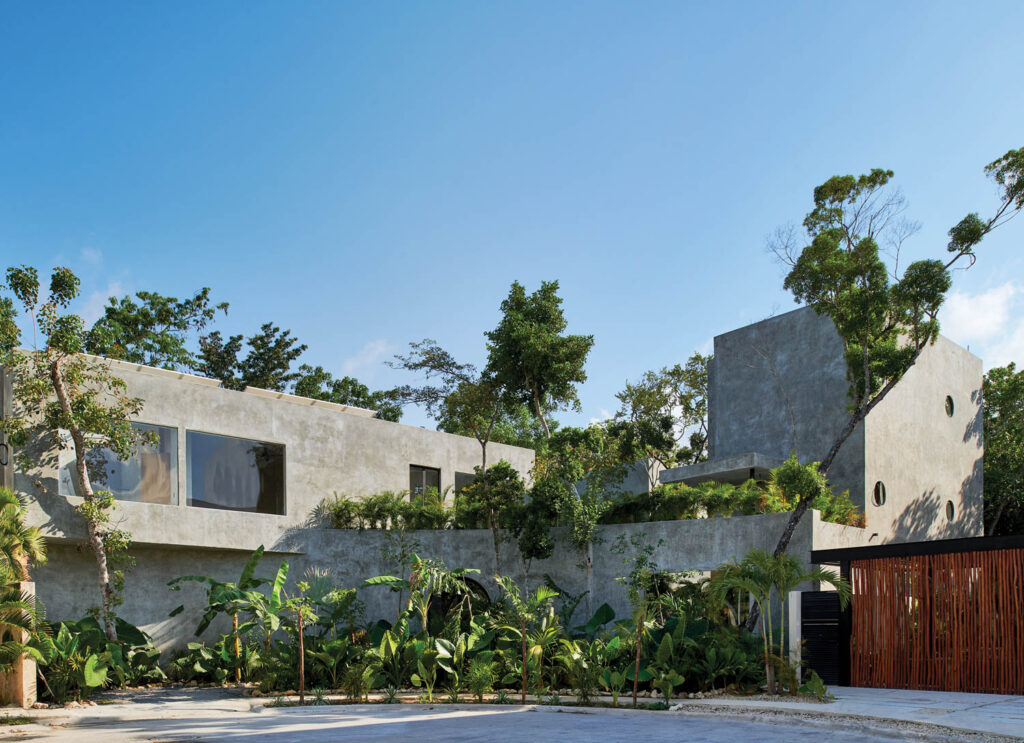 project team
world by hand: construction, landscaping, custom furniture workshop.
project sources
sublime studios: floor cushions (sitting area), table, chairs (dining area, garden).
mónica calderón studios: ceramics (sitting area, kitchen).
through sumo galeria: paintings (liv­ing room).
ramon soler through bad und küche: shower fittings (outdoor shower), sink, tub fittings (bathroom).