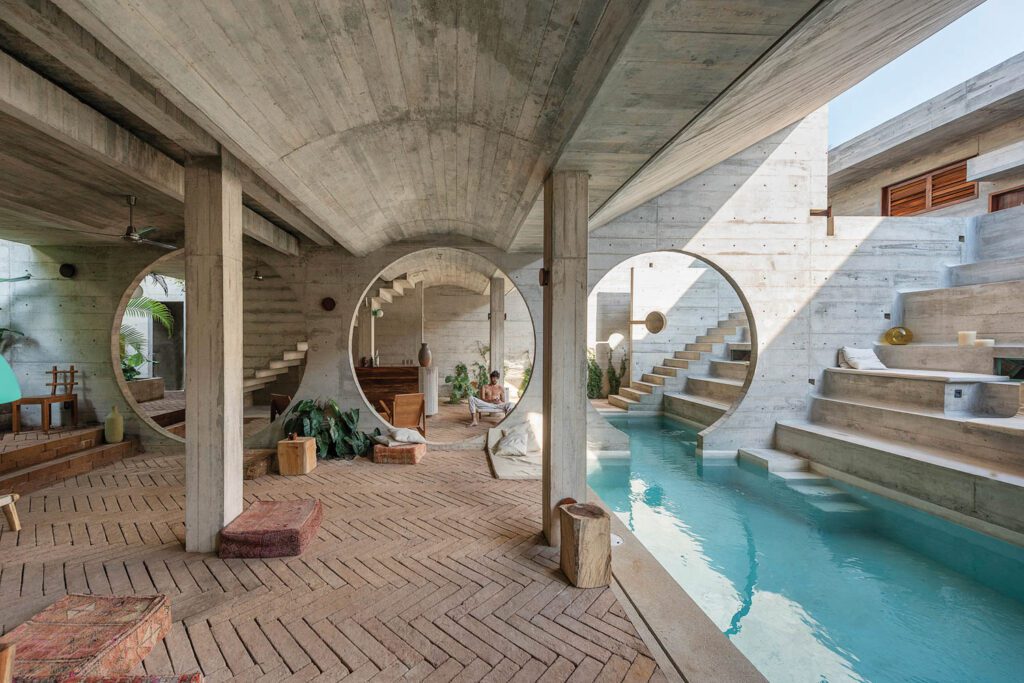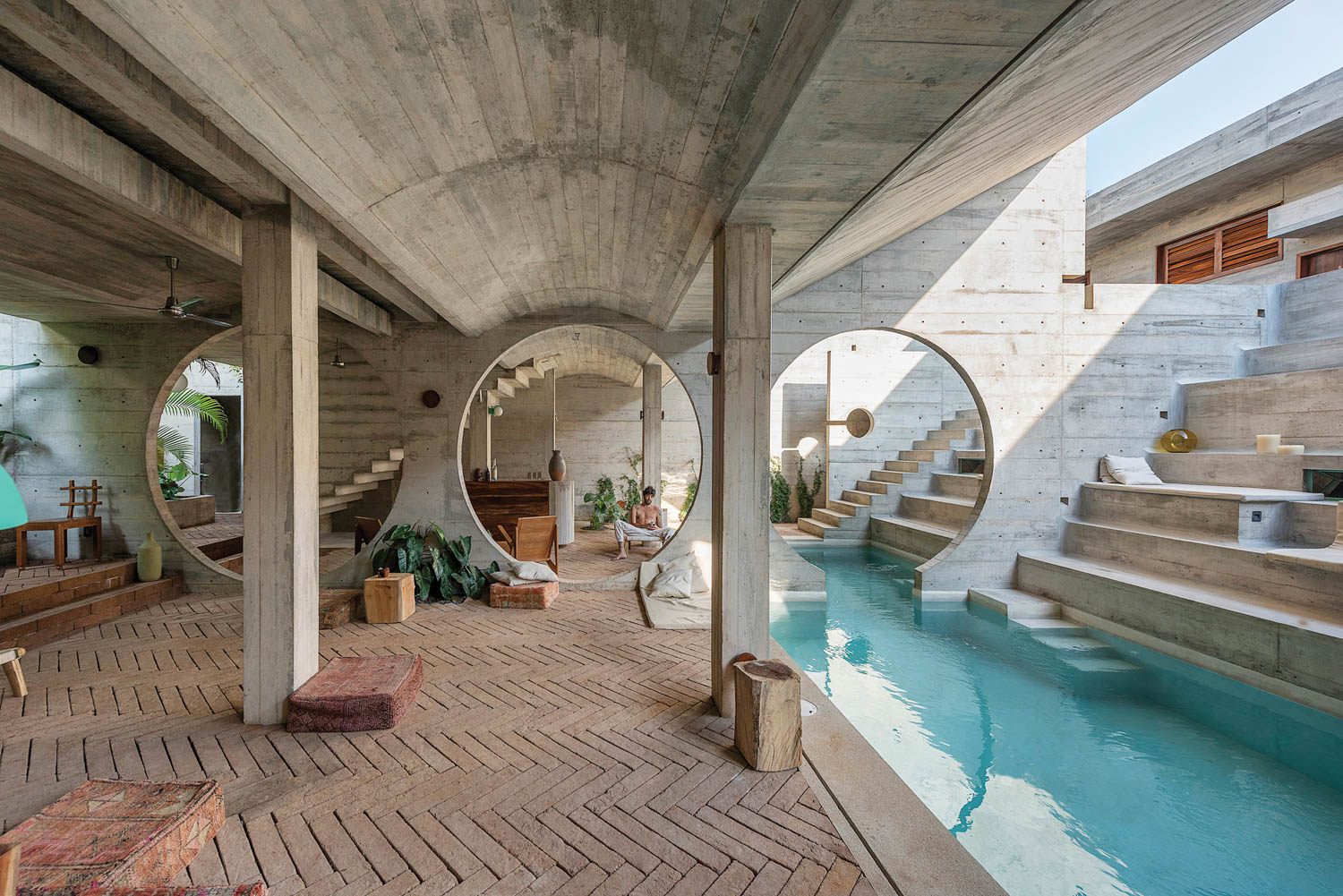 Among Oaxaca Hotels, Casa TO Stands Out With its Cocooning Atmosphere
Hidden away down a quiet side street in La Punta Zicatela, Casa TO is a zen­like hotel inspired by the ancient temples of surrounding Oaxaca. Designed by French architect Ludwig Godefroy, the 10,000-square-foot property on Mexico's southern Pacific coast provides a tranquil retreat for the surfers and tourists who flock to the area for its stunning beaches and laid-back lifestyle. Casa TO is located just minutes from the ocean, but unlike other Oaxaca hotels, Godefroy claims some guests feel so comfortable there they rarely venture outside. "People told me they stayed for a week and only went to the beach once," he says with a grin.
Casa TO is the latest project from developer Surreal Estate, which has commissioned Godefroy to design several projects in La Punta Zicatela, a hamlet at the southern reaches of Puerto Escondido. The site was originally zoned for three adjoining residences, but a tourism boom in the area prompted the client to ask Godefroy if he could adapt the concept into a two-story hotel. "Rather than starting from scratch, I said, 'Let's work with what we have and I'm sure I can do something interesting,'" he recalls.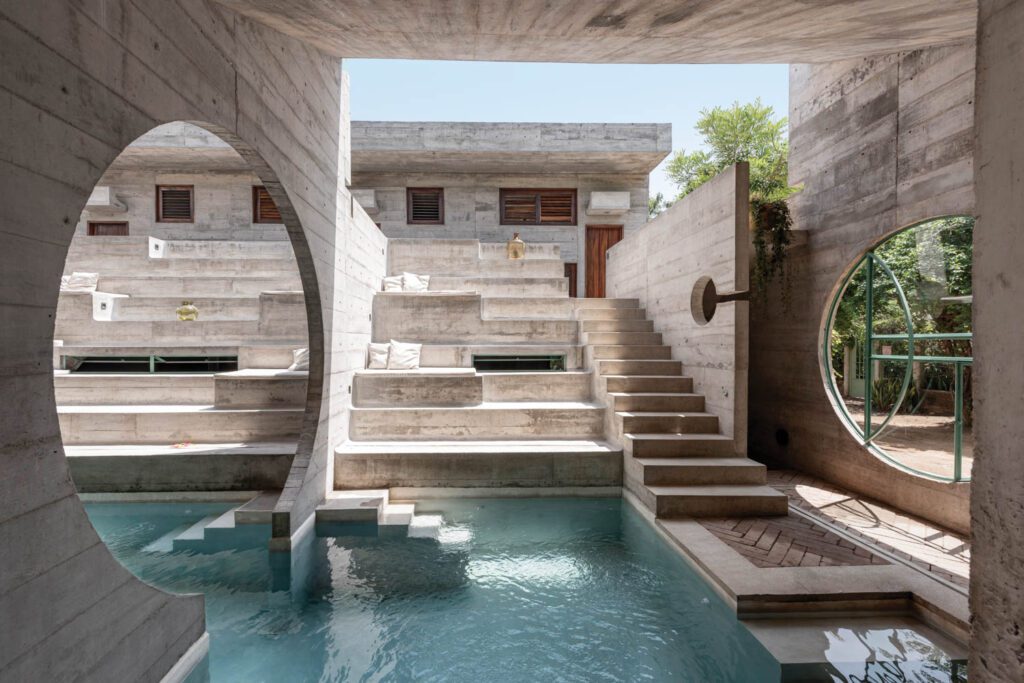 Ludwig Godefroy creates a meditative retreat drawing on brutalist architecture
The architect's first idea was to punch circular openings through the walls—which are raw concrete, the project's dominant material—that were originally intended to separate the three houses, creating a large communal lounge for the hotel's pool and reception. This bold intervention references thermal baths and historic hydraulic sites like Istanbul's Basilica Cistern and the Hornsey Wood Reservoir in London's Finsbury Park, which both feature repeating reticulated forms that yield a dynamic sense of perspective. At Casa TO, the view through the portals instantly became a hit on Instagram, thanks to its gra­ph­ic shapes and pleasing symmetry.
Taking advantage of Mexico's year-round warm climate, Casa TO's public spaces are left open to the elements and utilize little or no air-conditioning. Breezes wafting over the pool's surface bring cool air into the lounge, where guests can relax on chairs or floor cushions surrounded by tropical plants. "I like to create an atmosphere of an oasis of shelter from the sun and the rain," explains Godefroy, who also used native plants and palm trees to form part of the facade, maintaining views and airflow through the hotel.
Design elements in Casa TO reference Mayan culture
The communal areas extend to the opposite side of the pool, where large steps form a solarium for sunbathing. The massive steps, which are a recurring motif in Godefroy's projects, are influenced by his fascination with Mexico's ancient Mayan pyramids and temples, which he first visited shortly after arriving in the country 15 years ago. "Their monumentality and spiritual power awoke strong emotions in me," he says. The hotel's name, incidentally, is an abbreviation of Templo Oaxaque.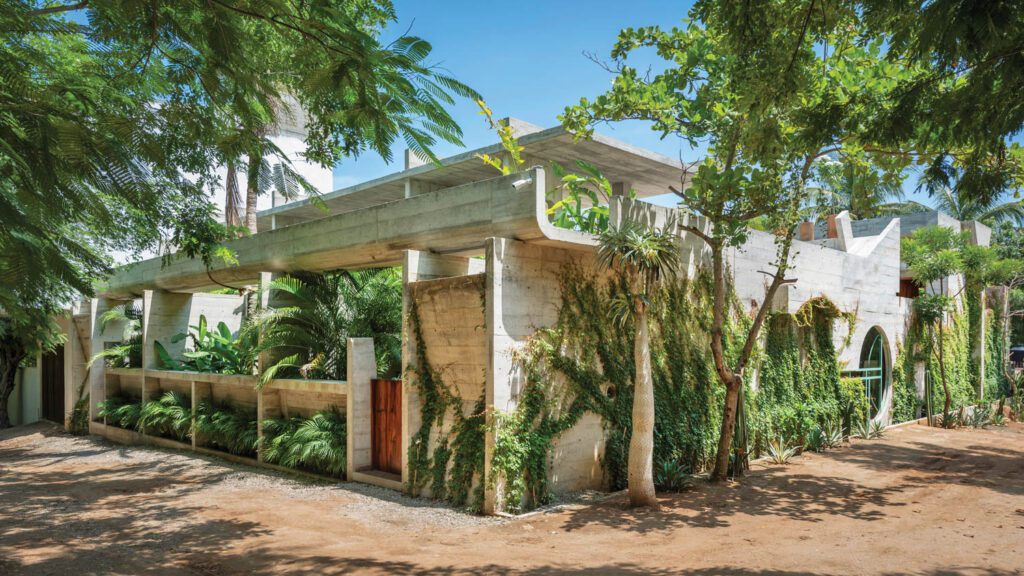 Other important influences for Godefroy include heavyweights of 20th-century brutalist architecture, such as Le Corbusier, Louis Kahn, and Carlo Scarpa, all of whom made innovative use of cast-in-place concrete during their careers. At Casa TO, Godefroy left the concrete structure bare and unfinished. The architect says he appreciates how the material looks in the warm Mexican light and complements the lush vegetation. "In an opposite way of thinking from the throwaway mentality of our modern societies, I'm looking for the same authenticity I find in vernacular architecture," he explains. "This research of simplicity is leading me to create a clean and abstract architecture, composed exclusively of massive materials such as concrete, which gets better looking over time."
A minimalist retreat among Oaxaca hotels
The pared-back palette offset by millwork made from local woods like parota is applied throughout the hotel's nine suites, which are located on the opposite side of the pool from the communal spaces. Rather than looking onto the pool, the rooms favor privacy and protection from the sun. The six suites on the first floor have small gardens, while the three on the upper level feature a terrace with an outdoor tub. The baths, sinks, storage, and benches are all cast in situ from concrete, so almost no additional furniture is required.
The only freestanding furniture in the hotel was commissioned by Surreal Estate cofounder Daniel Cinta to showcase the creativity of artisans from Puebla, Guadalajara, and Oaxaca. Along with bamboo chairs by local designer Tiago Solís Van Beuren, these items bring warmth and texture to the interiors and can be purchased by guests under a fair-trade model. Bright pops of color are provided by turquoise-finished metal lamps from Mexican studio Natural Urbano, along with a few carefully chosen decorative items in complementary shades of yellow, green, and blue.
The hotel's relatively spartan décor contributes to its almost monastic feel, which helps encourage contemplation and a slower way of living. A few important creature comforts are provided, including products from Mexican skincare brand For All Folks, which bases its formulas on the regenerative properties of such plants as calendula.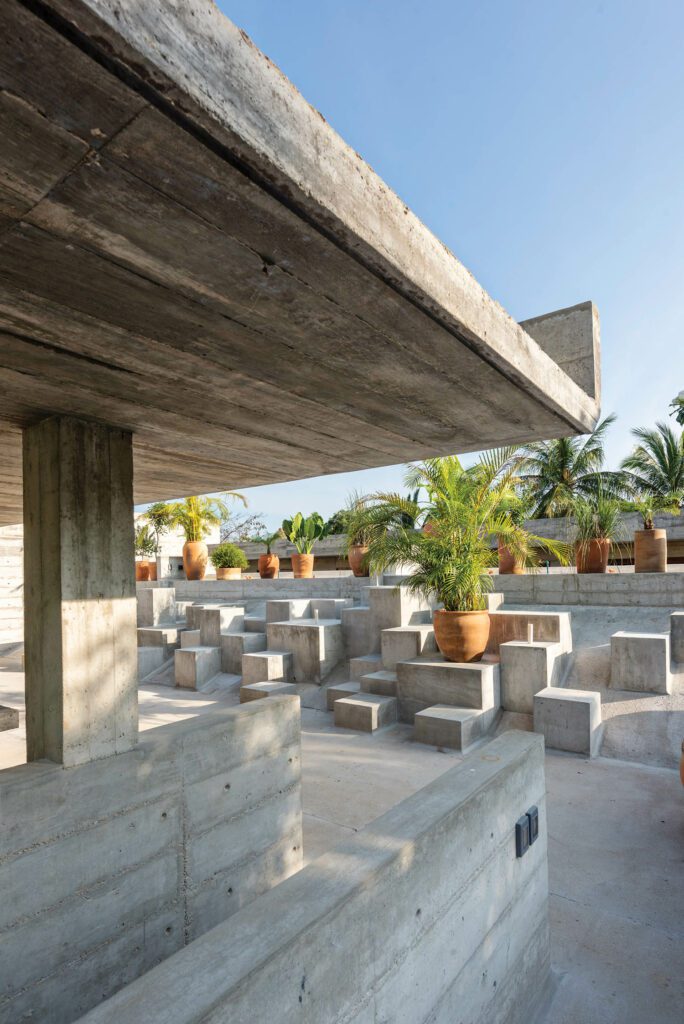 For Godefroy, though, the greatest luxury at Casa TO is the sense of pure isolation it offers guests. "We tried to create a cocooning atmosphere," he says, "so people never want to leave."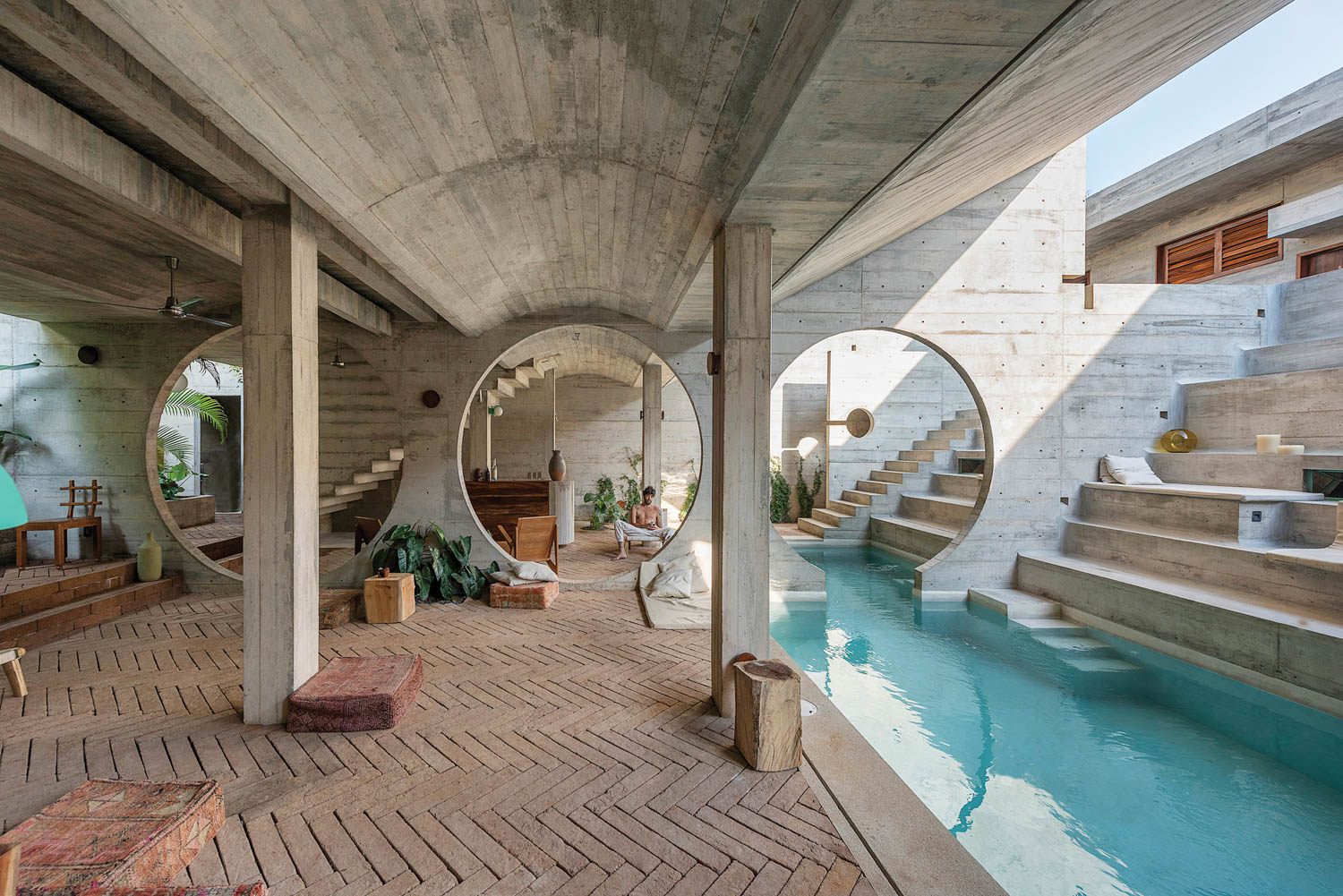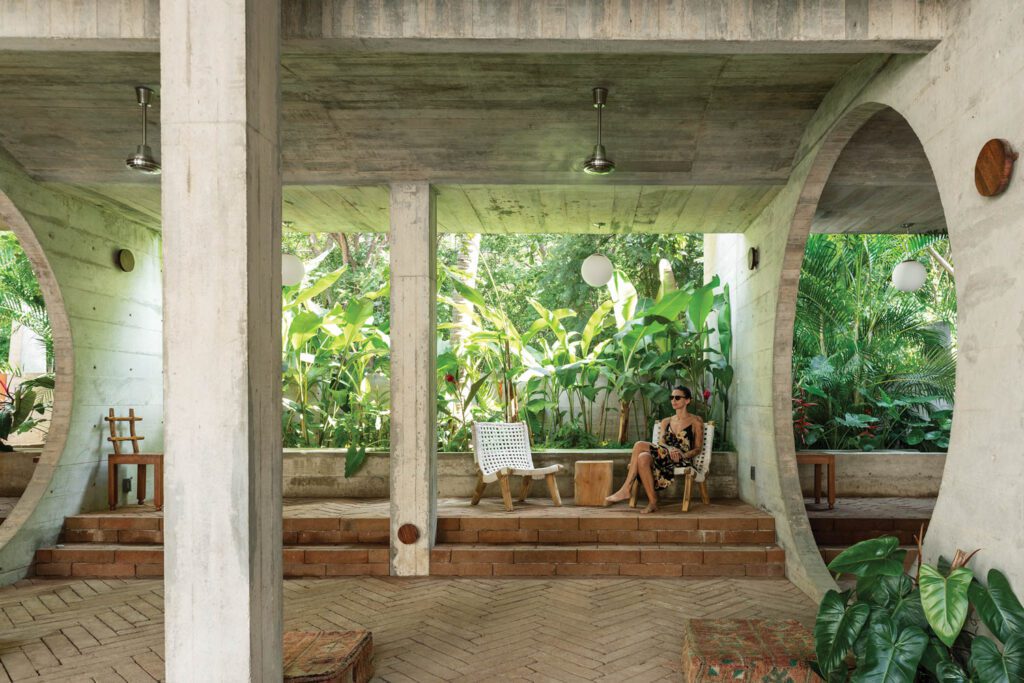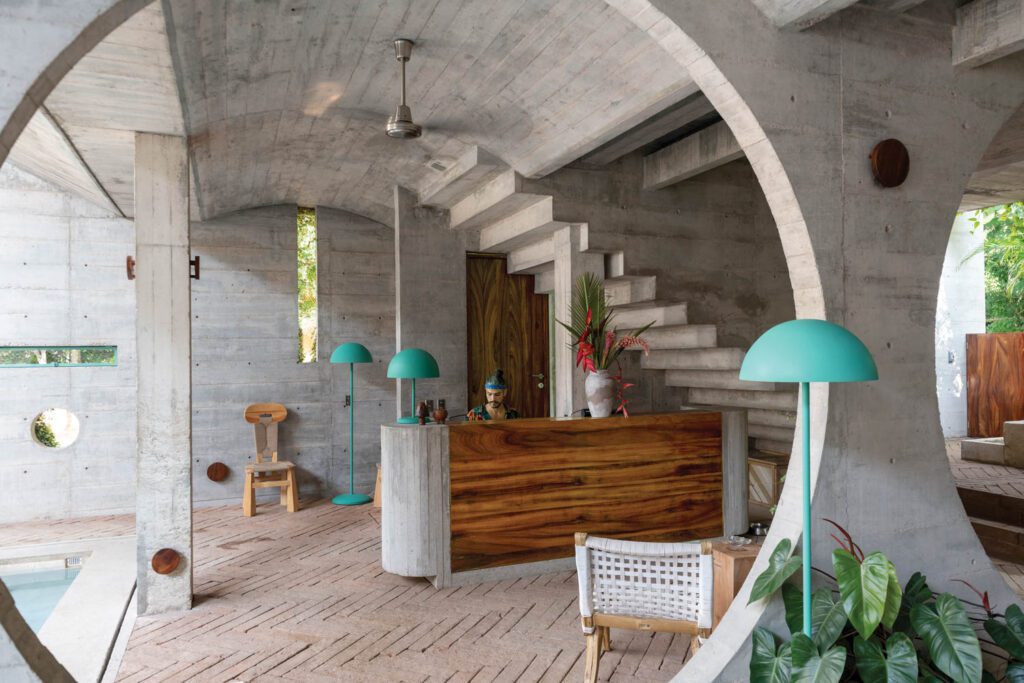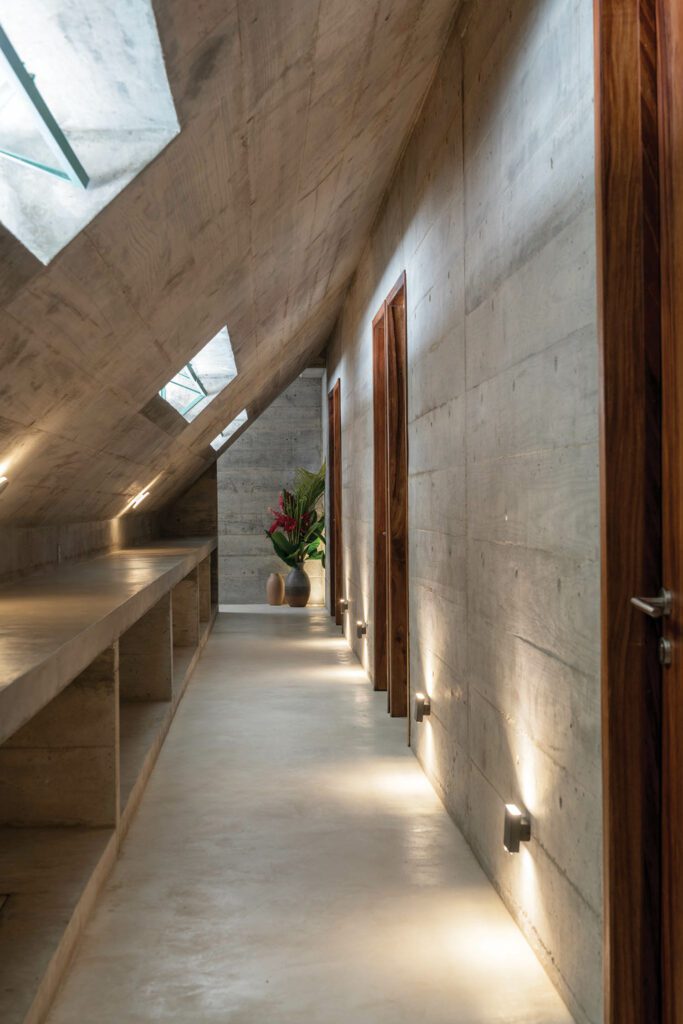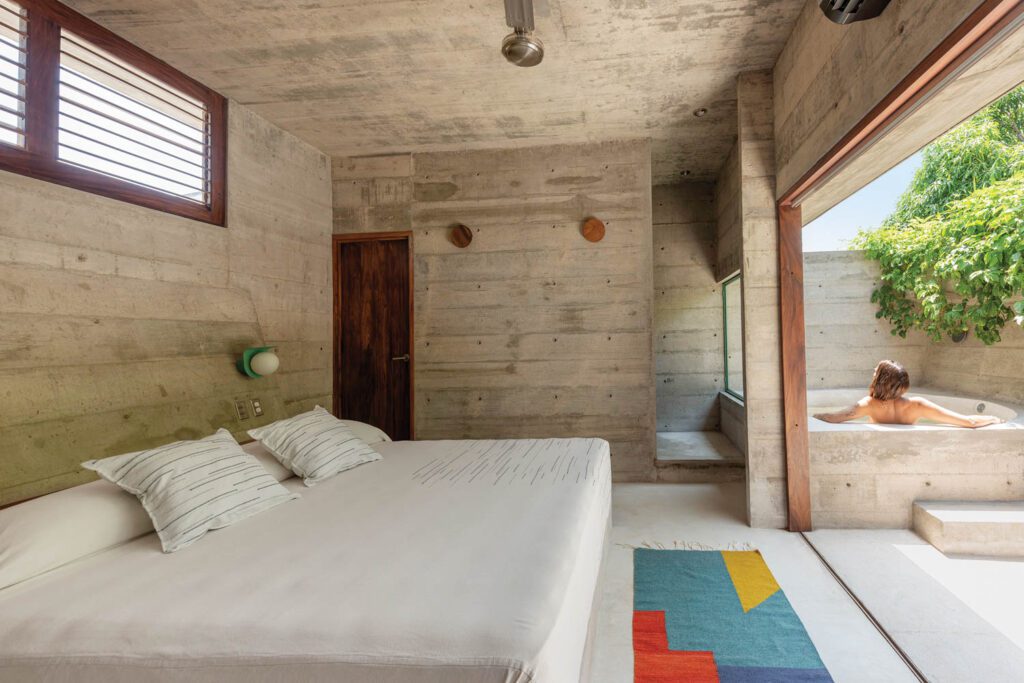 PROJECT TEAM
PRODUCT SOURCES
FROM FRONT